ConsultUCD Service Launched within University College Dublin
ConsultUCD, University College Dublin's (UCD) new managed consultancy service has been launched within the University.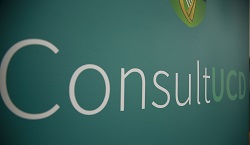 UCD is committed to engaging in an increasingly broad range of activities that will allow stakeholders, such as industry, public sector and not-for-profit organisations, to benefit fully from the wealth of technology, research, innovation and expertise that the university generates.
As part of this broader agenda, ConsultUCD is designed to deliver economic and societal benefit in Ireland and internationally by enabling the University's knowledge and expertise to be more widely and easily accessible to these stakeholders.
Speaking at the launch event, Professor Orla Feely, Vice-President for Research, Innovation and Impact, UCD said, "The practice of academic consultancy is currently under-developed in Ireland, compared to some other countries and the Irish Government has recognised its potential importance and benefits. The University was recently successful in securing part funding, through a Knowledge Transfer Ireland initiative, to establish a managed consultancy service at UCD, and we aim to excel in the delivery of this service within UCD and to our external clients."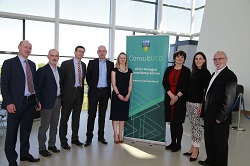 Barry Fennell, KTI; Dr Keith O'Neill, Abbott Nutrition; Assoc. Professor Kevin McDonnell, UCD; Dr Frank O'Donnell, Microsoft; Elizabeth Nolan, ConsultUCD; Professor Orla Feely, UCD; Dr Jennifer Carroll MacNeill and Professor Philip O'Connell, UCD.
Elizabeth Nolan, Head of Consultancy Services said, "UCD has also identified a growing demand from its academic and wider staff community for support in providing consultancy services to external clients. ConsultUCD has been established to meet this need and also to ensure a high level of professionalism and commercial focus for clients engaging with staff."
She added, "Our goal is to make the process of consultancy as easy as possible for our internal community and the external organisations they engage with."
The guest speaker at the internal launch event was Dr Hugh Hunt, a Reader in Engineering Mechanics and Vibration in the University of Cambridge, who has over 25 years of consultancy experience.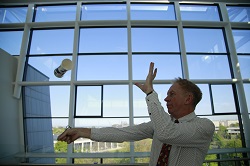 Guest speaker, Dr Hugh Hunt, University of Cambridge
Other speakers at the event included Professor Philip O'Connell, Director, UCD Geary Institute and Associate Professor Kevin McDonnell, UCD School of Agriculture and Food Science. They talked about their own experiences of consultancy in Ireland and outlined where they believe opportunities lie in consultancy for the University and individual academic consultants.
A ConsultUCD Advisory Board, chaired by Professor Feely, has also been established to provide general oversight, and strategic advice on all aspects of UCD's activities to develop, promote and deliver academic consultancy services.
The external members of this Board are; Dr Frank O'Donnell, Head of Public Sector and Healthcare, Microsoft, Solicitor and Barrister, Dr Jennifer Carroll MacNeill, and Dr Keith O'Neill, Director, Regulatory Science & Innovation at Abbott Nutrition, and they attended the internal launch.
For further information on ConsultUCD visit www.ucd.ie/consultucd
ENDS
15 May 2017
For further information contact Micéal Whelan, University College Dublin, Communications Manager (Innovation), e: miceal.whelan@ucd.ie, t: + 353 1 716 3712.
SHARE