SiriusXT Nominated for Enterprise Ireland Founder of the Year Award 2017
SiriusXT, a University College Dublin (UCD) spin-out company, is one of 9 high-potential start-ups (HPSUs) nominated for Enterprise Ireland's Founder of the Year Award 2017.
The overall winner will be announced at an Awards ceremony, supported by Grant Thorton, which will take place in Dublin on 21 June.
SiriusXT was co-founded in 2015 by Dr Kenneth Fahy, Dr Fergal O'Reilly and Dr Paul Sheridan and Tony McEnroe. The company was established following 8 years of research in UCD's School of Physics developing technology that underpins a novel soft x-ray tomography (SXT) bench-top microscope. This microscope, the SXT100, is now being commercialised by SiriusXT.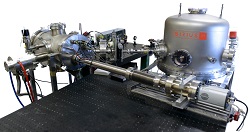 SiriusXT's novel soft x-ray tomography (SXT) microscope
The SXT100 is the only high throughput, lab-based solution, for imaging subcellular structures. The microscopes' high resolution imaging modality is capable of quantitatively imaging the subcellular organisation of whole hydrated cells, up to 15μm thick at resolutions up to 40 nm, in their native state, with very little preparation and without the use of stains or other contrast enhancing agents.
Tony McEnroe, CEO, SiriusXT said, "The company was established in 2015 after many years of support from Enterprise Ireland for research and commercialisation activities in the Spectroscopy Group in UCD's School of Physics. Following on from such support it is now a great honour for the company to have been nominated for Enterprise Ireland's Founder of the Year Award 2017."
He added, "Our SXT-100 microscope, which we plan to launch onto the market in 2018, will be the first commercial lab-scale SXT microscope of its kind in the world. It will allow researchers to illuminate whole single cells or tissue samples and produce 3D images that cannot be produced in any other way. These images will reveal, in unprecedented detail, the inner workings of drugs and disease on a cellular scale and will enable scientists track how drugs and disease affect specific cells."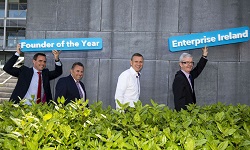 Pictured (l-r) at the launch of the Enterprise Ireland Founder of the Year 2017 Awards are; Kevin Foley, Partner, Grant Thornton; John Purdy, CEO, Ergo; Colin Goulding, Director, Google Customer Experience, and Joe Healy, Director, HPSUs, Enterprise Ireland
SiriusXT, a NovaUCD client company, which currently employs a staff of 14, has to date raised €5 million in funding. This includes a €3 million Horizon2020 SME Instrument Phase 2 Grant.
The company has spent the last 12 months building its first prototype SXT-100 microscope. The company plans to begin pilot testing of the microscope, in a small number of research centres, from January 2018 with a view to launching on the market later in 2018.
Enterprise Ireland's Founder of the Year Award forms an important element of the HPSU Founders Forum which was created in 2015. The objective of this forum is to provide a platform to help founders succeed internationally and scale faster.
The other 8 companies nominated for this award are; Clubstohire.com, Feedpods, Future Ticketing, Hub Controls, Immersive VR Education, SalesOptimize, Solar Adtek and TVadSync.
ENDS
19 May 2017
For further information contact Micéal Whelan, University College Dublin, Communications Manager (Innovation), e: miceal.whelan@ucd.ie, t: +353 1 716 3712.
Notes to Editors
The key technology at the core of SiriusXT's SXT100 is a high-performance soft x-ray light source based on laser-produced plasma emission. The tiny fireball produced emits the soft x-rays that are used for cell imaging but it also produces a lot of metal debris. Patented, self-healing optics are then employed to collect, filter and focus the soft x-rays onto the cell sample to be imaged. In 2015 SiriusXT was named the Best Early Stage Company in Ireland at the final of the InterTradeIreland All-Island Seedcorn Investor Readiness Competition. www.siriusxt.com
SHARE