University College Dublin to Lead Development of Ireland's First Ever Satellite
The European Space Agency (ESA) has announced the selection of EIRSAT-1, Ireland's first ever satellite, which is being developed under the ESA Education Office "Fly Your Satellite!" 2017 Programme.
University College Dublin (UCD) is leading the development, launch and operation of this CubeSat, to be launched from the International Space Station (ISS), in partnership with Queen's University Belfast (QUB) and five Irish companies, Resonate Ltd, ENBIO, SensL, Parameter Space and MOOG Dublin.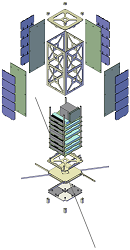 EIRSAT-1 Satellite
‌
Parameter Space is a client, and ENBIO is a graduate of NovaUCD, the Centre for New Ventures and Entrepreneurs at UCD.
John Halligan TD, Minister of State for Training, Skills and Innovation, who welcomed the announcement said, "As Ireland has never launched a satellite of its own this mission represents a first for the island of Ireland and a giant leap for the Irish space sector and will be of enormous interest to the entire community."
Congratulating the project teams from UCD and QUB he said, "The project will have a significant impact on educational programmes and future skills by placing space flight know-how into students' hands for the first time. This is an incredibly exciting project with great potential to have significant impact beyond those directly participating in the project, including the expanding space industry sector in Ireland."
Professor Lorraine Hanlon, UCD School of Physics and project lead said, "This success has been made possible through sustained support from Enterprise Ireland, the Irish Research Council, Science Foundation Ireland and ESA, combined with a team of outstanding students at undergraduate and graduate level in space science, physics and engineering, who will have to work extremely hard to pass the ESA reviews and make the dream of this satellite mission come true."
She added, "Our students will have an amazing opportunity to learn, not only from the wealth of expertise at ESA, but also from the other excellent teams participating in the programme from across Europe. This hard work will prepare them very well for future careers in the space sector."
EIRSAT-1 (Educational Irish Research Satellite 1) is a collaborative space project, developed by students and staff of UCD and QUB, which will provide training and education for graduates and undergraduate students in all major aspects of satellite development, under expert guidance from academic and industry mentors and ESA.
David Murphy, a PhD student in UCD's space science group in UCD School of Physics, said, "Working on EIRSAT-1 is an unprecedented opportunity for Irish students. When I started my PhD I hoped that I'd be helping to push forward the design of a gamma-ray detector that might someday fly in space. I never expected that as a student I'd be responsible for flying that detector on Ireland's first satellite."
EIRSAT-1 will include two different payloads on a 2 Unit CubeSat. Both payloads contain technology from the industrial partners that will be flown in space for the first time, marking an important step in their space heritage. The payloads for EIRSAT-1 have been made possible through funding by ESA technology programmes including the Science Core Technology Programme.
Dr Ronan Wall, Programme Manager, Moog Dublin and team leader for EIRSAT-1 said, "The overall European Space market was worth €7.5bn in 2015 and has provided recession-proof year-on-year growth for decades. Moog Dublin is delighted to support UCD and QUB in this student programme which will help train some of the future workforce for the Space industry in Ireland."
He added, "Irish Space exports are estimated at €80 million in 2016 - providing at least 4:1 return on State investment in ESA – and we believe that this project will help us take that return to the next level by producing highly skilled workers to meet the export market opportunities."
The launch of an Irish CubeSat also reflects the ambition of the Irish Space Industry Group (ISIG) who recognised the importance of developing heritage to enable growth in the space sector in Ireland.
Danny Gleeson, ISGI, Chair, said, "The Irish Space Industry Group is delighted with the selection by ESA of the UCD-led Irish satellite EIRSAT-1 to proceed to the next phase of the Fly Your Satellite! 2 Programme. The EIRSAT-1 mission is a fantastic opportunity to develop the skills and experience necessary to support sustainable growth in the Irish space sector and provide inspiration to young people to choose an exciting career in space science and engineering."
The EIRSAT-1 mission will advance education in space science and engineering across the whole island of Ireland through collaboration between student teams, higher education institutions and high-tech companies. The mission will enable participants to develop know-how in space science and engineering and address skills shortages in the space sector. A key objective of the mission is to inspire the next generation of students to study STEM subjects, through an outreach programme developed by Blackrock Castle Observatory and Cork Institute of Technology.
The intention is that EIRSAT-1 will be launched and delivered to the International Space Station and will then be launched into orbit from the ISS having passed ESA's stringent requirements.
The satellite will orbit the Earth gathering data for approximately 12 months and will be managed and controlled from UCD. A ground station in the UCD School of Physics will allow commands to be uplinked via UHF radio and data to be downlinked via VHF radio from the spacecraft.
Hugo Marée, Head, Education & Knowledge Management Office, ESA said, "Thanks to the support given to ESA's Education Programme by all ESA Member States, ESA is able to offer more frequent CubeSat-related opportunities to university teams. ESA is therefore delighted to welcome the student-built EIRSAT-1, Ireland's first ever satellite, in the Fly Your Satellite! programme."
Commenting on the success of the consortium Minister Halligan TD said, "The consortium's success reflects the great advances that have been made by Ireland's universities and industry in recent years and is part of an ongoing rapid expansion of the Irish space sector. The knowledge and experienced gained from developing and operating this Satellite will contribute greatly to Ireland's strategy for the space sector."
Professor Hanlon concluded that, "Although the UCD Space Science group works on fundamental research questions in astrophysics, the technology we have developed has wider applications in space, medicine and security. We can never really imagine when we start new research projects where our ideas will take us – that is especially true in this case. Despite its small size, EIRSAT-1 will detect the biggest explosions since the Big Bang and pave the way for future space science missions."
ENDS
23 May 2017
For further information contact Micéal Whelan, University College Dublin, Communications Manager (Innovation), t: + 353 1 716 3712, e: miceal.whelan@ucd.ie.
Editors Notes
Established in 1854, University College Dublin is Ireland's largest, most diverse and globally engaged research intensive university, with over 30,000 students from some 120 countries worldwide. www.ucd.ie
UCD runs Ireland's only taught MSc programme in Space Science & Technology. The UCD Space Science group, within the UCD School of Physics, carries out fundamental astrophysics research into gamma-ray bursts, terrestrial gamma-ray flashes and other transient astrophysical phenomena. The group has a strong track record of building detectors and instruments for astronomy, such as the robotic telescope Watcher in South Africa, and in collaborating with international scientists on NASA and ESA missions. http://www.ucd.ie/physics/
Queen's University Belfast has its roots in the Belfast Academicals Institution, which was founded in 1810, one of the United Kingdom's 10 oldest universities, and remains as the Royal Belfast Academicals Institution. Queen's University Belfast was admitted to the Russell Group of UK research-intensive universities in November 2006. https://www.qub.ac.uk/
The European Space Agency (ESA) is Europe's gateway to space. Enterprise Ireland co-ordinates Ireland's industrial and research participation in the programmes of the European Space Agency (ESA) in collaboration with the Department of Jobs, Enterprise and Innovation. www.esa.int.
SHARE