Minister Simon Coveney Outlines His Vision for the Future of Europe During Keynote Address at University College Dublin
Simon Coveney TD, Minister for Foreign Affairs and Trade last night outlined his vision for the future of Europe during a keynote address at University College Dublin, entitled 'The Europe we Want'.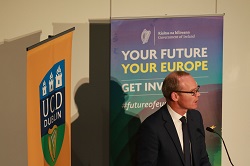 Pictured at UCD is Minister Simon Coveney TD delivering his keynote address on 'The Europe We Want'
The address delivered at the UCD Sutherland School of Law forms part of the recently launched Citizens Dialogue in Ireland on the Future of Europe.
Click here to read Minister Coveney's full address.

Listen to Minister Coveney's address above
This initiative was announced earlier this month by An Taoiseach, Leo Varadkar TD, together with Minister Coveney TD, and Helen McEntee TD, Minister of State for European Affairs.
This initiative follows on from the publication of a White Paper on the Future of Europe by the European Commission in March 2017 and the publication in October of a 'Leaders' Agenda' by the President of the European Council. The overall European process is expected to be completed before the next European Parliament elections in 2019.
During his keynote address Minister Coveney said, "I am not arguing tonight for a United States of Europe. The Europe I believe Ireland wants is a Union of sovereign Member States, working together to tackle the big issues of the day. Pooling sovereignty when it makes sense to do so."
"It's just over 40 years since we joined the EU and in another 40 years no single European Member State will have more than 1% of the world's population. There is only one city in the EU that features in the top 30 cities globally – and not for much longer either."
"This is why we need to stick together. The European Union is the best instrument we have for addressing our new challenges. We have to ensure it has the capacity to play a key role in the world, shaping globalisation, tackling climate change and facing down international terrorism. And aspiring to be the global diplomatic superpower promoting peace and security."
Two key ideas outlined by Minister Coveney during his address included the completion of the internal market, especially the internal market in services and for the EU to set itself a new goal, to have a common foreign policy that is as effective and ambitious as its international trade policy.
He concluded his address by saying, "My vision for Europe is an ambitious one. It will require the funds to do the things that matter to us like the Common Agricultural Policy, regional funding, investment in research and support for successful programmes such as Erasmus. But we will also need resources for new challenges such as environmental protection, climate action, migration and security. Doing more in Africa and a new round of enlargement will have resource implications. Of course, completion of the internal market would go some way towards creating the revenue to cover those additional costs."
He added, "I hope that, at the very least, the ideas I am putting forward tonight will help prompt some discussion on the Europe we want. It's your Europe, your future, so get involved!"

Professor Orla Feely, UCD Vice-President for Research, Innovation and Impact, Minister Coveney TD and Catherine Day, Secretary-General of the European Commission from 2005 to 2015
Speaking at the event Professor Orla Feely, UCD Vice-President for Research, Innovation and Impact said, "I am delighted to welcome Minister Simon Coveney TD to University College Dublin this evening to deliver his keynote address entitled 'The Europe We Want' which forms part of the recently launched Citizens Dialogue initiative on the Future of Europe."
She added, "I believe that influencing the future direction of Europe should be a priority for us all and UCD is for example strongly committed to influencing the future development of the European Research Area through the Ninth Framework Programme."
"Participation in the current Framework Programme, Horizon 2020, has been essential in driving the research mission of UCD. It has provided an essential platform for our researchers to develop significant and high impact international research programmes and it has strengthened the University's international collaboration and co-operation with world class researchers and industry."
"At UCD we are focused on mission based research to address grand challenges affecting Europe and the wider world. In this regard UCD endorses the alignment of European research priorities with the UN Sustainable Development Goals which will facilitate development of appropriate metrics to measure impact on all dimensions of sustainable development, including human development."
She concluded,"I am particularly delighted to see so many UCD students here this evening. To me this is a strong signal of how engaged they are with this topic and how eager they are to contribute to the dialogue. It also indicates an understanding that their future success is intrinsically linked to a successful and dynamic Europe."
Catherine Day, who joined the European Commission in 1979 and who was Secretary-General of the Commission from 2005 to 2015 moderated the event.
She graduated with a BA in economics and an MA in International Trade and Economic Integration from UCD and received an honorary Doctorate in Law from the University in 2004. In 2015 the UCD Foundation Day Medal has been awarded to her in recognition for her outstanding impact on the European Union.
Click here to read Minister Coveney's full address.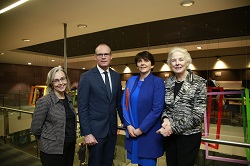 Professor Imelda Maher, Dean, UCD Sutherland School of Law, Minister Coveney TD, Professor Orla Feely, UCD Vice-President for Research, Innovation and Impact, and Catherine Day, Secretary-General of the European Commission from 2005 to 2015
Until 9 May 2018 (Europe Day) the Government plans to hold a series of public and sectoral and regional meetings, hearing the views in person and on-line of members of the public and representative organisations. The intention is that the views expressed on Europe will provide an input into the Irish Government's contribution to the broader future of Europe debate.
ENDS
29 November 2017
For further information contact Micéal Whelan, UCD Research and Innovation, e: miceal.whelan@ucd.ie, t: +353 1 716 4003.
Editors Notes
The White Paper on the Future of Europe – Reflections and Scenarios for the EU27 by 2025 (published on 1 March 2017) looks at how Europe will change in the next decade, from the impact of new technologies on society and jobs, to doubts about globalisation, security concerns and the rise of populism.
It spells out the choice we face: being swept along by those trends, or embracing them and seizing the new opportunities they bring.
These are difficult times but Europe has always been able to adapt. This time, too, we need to respond better to the changing reality and to transform challenges into opportunities.
The White Paper also outlines five scenarios which offer a glimpse into the potential future state of the Union, depending on the choices Europe will make.
https://ec.europa.eu/commission/sites/beta-political/files/white_paper_on_the_future_of_europe_en.pdf
Simon Coveney TD was appointed Minister of Foreign Affairs and Trade with responsibility for Brexit in June 2017. He is also the Deputy Leader of Fine Gael. He previously served as Minister for Housing, Planning and Local Government (May 2016- June 17) as well as Minister for Agriculture, Food and the Marine from March 2011 to May 2016. The Defence portfolio was added to his brief in 2014 until 2016. He represents the Cork South Central constituency.
SHARE