Founders of Equilume and THEYA Healthcare Shortlisted for Entrepreneur Awards
Dr Barbara Murphy, founder of Equilume, a University College Dublin (UCD) spin-out company and Ciara Donlon, founder of THEYA Healthcare, a UCD spin-in company, have both been shortlisted for 2017 Women Mean Business (WMB) Awards.
Dedicated to highlighting the work of both Irish and international businesswomen and female entrepreneurs, the annual WMB Awards honour some of Ireland's most inspiring female business leaders and role models.
This year there are 6 Award categories and Dr Barbara Murphy has been shortlisted in the WMB Woman in Technology category while Ciara Donlon has been shortlisted in the Matheson WMB Female Entrepreneur category.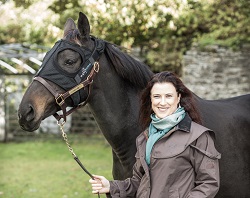 Dr Barbara Murphy, founder and CSO, Equilume
Equliume is a world leader in the research and development of light therapy solutions to assist the global horse industry maximise reproductive efficiency and competitive performance.
The company has developed the Equilume Light Mask which it sells to the global equine industry to assist breeders to maximise the reproductive efficiency and performance in their horses.
Headquartered in Co. Kildare, at the heart of the Irish horse industry, Equilume was established in 2012 as a result of pioneering research by company founder, Dr Barbara Murphy at UCD's School of Agriculture and Food Science.
On being shortlisted Dr Barbara Murphy, founder and CSO, Equilume said, "I am delighted to be shortlisted for this Award amongst a group of such influential women who are helping to shape the STEM landscape in Ireland. Equilume is going from strength to strength thanks to the committed efforts of an enthusiastic team driving innovative product development and scientific research."

Ciara Donlon, founder and CEO, THEYA Healthcare
THEYA Healthcare, headquartered at NovaUCD, UCD's Centre for New Ventures and Entrepreneurs, designs and manufactures healthcare garments.
THEYA Healthcare's flagship post-surgery lingerie range, designed primarily for use by breast cancer patients, retails across Ireland, the UK and has also been launched in Europe and Canada.
The company, established by Ciara Donlon in 2015, uses a unique fabric mix made from OEKO-TEX® bamboo, which is ideal for post-operative products as it is anti-bacterial, breathable, 59% more absorbent than cotton and extremely soft thus helping to reduce skin irritation.
On being shortlisted Ciara Donlon, founder and CEO, THEYA Healthcare said, "I am so honoured to have been shortlisted for the 2017 Matheson WMB Entrepreneur of the Year Award. I've always thought that to be it, you need to be able to see it, so it's a thrill for me to be part of a group of women who will hopefully inspire others to take the plunge and create successful businesses of their own."
Both Equilume and THEYA Healthcare are Enterprise Ireland high-potential start-up (HPSU) companies.
Welcoming the announcement of this year's finalists, Liz Grace, Partner at Matheson and recently appointed WMB Ambassador for Gender Diversity 2017, said, "I would like to take this opportunity to congratulate all of the finalists in this year's WMB Awards, and especially those within the entrepreneur category, on what is a fantastic achievement. In keeping with our firm values of diversity and entrepreneurship, Matheson is delighted to be supporting and celebrating Irish female entrepreneurs."
The winners of each Award category will be announced at a ceremony which will be held in Dublin on 2 October. An Tánaiste and Minister for Business, Enterprise and Innovation, Frances Fitzgerald TD will open the event. Sinéad McSweeney, Vice-President Public Policy and Communications, EMEA and MD Twitter Ireland, will be the guest speaker.
Click here to see the full line of finalists in each award category.

ENDS
19 September 2017
For further information contact Micéal Whelan, University College Dublin, Communications Manager (Innovation), e: miceal.whelan@ucd.ie, t: + 353 1 716 3712.
Editors Notes
At NovaUCD, the hub for new ventures and entrepreneurs at University College Dublin, we nurture and support new high-tech and knowledge-intensive companies as part of UCD's mission. At NovaUCD we provide purpose-built, state-of-the-art incubation facilities alongside a comprehensive business support programme for client companies such as Equilume and THEYA Healthcare. NovaUCD has been funded through a unique public-private partnership that includes AIB Bank, Arthur Cox, Deloitte, Enterprise Ireland, Ericsson, Goodbody Stockbrokers, UCD and Xilinx. www.ucd.ie/novaucd
SHARE