New Bovine Light Mask Set to Increase Milk Yields in Dairy Industry
Equilume, a University College Dublin (UCD) spin-out company, is the world leader in the development of innovative science-based light therapy solutions to improve the performance of animals.
Leveraging the global success of its initial market offering, the Equilume Light Mask, to assist the global horse industry maximise reproductive efficiency and competitive performance, the company's R&D activities have seen it expand into the indoor and mobile lighting market for the dairy industry.
Today the company, now part of the Circadian Group, has announced that the initial trial of a newly developed Bovine Light Mask has seen a 9% increase in milk yields. This offers a substantial improvement in production efficiency for pasture based dairy enterprises.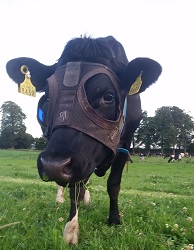 Equilume's new Bovine Light Mask
In the dairy industry light therapy is very important for lactation in cows. In intensive zero-grazing indoor systems, lights are typically left on for 16 to 18 hours a day to regulate a hormone called melatonin. This, in turn, activates growth hormones that naturally stimulate increased lactational capacity.
Equilume used this information to develop a Bovine Light Mask which incorporates a customised blue light for cows.
By identifying the precise amount of light delivered to a single eye and required to regulate bovine melatonin, the Mask enables cows to remain outdoors at grass and still benefit from light's ability to stimulate higher milk yields.
This innovation will allow dairy farmers to improve productivity sustainably, without increasing greenhouse gas emissions that are normally associated with herd expansion.
Headquartered in Co. Kildare, Equilume, a UCD School of Agriculture and Food Science spin-out company, was established in 2012 as a result of pioneering research by Dr Barbara Murphy in collaboration with Professor John Sheridan, UCD School of Electrical and Electronic Engineering.
Her research interests are related to chronobiology, the science of biological timekeeping, and specifically how the annual and daily light-dark cycles influence animal physiology.
Dr Barbara Murphy, co-founder and CSO, Equilume, said, "We have nearly finished our initial lactation study, conducted in collaboration with Teagasc. The data from the first 12 weeks reveals that multiparous cows show a nine percent increase in milk production when wearing the Bovine Light Mask."
Last week the company won the Agri-Technology Established Company Innovation Award and the Design Partners Award as part of the Enterprise Ireland Innovation Arena Awards presented during the 2017 National Ploughing Championships.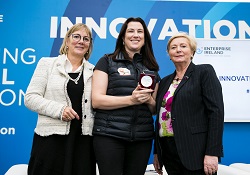 Pictured at the 2017 National Ploughing Championships are; Julie Sinnamon, CEO, Enterprise Ireland; Dr Barbara Murphy, founder, Equilume and An Tánaiste, Frances Fitzgerald TD, Minister for Business, Innovation and Enterprise
Dr Murphy added, "The results of our trial are very promising in terms of increasing dairy milk yields. Our next step is to utilise the prize won at the Innovation Awards and to work with Design Partners to expedite a final design of our new Bovine Light Mask offering to bring to the market."
Dr Murphy, concluded, "I am honoured to have won both of these Awards and to be amongst a group of influential award winners who are leading the way in developing innovative agri-tech products and solutions which have the potential to impact not only the agri-tech sector in Ireland but around the world."
"Equilume is going from strength to strength and I would like to take this opportunity to commend the committed efforts of our enthusiastic team which is driving our scientific research and innovative product development."
ENDS
26 September 2017
For further information contact Micéal Whelan, UCD Research and Innovation, Communications, University College Dublin, e: miceal.whelan@ucd.ie, t: + 353 1 716 4003 or Sarah Nash, Equilume, e: sarah@equilume.com.
Editors Notes
The Circadian Group was founded in 2016 by the management team at Equilume. The formation of the company was underpinned by the predicted population growth that the world will experience over the next generations.
With this population growth, there is a requirement in agriculture to greatly increase efficiencies and production levels in order to meet the global calorific and protein levels required for a population of nearly 10 billion by 2050. Through Equilume's experience in equine and the understanding of the effects of light on animal performance, the Circadian Group aims to deliver innovative science based lighting products across the agri-sectors. These products will create higher performing farms with much improved animal welfare, while contributing to the environment. The Circadian Group through its scientific research strives to understand and augment the natural circadian rhythms of animals to optimise performance.
The Enterprise Ireland Innovation Arena Awards, run in conjunction with the National Ploughing Association and the Irish Farmers Journal, featured ground-breaking agri-related products and innovations from Irish agri-companies.
SHARE