Connected Health Champion Receives the NovaUCD 2017 Innovation Award
The NovaUCD 2017 Innovation Award was today presented to University College Dublin's (UCD) Dean of Physiotherapy, Professor Brian Caulfield.
The Award was presented to Professor Caulfield, who is championing the development of a connected health ecosystem in Ireland, by UCD President, Professor Andrew J. Deeks.
The Award was presented during an event held at NovaUCD, in recognition of Professor Caulfield's successful commercialisation of research, undertaken at UCD's School of Public Health, Physiotherapy and Sports Science.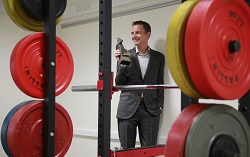 Professor Brian Caulfield, UCD School of Public Health, Physiotherapy and Sports Science, recipient of the NovaUCD 2017 Innovation Award
Over the last 10 years the focus of Professor Caulfield's research programme has been on exploiting technological advances to enhance human performance, in the fields of connected health and sport, through wearable and mobile sensing measurement and intervention applications.
These applications are now opening up new avenues for human performance evaluation and enhancement in areas from elite sport to rehabilitation medicine to gerontology.
His research in these areas has led to significant commercial opportunities in terms of exploitation of intellectual property (IP) by industry partners, including licensing and spin-out activity. His IP portfolio includes; 8 invention disclosures, 4 priority and 3 PCT patent applications and 6 licences.
He has also collaborated with a range of multi-national and start-up companies including; BioMedical Research Ltd, Fujitsu Laboratories, GE, Intel, Novartis and Shimmer Research.
His collaboration with BioMedical Research resulted in the successful launch of an innovative medical device that facilitates effective self-directed, home-based management of stress urinary incontinence.
This non-invasive medical device, INNOVO®, now being commercialised by Atlantic Therapeutics, a spin-out of BioMedical Research, has already had a significant impact on the lives of thousands of patients in Ireland, UK and in Europe.
As a Director of the TRIL Centre, a UCD research centre focused on technologies for independent living, he collaborated closely with Dr Barry Greene on the research that now underpins the technology platform of Kinesis Health Technologies. Kinesis Health Technologies, a UCD spin-out company, was established in 2013 by Dr Greene and Seamus Small.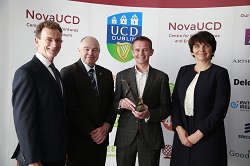 Tom Flanagan, UCD Director of Enterprise and Commercialisation, Prof. Andrew Deeks, UCD President, Prof. Brian Caulfield and Prof. Orla Feely, UCD Vice-President for Research, Innovation and Impact
Professor Andrew J. Deeks, UCD President said, "I am delighted to present the NovaUCD 2017 Innovation Award to Professor Brian Caulfield, a champion of the connected health research and innovation ecosystem at UCD and in Ireland. This Award recognises the quality and impact of his peer-reviewed research, his commitment and success in commercialising the resulting intellectual property, and his dedication to forging key strategic links with policy makers, clinicians, industry leaders, innovative start-ups and research groups to drive advances in the connected health field."
He added, "This Award also recognises Brian as an innovation role model who combines excellence in teaching and research with a proven commitment to translating research outcomes into commercial applications to impact the lives of people."
On receiving the NovaUCD 2017 Innovation Award, Professor Brian Caulfield said, "I am honoured to receive this prestigious University College Dublin Award and to follow in the footsteps of previous awardees."
He added, "This Award reflects the importance of the role that the academic sector can play in developing and evaluating the next wave of technological advances that have the potential to transform our capacity to enhance human performance in health and sport. It also demonstrates the strategic importance of interdisciplinary and intersectoral collaboration as none of my research and commercialisation activities would have been possible without such collaboration."
He concluded, "The Award also recognises the huge commitment of my current and past research students who have worked closely with me over many years to develop a connected health research and innovation ecosystem at UCD, in Ireland and further afield."
The NovaUCD Innovation Awardwas established in 2004 to highlight University College Dublin's commitment to innovation. The Award is presented annually to an individual, company or organisation or group in recognition of excellence in innovation or of success achieved in the commercialisation of UCD research or other intellectual activity.
ENDS
22 September 2017
For further information contact Micéal Whelan, UCD Research and Innovation, Communications, University College Dublin, e: miceal.whelan@ucd.ie, t: + 353 1 716 3712 or t: + 353 1 716 4003.
Editors Notes
Professor Brian Caulfield is also a Director of Ireland's largest research centre, the INSIGHT Centre for Data Analytics (www.insight-centre.org), where he leads the Personal Sensing research group. He is also a principal investigator in Ireland's industry-led Connected Health Technology Centre, ARCH (www.arch.ie).
In addition Professor Caulfield is the overall project co-ordinator for CHESS (Connected Health Early Stage Researcher Support System), Europe's first networked Connected Health PhD training programme. This €3.9 million programme funded under the Horizon 2020 People Programme involves 18 partner organisations from 8 European countries including universities, companies and healthcare providers.
He is also overall project co-ordinator for the CATCH ITN (innovative training programme) involving 6 partner organisations from 3 European companies. The €2.1 million CATCH (Cancer: Activating Technology for Connected Health) programme is funded by the European Union's Horizon 2020 programme under the Marie Skłodowska-Curie actions initiative.
Brian graduated with a Bachelor's degree in Physiotherapy, a Masters in Medical Science, and a PhD in Medicine from UCD. Prior to returning to complete his PhD studies he worked as a clinical Physiotherapist in the USA and in Ireland and has served in numerous committees and roles within the Irish Society of Chartered Physiotherapists.
In 2015 Professor Caulfield won the Medstro Google Wearables in Healthcare Pilot Challenge in Boston, an international competition that involved nearly 100 submissions for innovative uses of wearables in healthcare from around the globe.
Previous recipients of the NovaUCD Innovation Award are; Professor Kevin O'Connor (2016); Professor Eoin Casey and Dr Eoin Syron (2015); Dr Emmeline Hill, (2014); Dr Viliam Holub and Dr Trevor Parsons (2013); Dr Denis Dowling (2012); Professor William Gallagher (2011); The Fault Analysis Group (2010); Nicola Mitchell (2009); Celtic Catalysts (2008); Professor Ciaran Regan (2007); Professor Conor Heneghan (2006); Professor Barry Smyth (2005) and Professor Mark Rogers (2004).
SHARE