New Podcast Series Exploring How People Learn New Things Launched
101: The Ways We Learn, a new 10 episode free podcast series, exploring how people learn new things was launched today at University College Dublin. Science Foundation Ireland is supporting this series through its Discover Programme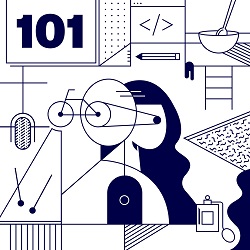 Like many countries, Ireland is going through a period of reform in its education sector. From pre-school to university, questions are being asked about traditional methods of learning. Approaches such as rote-learning are failing students.
The aim of the 101: The Ways We Learn podcast series, produced by Bureau, is to inform the national conversation in this area by connecting big educational ideas with everyday occurrences like learning to cycle.
In each episode hosts, physicist, Dr Share Bergin, UCD School of Education and volcanologist, Dr Jane Chadwick, formerly Education Manager, Science Gallery Dublin, follow different people as they are guided by a teacher to learn something new – from swimming to cycling, from coding to cooking and from activism to graphic design – and explore the learning process from many differing perspectives.
Among those taking part in the series are; Dr David McKeown, UCD School of Mechanical and Materials Engineering, who learns how to draw cartoons from Dr Maria Boyle, a researcher and creator of Twisted Doodles; Lynn Scarff, Science Gallery Director, who learns how to code from EU Digital Girl of the Year 2015, Niamh Scanlon and secondary school students who learn about activism and social justice with Christina Meehan from Concern Worldwide.
Speaking at the launch of the series Dr Share Bergin said, "With each episode of 101 Jane and I will pick apart the messy and fascinating science behind learning and will explore education from many different angles. With the help of experts, we will explore how the brain forms memories and develops new skills."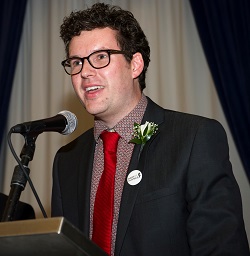 Dr Shane Bergin, UCD School of Education and co-host 101: They Ways We Learn
Dr Jane Chadwick said, "101 is for anyone interested in learning or teaching. It blends ideas from many academic disciplines, like philosophy, neuroscience and psychology, with people learning everyday skills and ideas. During the series Shane and I will demonstrate that good teaching is based on sound evidence-based approaches and that with the right teacher and a growth mindset, humans can learn an incredible breadth of things."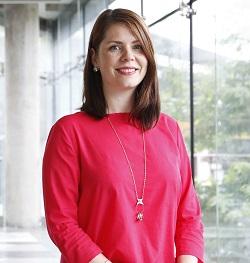 Dr Jane Chadwick, co-host 101: They Ways We Learn
Professor Dympna Devine, Head, UCD School of Education, said, "I would like to congratulate Shane and Jane on the launch of their innovative podcast series. I would encourage anyone working in the education sector, be they a teacher or student, to download and listen to and enjoy the series."
Dr Ruth Freeman, Director of Strategy and Communication, Science Foundation Ireland, said, "Science Foundation Ireland is delighted to support the 101 podcast series through the SFI Discover Programme. This STEM outreach initiative presents us with an excellent opportunity to share insights about how we learn with the very people that influence the teaching of others. Using accessible topics, we hope this media project will inspire people to reflect on the importance of science in their everyday lives and enjoy exploring their own natural curiosity."
The first two episodes of the free podcast series, each of which is approximately 30 minutes long, are available from today via www.101thepodcast.com.
In episode 1 we will meet NUI Galway physicist Dr Jessamyn Fairfield, who is learning how to cycle for the first time from Professor Stephanie McCalla, a bioengineer at Montana State University, and a childhood friend of Jessamyn.
In episode 2, we will Trinity PhD student Sinead Burke who indulges a long-held ambition to create a perfume as we meet her in the Dublin laboratory of classically trained perfumer, Marija Aslimoska.
The remaining 8 episodes will be released weekly thereafter and will be available to download from www.101thepodcast.com.
ENDS
24 January 2018
For further information contact Micéal Whelan, Public Affairs Manager, UCD Research and Innovation, e: miceal.whelan@ucd.ie, t: +353 1 716 4003 or Dr Shane Bergin, e: shane.bergin@ucd.ie or t: + 353 (0) 87 698 1320.
Editors Notes
Dr Shane Bergin is a physicist based at the UCD School of Education. His research borrows ideas around how we learn from philosophy, neuroscience, psychology and genetics. His job sees him blend the best of these disciplines to educate student science-teachers. His other interests include using novel ways of bringing science to the public.
Dr Jane Chadwick has worked in informal education for many years. At Science Gallery Dublin, her role as Education Manager involved working with colleagues from across the university and beyond to consider issues such as diversity, ethics, youth and education reform.
SHARE