Girl (8) Speaks for the First Time in 4 Years Thanks to Cutting-Edge Genomic Research
Dublin, 27th March 2018: NovaUCD affiliated Irish life sciences company Genomics Medicine Ireland (GMI) is proud to announce that pioneering genetic analysis has led to the successful diagnosis and treatment of a young girl with Progressive Dystonia, a very rare disease in children. The condition causes painful seizing of the muscles, which in the case of the patient, Mary-Ann Cleary, progressed so severely that she was unable to move or speak, eventually resulting in her being admitted to the Intensive Care Unit.
GMI, in conjunction with the University College Dublin Academic Centre on Rare Diseases (ACoRD), worked with Prof. Mary King, Consultant Paediatric Neurologist and Research Fellow Dr. Eva Forman at Temple Street Children's Hospital, and following genomic sequencing they identified a mutation in gene KMT2B. This was shown to respond to a treatment called Deep Brain Stimulation (DBS), a procedure not traditionally performed on young children. In September 2017 Mary-Ann underwent DBS, and in November she spoke for the first time in four years. Her first word was "Mama".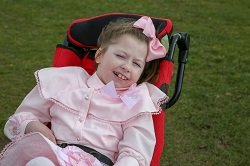 The case highlights the enormous potential in genomics for precision medical diagnostics and treatments. Doctors in the UK, where the family now lives, were unable to identify a successful treatment for the patient over the course of her condition, despite a battery of tests over a number of years which all eventually proved inconclusive. The genomic analysis of the patient's blood sample by GMI, however, took only weeks to process, a fraction of the time and cost relative to what was undertaken previously.
The result of this genomic research was a far more efficient and effective resolution to Mary-Ann's condition. By September 2017 she was in Intensive Care with little hope left – today she is able to move around, speak, laugh, and play.
Genomics involves the study of a person's genome – that is, their entire set of DNA and other non-coding elements of their genes, plus the individual's background and lifestyle factors. It provides a more complete picture for genetic research, and the findings may be used to better diagnose, predict progression and tailor treatment based on a person's genetic makeup.
Prof. Mary King, Consultant Neurologist at Temple Street Children's Hospital and UCD ACoRD, said, "We're delighted that Mary-Ann could be treated so successfully and so quickly thanks to genomics. This new cutting-edge field can significantly reduce the patient journey, which for complicated or rare diseases can currently involve a number of lengthy, invasive tests, followed by a course of treatments which may have varying effectiveness. The potential for genomics is that it can pinpoint diagnostics accurately and indicate treatments tailored to each patient, saving considerable time and money for both patient and hospital. Genomics really is the future of diagnostic medicine."
Seán Ennis, Chief Scientific Officer and co-founder of Genomics Medicine Ireland and Director of UCD ACoRD, added, "Genomic research studies usually take many years to yield significant actionable results, so to achieve such an important, tangible outcome so quickly is amazing, especially given the critical condition and time-sensitive nature of the patient. This example has really shown the true potential of genomics, which is accurate, targeted, quick and affordable diagnostics and treatment; it's a real win-win for all involved."
Genomics Medicine Ireland is currently undertaking research into Multiple Sclerosis, Inflammatory Bowel Disease, and Brain Tumours in conjunction with hospitals across Ireland and the company also recently announced they will be examining Alzheimer's disease. Additionally, GMI plan to roll out more studies sites as well as further disease areas this year.
-ends-
For media queries please contact:
Richard Magnier, MKC Communications at richard@mkc.ie /+353 1 703 8618 or Michelle Doyle, Communications Manager, NovaUCD at michelle.doyle@ucd.ie / +353 1 7173712
Notes to editor
The Study of Genomics
Genomics is the study of all of a person's genes (the genome), including the interactions of those genes with each other and the person's environment. Genomics has a critical role to play in the identification, prevention and treatment of disease and rare conditions, including the scientific study of complex diseases such as heart disease, asthma, diabetes, and cancer because these diseases are typically caused more by a combination of genetic and environmental factors than by individual genes.
About Genomics Medicine Ireland
Founded in 2016, Genomics Medicine Ireland (GMI) is an Irish life sciences company leading large-scale, population-based genome research studies on the island of Ireland examining the relationship between genetics, health and disease. It is building a preeminent disease-specific database of population genomics. GMI works in collaboration with clinicians, patients, academic researchers and global biotech and pharmaceutical sectors to discover pathways to new treatments and new diagnostics for people both here in Ireland and around the world.
GMI is currently undertaking genomic research into a range of diseases in collaboration with a number of Irish hospitals, such as: Brain Tumours with Beaumont Hospital; Rare Diseases with Temple Street Hospital; Inflammatory Bowel Disease with St. Vincent's and Tallaght Hospitals; and the GenoFit study with UCD Institute for Sport and Health.
SHARE