UCD graduate is named the Ernst & Young 2012 Entrepreneur of the Year
Dr Edmond Harty, Technical Director of Kerry-based manufacturer Dairymaster has been named the Ernst & Young 2012 Entrepreneur of the Year.
Dr Harty was presented with the title of Entrepreneur of the Year by President Michael D. Higgins at a gala awards ceremony held in Dublin. It was the 15th anniversary year of the Ernst & Young Entrepreneur of the Year Awards programme in Ireland.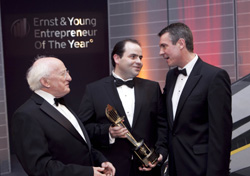 President Michael D. Higgins, Dr Edmond Harty and Frank O'Keeffe, Ernst & Young Partner-in-Charge of the Entrepreneur of the Year Programme
Dr Harty will now go on to represent Ireland at the World Entrepreneur of the Year Awards which will be held in Monte Carlo next June.
Frank O'Keeffe, Ernst & Young Partner-in-Charge of the Entrepreneur of the Year Programme, said, "Edmond Harty is an outstanding example of the phenomenal levels of creativity, commitment, ambition and determination that are required to effectively lead one of the most successful mechanical engineering businesses currently operating within the international arena and we are delighted to bestow this prestigious honour upon him this evening."
He added, "By maintaining his company's position at the cutting edge of global innovation, Edmond has built and developed an indigenous Irish business that today exports over 70 percent of its production to customers in over 40 countries, worldwide."
He concluded, "The domestic and international success that Edmond - and indeed each of our finalists - has achieved, further demonstrates that an unwavering sense of self-belief, combined with an ability to seize opportunities, even in the midst of adversity, will ultimately reap rewards."
Dairymaster was established by Dr Harty's father Ned in 1968. Its product range encompasses five key areas, milking equipment, automated feeding systems, hydraulic manure scrapers, cow fertility monitors and milk cooling tanks. The company, which employs 220 people, is headquartered in Causeway, near Tralee in Co Kerry and has operations in the UK and the US.
Dr Harty, a mechanical engineer by profession, joined the family business in 1998 while completing his PhD in University College Dublin under Dr Patrick Grace, in the UCD School of Biosystems Engineering. The title of his PhD was the measurement and modelling of liner behaviour and the influence of milking cluster design.
While completing his PhD, he developed a new method for the evaluation of milking units by measuring performance under flow conditions. This research has resulted in the test methods being adopted into the international standards for performance measurement of machine milking.
By milking each cow an average of one minute faster than the competition, Dairymaster's state-of-the-art equipment delivers 5 per cent more yield in scientific trials.
According to Dr Harty "..his PhD from UCD was a massive help.." in the development of Dairymaster over the last number of years.
Dr Harty was also named the winner of the Ernst & Young 2012 International Entrepreneur of the Year category.
He then went off to beat fellow finalists Paul Kenny (Emerging Category Winner) of Dubai-based Cobone.com and Colm Piercy (Industry Category Winner) of Irish telecoms business Digiweb of win the overall award.
ENDS
26 October 2012
For further information contact Micéal Whelan, University College Dublin, Communications Manager (Innovation), t: + 353 1 716 3712, e: miceal.whelan@ucd.ie.
Editors Notes
Dairymaster, a world leader in dairy equipment manufacturing, operates from its head office in Causeway, Co. Kerry, Ireland as well as having operations in the UK and USA. Dairymaster also exports to over 40 countries worldwide. The company was founded in 1968 by Ned Harty. Dairymaster has a wide innovative product range including milking equipment, automatic scrapers, automatic feeders, milk cooling tanks and heat detection systems. The continued growth of the Dairymaster brand worldwide and the increased demand for Dairymaster equipment is due to its popularity with farmers all over the world, who value the high-performance capabilities of the equipment and its innovative features. www.dairymaster.ie
The Ernst & Young Entrepreneur of the Year Awards are part of a global recognition programme, to identify, acclaim and support entrepreneurs and is currently run in over 55 countries, across six continents. The Irish programme, now in its 15th year, continues to go from strength-to-strength, championing the spirit of enterprise and creating a new era of opportunities for participants. On an annual basis, eight companies, from across the island of Ireland, are selected in each of three categories – Emerging; Industry; and International – representing a diverse array of business sectors. www.ey.com/IE/en
SHARE