TEDxUCD - 2015
We are delighted to announce that TEDxUCD 2015 will take place on Friday, 4 December in the UCD Dramsoc Theatre in the UCD Student Centre.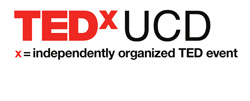 Our 2015 event will feature exceptional talks and performances from members of the UCD community of staff, students, alumni and friends.

Nominate a TEDxUCD 2015 Speaker
We are now seeking nominations for consideration as TEDxUCD 2015 speakers.
If you'd like to nominate yourself, or someone else, to be a TEDxUCD 2015 speaker please contact Caroline Gill (e: caroline.gill@ucd.ie) before 31 August and provide her with the following information.
Nominee name
UCD affiliation of nominee
Short overview outlining why the nominee would make an exceptional TEDxUCD 2015 speaker
Link to any previous talk(s) by the nominee.

Click here to find out more about our TEDxUCD 2014 event.
Click here to find out more about our TEDxUCD 2013 event.
For further information contact:

Caroline Gill
Innovation Education Manager
UCD Research and Innovation
t: + 353 1 716 3715
e: caroline.gill@ucd.ie
You can follow us on Twitter: @TEDxUCD, #TEDxUCD
Like us on Facebook: www.facebook.com/tedxucd
Watch videos of our previous TEDxUCD talks via: www.youtube.com/ucdinnovation
Thank you for your support and interest in TEDxUCD.
SHARE