TEDxUCD - 2014
Following the success of the first ever TEDxUCD held in 2013, we are pleased to announce that this year's TEDxUCD will take place on Saturday 14 June in the UCD Student Centre.
The 2014 event will feature exceptional talks and performances from members of the UCD community of staff, students, alumni and friends.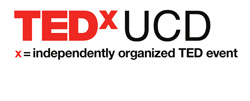 Click here to see who were our TEDxUCD 2013 speakers.
Click here to watch the videos of our TEDxUCD 2013 talks.

Click here to view images from TEDxUCD 2013 images.

Further information on TEDxUCD 2014, including information on tickets and speakers, will be posted here in due course.
Contact:
Caroline Gill
Innovation Programme Manager
Office of the Vice-President Innovation

t: + 353 1 716 3715
e: caroline.gill@ucd.ie
You can follow us on Twitter: @TEDxUCD, #TEDxUCD
Like us on Facebook: www.facebook.com/tedxucd
Thank you for your support and interest in TEDxUCD.
SHARE