TEDxUCD
The Office of the Vice-President for Innovation at University College Dublin hosted the first ever TEDxUCD event on 12 June 2013.
Click here to watch the videos of our 12 TEDxUCD talks.

TEDxUCD took place in The FitzGerald Chamber, a great venue in the recently opened UCD Students Centre.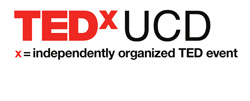 This new debating chamber resembles a mini-parliament and has been named in honour of the late Dr Garret FitzGerald, who was twice leader of Ireland as Taoiseach between 1981 and 1987.

Dr FitzGerald, who both studied and lectured at University College Dublin, was a true public intellectual deeply committed to the role of the university in society.
You can follow us on Twitter: @TEDxUCD
Like us on Facebook: www.facebook.com/tedxucd
Images of TEDxUCD are available on Flickr: www.flickr.com/photos/97725926@N03/with/9085990810/
Caroline Gill
Innovation Programme Manager
Office of the Vice-President Innovation

t: + 353 1 716 3715
e: caroline.gill@ucd.ie
SHARE