TEDxUCD 2015 - Talk Titles
The titles of our TEDxUCD 2015 talks are outlined below:


‌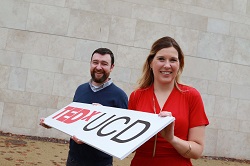 TEDxUCD 2015 speakers Dr Brendan Rooney and Dr Cara Augustenborg
Dr Cara Augustenborg: Fossil free Ireland
Dr Charlotte Blease: Philosophy is a right
Dr Marcus Collier: Novel ecosystems
Dr Fred Cummins: We speak therefore we are
Steven Duggan: Sickness - illiteracy as a fatal illness?
Dr Virigine Gautier: HIV cure: what lies beneath ?
Dr Kevin Healy: Listening to evolutionary oddities
Maeve O'Rourke: Why apologise today for 'historic' abuse ?
Dr Brendan Rooney: Controlling emotions: movies and (virtual) reality
SHARE