TEDxUCD 2016 - Talk Titles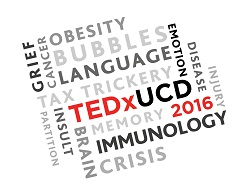 The titles of our TEDxUCD 2016 talks are as follows:
Dearbhla Burke: The insult added to injury.
Dr Sandra Collins: Memory keepers.
Professor Ron Davies: The true trouble of tax trickery.

Dr Susan Delaney: Grief, it's complicated.....10% of the time.

Professor Michaela Higgins: The cancer story you haven't heard.

Dr Andrew Hogan: Losing weight - why is it so difficult ?

Duncan Lennox:‌ The misunderstood brain.


Assoicate Professor Patricia Maguire: Tiny bubbles to clean up disease.
Dr Conor Mulvagh: Partition, where to draw the line.
John Sloan: Learning languages emotionally.
SHARE