Memory Keepers by Dr Sandra Collins at TEDxUCD 2016
University College Dublin (UCD)'s fourth annual TEDxUCD event, organised by volunteers from the UCD Research and Innovation team based at NovaUCD, took place in the UCD Dramsoc Theatre.
Among the TEDxUCD 2016 speakers was Dr Sandra Collins, a UCD graduate and Director of the National Library of Ireland.
Click here to watch her TEDxUCD 2016 talk entitled, 'Memory Keepers'.
Speaking after her TEDxUCD 2016 talk Dr Sandra Collins said, "The family memory keeper collects and keeps safe family memories. The National Library is a 'Memory Keeper' for Ireland, collecting and keeping safe memories that share the culture, heritage and story of Ireland. Memories can be subjective and interpretive, so keeping the authentic memory object, such as photographs, manuscripts and ephemera is important."
"As I outlined in my TEDxUCD 2016 talk, one of our current challenges is to collect and keep safe for future generations the contemporary memory objects which are increasingly 'born digital' on technologies which may become obsolete quickly."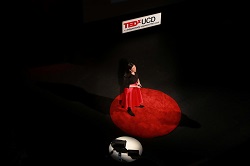 TEDxUCD 2016 speaker, Dr Sandra Collins
The 10 speakers who took part in TEDxUCD 2016 were members of the UCD community of researchers, students, alumni and friends who spoke on a wide range of ideas worth spreading on the overall theme of 'contemplation'.
Opening this year's event, Professor Orla Feely, UCD Vice-President for Research, Innovation and Impact said, "Following the success of our previous TEDxUCD events I am delighted that we are hosting our fourth annual TEDx event at University College Dublin. Organising and running TEDxUCD is an excellent example of how we engage with the general public, not only in Ireland but across the world, to share the ideas, knowledge and expertise emanating from members of the UCD community."
At TEDxUCD 2016 a combination of live speakers and a selection of TED Talks videos were combined to spark deep discussion and connection in a small group of 100 attendees. The TED conference provides general guidance for the TEDx programme, but individual TEDx events, including TEDxUCD, are self-organised.
Click here to watch the videos of the 10 TEDxUCD 2016 talks.
ENDS
December 2016
For further information contact Micéal Whelan, University College Dublin, Communications Manager (Innovation), e: miceal.whelan@ucd.ie, t: + 353 1 716 3712.
Editors Notes
Dr Sandra Collins was appointed the Director of the National Library of Ireland (NLI) in 2015. The NLI collects and makes available the recorded memory of Ireland, caring for more than 10 million items, including books, newspapers, manuscripts, prints, drawings, ephemera, photographs and digital media.
Sandra is originally a mathematician who developed her passion for digital innovation and cultural heritage over 20 years in the public and private sectors.
She was previously the founding Director of the Digital Repository of Ireland in the Royal Irish Academy, where she established and led a national research centre developing policy and e-infrastructure for digital preservation of cultural data.
Prior roles include programme manager in Science Foundation Ireland, senior researcher and manager in Ericsson telecommunications, and mathematics lecturer in Dublin City University.
She serves on many international and national policy committees including the Irish Government's Open Data Governance Board, the Irish National Steering Committee on Open Access Policy and the Horizon 2020 Expert Advisory Group on Research Infrastructures. She is a member of the Chester Beatty Library Board of Trustees, the Board of the Irish Manuscripts Commission, and the Council of the Library Association of Ireland.
In 2014 she was named as one of Silicon Republic's Top 100 Women in Technology, and in 2015 Inspiring Ireland, a national digital cultural project she led, won three Irish eGovernment Awards.
Dr Collins completed her PhD in nonlinear fluid dynamics in UCD's School of Mathematical Physics in 1996.
Information on each of the other TEDxUCD 2016 speakers, and the event MC, is available via www.ucd.ie/innovation/newsevents/tedxucd/speakers/
SHARE