NovaUCD Campus Company Development Programme
The NovaUCD Campus Company Development Programme (CCDP) was run annually from 1996 to 2012. In the 17-years of the programme over 190 new ventures and over 310 individuals completed this programme.
In 2013 the CCDP is being replaced by the new VentureLaunch Accelerator Programme.
The aim of Campus Company Development Programme (CCDP) was to assist academic and research entrepreneurs in the establishment and development of knowledge-intensive enterprises to commercialise the output of their research and other innovative ideas.
The Programme assisted participants to define and develop their innovative ideas and prepare a detailed business plan.
The Programme which began each Spring at NovaUCD contained a mix of practical training and consultancy support including 12 half-day workshops, one-to-one advice and consultancy meetings, and a series of networking events. Throughout the programme, participants were assisted in the development of a business plan by the CCDP team.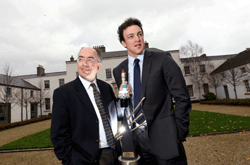 Professor Brian Glennon & Dr Mark Barrett, co-founders, APC Ltd
UCD School of Chemistry & Chemical Biology
Overall winner 2011 CCDP
The projects of participants on the programme were assessed by an independent evaluation panel made up of representatives from NovaUCD's network and sponsors, including Arthur Cox and Deloitte. Projects were evaluated based on the progress made during the course of the programme through presentations made to the Panel at the beginning and end of the programme and on their business plan.

The 2011 Campus Company Development Programme Awards Evening
The CCDP culminated in an awards evening held each November. At this event each, project promoters delivered an 'elevator pitch' to an audience which was made up of the NovaUCD network which includes venture capitalists and business angels. Each promoter who had completed the programme was presented with a Certificate.
The business plans of three shortlisted projects were then presented by their promoters who each received a sculpture and monetary award and an overall winner was announced.
If you are interested in further information contact
Caroline Gill
Innovation Education Manager,
Office of the Vice-President for Innovation
t: +353 1 716 3715
e: caroline.gill@ucd.ie