2013 UCD VentureLaunch Accelerator Programme - New Venture Profiles
The 6 early-stage companies and new ventures taking part in the 2013 UCD VentureLaunch Accelerator Programme are profiled below.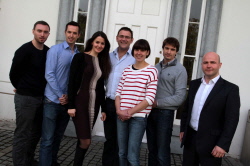 Ronan Murphy and Kevin Doherty, Gazel; Dr Nora Khaldi, Nuritas Ltd; Dr Kevin McCarthy, Aficionado; Kate Cronin, Obeo and Dr Barry Greene and Seamus Small, Kinesis Health Technologies Ltd
Aficionado is a knowledge management SaaS (software-as-a-service) solution which supports the discovery of specific expertise across an organisation. In many organisations, such as large corporates or universities, finding experts and retaining their knowledge is a significant problem. Aficionado, which can automatically model expertise from both structured and unstructured document repositories, is easy to set up and use and allows for the searching, discovery and visualisation of expertise across various dimensions within an organisation.
As an insight tool, Aficionado helps users understand the topology of expertise across their organisations as well as offering comparison and report generation capabilities. As a marketing tool, Aficionado can be used to showcase organisational expertise to attract partners and funding and to develop successful collaborations.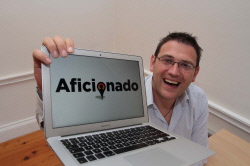 Dr Kevin McCarthy, promoter Aficionado
The promoter of Aficionado is Dr Kevin McCarthy, INSIGHT, UCD School of Computer Science and Informatics.
Fondúireacht Bhéaloideas Éireann (National Folklore Foundation) is a not-for-profit venture being established to preserve, conserve and disseminate to a global audience the National Folklore Collection held at University College Dublin.
This collection is an unparalleled resource of Irish culture and heritage and is home to one of the largest collections of oral and ethnological material in the world. It contains in the region of 2 million pages of written lore, more than 10,000 hours of sound and visual recordings, 80,000 photographs and images and a specialist library.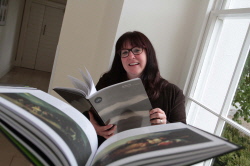 Dr Kelly Hughes, co-promoter, Fondúireacht Bhéaloideas Éireann
The promoters of Fondúireacht Bhéaloideas Éireann are Dr Kelly Fitzgerald and Professor Ríonach Uí Ógáin, UCD School of Irish, Celtic Studies, Irish Folklore and Linguistics and the National Folklore Collection at UCD.
Gazel is a new homeware brand which is designing and selling exclusive lifestyle products for the modern home. Gazel 'rethinks the everyday' with innovative objects that combine beauty with convenience. Gazel's products are spread throughout the home, and include an ingeniously easy to use clothes hanger and a striking multi-purpose kitchen knife.
The promoters of Gazel are Kevin Doherty and Ronan Murphy, National College of Art and Design.
Kinesis Health Technologies Ltd has developed a falls risk assessment technology named QTUG (quantitative timed-up and go) that can be used by a broad range of healthcare professionals and care providers to facilitate objective assessment of falls risk and mobility in older adults.
Falls are a costly, complex and common problem, with 1 in 3 people over the age of 65 years falling once each year. This figure rises to 1 in 2 in the over 80s. In the US alone, the annual cost of falls management is estimated to be $30 billon. In addition, 40% of deaths of older people are as a result of a falls incident.
Kinesis has developed a unique approach for assessing falls risk and mobility in older adults. Accurate identification of falls risk and mobility impairment can be used to facilitate targeted intervention, which in turn may lead to a reduction in the number of falls among older adults as well as improved quality of care.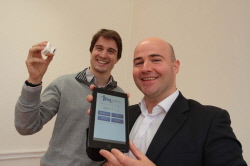 Dr Barry Greene and Seamus Small, co-founders, Kinesis Health Technologies Ltd‌
The founders of Kinesis Health Technologies Ltd are Dr Barry Greene and Seamus Small, UCD School of Public Health, Physiotherapy and Population Science and TRIL (Technology Research for Independent Living) Centre and Bill Bollengier who is based in the USA.
Nuritas Ltd uses cutting-edge bioinformatics to help food companies quickly and cost-effectively add a health value to their ingredients.
Nuritas achieves this by identifying therapeutic molecules in food ingredients known as bioactive peptides. These molecules have various therapeutic qualities, such as their capacity to enhance our immune response, or lower syndromes such as diabetes and cholesterol. These bioactive peptides can be added to products allowing food companies to quickly gain market share in the functional food market.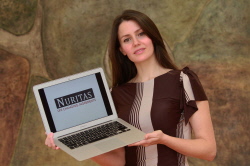 Dr Nora Khaldi, founder, Nuritas Ltd
The founder of Nuritas Ltd is Dr Nora Khaldi, UCD School of Medicine and Medical Science, Complex and Adaptive Systems Laboratory (CASL), and the UCD Conway Institute.
Obeo has developed a product to address user convenience issues surrounding food waste recycling in the home. Obeo aims to help households to more conveniently separate their food waste in the kitchen so that it can be diverted from landfill either by using the 'brown bin' service or through home composting.
To do this Obeo has developed a stylish all-in-one 100% compostable food waste caddy which allows householders to quickly and easily collect kitchen food waste. When full, the caddy, along with its contents is sealed and placed into the 'brown bin' or home compost. Obeo is made from a combination of recycled card and water resistant paper, and is compostable to EU standards.
The promoters of Obeo are Kate Cronin and Elizabeth Fingleton, National College of Art and Design.