2014 VentureLaunch Accelerator Programme Participants
The 7 new ventures taking part in the 2014 UCD VentureLaunch Accelerator Programme are profiled below.
Click here to find out more about the 2014 VentureLaunch Accelerator Showcase and Awards event on 17 November and to register for the event,
Atturos has developed an innovative blood-based clinical diagnostic test to support the life changing decisions men have to make once diagnosed with prostate cancer. The promoters of Atturos are Professor Steve Pennington and Dr Brian Flately,UCD School of Medicine and Medical Science.
BlackLabBio delivers technology solutions to the biopharmaceutical industry to enable improved production of high value proteins at a reduced cost of manufacture. The promoters of BlackLabBio are Dr David O'Connell and Dr Darragh O'Donovan,UCD School Biomolecular and Biomedical Science, UCD Conway Institute.

Dr Darragh O'Donovan and Dr David O'Connell, promoters, BlackLabBio
Cara Mobility is developing a platform to which interchangeable attachments can be added to assist wheelchair users carry out daily tasks such as working, studying, shopping and caring for their children. The promoter of Cara Mobility is John Horrigan, National College of Art and Design.
Insight Renewables create clean renewable and smokeless coal from biomass. Insight Renewables removes moisture and low energy components from biomass resulting in a 30% increase in energy density over existing biomass fuels creating savings in transport and storage. The promoters of Insight Renewables are Professor K. Ravindranathan Thampi, Robert Dowdall and Colin Keogh, UCD School of Chemical and Bioprocess Engineering.
Magnostics delivers solutions for diagnostic test manufacturers based on proprietary nanotechnology that allows delivery of more efficient, sensitive and cost effective tests. The promoters of Magnostics are Professor Gil Lee and Dr Loraine Smith, UCD School of Chemistry and Chemical Biology.
NovoGrid offers a software solution that enables distributed energy resources, such as wind farms, to reduce the cost of delivering their energy production to the electricity grid. The promoters of Novogrid are Dr Peter Richardson, Dr Andrew Keane and Paul Manning, UCD School of Electrical, Electronic and Communications Engineering.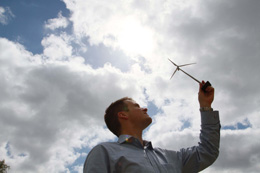 Dr Peter Richardson, a promoter of NovoGrid
Sensible Solutions offers professional sensory evaluation services to food researchers and businesses for their food ingredients and food products. The promoters of Sensible Solutions are Dr Emma Feeney and Dr Amalia Scannell UCD School of Agriculture and Food Science.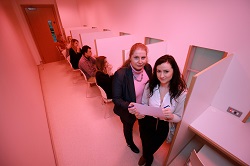 Dr Amalia Scannell and Dr Emma Feeney, promoters, Sensible Solutions