Entry Criteria and Application Process
A maximum of seven projects will take part on the annual programme. Projects will be screened by UCD's Technology Transfer team and those deemed eligible for the programme will be chosen by the VentureLaunch Programme Board.
Interested participants should complete an expression of interest form (via link below) which can then be forwarded to the relevant UCD Technology Transfer Case Manager. It is advisable that you speak with the relevant UCD Technology Transfer Case Manager to discuss your application in advance of submission.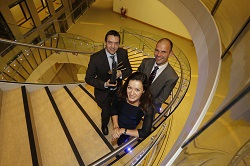 Pictured (l-r) are co-founders of EpiCor Therapeutics, a UCD School of Medicine start-up, Dr Chris Watson, Dr Nadia Glezeva and Dr John Baugh, winner of the 2016 UCD VentureLaunch Accelerator Programme
Agriculture, Food and Veterninary Science: Dr Stacey Kelly, e: stacey.kelly@ucd.ie
Environment: Dr Stephen Donoghue, e: stephen.donoghue@ucd.ie
Life Sciences: Dr Ena Walsh, e: ena.walsh@ucd.ie
Information and Communications Technologies: Simon Factor, e: simon.factor@ucd.ie

Physical Sciences and Engineering: Dr Hugh Hayden, e: hugh.hayden@ucd.ie
Expressions of interest forms must be submitted by June. Projects will be notified on the outcome of their application in late June.
The following factors will be used to assess eligibility:
Team: Requirement for a credible team made with a commercial advisor (If a commercial advisor is not currently involved we can assist in identifying an appropriate individual for the duration of the programme).
Market: Requirement for evidence and first hand engagement of a scalable market opportunity which can be accessed to support the development of a robust new business venture.
IP: Requirement for tangible IP with a clearly defined technology roadmap with appropriate IP strategy and freedom to operate.
Credible funding plan: Requirement for technology funding through to launch of a new business venture within one year.
UCD VentureLaunch Accelerator Programme Application Form Final
SHARE