2017 UCD Start-up Stars Participants
The following 5 early-stage ventures completed the 2017 UCD Startup Stars Programme.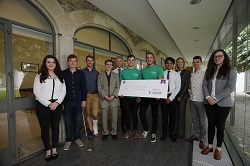 Participants on the 2017 UCD Start-Up Stars Programme
This entrepreneurship programme, now in its 3rd year, has been developed by UCD Research and Innovation, the UCD Innovation Academy and UCD Michael Smurfit Graduate Business School, to support UCD undergraduate and postgraduate students who want to work together to develop and grow start-up companies.
The 5 ventures are;
Aosta Medical aims to identify those members of the elderly population who are at risk of falling in order to prevent them falling and sustaining injuries. Aosta Medical's novel solution involves capturing whole body data of individuals, achieved by visually analysing a subject with 3D cameras, in a non-invasive manner. This data, when combined with machine learning algorithms, will allow for the continuous improvement in predicting the likelihood of an individual falling in order to assess his/her need for early medical intervention.
The members of the Aosta Medical team are undergraduate students, John Murtagh (Medicine), Sinead Carroll (Commerce), Clodagh Dunne (Mechanical Engineering) and Eoghan O'Neill (Bio-mechanical Engineering).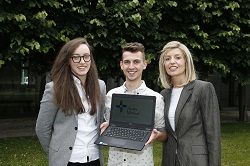 Cloadagh Dunne, Eoghan O'Neill and Sinead Carroll, Aosta Medical
BeauBae is developing a platform to connect freelance beauticians to those seeking their services at a time, price and location that suits both parties. BeauBae's market research indicates that both men and women currently find it a disappointing experience to find, book and pay for a freelance beautician in their locality.
To solve this problem BeauBae is developing a platform to give customers the freedom to find, book and pay for a local freelance beautician. The platform will enable customers do this in a simple and cheaper process, than currently available beauty service providers. The platform will also provide a space for beauticians to market themselves to potential customers.
The members of the BeauBae team are undergraduate students, Grace Sherry (Commerce), Oisin Kirwan (Dairy Business), Harry Stapleton (Commerce) and Cathy Browne (Commerce).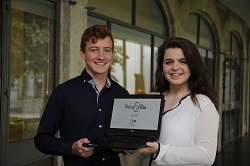 Oisin Kirwan and Grace Sherry, BeauBae
O'Kale Krisps has developed low-calorie, highly nutritious and air-dried kale crisps to give consumers a unique and healthy snack alternative when they are on the go. Each tub of O'Kale Krisps contains only 69 calories, is high in iron, calcium, vitamin C, antioxidants and anti-inflammatories. The snacks are currently on sale in three flavours (original, spicy chilli and cheesy) and in 28 stores across Ireland.
The members of the O'Kale Krisps team are UCD undergraduate students, Jack Parsons (Business and Law) and Oisin McElhinney (Arts).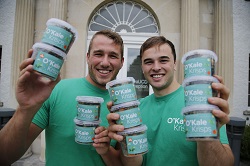 Oisin McElhinney and Jack Parsons
Paypiq is developing a new revenue model for accessing free and premium online content, including news content.
Users want to be able to access a wide range of content with the least amount of hassle. Users don't want to have to subscribe to read one article or go through a registration process on every website they visit. News publishers also need to earn more from advertising or from users as most are struggling to break even or are losing money.
Paypiq's solution offers users a single sign-in account from which they can access any number of websites, not limited to news publishers, without having to separately register for each one. This enables users to access premium content, either by subscription, pay-as-you-go, or by viewing adverts.
Paypiq's approach is to let publishers keep control over their own content, not limited to news, on their own websites. As a result, Paypiq has potential to scale, and to provide income for a wider range of content publishers and, ultimately, to change the way in which much of the content on the web is consumed.
The members of the PayPiq team are postgraduate student, Frank Humphreys (Data Science) and undergraduate student Fiachra Doherty (Mechanical Engineering).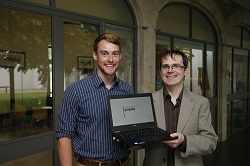 Fiachra Doherty and Frank Humphreys, Paypiq
Entering university is far more stressful then it needs to be for students and this contributes to the high drop-out rates many universities experience. To solve this issue UniLYF is developing a digital platform to help universities reduce first year drop-out rates. The platform aims to do this with a modular and a university specific approach to help their students transition more successfully from the secondary school environment and integrate better into the student body at their university.
The members of the UniLYF team are undergraduate students, Abdullah Ahmed (Chemical Engineering), James Carron (Data Analytics) and Anas Khaled (Mathematics).

James Carron and Abdullah Ahmed, UniLYF
O'Kale Krisps was the overall winner of the 2017 UCD Startup Stars Programme.
The sponsors of UCD Startup Stars Programme are; AIB, Arthur Cox, Ericsson, Growing Capital, Goodbody Stockbrokers and Xilinx.