Undergraduate Programmes
UCD welcomes applications from Singaporean students to our undergraduate programmes. Find out about our courses, entry criteria to UCD programmes, how to apply, what the visa requirements are, fees, scholarships and who to contact for further information.
Our courses
UCD offers over 70 undergraduate honours degree courses in the following areas of study. Click on the links below in your area of interest to find out more.
View courses by discipline
Undergraduate Entry Requirements - Singapore
Undergraduate programmes in UCD are categorised into four programme bands of competitiveness. Please see your desired programme band below to determine the minimum required to be eligible for consideration on a competitive basis. Entry requirements are reviewed on an annual basis.
Please note: the equivalences below are a guideline for entry requirements. Each course may have additional requirements. If you are presenting with qualifications other than those indicated above please email internationaladmissions@ucd.ie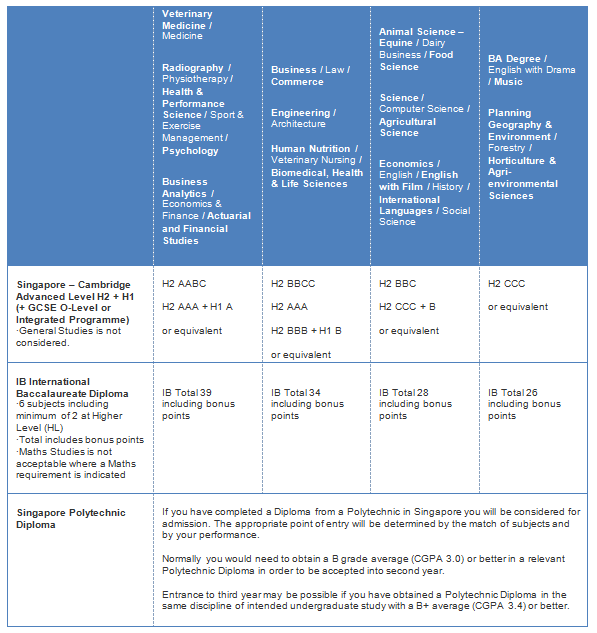 ‌
Maths and Science Requirements
Some programmes in UCD have specific entry requirements for Maths and Science. Use this table to determine the specific programme subject requirements across the various recognised exams.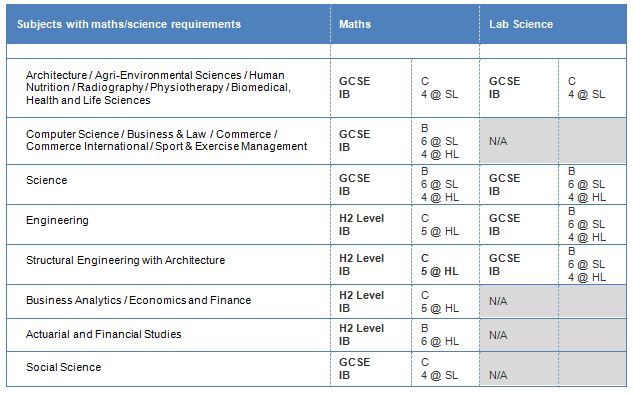 ‌
English Language Requirements
Teaching in Irish Universities is normally through the medium of English, therefore all applicants are required to demonstrate a high level of competence in English language.
For Singaporean applicants UCD recognise the appropriate minimum score in the following recognised English Language Examinations: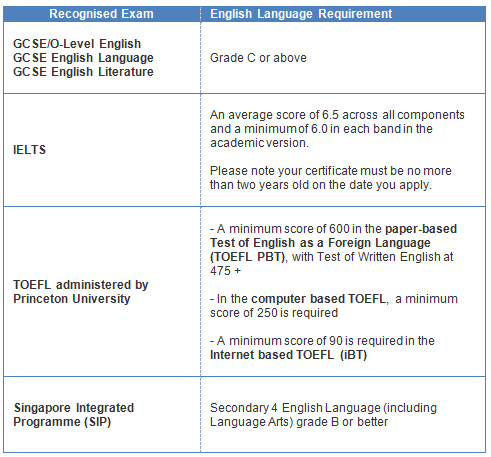 ‌
Some courses require a higher level of English language competency. Please check with the relevant UCD School.
For more information on all recognised exams please visit the English Language Requirements website, or contact UCD Admissions.
If you have completed your iGCSEs or O-Levels you can choose our one year Foundation pathways to Business, Economics and Social Sciences or Engineering and Sciences. Please find more information here: International Foundation Year or click the image below.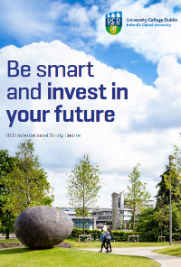 ‌
Apply Direct
You can apply direct to the university at www.ucd.ie/apply. You will be required to pay an application fee of €50 and asked to fill out an online form and upload your documents. You will be informed what documents you need to upload once you have selected your course.
Apply with an approved Agent
You can apply for UCD through one of our approved agents. Please see the list of approved agents below, under Agents in Your Country. There is no application fee if you apply through an approved agent, and they can assist you with your application, scholarship, paying your fees, your visa and making your arrangements to come to UCD.
Documents for your application
Typically Undergraduate applications require:
- Copies of your high school grades and certificates (Singapore-Cambridge A-Level, IB, SIP, NUS Diploma etc)
- Your English language certificate
Some courses may require additional documents such as references or personal statements. Please refer to your online application for specific document requirements. Please see above for information on course entry requirements and English language requirements.
Applying before you have your final results
You can apply before you have your final high school exam results. We recommend you apply using your predicted or forecasted results, which you can obtain from your school. We can issue conditional offers based on predicted results, and then will require your final grades once they are available.
Medicine Applications
For more information on applications to UCD Medicine please visit www.ucd.ie/international/study-at-ucd-global/how-to-apply-medicine/
Do I need a Visa?
Some but not all non-EU/EEA students require an entry visa for Ireland. You can check on the Irish Naturalisation and Immigration Service website for the list of countries that are not visa required. Please note that currently students from Singapore do not need to pre-apply for a visa. You can register as a full-time UCD student on arrival in Ireland. Please see this page for more information.
Tuition fees are based on the course of studies chosen. Full information on fees for specific programmes can be found on the UCD Fees page.
Global Excellence Undergraduate (Bachelor) Scholarship
Open to: All successful applicants to the full time programmes who reside in, and are citizens of Malaysia, Indonesia, Thailand, Vietnam and Singapore.
(Scholarship Applications for the 2016/2017 academic year are now closed)
Award:
100% tuition fee scholarship
5 x 50% tuition fee scholarships
Deadline: 31st March 2016
Clinical programmes are not eligible for these scholarships. These awards are merit based and terms and conditions apply.
More information: please contact southeastasia@ucd.ie
[NOTE: All scholarship and funding schemes are subject to availability of funds, and details given here are subject to change at any time. Potential applicants are urged to check information regularly to ensure they are aware of current procedures, deadlines etc.]
For details of upcoming visits, see our
meet us
page.
Educational Link Consultants (S) Pte Ltd


545 Orchard Road
#06-04 Far East Shopping Centre
(next to Wheelock Place)
238882


Contact: Bill Lee / Ginny Lee
Phone: +65 6238 7310, +65 6235 1080
Email: bill@edulink.com.sg
Web: www.edulink.com.sg
Overseas Education

Kitchener Complex | Blk 809 French Road | #04-172
Blk 809 French Road #04-172
200809

Contact: Kuah Ann Soon
Phone: +65 6100 9800 | 6333 5100 | 6392 0567
Email: info@asedu.net
Web: www.overseaseducation.sg
Region Development Point Ltd

491B River Valley Road,
#13-101A Valley Point,
Singapore, 248373

Contact: Dr. Stanley Quek
Phone: + 65 6 3392866
Email: jolee@regiongroup.com.sg
Sue McAlinden

‌

Geetha Arumugam

‌

Kiko Tai WanHuey

Regional Manager- SE Asia
UCD International
Gerard Manley Hopkins Centre
University College Dublin
Belfield, Dublin 4, Ireland

Email: southeastasia@ucd.ie
Web: www.ucd.ie/international

Recruitment Coordinator
UCD Global Centre SE Asia
Suite 9.07, North Block, The Ampwalk
No. 218, Jalan Ampang, 50450
Kuala Lumpur, Malaysia

Email: southeastasia@ucd.ie
Web: www.ucd.ie/international

Recruitment Assistant
UCD Global Centre SE Asia
Suite 9.07, North Block, The Ampwalk
No. 218, Jalan Ampang, 50450
Kuala Lumpur, Malaysia

Email: southeastasia@ucd.ie
Web: www.ucd.ie/international