Global Networks and Partnerships
UCD is a member of several international networks and collaborations within research and education, such as Universitas 21 (U21), Tempus, Erasmus, Erasmus Mundus Action 1 and Action 2. Being a part of international networks and programmes offers exceptional opportunities for student and staff mobility, scholarships as well as research and teaching collaboration. In addition to our network of university partners we have a number of other strategic relationships with government ministries, sponsors and funding bodies.
Universitas 21
UCD is an active member of the Universitas 21 university network. Universitas 21 (U21) is an international network of 25 leading research-intensive universities in sixteen countries.

UCD are currently participating in a number of programmes within Erasmus Mundus falling under two different types of programmes- Erasmus Mundus Action 1 (Joint Graduate Degrees) and Erasmus Mundus Action 2 (former External Cooperation Window).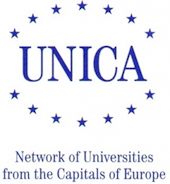 UNICA is a network of 46 universities from the capital cities of Europe, with a combined strength of over 150,000 staff and 1,800,000 students. Its role is to promote academic excellence, integration and co-operation between member universities throughout Europe. It seeks also to be a driving force in the development of the Bologna process and to facilitate the integration of universities from Central and Eastern Europe into the European higher education area.
To achieve its aims UNICA articulates the views of member universities to European institutions and to national, regional and municipal governments. It provides members with information on European initiatives and programmes, and supports them in co-operative projects. It also provides a forum in which universities can reflect on the demands of strategic change in university research, education and administration.
For further information, please visit the UNICA website.

The European University Centre in Peking University serves as an academic embassy and facilitates research cooperation and student exchange between Peking University and member universities in Europe.
The partnership consists of the following partner institutions:
Peking University
Aarhus University
Aristotle University of Thessaloniki
Autonomous University of Madrid
Lund University
University College London
University College Dublin
University of Milan
University of Vienna
University of Warsaw
Uppsala University
You can find out more about the EUC and its initiatives on this website.
Contact

Eve Brosseau
Senior Global Partnerships Officer
Email: Eve.brosseau@ucd.ie
Tel: +353 1 716 8580