Drive File Stream
Drive File Stream is a desktop application that allows you to access all of your Google Drive files directly from your Mac or PC, without using your disk space. You can work with Drive files directly from the apps you're used to, like Microsoft Word and Adobe Photoshop. Any changes you make to files in those apps are saved automatically to Drive and can be accessed from any of your devices later.
Drive File Stream is the replacement for the Google Drive Sync tool. If you currently use the Google Drive sync tool you should uninstall it before using File Stream.
Open All
With Drive File Stream, files you open are streamed directly from the cloud on-demand. You can:
Quickly see all your Google Drive files in Finder/Explorer (including team owned files).
Browse and organize Google Drive files without downloading all of them to your computer.
Choose which files or folders you would like to make available offline.
Open files in common apps like Microsoft Office and Adobe Photoshop.
To open Google Format files in File Stream, right-click and select "Open in Google Drive". You can also select files and folders that you want to be available offline.
Getting Started
Open Google Drive via UCD Connect, click the settings icon at the top-right and click 'Download Drive File Stream..'
Sign-in with your UCD email address and then enter your UCD username and password. Click 'Allow' at the next screen.
Drive File Stream appears as a mapped Drive in Windows and a mounted drive on a Mac: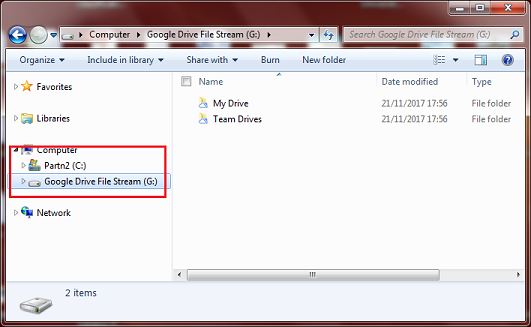 Help and Support
Check the Help Centre if you have any issues