Props used in Manipulation Skills
Manipulation Skills involve the use of a prop where at least one part of it remains in contact with your body at all times. They are similar to Dance Skills in this respect. The difference between them is really just the reliance on flowing whole body movements in the Dance Skills while Manipulation Skills may be performed effectively with the majority of the performer's body appearing almost stationary. Here is a short list of the usual props used for Manipulation Skills.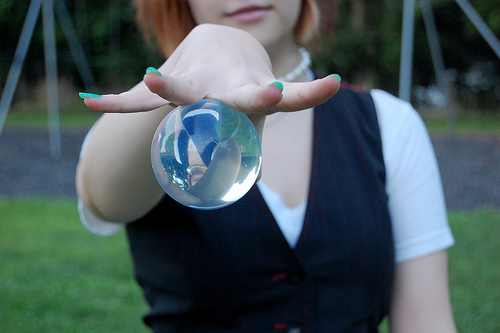 Contact Juggling
Most often performed using either a hollow vinyl Stage Ball, transparent acrylic Contact Ball, or sand, silicone or salt-filled Russian Ball, the performer performs a routine of rolls, spins, isolations, balances and freezes using their body as a prop in the performace also.

Go to top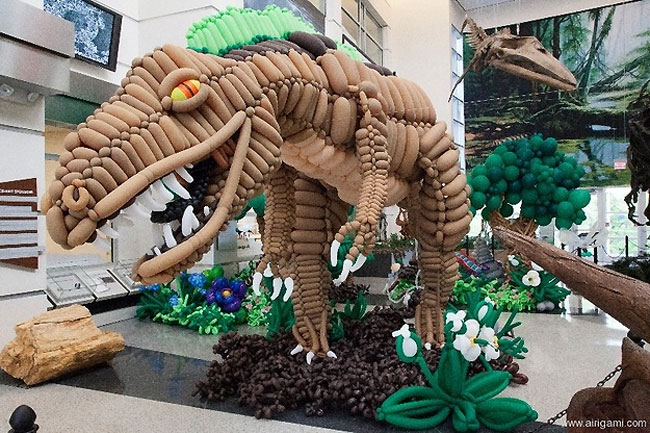 Balloon Modelling (Twisting)
Balloon Sculptures are most often made from either size 160q or 260q latex Balloons and inflated using either by mouth, air pump or compressed gas. Twisters generally do not fill their Balloon Sculptures with helium as not only is the material too porous to hold it but also they tend to be too heavy to demonstrate the desired lift.

Go to top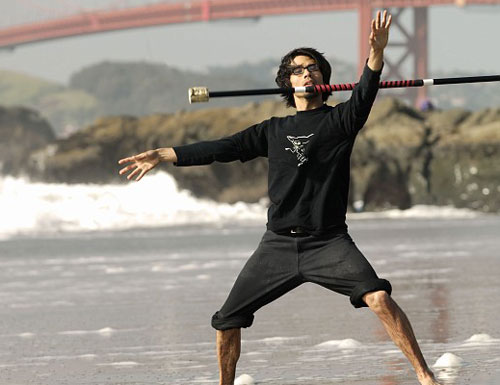 Staff
May be performed using either one long Staff, two shorter Staffs or a Cane. Typical materials include wood, bamboo and aluminium. A routine involving Staff Spinning often combines Contact Juggling moves such as body rolls and Dance moves such as those used in Poi.

Go to top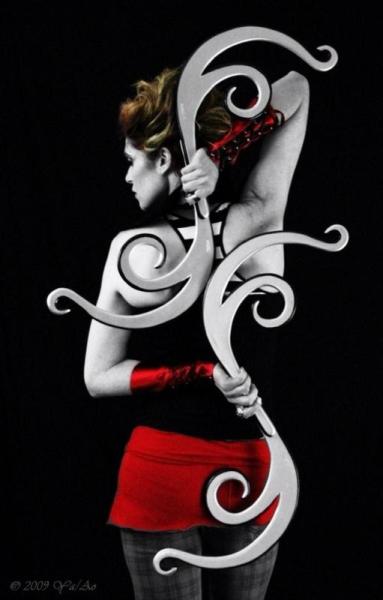 S-Staff (Buugeng)
Usually performed with a set of two, S-Staffs are S-shaped props which are manipulated in a similar way to Staff spinning, but with a few additional manoeuvres. A Buugeng, on the other hand is a variant of S-Staff which folds into an S-shape from a scythe-shaped hook.

Go to top
Devilstick
This prop is really a set of at least three sticks; two handsticks and at least one baton. Unlike the handsticks, the baton is not a rod of continuous width but is more of an hourglass shape, expanding in diameter toward each end. Using the handsticks to control the movement, the performer manipulates the baton in a a combination of gyroscopic or lifting fashions and may even perform Contact body rolls and Juggling manoeuvres.

Go to top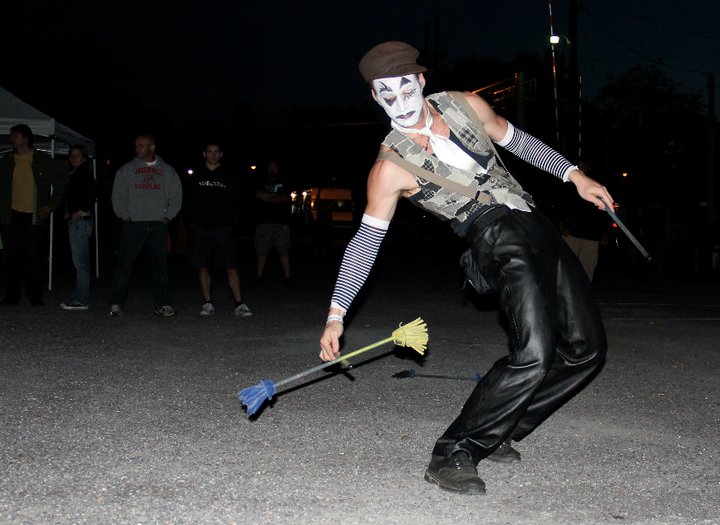 Flowerstick
A variant on the Devilstick, Flowerstick is also a set of at least three sticks, but the baton in this case is a rod of of continuous diameter with flower-like tassles (often made of leather or plastic strips) on either end. The tassles create drag during manipulation which help to slow the movement, making it easier to learn and perform certain tricks than Devilstick.

Go to top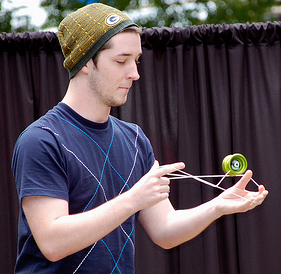 Yo-yo
There are a few styles of Yo-yo, from the commmon sleeping yo-yo to ones with a counterweight in place of the finger-loop and even an off-string variant. Available in a multitude of sizes, weights and shapes including imperial, modified, butterfly, and slimline. There are a variety of axles types on the market also; fixed, bearing and clutch transaxle. Yo-yo techniques are described as either sleeping, looping, off-string or freehand.

Go to top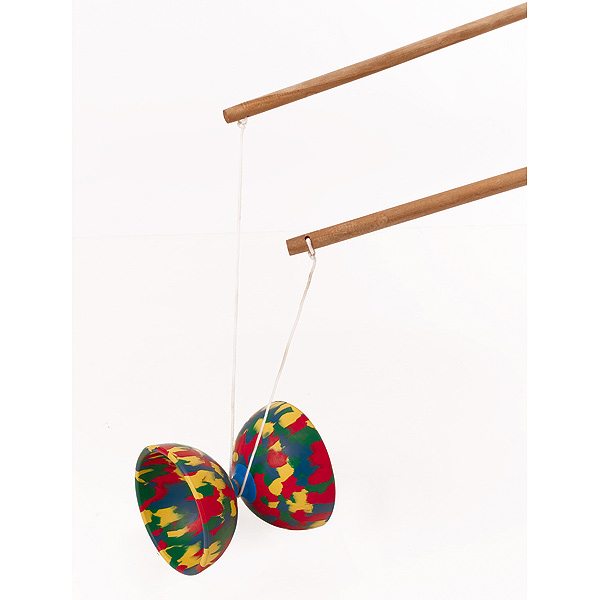 Diabolo (Chinese Yo-yo)
Similar in appearance to a large, off-string butterfly yo-yo, the prop itself is an axle (either fixed or bearing) connected to two cups and is spun on a string connected by two handsticks. Diabolos come in a range of axle-lengths, weights and cup-sizes and materials. Handsticks are usually either wooden, carbon fibre or aluminium. Multiple Diabolos can be manipulated on the same set of handsticks.

Go to top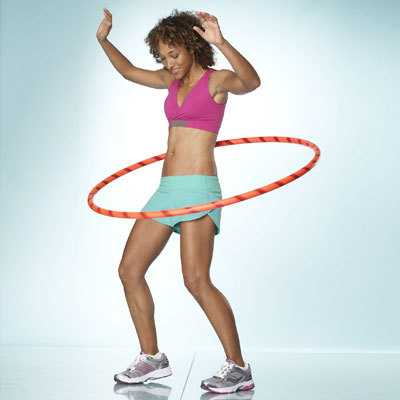 Hula Hoop
Nowadays made of plastic tubing decoratively wrapped with tape (sometimes foam grip to ease handling). Adult hoops tend to be 1.02 metres in diameter. The performer's routine will be affected by the weight and size of the hoop, with heavier hoops being used to perform slow movements and whole body manoeuvres while lighter ones are used when performing faster tricks and spinning on body extremities, such as hands and feet.

Go to top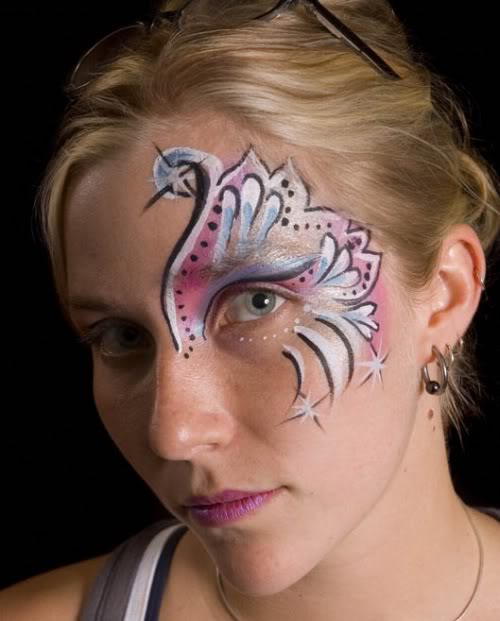 Face-painting
Special water-based non-toxic cosmetic paints, usually non-allergenic, which are applied by the artist in an aesthetically pleasing manner using a combination of sponges and brushes, even airbrushes. Some degree of drawing ability is required for this Skill.

Go to top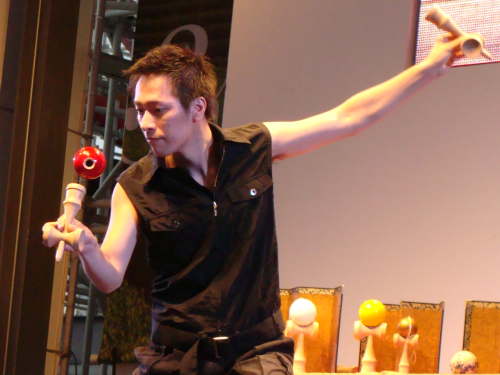 Kendama (Ring and Pin)
A wooden spike, known as a ken, with a small convex cup-shape, chuzara, on one end which tapers to a point with a crosspiece, sarado, containing a big cup, ozara and medium cup, kozara. There is a string tied to the ken under the sarado which connects to a ball-shaped object, a tama, with a hole in the opposite side which fits the spike of the ken. There is a wide array of tricks which can be performed with this prop, including aspects of Contact Juggling.

Go to top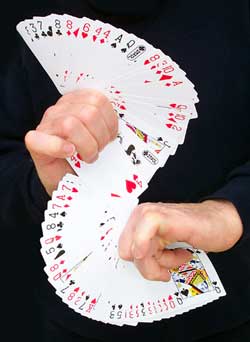 Card Manipulation
Shuffling illusions performed using sleight of hand on a deck of 52 cards, often Bicycle brand as they are competition grade cards. Techiniques involve lifts, false deals, side slips, passes, palming, false shuffles, false cuts, changes, crimps, jogs and reverses.

Go to top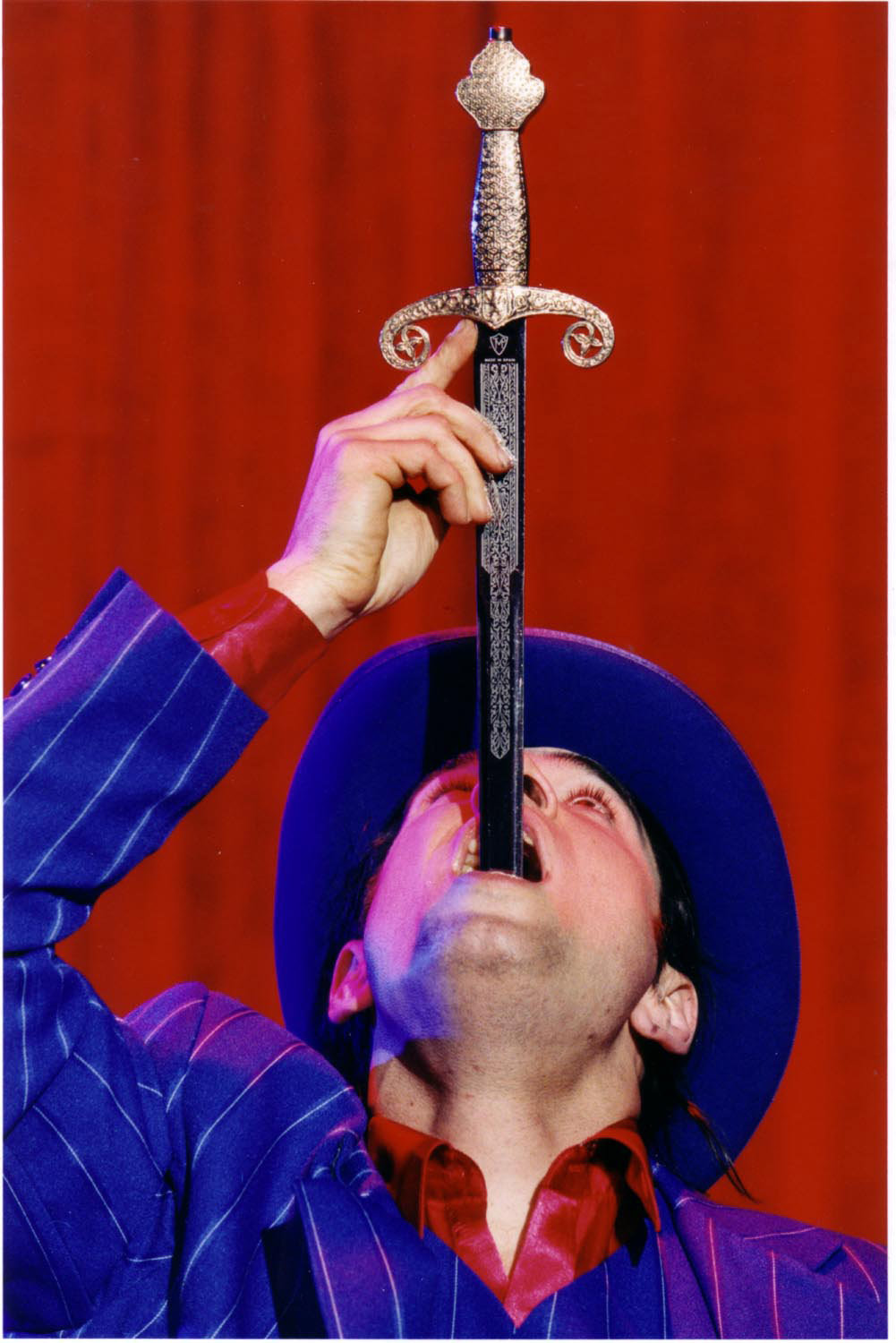 Sword Swallowing
Contrary to popular belief, most Sword Swallowers do not use fake Swords (gaffs) or pre-emptively-swallowed sheaths. It is not an illusion or trick; the performer does actually swallow a real Sword, sharp edges and all, making it one of the most dangerous Circus Arts to perform. Although some performers use curved or wavy-bladed Swords, the majority use straight ones.

Go to top
Whip
Two forms of Whip are generally used in Circus Skills; Bullwhip or Stockwhip. Shortwhips are handled, single-tailed braided lashes, while the handles of Bullwhips are embedded in the lash, they have shorter handles and the lash often ends in a fall (cracker) which gives a louder cracking sound than normal whips.

Go to top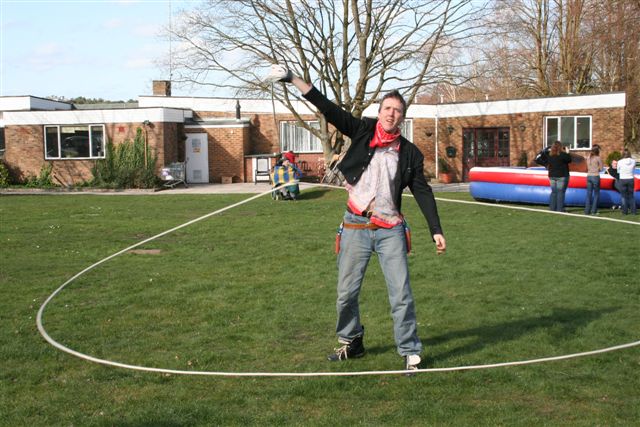 Lasso (Trick Roping)
A stiff nylon or polyester rope (or a braided rawhide rope in the case of a Reata) with a noose which is maintained by a small, reinforced loop, known as a honda. Circus practitioners' routines involve a series of Lasso spinning tricks.

Go to top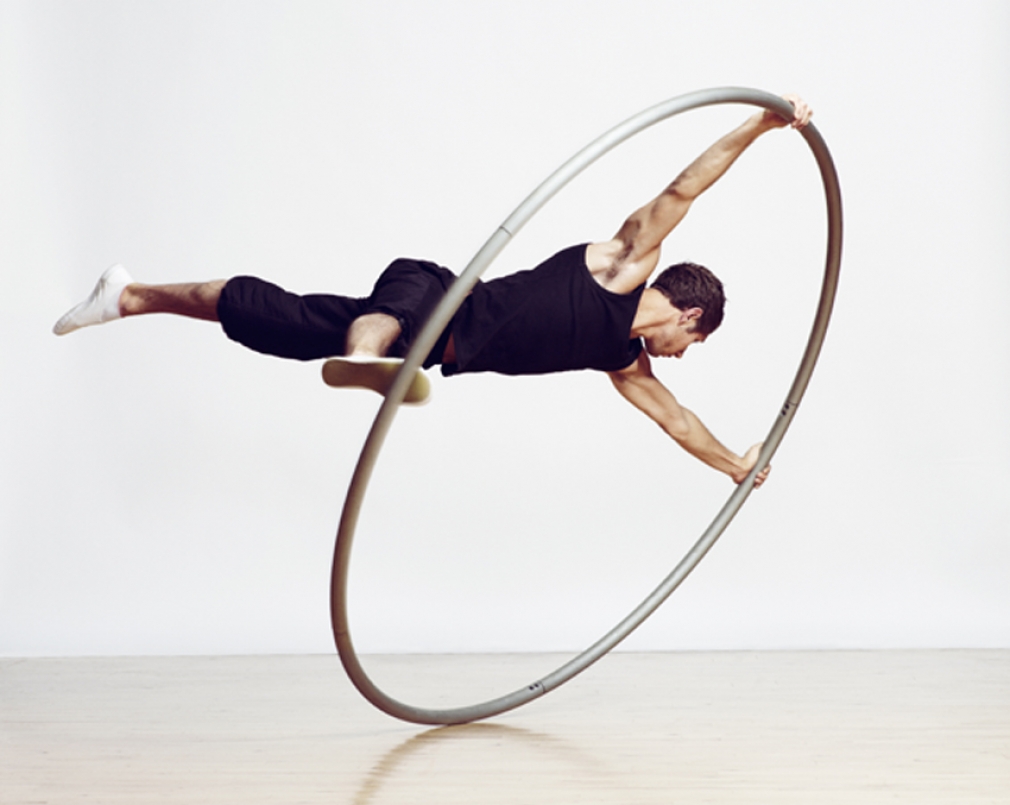 Cyr Wheel (Roue Cyr)
Essentially a large aluminium hoop which is often coated in PVC. The performer manipulates the Cyr Wheel using their entire body to manoeuvre three types of stunt; straight line, spiral and vault.

Go to top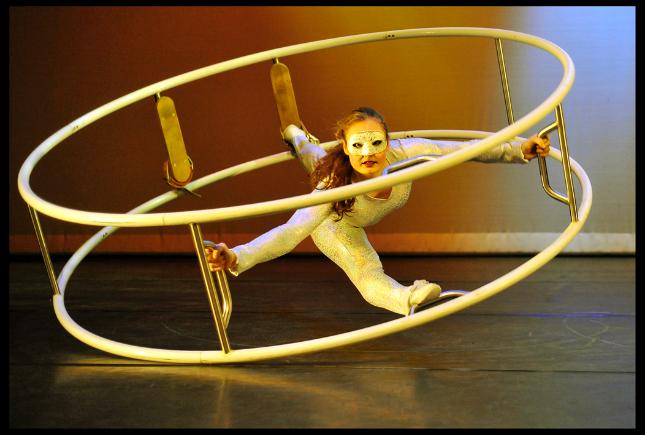 German Wheel (Rhonrad)
Similar in appearance to two Cyr Wheels connected by six perpendicular bars. Two of the bars have footpads, the two bars opposite these have handles and between the two handled-bars is a handle on each of the outer hoops which are inline with the centre of the hoop.

Go to top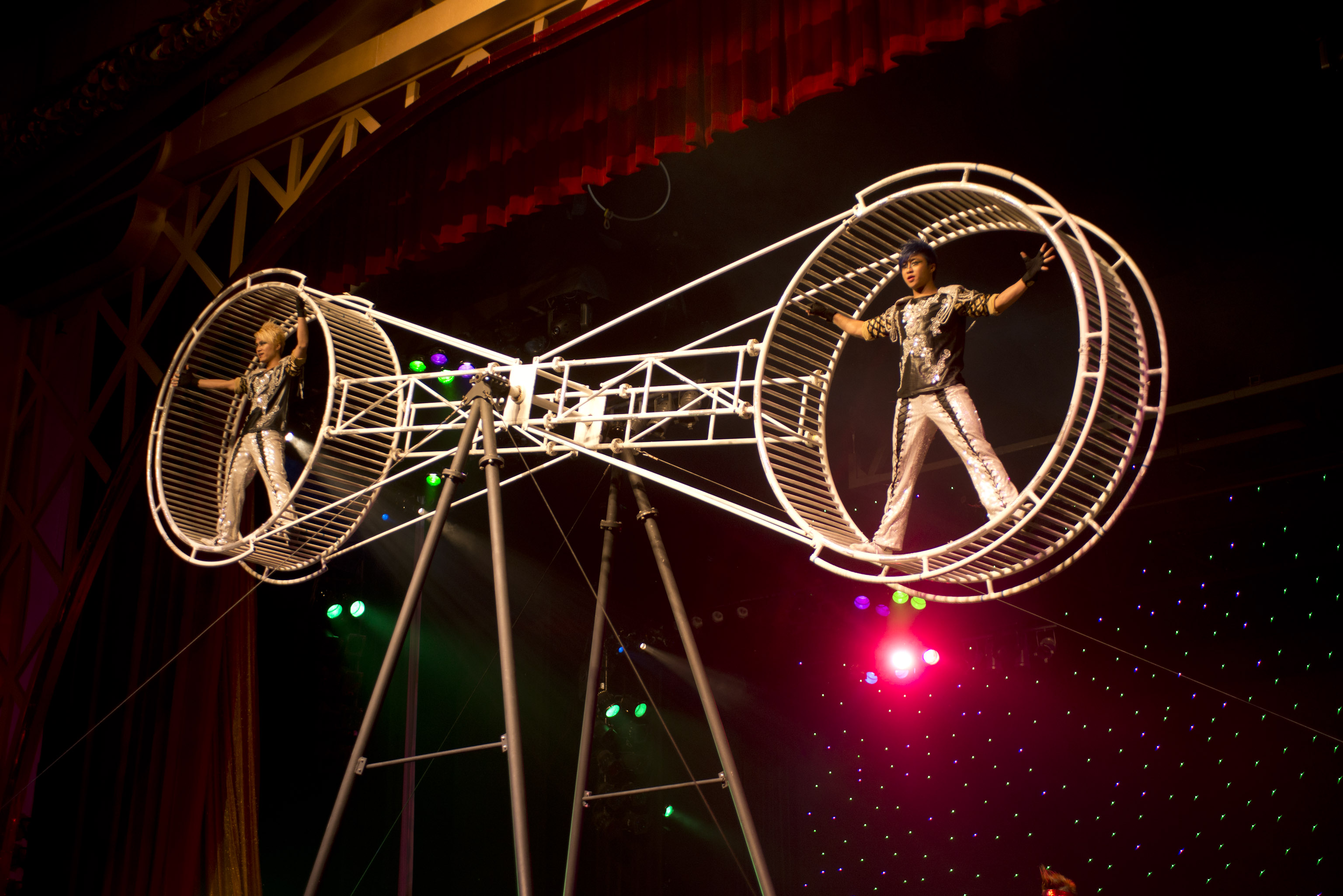 Space Wheel (Wheel of Death)
Reminiscent of a German Wheel rotating about a giant space frame swing, only the six bars are replaced by mesh tracks so that the performer may stand or perform acrobatics with ease both inside and outside of the hoop.

Go to top