Props for Fire Juggling
Think of a Circus prop, any prop, small or large, mobile or stationary (if you're having trouble throw a look to our Fire Juggling section. The likelihood is that if you can think of it, someone has thought up a way to perform with it on fire. Here's a short list of the usual suspects when it comes to props for Fire Juggling. The most popular fuels to burn in Fire Juggling are kerosene, paraffin and isopropyl alcohol. There are also a range of metal salts and conditioners on the market for changing the colour of the flame of alcohol-based fuels such as isopropyl alcohol but they will not work with paraffin or kerosene.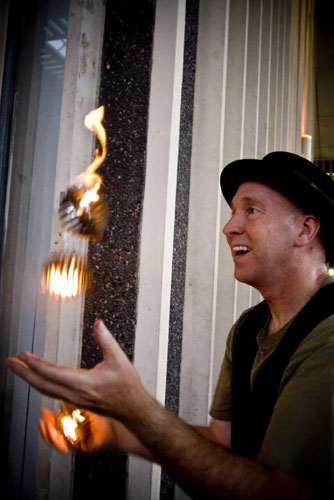 Fire Juggling Balls
Can be used with or without fire-proof gloves. The sleeving of the fire cage is not supposed to be soaked in fuel; you need to fuel the wick by using a bottle with a long nozzle or a funnel. Rolling the sleeves in water before using will prevent excessive burning and prolong their lifespan. The silicone grommets which keep the wick in place will also need to be replaced every now and then.

Go to top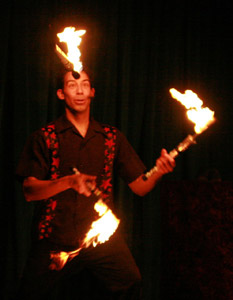 Fire Torches
An aluminium tube with one end surrounded by a wooden handle beginning with a heat shield, and the other end attached to a wick. They are generally balanced and weighted differently to non-fire clubs. To protect the torch when dropped the handle often contains a bash guard.

Go to top
Fire Poi
Much the same as non-fire poi, but with a metal chains instead of rope and wick as the weight. Fire poi are available in a variety of styles; original, double wicked, monkey-fist, cathedral, snake, plaited, reservoired and meteor.

Go to top
Fire Staff
Generally made from aluminium tubing with rolls of wick wrapped around either end. Some have fibreglass cores which allow a slight flex making them more shock-absorbant and therefore they tend to break less easily. They tend to be heavier than non-fire versions.

Go to top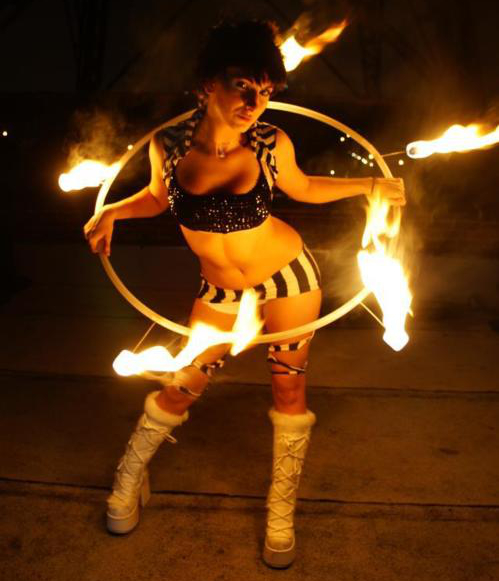 Fire Hoop
A hoop usually with five or six burners protruding from the outer curve. Each burner consists of a stainless steel stick or wire which has a rolls of wick attached to the end. Burners are often detachable for ease of transport. Travel fire hoops are available which may be broken apart to ease transport.

Go to top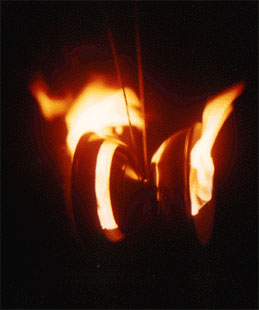 Fire Diabolo
Usually made of stainess steel with wicks attached inside the cups on either side of the axle. However, there are extensions available which have silicone heat shields that may be attached to regular diabolos to convert them for fire. Available in both bearing and fixed axle. Normal handsticks may be used with fire diabolos but care should be taken when grinding as the diabolo will conduct heat.

Go to top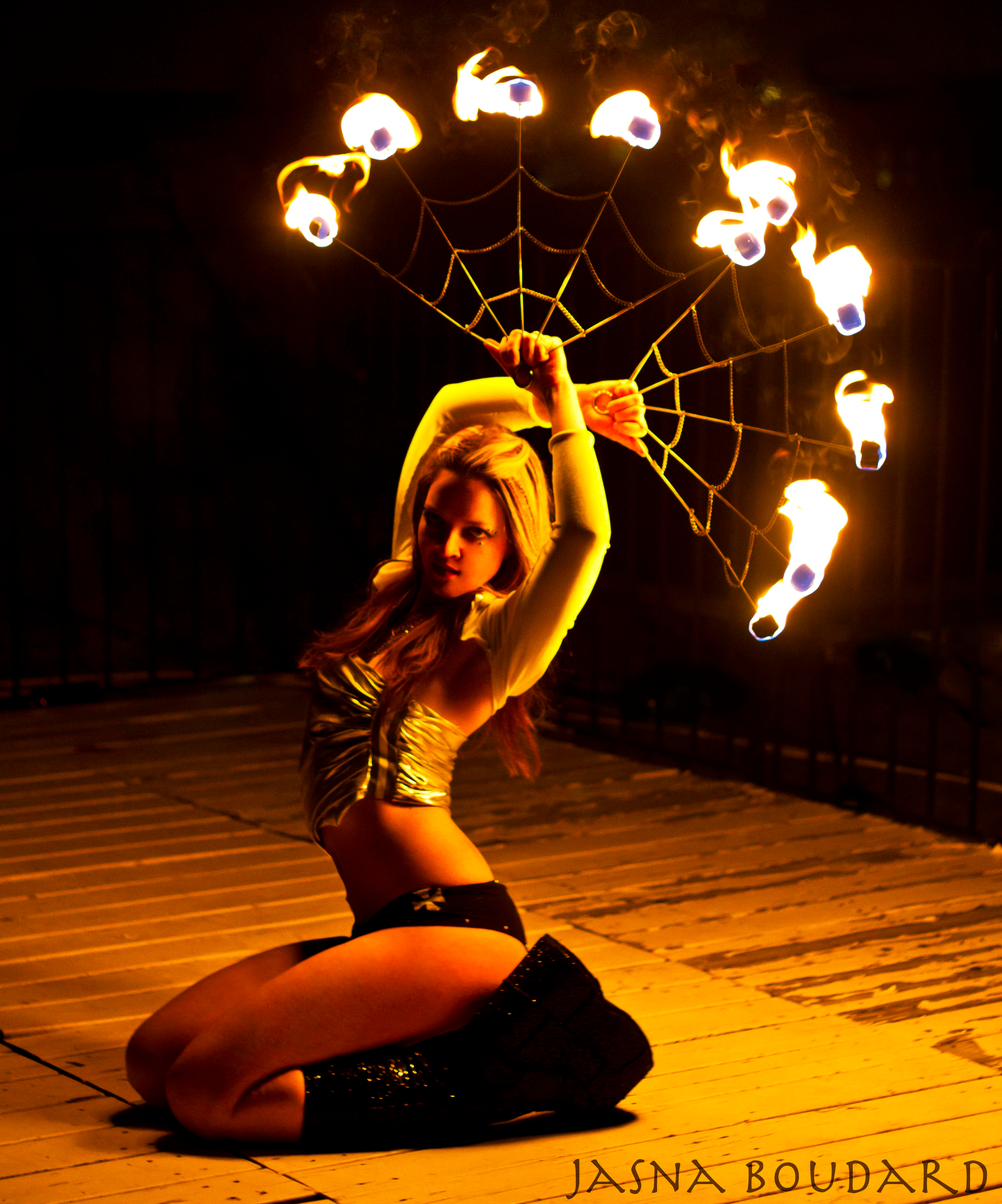 Fire Fan
There are a variety of Fire Fans on the market, most often with one, three, four or five wicks attached to an elaborately-designed powder-coated steel frame. Most often the frame is fixed, but some manufacturers do make folding Fire Fans.

Go to top
Fire Palm Torches (Hand Candles)
The kevlar wick is suspended on a stick of powder-coated steel above a disc, which acts as a heat shield, leading to a stem where the prop can be held between the performer's middle and index finger. Some Fire Palm Torches have also have removable Velcro straps to ensure that the prop stays in place on the performer's hand. There is a small range of disc styles, stick lengths and wick styles available so as to customize the prop.

Go to top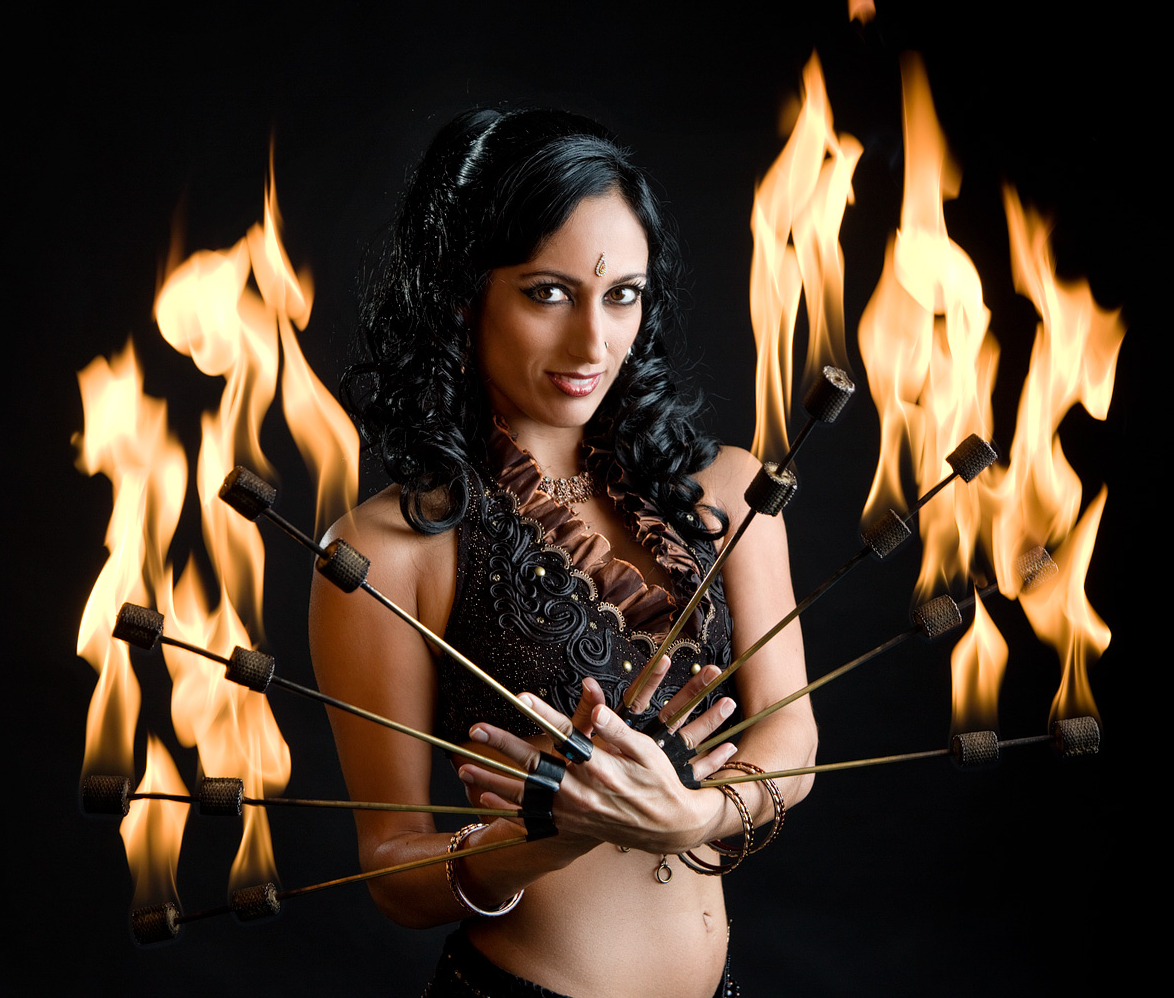 Fire Fingers
Each Fire Finger is an individual prop which consists of a Kevlar wick attached to a stick of stainless steel leading to a finger-grip padded with foam rubber. The thumb finger is usually a little longer with a wider finger-grip and the little finger is shorter with a narrower grip although each finger is slightly adjustable. It is recommended to wear a tight-fitting pair of leather gloves if performing for a long time as the steel can conduct the heat toward the fingers.

Go to top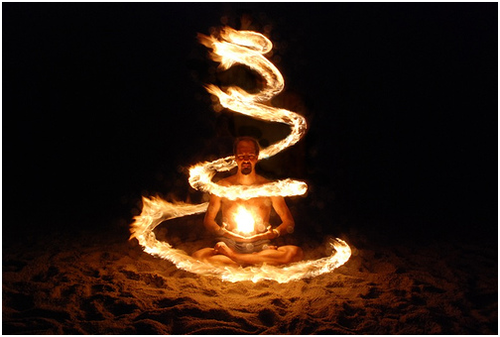 Fire Contact Ball
These balls tend to be made from wood with a coating of aluminium foil which is then placed inside a stretchy sleeve of kevlar. It is recommended to use fire gloves which have been soaked in water and then wrung out.

Go to top
Fire Whip
Most often stock whips with aluminium handles ending in silicone heat shields before the long kevlar-blend rope which ends in a pure kevlar fall and popper. Sometimes contain a fibreglass core to improve shock absorption. As the fire balls created when the whip cracks always travel in the direction of the whip flow it is recommended to only perform forward cracks with Fire Whips.

Go to top