Launch of new book on 'The Transformation of EU Treaty Making'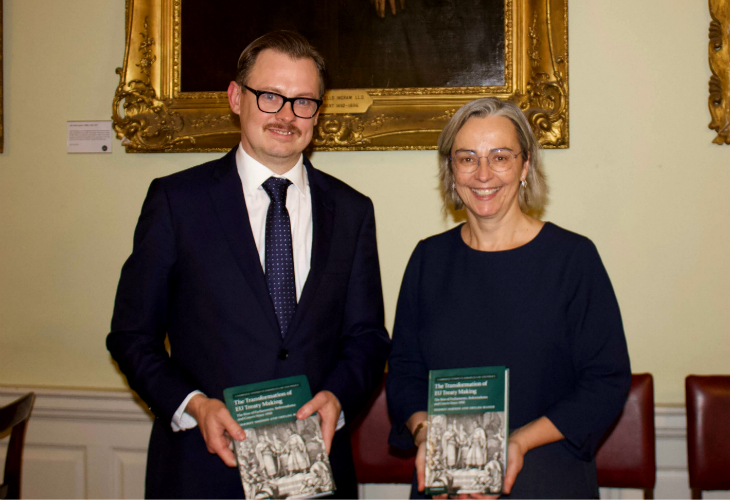 To mark the official launch of Dermot Hodson & Imelda Maher' The Transformation of EU Treaty Making – The Rise of Parliaments, Referendums and the Courts Since 1950, (Cambridge University Press, 2018) The Hon. Mr Justice Gerard Hogan recently chaired a panel discussion in the Royal Irish Academy.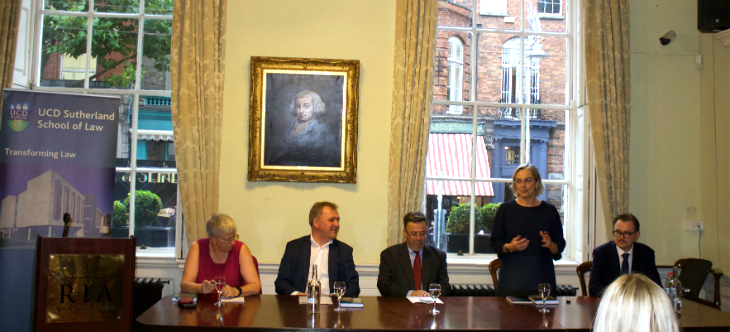 Speaking on the panel were Professor Jo Shaw the Salvesen Chair of European Institutions at the University of Edinburgh and co-editor of the series, Cambridge Studies in European Law and Policy, in which the book is published. Professor David Phinnemore of the School of History, Anthropology, Philosophy and Politics in Queens University Belfast also presented with the authors, Professor Imelda Maher MRIA, UCD Sutherland School of Law and Dr Dermot Hodson, Department of Politics, Birkbeck College, University of London.


About the Book

Treaty making is a site of struggle between those who claim the authority to speak and act on the international stage. The European Union (EU) is an important test case in this respect because the manner in which the Union and its member states make treaties has shifted significantly over the last six decades. Drawing insights from EU law, comparative constitutionalism and international relations, this book shows how and why parliaments, the people and courts have entered a domain once dominated by governments. It presents qualitative and quantitative evidence on the importance of public trust and political tactics in explaining this transformation of EU treaty making and challenges the idea that EU treaties are too rigid. Analysing legal developments in the EU and each of its member states, this will be essential reading for those who wish to understand the EU's controversial experiment in treaty making and its wider significance.


About the Authors

Dermot Hodson is Reader in Political Economy at Birkbeck College, University of London and Visiting Professor at the College of Europe, Bruges. He has published extensively on European integration and governance and his books include Governing the Euro Area in Good Times and Bad (2011), The New Intergovernmentalism: States and Supranational Actors in the Post-Maastricht Era (2015, edited with Christopher Bickerton and Uwe Puetter) and The Institutions of the European Union, 4th Edition (2017, edited with John Peterson). He is a member of the editorial board of the Journal of European Public Policy.


Imelda Maher MRIA is the Sutherland Professor of European Law, University College Dublin. She has published extensively in EU law, and her books include Asian Capitalism and the Regulation of Competition: Towards a Regulatory Geography of Global Competition Law (Cambridge, 2013, edited with M. Dowdle and J. Gillespie). She was general editor of Legal Studies (2012–17) and is a member of the editorial boards of the European Law Journal and the Irish Yearbook of International Law. She is a member of the Royal Irish Academy and served as President of the Society of Legal Scholars in 2017.
Appointment of McCann FitzGerald Assistant Professor in Law and Business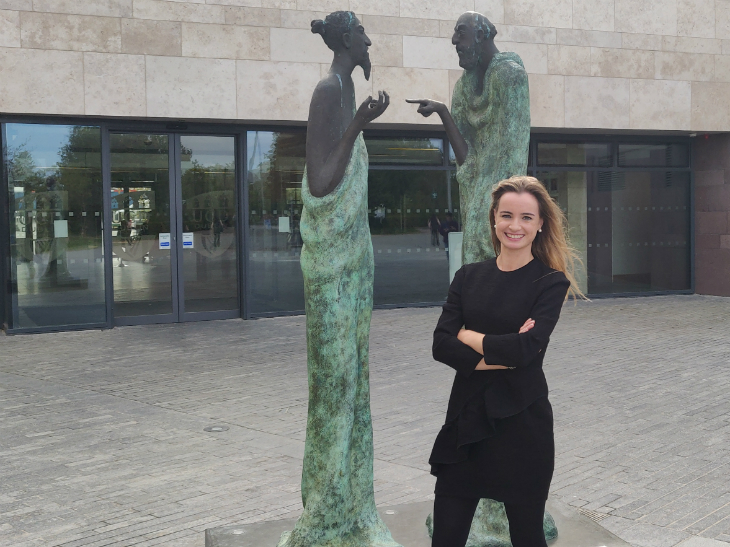 The UCD Sutherland School of Law is delighted to announce the appointment of Dr Sarah Fulham-McQuillan as McCann FitzGerald Assistant Professor in Law and Business. Dr. Fulham-McQuillan's research is in the law of obligations and she lectures Contract Law and Business Law in Sutherland School of Law.

A former Government of Ireland Scholar, she completed her undergraduate and doctoral studies at Trinity College Dublin. Her PhD focused on medical negligence, and how the doctor-patient relationship is reflected in law. She is currently writing up her thesis as a monograph. She has presented her work internationally, most recently including the Obligations IX 2018 Conference at the University of Melbourne, and as an invited guest speaker at the Obligations Discussion Group, University of Oxford. She has published her work at home and abroad. Her work includes "Judicial Belief in Statistics as Fact: Loss of Chance in Ireland and England" (2014) Journal of Professional Negligence.

Prior to joining UCD in September 2018, Dr. Fulham-McQuillan taught at Maynooth University and Trinity College Dublin. She is a former member of the Council of the Irish Association of Law Teachers, and is a member of the Society of Legal Scholars in the UK and Ireland and the Socio-Legal Studies Association.
Vincent Keaveny To Receive 2018 UCD Alumni Award in Law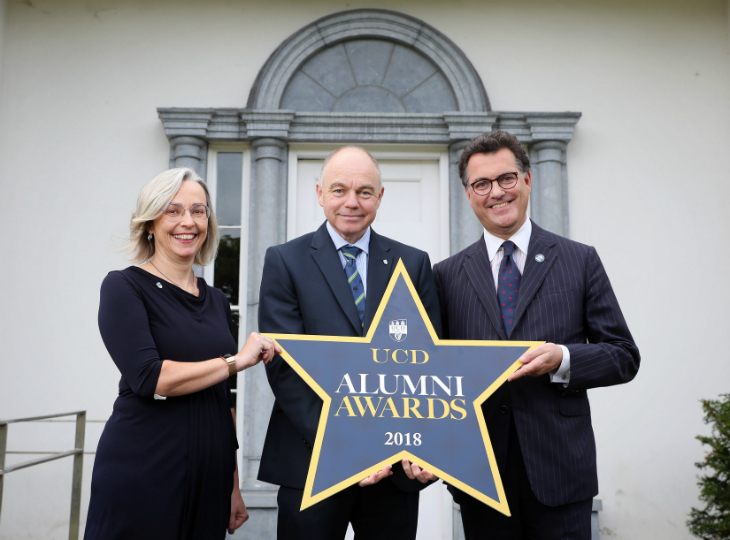 Pictured Above L-R (Prof Imelda Maher, UCD President Prof Andrew Deeks, Vincent Keaveny)
The UCD Alumni Awards proudly celebrate and honour the outstanding achievements of our alumni who uphold values that UCD holds dear – integrity, excellence, collegiality, engagement, creativity and diversity – values that we believe are in the DNA of our University.

The recipient of the 2018 UCD Alumni Award in Law is Vincent Keaveny.

Vincent Keaveny is a partner at international law firm, DLA Piper LLP, and a highly regarded practitioner having had a stellar career advising banks and companies throughout the UK and Europe on banking, finance and capital markets matters. He is an outstanding role model for UCD Law students and is supportive of their learning, while his firm is most accommodating with internships and student visits.

Vincent was one of the City of London's 25 Alderman in 2013 and was recently elected as one of two City of London Sheriffs for 2018-2019, a title dating back to the 14th century. Vincent is passionate about Music and Theatre and is a trustee of the music ensemble Exaudi, the Actors Theatre Company and is on the board of the Sir John Soane Museum.

With over 240,000 alumni living in 165 countries around the world, the UCD network is influential, successful, active – and truly international. Our graduates are the standard bearers for our reputation and it is largely because of them that the value of every UCD degree continues to be enhanced.

UCD alumni are the backbone of this great institution. Their successes reinforce UCD's position as Ireland's leading global university; their loyal involvement with UCD shapes the future of the University.

The 2018 V.V. Giri Lecture
The College of Social Sciences and Law was delighted to host the 2018 V.V. Giri Lecture in the Sutherland School of Law on May 23rd, 2018. College Principal, Professor Colin Scott, and Dean of Law, Professor Imelda Maher, were pleased to welcome the Indian Ambassador, HE Mrs. Vijay Thakur Singh to the lecture, along with many distinguished members of the Indian community. The lecture series commemorates the fourth President of India, VV Giri (1894-1980) who spent the years 1913 to 1916 as a law student at University College Dublin and the King's Inns.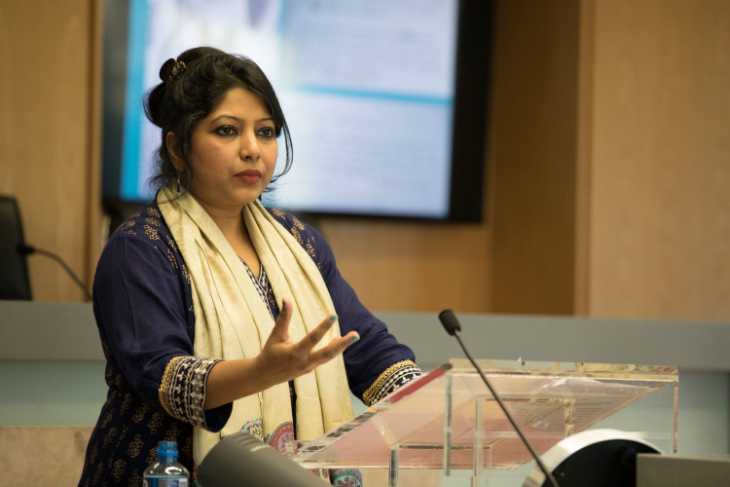 Pictured Above: Dr Jyoti Atwal delivers the 2018 V.V. Giri Lecture
Professor Jyoti Atwal from Jawarharlal Nehru University in New Delhi was the distinguished guest invited to deliver the 2018 lecture. Her lecture focused on the topical theme: "Margaret Cousins (1878-1954) in India and Ireland: Revisiting Suffragettes, National Ideals and Anti-Imperialist Politics". To introduce Professor Atwal, Dr Conor Mulvagh of UCD School of History placed it in the context of the intellectual, cultural and political links between Ireland and India in the early and mid-twentieth century. Professor Atwal's lecture examined how Margaret Cousins, who lived in India from 1915 until her death, played a critical role in the emergence of the Indian feminist movement and particularly in the founding of the All India Women's Conference in 1927. She traced how her activism in India was influenced by her experiences as a suffragette in Ireland and her reaction to the Easter Rising, during which her friend Francis Sheehy Skeffington was killed. This helped to confirm her commitment to non-violence and her alignment with Gandhi's views as to how India's national freedom and women's freedom should be pursued. Particular points of interest for Professor Atwal were the attitude Cousins took to issues of class, religion and caste as they affected the women's movement, her experience as the first woman to be appointed a magistrate in India and her personal engagement with Hindu spirituality, which she approached in a distinct way from many Theosophists and other European attracted by Indian culture. In particular, her experience of imprisonment in Ireland as a suffragette was an important factor in her approach to being imprisoned in India. The closing remarks were delivered by John O'Dowd of UCD Sutherland School of Law in which he placed Professor Atwal's lecture in the broader context of the debate over whether the Irish were mainly victims or vectors of British imperial rule at home and abroad.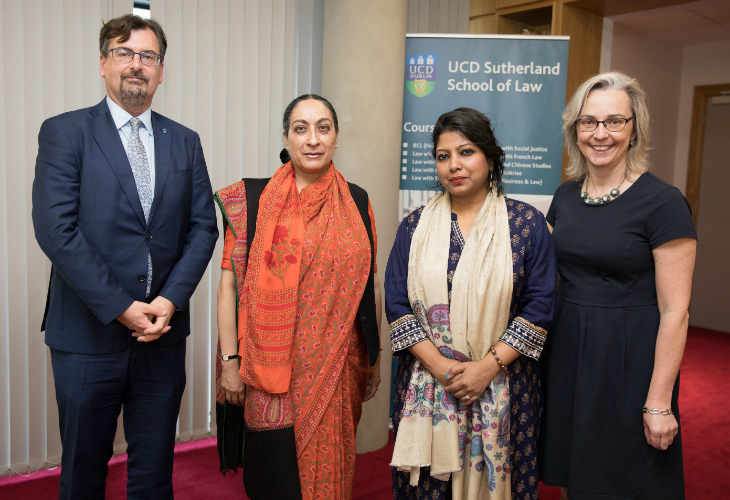 Pictured Above L to R: Professor Colin Scott, HE Mrs. Vijay Thakur Singh, Professor Jyoti Atwal and Professor Imelda Maher
Welcome Barbeque for incoming First Years
As part of Orientation week in the Sutherland School of Law, incoming first year law students were invited to a Barbeque in the Courtyard of the law building. Thankfully for all concerned, the weather was beautiful and the students got an opportunity to relax in the sunshine with their Peer Mentors and fellow first years. The Barbeque was just part of a busy schedule designed to acquaint new undergraduate students with the UCD Campus and the Sutherland School of Law. In addition to the 'Scarfing Ceremony' in the O'Reilly Hall, students were welcomed by the Dean of Law, Professor Imelda Maher, Assistant Dean for Undergraduate Programmes Paul Ward, Student Advisor Nadia Clarkin and Programme Managers, Maureen Reynolds (BCL) and Margaret Maher (B&L).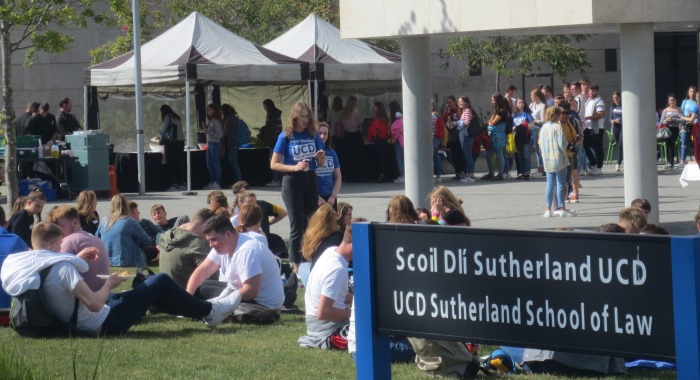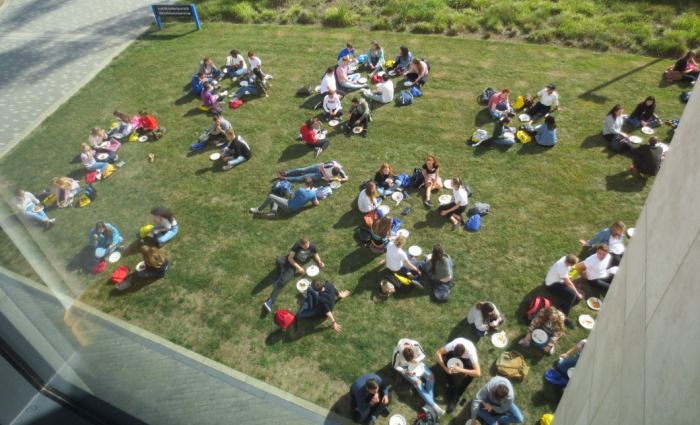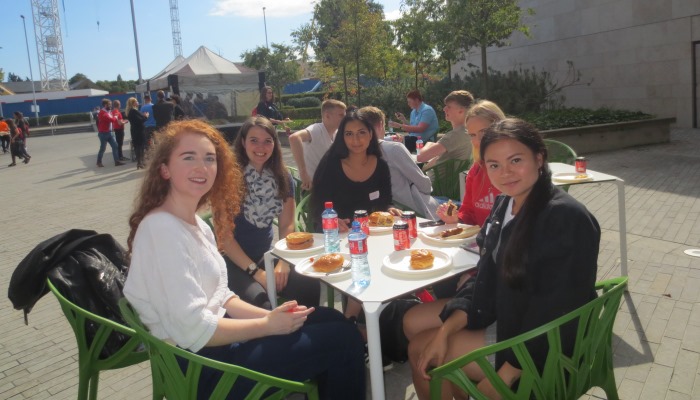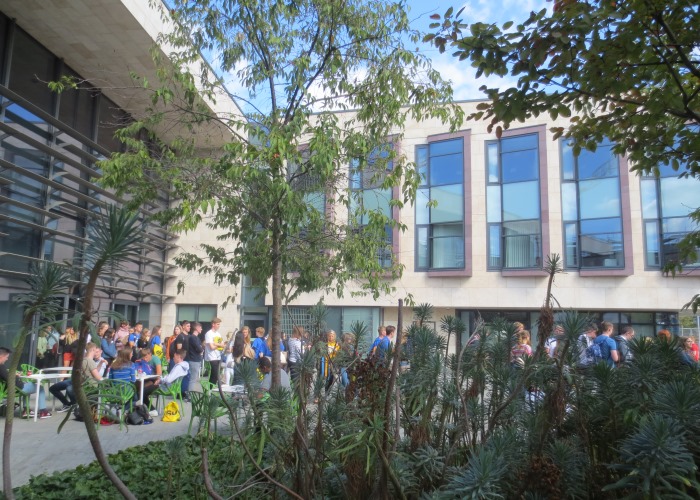 Major Criminology Conference in Sutherland School of Law
UCD Sutherland School of Law was delighted to welcome over 160 delegates to the 11th North South Criminology Conference in early September 2018. Organised by Dr Deirdre Healy, Associate Professor in Sutherland School of Law and Director of the UCDCentre for Criminology and Criminal Justice, the theme of the conference was 'New Frontiers in Criminology'.
Over one hundred speakers presented papers or chaired panels at the two day conference which included three keynote speeches, twenty four parallel panels, a symposium on the Death Penalty and a wine reception for the launch of Professor Ian O'Donnell's latest book. The conference was opened by Professor Orla Feely, UCD Vice President for Research, Innovation and Impact. Professor Feely was followed by a Keynote speech from Professor Eamonn Carrabine of the University of Essex. The theme of his speech was 'Traces of Violence: Representing the Atrocities of War'. The subject of the keynote speech on the second days was 'Seeing, Hearing and Challenging Pervasive Punishment' delivered by Fergus McNeill of the University of Glasgow. His presentation was accompanied by Louis Abbott of Vox Liminus, a community that explores rehabilitation in and of criminal justice through creative arts. It was an entertaining introduction to the day's proceedings, including as it did, a live music rendition from Louis Abbott. After an extremely busy two day schedule, the UCD Centre of Criminology and Criminal Justice was delighted to welcome Professor Ivana Bacik of Trinity College Dublin to deliver the closing address.
Conference Delegates and invited guests were also invited to a reception to launch Professor Ian O'Donnell's book, 'Justice, Mercy, and Caprice: Clemency and the Death Penalty in Ireland' (Oxford University Press). The launch was chaired by Maura Butler, Chairperson of the ACJRD with an extremely informed address by Tom O'Malley SC of NUI Galway and the Irish Law Reform Commission.
Conference organiser, Dr Deirdre Healy (second from left) with Sutherland School of Law colleagues, John O'Dowd and Dr Niamh Howlin and Post Doc Researcher, John Lynch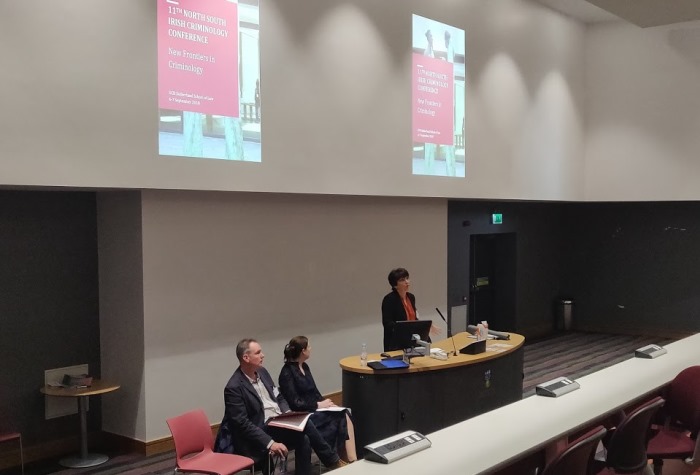 Professor Orla Feely opens the conference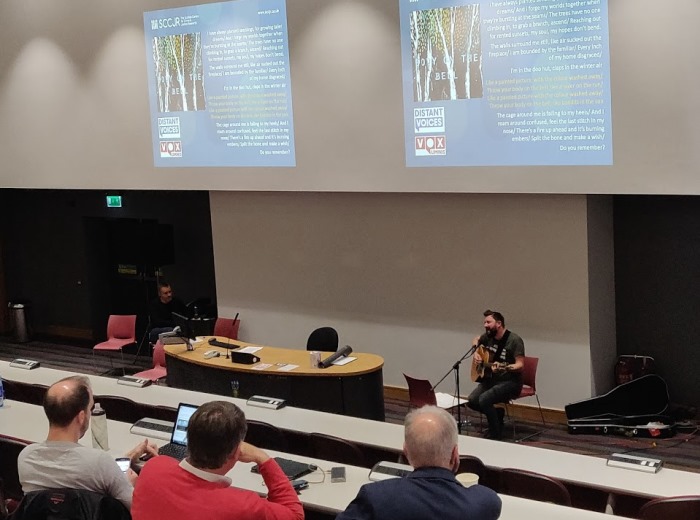 Keynote 2: Louis Abbot of Vox Liminus and Fergus McNeill of the University of Glasgow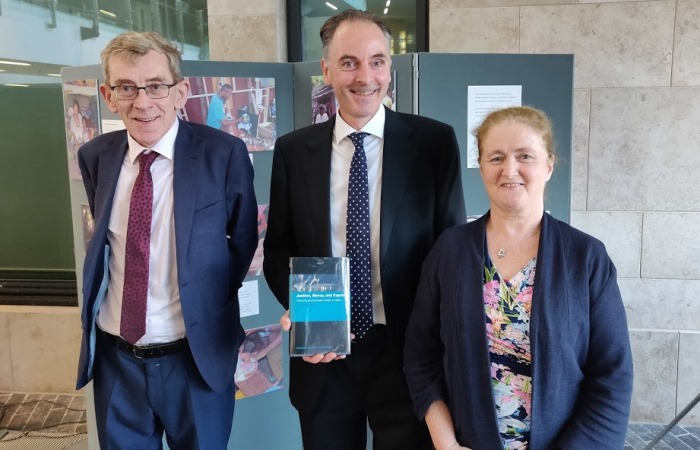 Tom O'Malley SC, Professor Ian O'Donnell and Maura Butler, Chairperson of the ACJRD
Professor Ian O'Donnell speaking at the book launch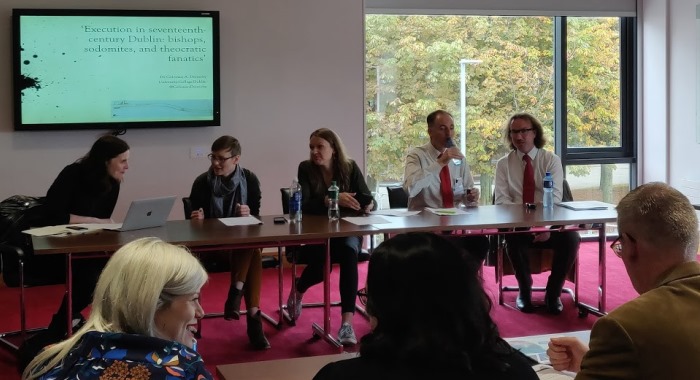 The Death Penalty Symposium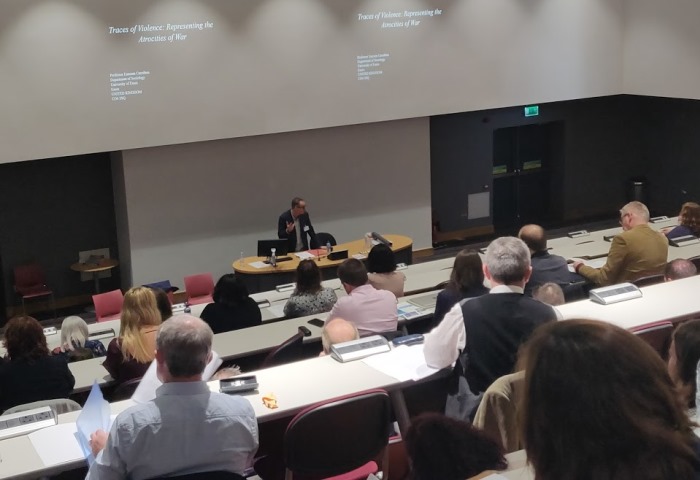 Professor Eamonn Carrabine of the University of Essex
Irish European Law Forum, European Wildlife Law Book Launch and Field Trip
On 31 May and 1 June 2018 the Law School hosted leading environmental law academics, policy-makers and practitioners from across Europe to participate in various events relating to European nature conservation law and policy.
The events – organised by Dr. Andrew Jackson – comprised a field trip for speakers and chairs to protected areas in the midlands on 31 May, the launch of Dr. Jackson's new book "Conserving Europe's Wildlife" that evening, and the annual Irish European Law Forum on 1 June, this year entitled "Key Challenges in European Nature Law and Policy".
Field Trip
The field trip comprised visits to two "Natura 2000" sites (EU protected areas for wildlife and habitats) in Co. Offaly: Charleville forest and castle followed by Clara bog, one of the finest remaining raised bogs in Ireland.
At Charleville we were kindly guided by Dr. Maria Cullen and Dr. Howard Fox of the Botanic Gardens and saw, amongst other things, the fabulous "King Oak", at least 400 years old.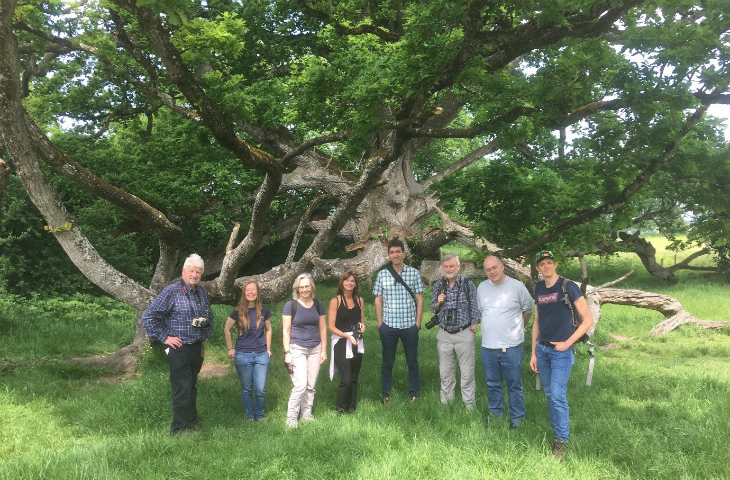 L to R in front of the King Oak: Stanley Johnson, Maria Cullen, Imelda Maher, Carol Day, Andrew Jackson, Micheál Ó Bríain, Christoph Sobotta, Hendrik Schoukens
At Clara bog we were kindly guided by Jack McGauley and Ronan Casey, respectively project manager and public awareness manager of the ongoing "Living Bog" project, the largest raised bog restoration project ever undertaken in Ireland, a €5.4 million scheme co-funded by the EU under the LIFE initiative.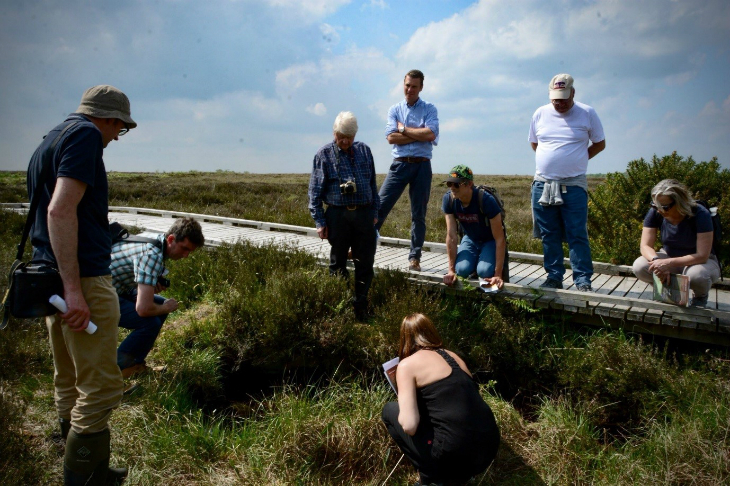 L to R at Clara bog: Ronan Casey, Andrew Jackson, Stanley Johnson, Jack McGauley, Carol Day, Hendrik Schoukens, Christoph Sobotta, Imelda Maher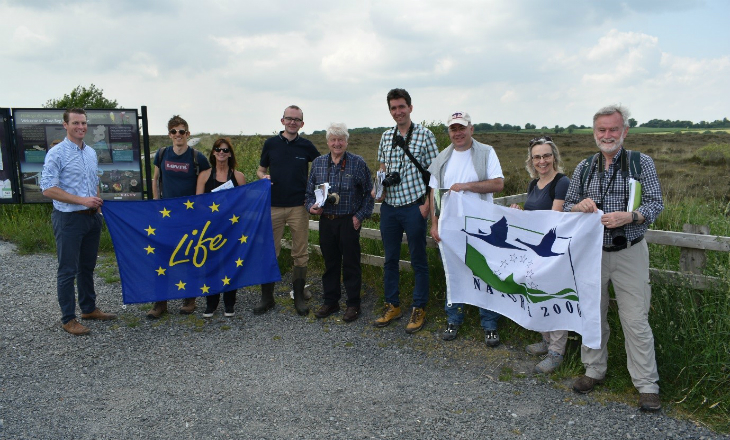 L to R: Ronan McGauley, Hendrik Schoukens, Carol Day, Ronan Casey, Stanley Johnson, Andrew Jackson, Christoph Sobotta, Imelda Maher, Micheál Ó Bríain

Book Launch
Immediately after the field trip, hiking boots were swiftly replaced for the launch of Dr. Jackson's new book "Conserving Europe's Wildlife: Law and Policy of the Natura 2000 Network of Protected Areas" (Routledge) at the Law Society on Blackhall Place.
The event was chaired by the Dean of UCD Sutherland School of Law, Prof. Imelda Maher. Speakers comprised the author plus guest speakers Dr. John Temple Lang, who played a central role in the history of the EU's Birds and Habitats Directives, and Mr. Stanley Johnson, who played a central role in the history of the EU's Habitats Directive. Participants thanked both for their enormous contribution to EU environmental law and policy, reflected in the fact that almost 20% of the EU's terrestrial area is now within the Natura 2000 network of protected areas, plus large marine areas in addition.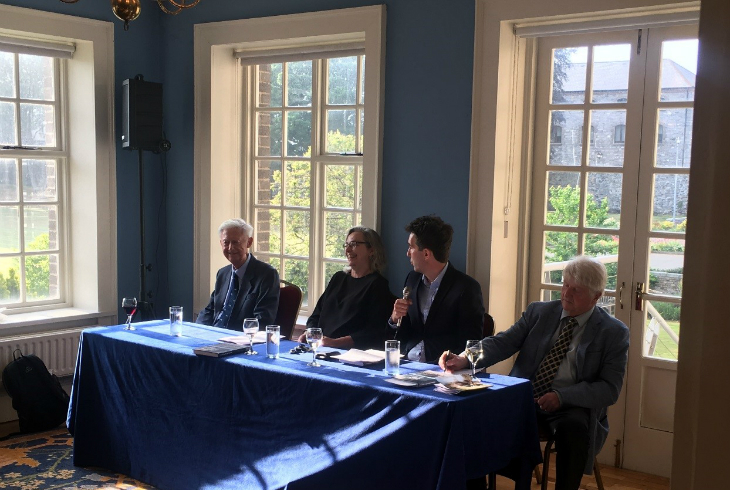 L to R: John Temple Lang, Imelda Maher, Andrew Jackson, Stanley Johnson
Irish European Law Forum

The following day, 1 June, the annual Irish European Law Forum was held in the UCD Sutherland School of Law, on the subject "Key Challenges in European Nature Law and Policy", with expert speakers from a variety of fields and backgrounds, including academics, practitioners, and participants from the EU institutions. The full programme for the event can be found here.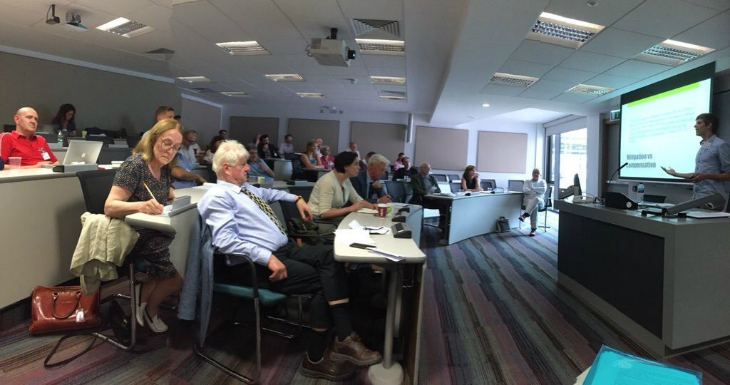 To sign up for the Sutherland School of Law Events mailing list please click here.
Inaugural Leman Award in Intellectual Property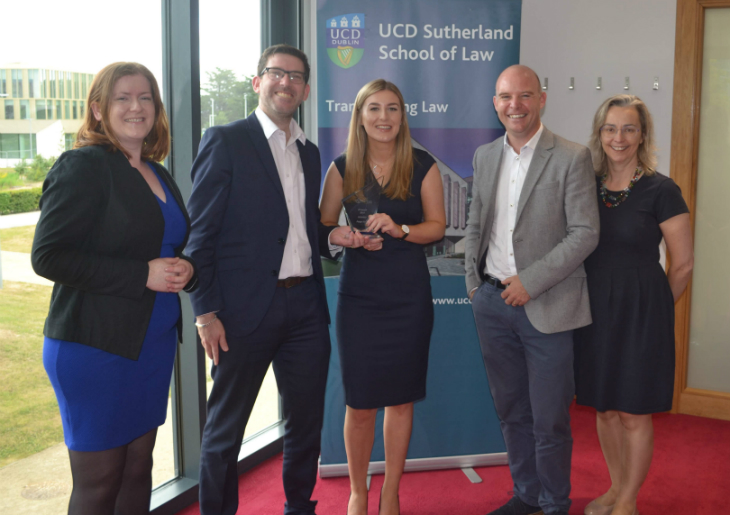 Pictured Above (L-R): Dr Cliona Kelly, UCD Sutherland School of Law; Paige Kelly, Winner of the 2018 Leman Award in Intellectual Property; Brian Conroy, Leman Solicitors Trademark & IP Litigation Specialist; John Hogan, Partner, Leman Solicitors; and Prof Imelda Maher, UCD Dean of Law
Leman Solicitors has named UCD graduate Paige Kelly as the winner of the 2018 Leman Award in Intellectual Property. The award recognises the best performance in the Intellectual Property module co-ordinated by Dr Cliona Kelly.

Ms Kelly, who just completed the Bachelor in Business & Law degree, was presented with the prestigious award, which includes a €500 prize and an offer of a work placement in Leman Solicitors. Ms Kelly is continuing her studies with a Masters at UCD Michael Smurfit Graduate Business School.

This is the first prize-giving as part of a three-year partnership to which Leman Solicitors has committed with the law school. The bursary of €2,000 per year goes towards education materials for the school and €500 goes directly to the best performing student in the IP module.

Trademark and IP litigation specialist Brian Conroy provides mentoring for the winning student and is a guest lecturer for the IP module.

In addition to the award, Leman partners with UCD for the UCD Internship Programme where a third-year law student is placed with Leman for four weeks during the summer to gain practical experience.

John Hogan, partner at Leman Solicitors, said: "We are delighted to support the UCD Sutherland School of Law through this bursary.

"Many of our lawyers have come through the course which we know to be excellent. We know how important it is for students to have real interaction with law firms and practicing lawyers, and to get practical experience before graduating. This programme allows us the opportunity to reward a student and provide a placement in our firm whilst also supporting the school.

"Paige is an exceptionally bright student with an exciting career ahead of her, she thoroughly deserves the award and we are very pleased to present her with the prize."

Professor Imelda Maher, UCD Dean of Law, added: "Support for students to excel is of great importance to the School. It's also critical for students to have some experience of the practical legal environment so we are very grateful to Leman Solicitors for this partnership."
UCD Alumni Celebrate World Cup Success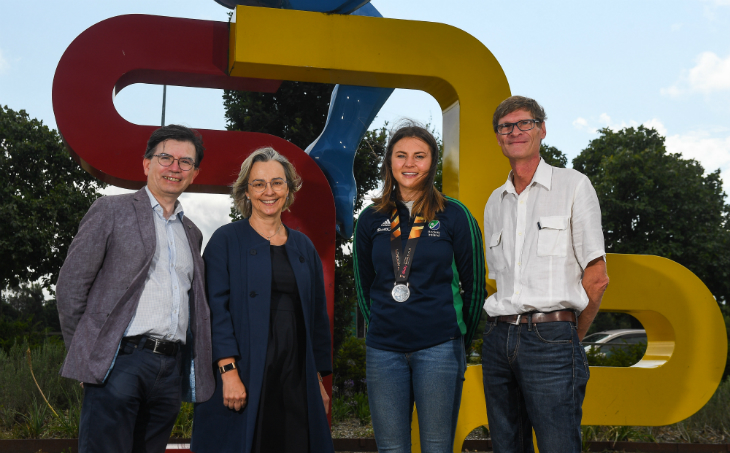 Above L-R John O'Dowd, Prof Imelda Maher, Deirdre Duke, Paul Ward
Staff of the Sutherland School of Law recently met with three stars of the UCD Ladies Hockey Team to congratulate them on their recent silver meadal success in the recent World Cup.

Former Captain of the UCD Ladies Hickey Team, Deirdre Duke is also an alumna of the Sutherland School having completed the Bachelor of Business and Law programme. Deirdre will be continuing her playing career with a move to Düsseldorfer Hockey Club.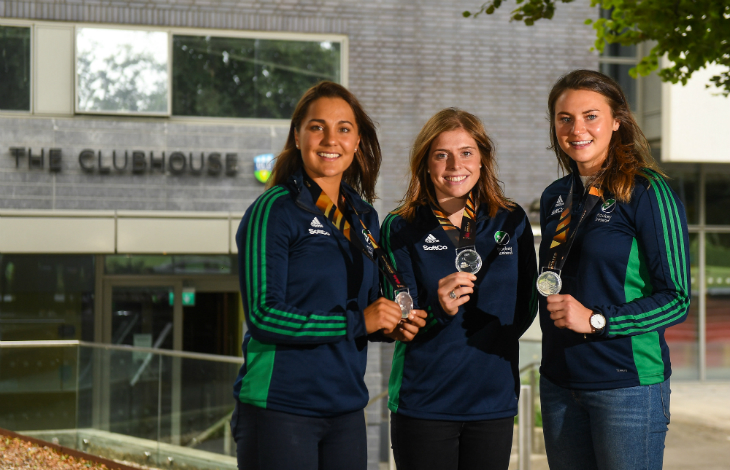 Above L- R, Lena Tice, Katie Mullan and Deirdre Duke
Launch of the UCD Centre for Constitutional Studies & Judicial Review Conference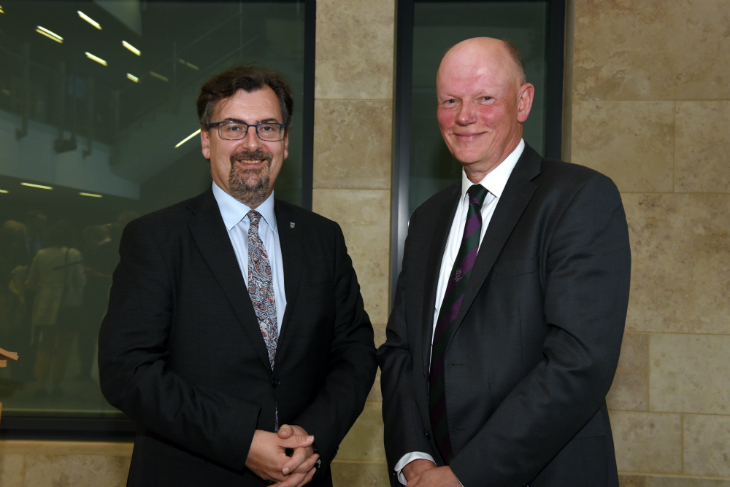 Prof Colin Scott & The Hon. Mr Justic Donal O'Donnell at the launch of the UCD Centre for Constitutional Studies
The 2018 Judicial Review Conference hosted by The UCD Centre for Constitutional Studies in the Sutherland School of Law attracted a wide audience of legal professionals from throughout Ireland. This conference comprehensively covered recent developments in Irish public law from leading academics and practitioners in the field. There were eighteen contributors which included senior members of the judiciary, leading barristers, speakers from law firms and leading academics from UCD and TCD. The comprehensive programme for the half day conference included break out panels on Criminal law, Regulatory Law and Planning and Environmental Law in addition to three plenary sessions on Constitutional Law, The European Dimension and Administrative and Public Law. Following a busy schedule of events a reception was held to mark the launch of the UCD Centre for Constitutional Studies.
Building on the success of the 2018 conference, this will be an annual event hosted by The UCD Centre for Constitutional Studies. May 23rd is the planned date for 2019 Judicial Review Conference in UCD. To sign up for the Sutherland School of Law Events mailing list please click here.

‌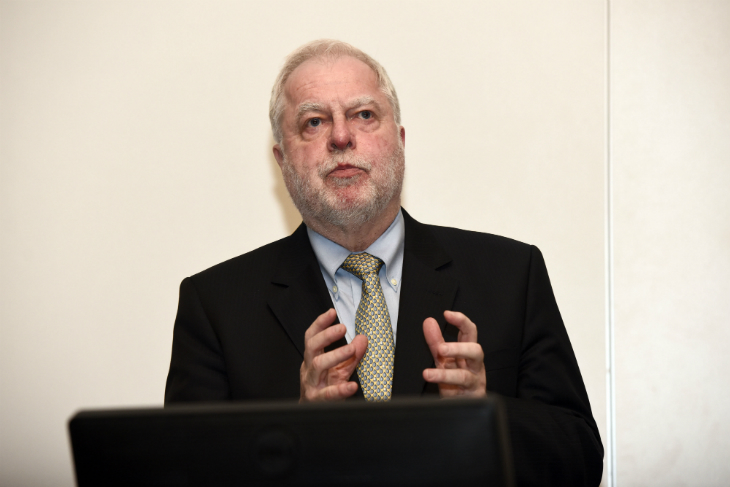 Mr Paul Gallagher SC speaking at the panel on Administrative & Public Law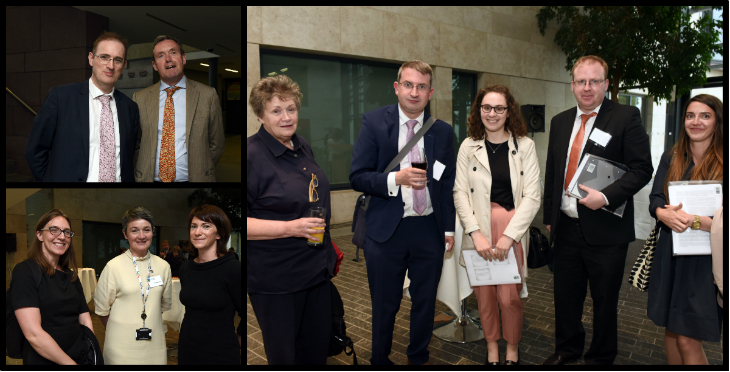 UCD Law with History graduate awarded Dean's Scholar Prize at Harvard Law School
John Gallagher a Law with History Graduate 2016 ( and Bank of Ireland Gold Medal holder) was awarded one of the Dean's Scholar Prize at Harvard Law School this summer. The Dean's Prize is awarded for 'outstanding performance'. The Prize awarded to John was in recognition of his performance in the 'Corporations' module. In the 'Corporations' module the prize is awarded for being ranked in first or second place in the end of year exam.
Two year's earlier, John's brother, James (Business and Law (International) 2015) was similarly honoured. In 2016, James was awarded the Dean's Scholar Prize for his top ranking performance in 'International Finance' module on the Harvard LLM.
Society of Legal Scholars Annual Seminar 2019 to be held in UCD
Dr Mark Coen has been awarded the prize to host the Society of Legal Scholars (SLS) Annual Seminar 2019. The award is held jointly with Dr Fergal Davis of King's College London, who will co-host the seminar. The seminar is a prestigious event in the SLS calendar and will be held at the Sutherland School of Law on Monday 28 and Tuesday 29 September 2019. The theme of the seminar is the 80th anniversary of the passage of the Offences Against the State Act 1939. Subjects including non-jury trial, unlawful organisations and internment will be addressed by distinguished domestic and international speakers from a range of historical, contemporary and theoretical perspectives.
UCD PhD student Edoardo Celeste invited to talk at the Hans-Bredow-Institut of Hamburg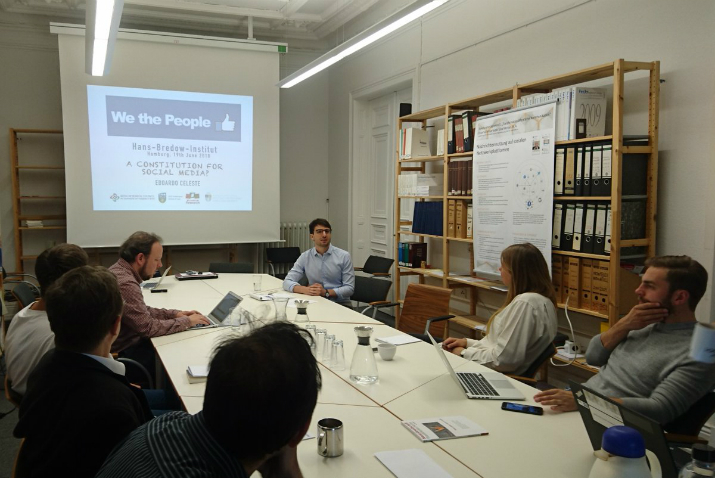 On June 19th 2018 Sutherland School of Law PhD student Edoardo Celeste was invited to present his recent work on constitutionalism in the social media environment at the Hans-Bredow-Institut for Media Research at the University of Hamburg (Germany). Edoardo is an Irish Research Council Postgraduate Scholar and is currently visiting fellow at the Alexander von Humboldt Institute for Internet and Society (HIIG) of Berlin.

Edoardo's workshop in Hamburg was provocatively titled 'A Constitution for Social Media?' and reflected on the role of social media's terms of services and bills of rights of social media users as potential mechanisms of constitutionalisation for the social media environment.

On this topic Edoardo recently published the article 'Terms of service and bills of rights: new mechanisms of constitutionalisation in the social media environment?' in the International Review of Law, Computers & Technology as well as a thought-provoking post in the HIIG Science Blog's special dossier on the new EU General Data Protection Regulation.
UCD BCL Student on her Clinical Legal Education placement with FLAC
Helen Carroll, a third year BCL Law with Social Justice student at UCD, wrote the following on her Clinical Legal Education placement with FLAC.
As a third year BCL Law with Social Justice student at UCD, my interest lies in the upholding and realisation of personal rights. I took part in a one month clinical legal education placement that UCD offers students, and FLAC was my first choice on where to spend that month. Their knowledge and professionalism balanced with their down to earth nature really impressed me, and I was very excited to be taken on board as a legal intern for the month of my clinical legal placement.
FLAC has been instrumental in promoting public interest litigation and pro bono work in Ireland. They have provided free legal information and advice to the public for over 40 years. There aren't many organisations you can call up and get legal information at no cost, as solicitor fees can be prohibitive to many people. From listening in on the phone calls that FLAC receives on a daily basis, I've found that so many people simply don't know what their rights are and how to use them to their advantage. FLAC aims to educate the public and advance the rights of different communities by engaging in public interest litigation and producing publications, reports, submissions and a bulletin to help teach people of these rights.
I've been working on various pieces from different members in the organisation. I have compiled data on a year's worth of clinic visits by members of the Roma community, which is an initiative aimed at this marginalised group to help them access legal information and advice. The most common queries surrounded access to housing and citizenship, but there were many different areas of law that they requested information on. It was really interesting to compile, and to try decipher the handwritten notes of the solicitor who attended the clinic!
I was also working a lot with PILA on research. I prepared small reports highlighting barriers to accessing justice for people with disabilities and members of the deaf community. I also researched best practice mechanisms in jurisdictions outside Ireland, focusing on ways to simplify court procedure, make the process more accommodating for vulnerable court users, looking into alternative methods of dispute resolution that are more informal and less costly, and utilising technology for compiling information for cases. It's been varied and interesting but has never been overwhelmingly busy, and I'm really glad for the support that colleagues gave me.
Another aspect of the internship that I liked was that I could go down to the volunteers working on the phone line at any time and just listen in on the calls they receive. I really wanted to experience the ground-level, human element of how legislation and Government policies affected the lives of people. That was the best part of this internship in my opinion. It took things out of the theoretical atmosphere of a lecture hall and placed it in real life. The volunteers here have such a wide knowledge of the different areas of law that they commonly get calls about. Family law, court queries, consumer issues and wills and probate are very common caller concerns, but they can receive calls on pretty much anything! I'd be interested in returning next year when I'm done my course to work on the phone lines, at least for a little while whilst I prepare for FE-1s.
I've also had opportunities to attend events focusing on social justice and access to the law that I simply wouldn't know about if it weren't for FLAC. I was at the launch new FLAC report that chronicles the Foy case and was able to meet Lydia Foy herself, which was really exciting for me. She's a fantastic speaker and a wonderful person. I've written essays on this case that fought for gender recognition and have researched it quite a bit, but it was something else entirely to meet the person behind it. Once again, I was able to understand the ground-level, human aspects of the case rather than just the abstract research I did from a different vantage point, and that's what I really enjoyed.
I was also able to attend the 'My Lawyer, My Rights – Working with Children in Conflict with the Law' talk held by UCC in the President's Hall in Blackhall Place. I've never actually been to the building before, despite being a law student! The half-day talk was fantastic, and it really opened my eyes up to the injustices and sheer difficulties faced by children who come into conflict with the law. The criminal justice system is supposed to facilitate rehabilitation of offenders and help them understand how not to get into conflict with the law again, yet there were many areas highlighted at the talk that need to be worked on, as well as suggestions on how to improve them.
I took great interest in the quality and diversity of speakers in attendance and would be very interested in doing a family law module next year at UCD. I'd previously decided in third year not to take it due to prejudices about family law being very tough emotionally on a person and because of the sheer amount of legislation and case law! Now I see the reasons for such a large body of information in that area – it's because of the complexity of social structures and the ways inequalities and various difficulties can shape behaviour and outcomes.
I am so very grateful for the opportunity to undertake this placement with FLAC and it has given me a lot to consider and reflect on. The first-hand experience of social justice in Ireland has been invaluable and has helped solidify my plans about the future and my career. I've had the chance to meet judges, solicitors, barristers, and many members of other NGOs, and to discuss current issues with them. The people in FLAC have been fantastic and so supportive. The atmosphere in the workplace is really friendly and I felt so welcomed. I want to thank all of the staff for their time and help over the month, and for their commitment to realising social change and social justice in Ireland.
Legal History Group Conference on Law and Religion in Ireland 1530-1970
The UCD Legal History group, a research cluster based in the Sutherland School of Law, held a day-long round table conference on the theme of religion in Irish Law from the eighteenth to twentieth centuries. The event was funded with the assistance of a grant from the UCD Seed Funding Scheme.
The Penal Laws against Catholics provided the principal area of intersection between law and religion in the eighteenth century. A paper by Charles McGrath of the School of History at UCD provided a survey of the wider Penal Legal framework enacted between 1695 and 1750. One of the objects of the Penal Laws was to reduce the threat of Catholic insurrection by preventing Catholic landowners accumulating large estates. Lawyers advising Catholic landowners developed ingenious legal techniques for retaining and acquiring land in ways which avoided the Penal Laws. Papers by Philip Walsh (School of History, UCD) and Emma Lyons (School of History, UCD) provided two case studies, based on the estate papers of two Catholic landowning families, describing how Catholic landowners managed to evade the Penal Laws.
By the mid-eighteenth century, the Irish Parliament had begun to relax the Penal Laws. A paper read by Professor James Kelly of DCU described the measures taken by the Irish Parliament to gradually reform the Penal Laws, and to enable Catholics to hold land and the Catholic Church to organise more openly.
Nial Osborough, who taught for many years at Trinity College Dublin and UCD, is acknowledged as the doyenne of Irish legal historical study. His paper 'Church Briefs and Charitable Relief: Reparation for Two Early Eighteenth Century Fire-Damaged Ulster Towns' investigated the obscure topic of church briefs: a form of state-sponsored charity collection administered by the church.
Leanne Calvert (Hertford University) discussed the type of civil work processed by local Presbyterian church courts in Ulster 1700-1839, and the role of these private courts within the Presbyterian community.
The Catholic Emancipation Act 1829 is usually considered to have brought a final end to the Penal Laws. This assumption was contested in a paper by Kevin Costello (UCD) which demonstrated ways in which direct legal disabilities continued to be imposed - particularly on the Catholic religious orders – between 1829 and 1920. A paper by Professor Oliver Rafferty (Boston College, USA) entitled the 'Legal and constitutional organisation of the Catholic Church in the nineteenth century' discussed the original topic of the internal legal organisational framework of the Catholic Church in the nineteenth century, its relationship with the Vatican, and the wider state.
Two papers dealt with the Church of Ireland between the late nineteenth and early twentieth centuries: an essay by Paul Colton (the Church of Ireland, Bishop of Cork) dealt with the dis-establishment of the Church of Ireland, through the enactment of Church Act 1869. A paper by Robert Marshall (independent scholar) described the legal fallout- prosecutions, trials for heresy and judicial review- of bitter the disputes between the evangelical and the ritualist or 'high church' wings of the Church of Ireland in the early twentieth century.
Thomas Mohr (UCD) provided an original survey of the role of religion in the Constitution of the Irish Free State. The 1922 Constitution made little mention of religion; Dr Mohr's paper described how this came about, and the way in which the drafters resisted pressures to include greater provision for religion.
The final paper of the day was delivered by Donal Coffey (Manx Plank Institute, Germany) and Niamh Ni Leathlobhair (independent). 'A Legal and Political History of the Fifth Amendment of the Constitution of Ireland' dealt with the political and legal history of the decision to remove, by referendum in 1972, the provision in Article 44 which had recognized the special position of the Roman Catholic church.
The next stage in this project will be a publication on the topic of law and religion in Ireland. This will be mainly based on the papers delivered at the conference.
'Law and Religion in Ireland 1530-1970' is the second major research project undertaken by the UCD Legal History Group. A previous project, on the interaction between the law and family life 1800-1950, is the basis of the book, Niamh Howlin and Kevin Costello, Law and the Family in Ireland 1800-1950 (Palgrave 2017).
Donald Tusk receives Honorary Life Membership of Lawsoc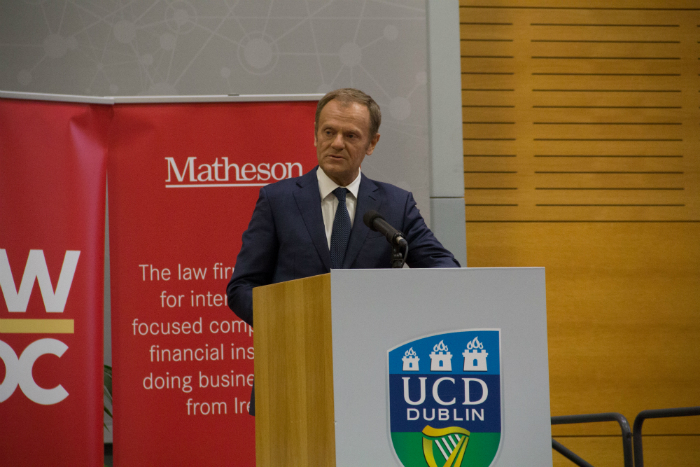 ‌
European Council President, Donald Tusk has been awarded Honorary Life Membership of the UCD Law Society.

On receiving the honour at University College Dublin, Tusk admitted to the audience that he could be considered "oversensitive" to the threat of European disunion.

The EU leader said he sees Brexit as "one of the saddest moments in twenty-first-century European history". Sometimes, he even feels "furious" about it, he declared.

He said that while, as a generation which united Europe, we have "many reasons to be satisfied", we also have "as many reasons for concern".

We could still "make it to the gloomy and for sure the spectacular show of another European disunion," he said.

He later acknowledged that according to surveys "the Irish are amongst the happiest people in Europe and the most optimistic about their future in the European Union".

"You are a young nation, with the Union's highest birth rate and for several years now, one of its fastest-growing economies. You have managed to combine fidelity with the past with a freedom from old anxieties," said Tusk.

"You became a country of immigration for the first time, receiving more people proportionately than the UK, yet no-one ever hears of any problems on this issue from Ireland."

"You are even moving on from the modern clichés of being the small, brave country that resolved its ancient quarrels and became a successful harnesser of globalisation," he added.
Pictured Above L-R; Michael Jackson (Managing Partner at Matheson), Laura Hogan (Lawsoc Auditor), Donald Tusk (President of the European Council), Prof Imelda Maher MRIA (Dean of Law)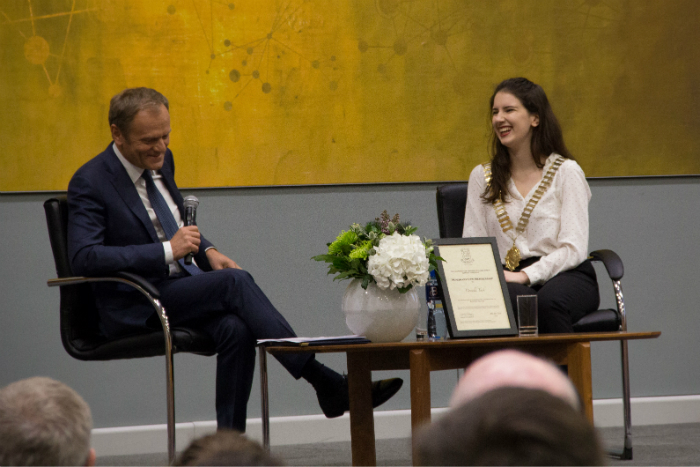 Pictured Above; Donald Tusk in conversation with Laura Hogan
With thanks to UCD University Relations for photos and reporting.