Society of Legal Scholars Annual Seminar 2019 to be held in UCD
Dr Mark Coen has been awarded the prize to host the Society of Legal Scholars (SLS) Annual Seminar 2019. The award is held jointly with Dr Fergal Davis of King's College London, who will co-host the seminar. The seminar is a prestigious event in the SLS calendar and will be held at the Sutherland School of Law on Monday 28 and Tuesday 29 September 2019. The theme of the seminar is the 80th anniversary of the passage of the Offences Against the State Act 1939. Subjects including non-jury trial, unlawful organisations and internment will be addressed by distinguished domestic and international speakers from a range of historical, contemporary and theoretical perspectives.
UCD PhD student Edoardo Celeste invited to talk at the Hans-Bredow-Institut of Hamburg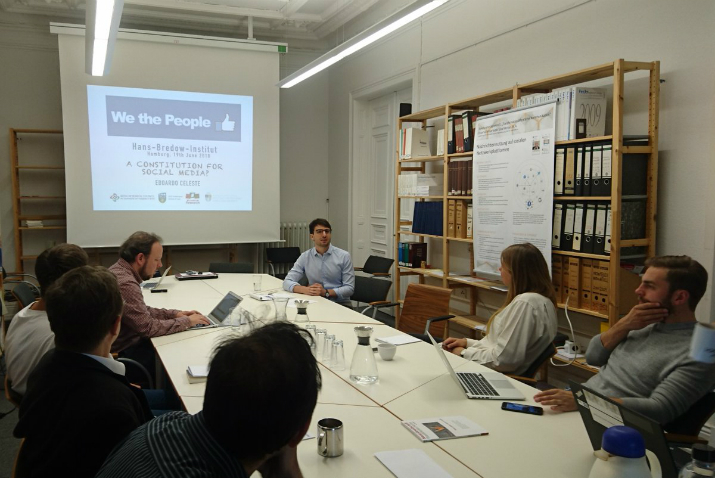 On June 19th 2018 Sutherland School of Law PhD student Edoardo Celeste was invited to present his recent work on constitutionalism in the social media environment at the Hans-Bredow-Institut for Media Research at the University of Hamburg (Germany). Edoardo is an Irish Research Council Postgraduate Scholar and is currently visiting fellow at the Alexander von Humboldt Institute for Internet and Society (HIIG) of Berlin.

Edoardo's workshop in Hamburg was provocatively titled 'A Constitution for Social Media?' and reflected on the role of social media's terms of services and bills of rights of social media users as potential mechanisms of constitutionalisation for the social media environment.

On this topic Edoardo recently published the article 'Terms of service and bills of rights: new mechanisms of constitutionalisation in the social media environment?' in the International Review of Law, Computers & Technology as well as a thought-provoking post in the HIIG Science Blog's special dossier on the new EU General Data Protection Regulation.
UCD BCL Student on her Clinical Legal Education placement with FLAC
Helen Carroll, a third year BCL Law with Social Justice student at UCD, wrote the following on her Clinical Legal Education placement with FLAC.
As a third year BCL Law with Social Justice student at UCD, my interest lies in the upholding and realisation of personal rights. I took part in a one month clinical legal education placement that UCD offers students, and FLAC was my first choice on where to spend that month. Their knowledge and professionalism balanced with their down to earth nature really impressed me, and I was very excited to be taken on board as a legal intern for the month of my clinical legal placement.
FLAC has been instrumental in promoting public interest litigation and pro bono work in Ireland. They have provided free legal information and advice to the public for over 40 years. There aren't many organisations you can call up and get legal information at no cost, as solicitor fees can be prohibitive to many people. From listening in on the phone calls that FLAC receives on a daily basis, I've found that so many people simply don't know what their rights are and how to use them to their advantage. FLAC aims to educate the public and advance the rights of different communities by engaging in public interest litigation and producing publications, reports, submissions and a bulletin to help teach people of these rights.
I've been working on various pieces from different members in the organisation. I have compiled data on a year's worth of clinic visits by members of the Roma community, which is an initiative aimed at this marginalised group to help them access legal information and advice. The most common queries surrounded access to housing and citizenship, but there were many different areas of law that they requested information on. It was really interesting to compile, and to try decipher the handwritten notes of the solicitor who attended the clinic!
I was also working a lot with PILA on research. I prepared small reports highlighting barriers to accessing justice for people with disabilities and members of the deaf community. I also researched best practice mechanisms in jurisdictions outside Ireland, focusing on ways to simplify court procedure, make the process more accommodating for vulnerable court users, looking into alternative methods of dispute resolution that are more informal and less costly, and utilising technology for compiling information for cases. It's been varied and interesting but has never been overwhelmingly busy, and I'm really glad for the support that colleagues gave me.
Another aspect of the internship that I liked was that I could go down to the volunteers working on the phone line at any time and just listen in on the calls they receive. I really wanted to experience the ground-level, human element of how legislation and Government policies affected the lives of people. That was the best part of this internship in my opinion. It took things out of the theoretical atmosphere of a lecture hall and placed it in real life. The volunteers here have such a wide knowledge of the different areas of law that they commonly get calls about. Family law, court queries, consumer issues and wills and probate are very common caller concerns, but they can receive calls on pretty much anything! I'd be interested in returning next year when I'm done my course to work on the phone lines, at least for a little while whilst I prepare for FE-1s.
I've also had opportunities to attend events focusing on social justice and access to the law that I simply wouldn't know about if it weren't for FLAC. I was at the launch new FLAC report that chronicles the Foy case and was able to meet Lydia Foy herself, which was really exciting for me. She's a fantastic speaker and a wonderful person. I've written essays on this case that fought for gender recognition and have researched it quite a bit, but it was something else entirely to meet the person behind it. Once again, I was able to understand the ground-level, human aspects of the case rather than just the abstract research I did from a different vantage point, and that's what I really enjoyed.
I was also able to attend the 'My Lawyer, My Rights – Working with Children in Conflict with the Law' talk held by UCC in the President's Hall in Blackhall Place. I've never actually been to the building before, despite being a law student! The half-day talk was fantastic, and it really opened my eyes up to the injustices and sheer difficulties faced by children who come into conflict with the law. The criminal justice system is supposed to facilitate rehabilitation of offenders and help them understand how not to get into conflict with the law again, yet there were many areas highlighted at the talk that need to be worked on, as well as suggestions on how to improve them.
I took great interest in the quality and diversity of speakers in attendance and would be very interested in doing a family law module next year at UCD. I'd previously decided in third year not to take it due to prejudices about family law being very tough emotionally on a person and because of the sheer amount of legislation and case law! Now I see the reasons for such a large body of information in that area – it's because of the complexity of social structures and the ways inequalities and various difficulties can shape behaviour and outcomes.
I am so very grateful for the opportunity to undertake this placement with FLAC and it has given me a lot to consider and reflect on. The first-hand experience of social justice in Ireland has been invaluable and has helped solidify my plans about the future and my career. I've had the chance to meet judges, solicitors, barristers, and many members of other NGOs, and to discuss current issues with them. The people in FLAC have been fantastic and so supportive. The atmosphere in the workplace is really friendly and I felt so welcomed. I want to thank all of the staff for their time and help over the month, and for their commitment to realising social change and social justice in Ireland.
Legal History Group Conference on Law and Religion in Ireland 1530-1970
The UCD Legal History group, a research cluster based in the Sutherland School of Law, held a day-long round table conference on the theme of religion in Irish Law from the eighteenth to twentieth centuries. The event was funded with the assistance of a grant from the UCD Seed Funding Scheme.
The Penal Laws against Catholics provided the principal area of intersection between law and religion in the eighteenth century. A paper by Charles McGrath of the School of History at UCD provided a survey of the wider Penal Legal framework enacted between 1695 and 1750. One of the objects of the Penal Laws was to reduce the threat of Catholic insurrection by preventing Catholic landowners accumulating large estates. Lawyers advising Catholic landowners developed ingenious legal techniques for retaining and acquiring land in ways which avoided the Penal Laws. Papers by Philip Walsh (School of History, UCD) and Emma Lyons (School of History, UCD) provided two case studies, based on the estate papers of two Catholic landowning families, describing how Catholic landowners managed to evade the Penal Laws.
By the mid-eighteenth century, the Irish Parliament had begun to relax the Penal Laws. A paper read by Professor James Kelly of DCU described the measures taken by the Irish Parliament to gradually reform the Penal Laws, and to enable Catholics to hold land and the Catholic Church to organise more openly.
Nial Osborough, who taught for many years at Trinity College Dublin and UCD, is acknowledged as the doyenne of Irish legal historical study. His paper 'Church Briefs and Charitable Relief: Reparation for Two Early Eighteenth Century Fire-Damaged Ulster Towns' investigated the obscure topic of church briefs: a form of state-sponsored charity collection administered by the church.
Leanne Calvert (Hertford University) discussed the type of civil work processed by local Presbyterian church courts in Ulster 1700-1839, and the role of these private courts within the Presbyterian community.
The Catholic Emancipation Act 1829 is usually considered to have brought a final end to the Penal Laws. This assumption was contested in a paper by Kevin Costello (UCD) which demonstrated ways in which direct legal disabilities continued to be imposed - particularly on the Catholic religious orders – between 1829 and 1920. A paper by Professor Oliver Rafferty (Boston College, USA) entitled the 'Legal and constitutional organisation of the Catholic Church in the nineteenth century' discussed the original topic of the internal legal organisational framework of the Catholic Church in the nineteenth century, its relationship with the Vatican, and the wider state.
Two papers dealt with the Church of Ireland between the late nineteenth and early twentieth centuries: an essay by Paul Colton (the Church of Ireland, Bishop of Cork) dealt with the dis-establishment of the Church of Ireland, through the enactment of Church Act 1869. A paper by Robert Marshall (independent scholar) described the legal fallout- prosecutions, trials for heresy and judicial review- of bitter the disputes between the evangelical and the ritualist or 'high church' wings of the Church of Ireland in the early twentieth century.
Thomas Mohr (UCD) provided an original survey of the role of religion in the Constitution of the Irish Free State. The 1922 Constitution made little mention of religion; Dr Mohr's paper described how this came about, and the way in which the drafters resisted pressures to include greater provision for religion.
The final paper of the day was delivered by Donal Coffey (Manx Plank Institute, Germany) and Niamh Ni Leathlobhair (independent). 'A Legal and Political History of the Fifth Amendment of the Constitution of Ireland' dealt with the political and legal history of the decision to remove, by referendum in 1972, the provision in Article 44 which had recognized the special position of the Roman Catholic church.
The next stage in this project will be a publication on the topic of law and religion in Ireland. This will be mainly based on the papers delivered at the conference.
'Law and Religion in Ireland 1530-1970' is the second major research project undertaken by the UCD Legal History Group. A previous project, on the interaction between the law and family life 1800-1950, is the basis of the book, Niamh Howlin and Kevin Costello, Law and the Family in Ireland 1800-1950 (Palgrave 2017).
UCD BCL student wins Dr Mary Redmond Bursary
A third year UCD BCL student, Sean Hurley, has been awarded the Dr Mary Redmond Bursary, a bi-annual national research and essay competition run by the Employment Law Association of Ireland. This year's topic was the Gig Economy. Sean's essay examined the way in which the principle of mutuality of obligation is used to disqualify workers, particularly those in the gig economy, from employment status. The essay argued that the concept had been given a prominence in Irish law which, for doctrinal reasons, it did not merit.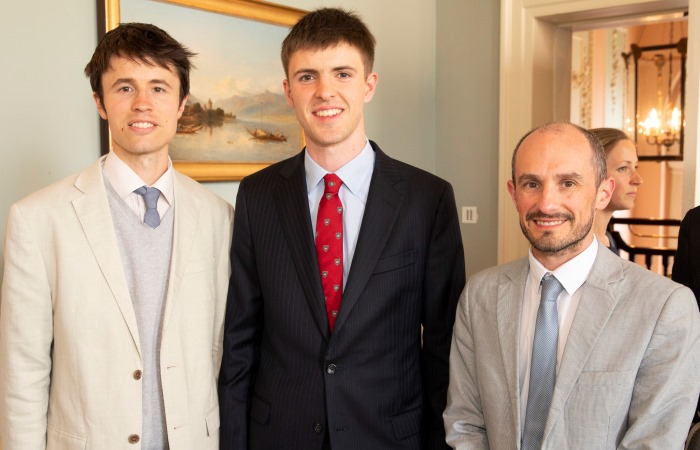 ‌(Seán Hurley (middle), winner of the Dr Mary Redmond Bursary 2018 with Patrick Usher (left), Mary Redmond's son and Professor Mark Bell, TCD School of Law (right))
The Bursary was established in memory of the late, Dr Mary Redmond. Dr Redmond taught Labour Law and Jurisprudence at UCD between the early 1970s and 1979, when she left to join the Law Faculty at Cambridge. Dr Redmond is regarded as the founder of the modern academic study of Labour and Employment Law in Ireland.
Professor Imelda Maher at the Luke Wadding Lecture Series
Professor Imelda Maher spoke on Brexit, the Common Travel Area and the Irish Land Border as part of the Luke Wadding Lecture Series in the Waterford Institute of Technology. In her paper she noted how the common travel area goes much further than simply allowing travel with British and Irish citizens benefiting from education, health care and social welfare in each jurisdiction. There is general agreement to sustain the common travel area between the UK and Ireland after Brexit. The challenges surrounding the UK leaving the customs union and single market however poses problems especially for people travelling across the land border and between the two islands. The common regulatory area proposed in February (the back stop) for Northern Ireland remains the most likely outcome with a long transition to any other arrangement.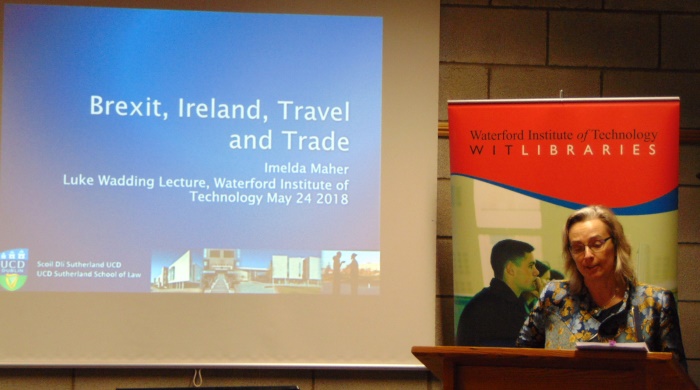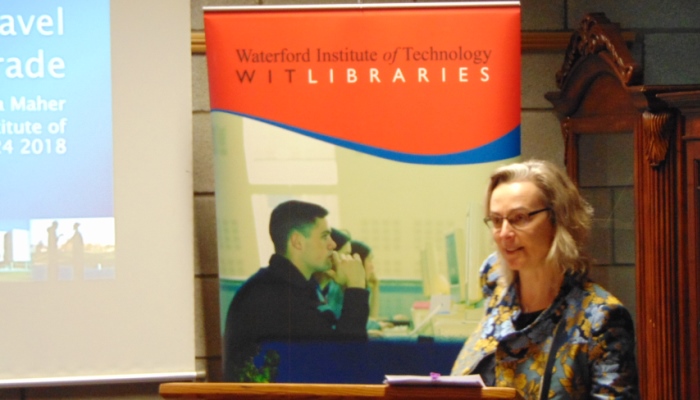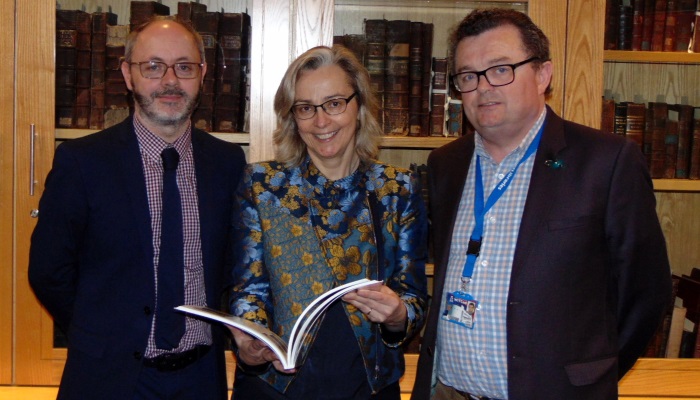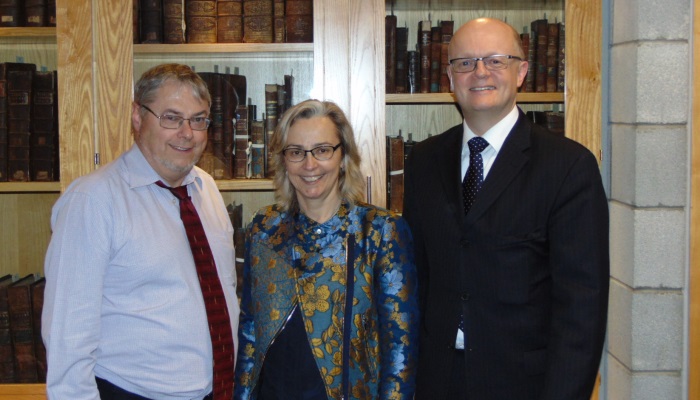 Semi-Finalists in the Oxford French Law Moot!
Last month, Ayodele Arogundade and Juliette Fauvarque, participated in the 2018 edition of the Oxford French Law Moot which took place at the Faculty of Law, University of Oxford. Ayo and Juliette are both dual degree BCL/Maîtrise students currently studying for their final year in the University of Paris II Pantheon-Assas.
The UCD team was selected to take part last January together with twelve other teams coming from various universities in the UK, Ireland, Germany, Spain, Italy and Turkey. Ayo and Juliette reached the semi-finals! It is a very good record for a first participation by the UCD Sutherland School of Law. Warmest congratulations to them and their mentor Dr Marie-Luce Paris.
The Oxford French Law Moot brings together law students who argue, in French, over a problem of French law – this year's problem was about labour law and involved a dismissal over a claim of sexual harrassment in the workplace. The Moot is geared mostly, albeit not exclusively, at students for whom French is a second language and French law a second legal system. Originally an internal event to Oxford, it opened to other UK and foreign universities, making the event one of its kind in Europe and worldwide. The prestigious event is organised by the Oxford Institute of European and Comparative Law, and sponsored by Gide Loyrette Nouel, an international law firm with roots in France. The judging panel generally consists of French law professors, judges and practitioners.
Read Ayo and Juliette's testimonial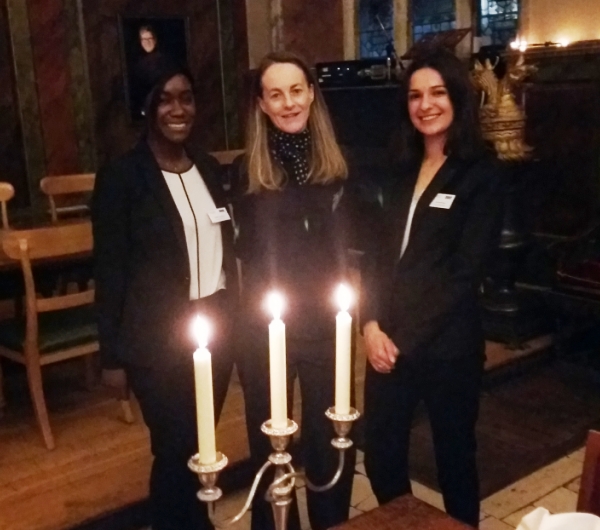 Ayodele Arogundade, Dr Marie-Luce Paris, and Juliette Fauvarque at the Gala Diner at Trinity College, Oxford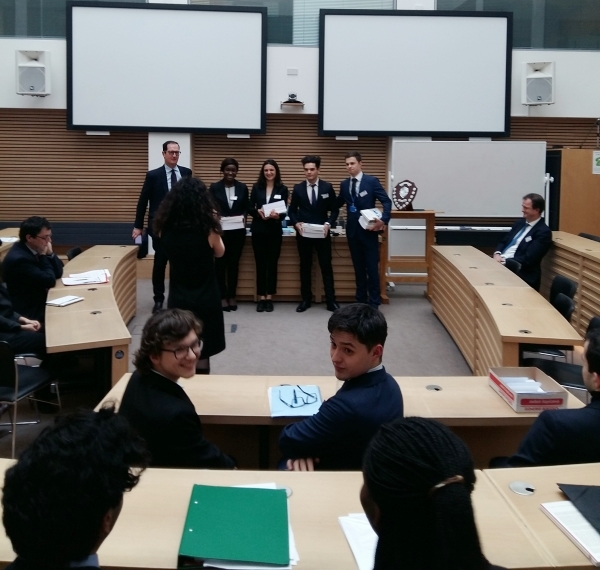 Standing, Professor Philippe Dupichot (Paris I University), Ayodele Arogundade (UCD), Juliette Fauvarque (UCD), Serge Ilioukhine (KCL), Gabriel Bulteel (KCL)
Irish Association of Law Teachers Spring Discourse
On Tuesday 24 April 2018 the Irish Association of Law Teachers held its Spring Discourse in the Moot Courtroom of the Sutherland School of Law. The Chief Justice, Mr Justice Frank Clarke, was in conversation with Miriam O'Callaghan about his life and career. Over forty legal academics attended the event, in which the Chief Justice spoke with great honesty and humour about his early life, education, experience of legal practise and what it means to be a judge in the twenty-first century. This year two members of staff from the Sutherland School of Law are serving on the Council of the IALT; Dr Mark Coen as President and Dr Noel McGrath as Treasurer.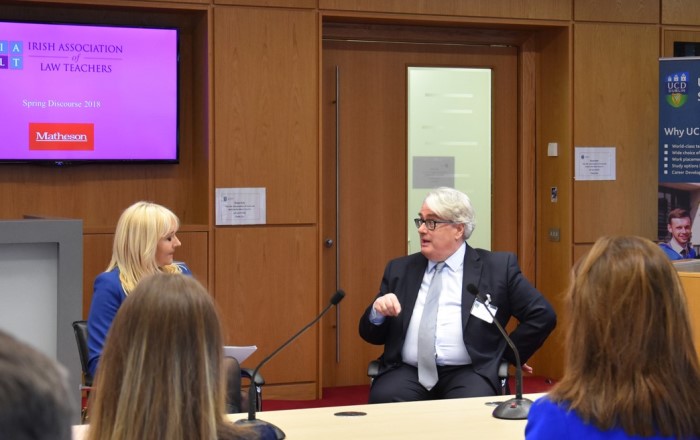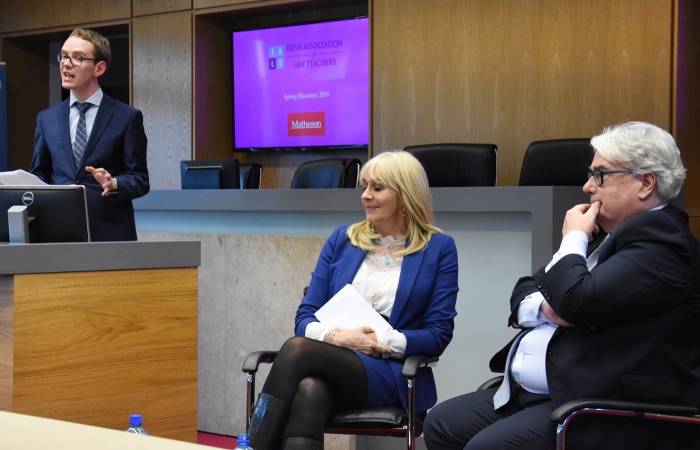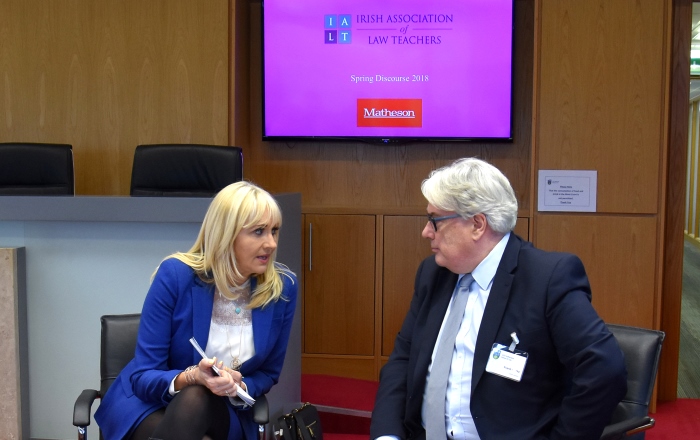 Photographs by Ann Lane
Workshop "Oversight of Public Sector" held at UCD
On the 18th April 2018, Professor Colin Scott and Dr Slobodan Tomic held at UCD a workshop "Oversight of Public Sector", as part of their ongoing Marie Sklodowska-Curie research project, funded by the CAROLINE scheme of EU Horizon 2020 and the Irish Research Council (IRC). The workshop featured two sessions, which focused on theoretical concepts related to regulation of the public sector, modelling of reputational exchanges between public sector regulators and government, and preliminary findings on Irish oversight bodies. Among the participants were the Irish Ombudsman and Information Commissioner, Mr Peter Tyndall, and the Head of Lobbying Regulation at the Standards in Public Office Commission (SIPO), Ms. Sherry Perreault.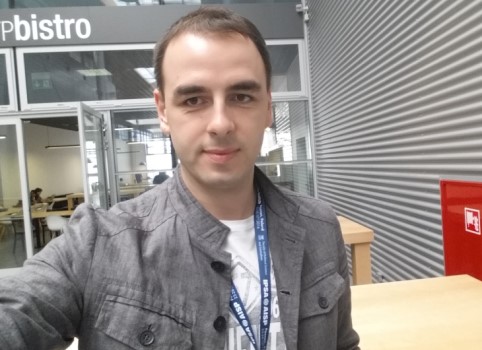 Dr. Slobodan Tomic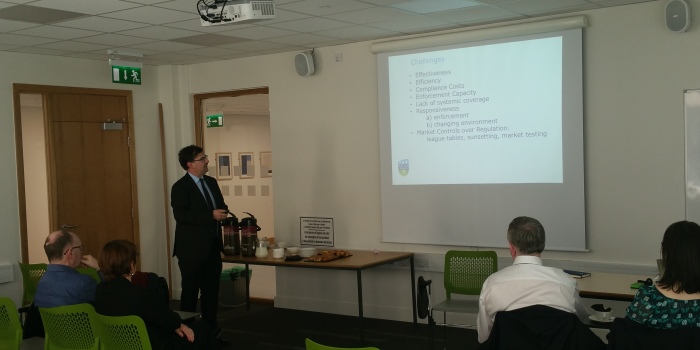 Professor Colin Scott speaking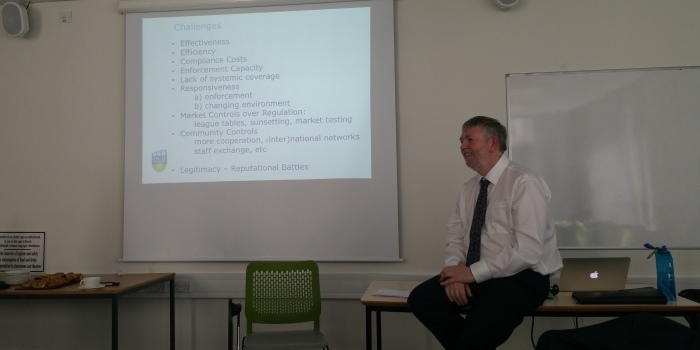 Mr Peter Tyndall
Donald Tusk receives Honorary Life Membership of Lawsoc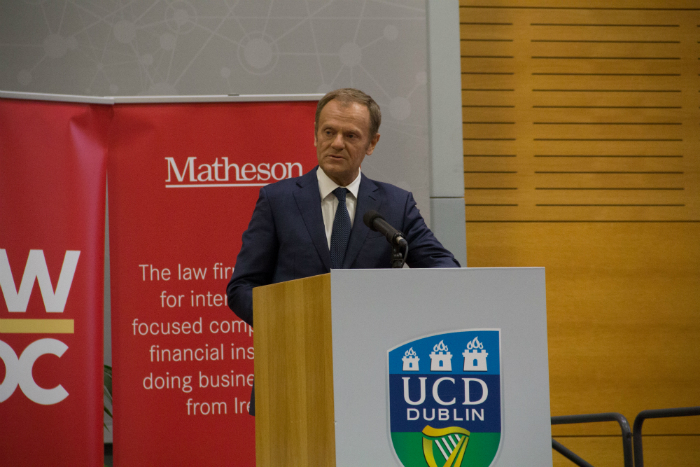 ‌
European Council President, Donald Tusk has been awarded Honorary Life Membership of the UCD Law Society.

On receiving the honour at University College Dublin, Tusk admitted to the audience that he could be considered "oversensitive" to the threat of European disunion.

The EU leader said he sees Brexit as "one of the saddest moments in twenty-first-century European history". Sometimes, he even feels "furious" about it, he declared.

He said that while, as a generation which united Europe, we have "many reasons to be satisfied", we also have "as many reasons for concern".

We could still "make it to the gloomy and for sure the spectacular show of another European disunion," he said.

He later acknowledged that according to surveys "the Irish are amongst the happiest people in Europe and the most optimistic about their future in the European Union".

"You are a young nation, with the Union's highest birth rate and for several years now, one of its fastest-growing economies. You have managed to combine fidelity with the past with a freedom from old anxieties," said Tusk.

"You became a country of immigration for the first time, receiving more people proportionately than the UK, yet no-one ever hears of any problems on this issue from Ireland."

"You are even moving on from the modern clichés of being the small, brave country that resolved its ancient quarrels and became a successful harnesser of globalisation," he added.
Pictured Above L-R; Michael Jackson (Managing Partner at Matheson), Laura Hogan (Lawsoc Auditor), Donald Tusk (President of the European Council), Prof Imelda Maher MRIA (Dean of Law)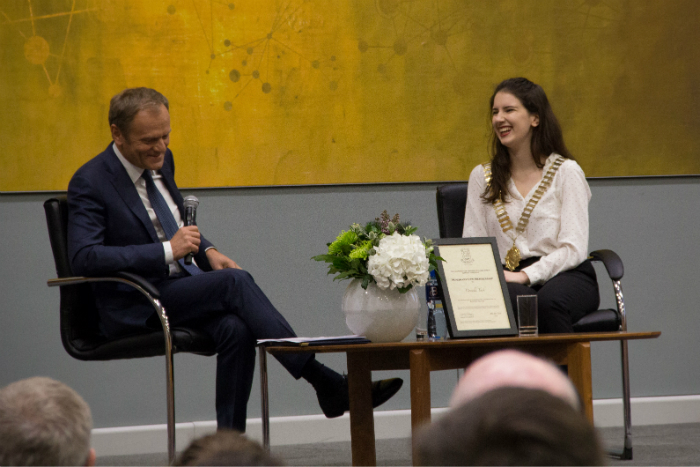 Pictured Above; Donald Tusk in conversation with Laura Hogan
With thanks to UCD University Relations for photos and reporting.
Prof Ian O'Donnell marks publication of new book with visit to Áras an Uachtaráin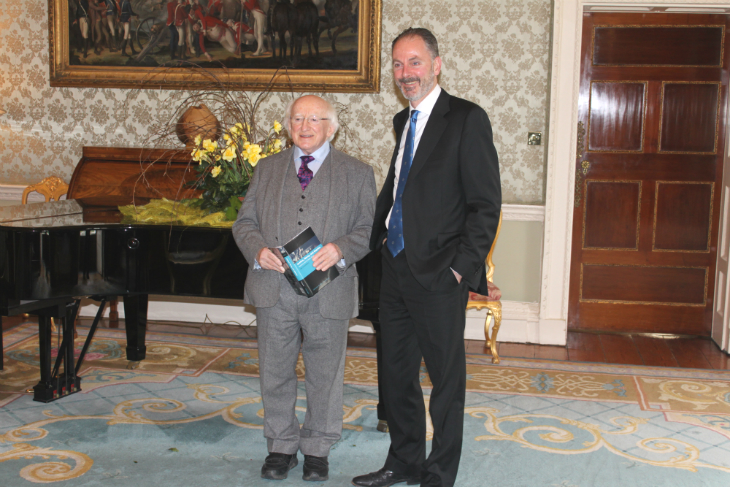 Professor Ian O'Donnell FRHistS, MRIA was invited to Áras an Uachtaráin by President Michael D. Higgins to celebrate the publication, by Oxford University Press, of his book Justice, Mercy, and Caprice: Clemency and the Death Penalty in Ireland.

The book, a product of many years study, is a work of criminal justice history that speaks to the gradual emergence of a more humane Irish state. It is a close examination of the decision to grant clemency to men and women sentenced to death between the end of the civil war in 1923 and the abolition of capital punishment in 1990.

Frequently, the decision to deflect the law from its course was an attempt to introduce a measure of justice to a system where the mandatory death sentence for murder caused predictable unfairness and undue harshness. In some instances the decision to spare a life sprang from merciful motivations. In others it was capricious, depending on factors that should have had no place in the government's decision-making calculus.

The custodial careers of those whose lives were spared repay scrutiny. Women tended to serve relatively short periods in prison but were often transferred to a religious institution where their coercive confinement continued, occasionally for life. Men, by contrast, served longer in prison but were discharged directly to the community. Political offenders were either executed hastily or, when the threat of capital punishment had passed, incarcerated for extravagant periods.

The issues addressed in the book are of continuing relevance for countries that employ capital punishment.

Justice, Mercy, and Caprice is available at a discount of 20% for orders placed on the Oxford University Press website quoting ALFLY5F.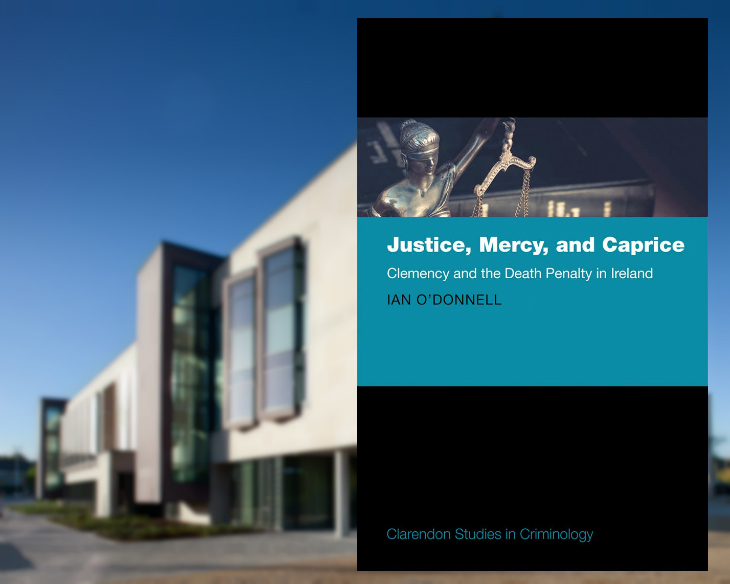 UCD Alumni Reception in Brussels hosted by Irish Ambassador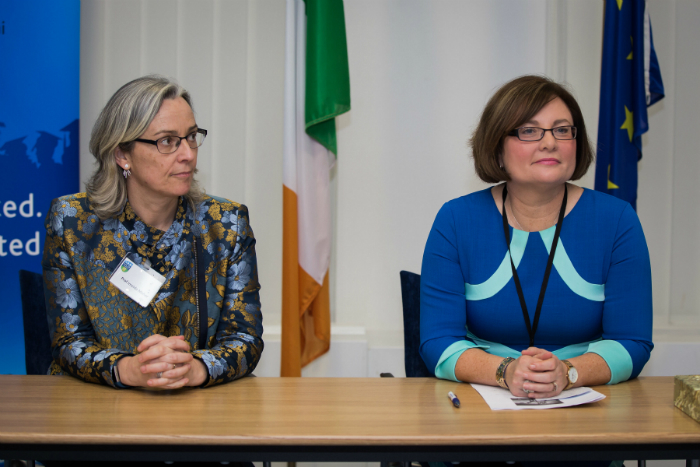 Picture Above: Prof Imelda Maher MRIA, Dean of Law and H.E. Ms. Helena Nolan, Ambassador of Ireland
Staff and students of the UCD Sutherland School of Law, in conjunction with SPIRe (The School of Politics & International Relations), returned recently from a very successful European Law and Politics Field Trip to the European Institutions in Brussels and Luxembourg. To mark the visit, H.E. Ms. Helena Nolan, Ambassador of Ireland hosted an alumni reception in the Embassy of Ireland in Brussels.
The group of nearly 15 students on the trip was honoured to attend the Embassy and delighted with the chance to meet with alumni. The international nature of the group alongside their Irish colleagues reflected the changing nature of Irish graduate education in particular and the extent to which Irish universities have become more outward looking, making events such as this all the more relevant.
The reception was very well attended by Brussels based alumni and offered the students a great opportunity to meet a number of UCD graduates who have built successful careers in the major European Institutions.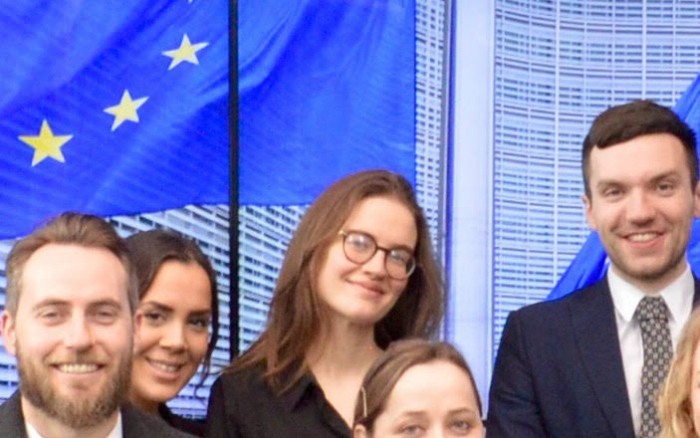 Pictured above, centre Jordan Ni Cheallaigh
Jordan Ní Cheallaigh has shared her reflection on the trip:
In March 2018, I took part in the field trip to Brussels and Luxembourg, organised by Sutherland School of Law in tandem with the School of Politics and International Relations. While in hindsight it was both brief and intense, the trip was an inspiring and highly rewarding experience.
The trip involved a series of visits to the European institutions, including the European Parliament, the European Commission and the European Court of Justice among numerous other public and private bodies operating within the EU.
Having spent considerable time studying the EU at both undergraduate and graduate level, I have obtained a broad but abstract knowledge of the everyday workings of the Union. The trip to Brussels afforded me a unique opportunity to experience what I had only ever seen through textbooks as a personal reality. The trip presents students with a once-in-a-lifetime opportunity to see 'under the bonnet' of the inner workings of the EU, and to experience first-hand the interconnected nature of European law and governance. As a hard-line politics student with scant pre-existing knowledge of EU law, this experience added yet another layer to my academic and personal perspective of the EU as a multifaceted political and legal institution.
Through the reception at the Irish Embassy, I was afforded the opportunity to interact with numerous UCD alumni that had been in similar positions to mine only years previously. I learned not only about the skills and experience needed to pursue a career in Brussels but about everyday life in Brussels as a vibrant, multinational city.
Upon returning from Brussels, I have begun to reflect on my future career. The trip not only enhanced my understanding of the EU, but also reassured me that my professional goals are achievable. I would give anyone thinking about signing up for the trip in future one piece of advice: Go!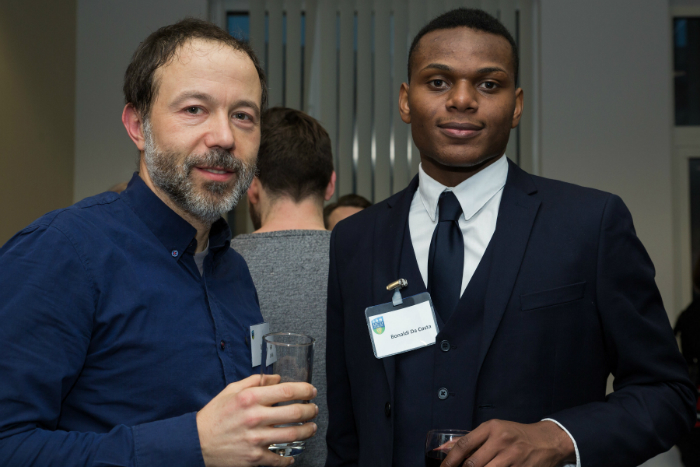 Pictured Above: Geert De Wael, UCD Alumnus and Bonaldi Da Costa student on the Masters of European Law and Public Policy
Bonaldi Da Costa has also shared a note on his experiences of the trip:

Currently studying on the MEconSc European Public Affairs and Law program, I had the distinct pleasure to have received the School of Politics & International Relations scholarship to attend this year's EU Field Trip. With a background in European Studies, I knew going into this trip that it would be a fantastic opportunity to gain an insight into life at some of the EU institutions located in Brussels and Luxembourg, and I can wholeheartedly say that I was not disappointed. From engaging conversations with prominent figures such as MEP Sean Kelly at the European Parliament and Vice-President Andrew McDowell of the European Investment Bank to auditing a preliminary reference hearing at the European Court of Justice and more, I feel that my knowledge on the functioning of the European Union, particularly the manner in which these institutions interact with one another, has deepened in a way which perhaps it wouldn't have, had I not partaken in this trip.
Moreover, the Alumni event hosted at the Irish embassy came at the perfect time, as it provided me with an opportunity to network with some fantastic people, with whom I will look to reconnect, as I prepare my move to Brussels in a month's time to start an internship at the EESC.
I cannot emphasise just how much this trip has benefited me and so would definitely advise students belonging to the School of Law and School of Politics to not pass up on future opportunities.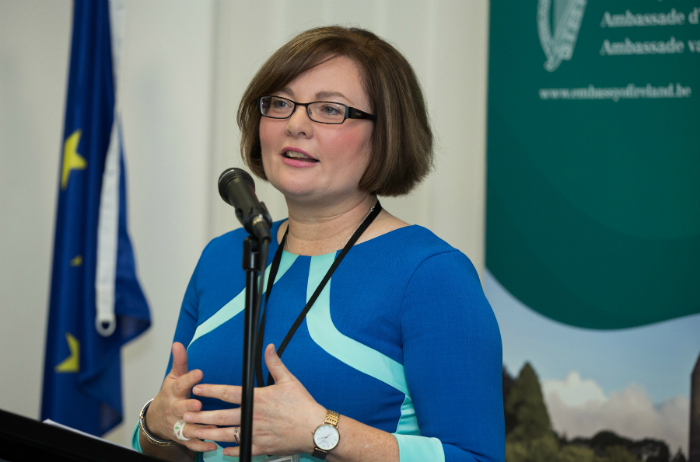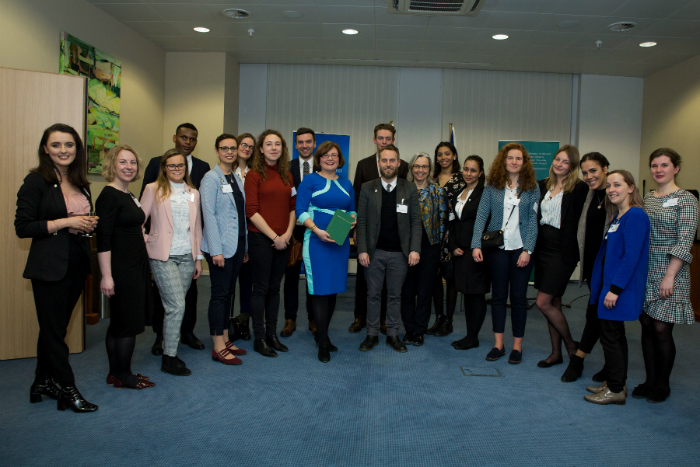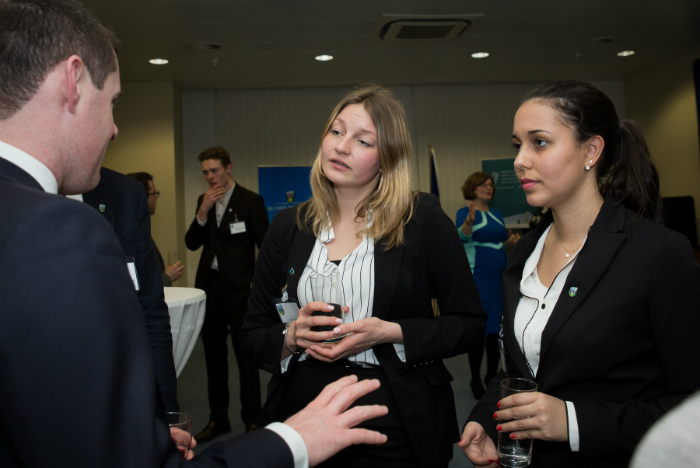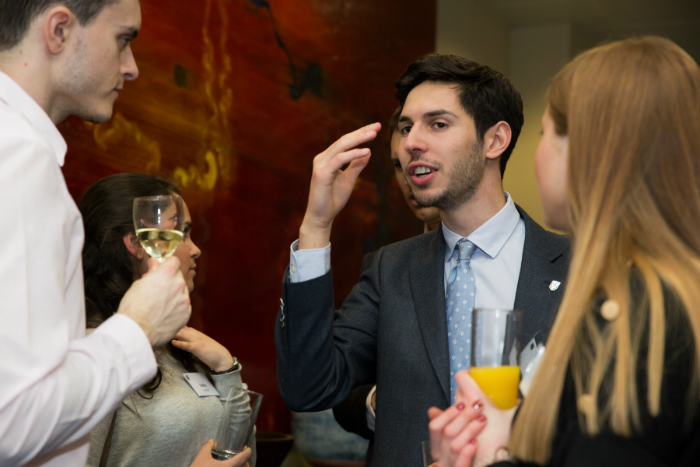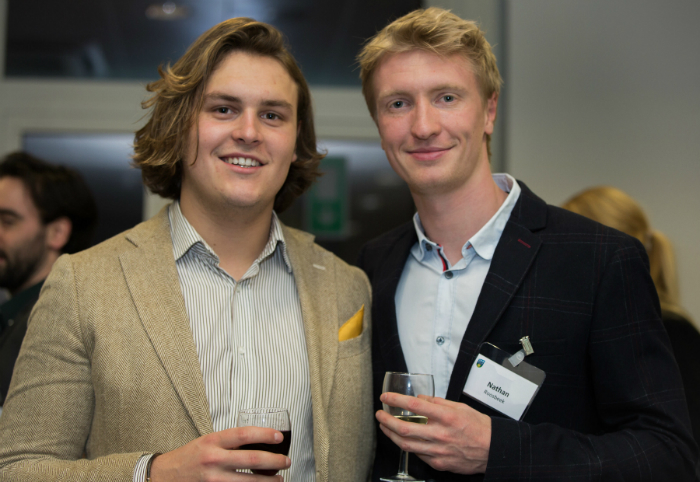 Dr Niamh Howlin plays key role in pardon for Myles Joyce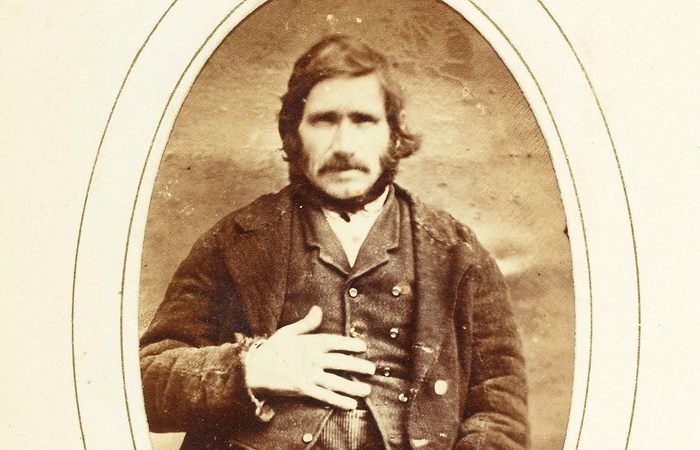 Pictured Above: Myles Joyce (Photo courtesy of the National Library of Ireland)
Lorna Siggins reporting recently for The Irish Times on the key role that research by our colleague Dr Niamh Howlin played in the Government's decision to advise the President of Ireland to pardon Myles Joyce, who was convicted for murder in relation to the Maamtrasna killings and hanged in 1882. The former Taoiseach Enda Kenny TD commissioned Dr Howlin to undertake a review of the case and she concluded that Myles Joyce, who was convicted for murder in relation to the Maamtrasna killings and hanged in 1882. The former Taoiseach Enda Kenny TD commissioned Dr Howlin to undertake a review of the case and she concluded that Myles Joyce's "trial, conviction and execution ... were unfair by the standards of criminal justice at the time". Dr Howlin's report in full can be accessed here.
UCD Law Student wins Thomas Addis Emmet Fellowship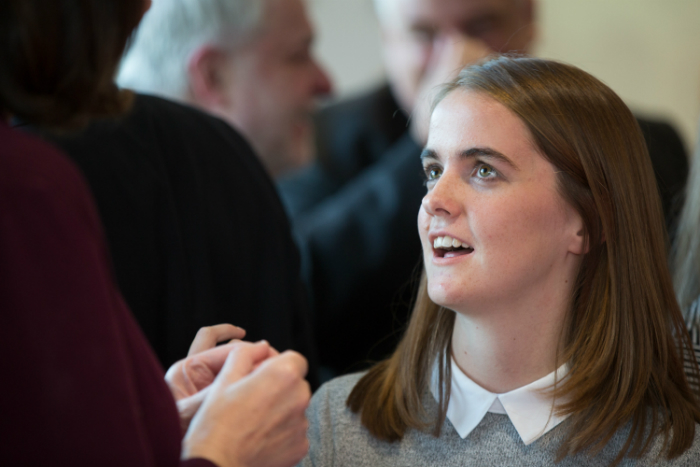 Tara Casey at the recent Arthur Cox Student Awards
The staff of the Sutherland School of Law congratulate Tara Casey, final year BCL International student, on her recent success in winning the Thomas Addis Emmet Fellowship. The Fellowship has run in association with FLAC since 1999. The winner will travel to Seattle, Washington to experience another Jurisdiction's legal system. The competition incorporated an intensive application process including written assessments, academic evaluation and face to face interviews. Eilis Barry, CEO of FLAC, said: "The judges were hugely impressed by Tara. She showed both the academic credentials and the commitment to use the law to advance the case for positive change.

Tara has excelled in her studies in UCD and has contributed greatly to the UCD community during here time here. Alongside her role as a Peer Mentor, Tara has been a member of the editorial board of the UCD Law Review and has served as the Clinic Coordinator for the UCD Student Legal Service. This year Tara was also a nominee for the Arthur Cox Contribution to University Life Awards.
GDPR Forum hosted in Sutherland School of Law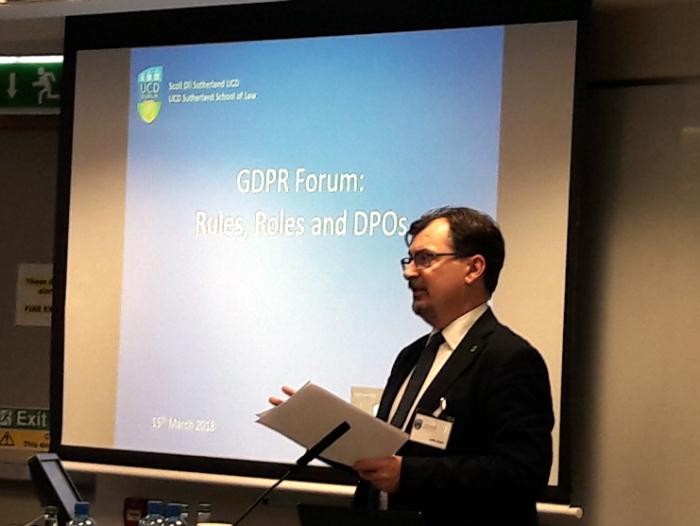 Prof Colin Scott launching the GDPR Forum
Close to fifty professionals attended UCD's Sutherland School of Law GDPR Forum on 15 March 2018. Professor Colin Scott, VP for Equality, Diversity and Inclusion College Principal, UCD College of Social Sciences and Law opened the event by giving an overview of the current state of play.
The 1-day event was aimed at lawyers, compliance specialists, data protection officers and professionals responsible for advising on the implications of the GDPR. Industry experts and leading academics spoke on a variety of topics; the position of the Data Protection Officer (DPO) within the organisation, Day 1 versus Day 100 as the DPO, the future of the DPO and building a privacy programme. All the speakers provided valuable insights into the real world application of the GDPR and the role of the Data Protection Officer.
Speakers included Dr TJ McIntyre (Sutherland School of Law), Emma Redmond (Senior Director and Head of EU Data Protection, Ancestry.com), Mark Crosbie (Global Head of Trust and Privacy, Dropbox), Dr. Denis Kelleher (Head of Privacy EMEA, LinkedIn) and Daragh O'Brien (Castlebridge).
Professor Imelda Maher, Dean of Law, Sutherland School of Law closed out the event and spoke of the School's aspiration to create a professional diploma or certificate on the back of the forum. The feasibility of this is currently being assessed.
John M. Kelly Lecture 2018 Delivered by Prof Gerry Whyte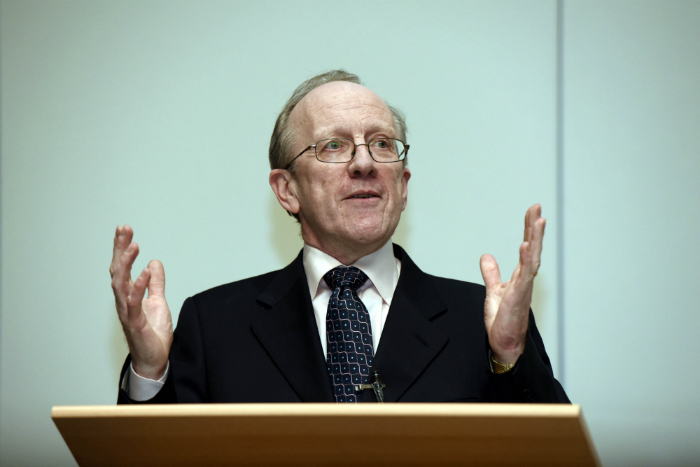 Pictured above: Prof Herry Whyte delivers the 2018 John M. Kelly Lecture
The Kelly Lecture 2018 was delivered by Prof. Gerry Whyte of Trinity Law School, this year titled "On Lord Ellenborough's Law of Humanity". The author or co-author of books on public interest law, constitutional law and trade union law, Prof Whyte has published extensively in the areas of public interest law, constitutional law, social welfare law and labour law. He has also collaborated for many years with a variety of social justice and legal aid organisations, was a former member of the Commission on Assisted Human Reproduction and of the Steering Group of the Irish Council of People with Disabilities and is a current member of the Legal Services Regulatory Authority. Together with Mr. Justice Gerard Hogan, he has edited the third and fourth editions of J.M. Kelly: The Irish Constitution. We were pleased to have been joined by The Hon. Mr Gerard Hogan who delivered the introduction this year. Both Prof Whyte and Mr. Justice Hogan are UCD Alumni.

Prof Whyte posed challenging questions relating to the protection of socio-economic rights in the Irish legal system. Taking its cure from R v Inhabitants of Eastbourne (1803) 4 East 103, Prof Whyte questioned whether there is a 'law of humanity' which the Irish legal system, whereby socio-economic rights are respected, protected and/or fulfilled. In an engaging address, Prof Whyte noted the re-birth of the law of humanity throughout the 1990s in the United Kingdom. Several judgments sought to use this principle as one of the basis for preventing the absolute destitution of asylum seekers within the UK. Moving onto Irish law, Prof Whyte noted the conservatism of Irish judges overall on recognition of socio-economic rights. Prof. Whyte argued that the constitutional objective of the dignity of the individual could provide a more fruitful arena for judicial dialogue that hitherto has been the case. The freedom to work for asylum seekers and access to criminal legal aid had seen a more restrained (and indirect) invocation of the law of humanity. Prof Whyte noted how the German courts have used their constitutional concept of dignity to further enhance and protect persons at the margins of society. Prof Whyte argued that the concept of dignity within the Irish constitution can only be understood by reference to Catholic Social Thought and the religious references that are still present in the Irish constitution. Acknowledging that this argument may not be popular, Prof Whyte insisted that the Christian and democratic nature of the State can be used by judges in enhancing and respecting the law of humanity in the arena of socio-economic rights.

This lecture series is named for John M. Kelly (1931-1991), Professor of Roman Law and Jurisprudence in UCD 1965-1991. Author of several books including the definitive The Irish Constitution and editor of the Irish Jurist, Professor Kelly also served as Senator,TD, Chief Whip, Attorney General, Minister for Foreign Affairs and Minister for Trade and Tourism. His last book, A Short History of Western Legal Theory was published by Oxford University Press in 1992.
Pictured below: The Hon. Mr Justice Gerard Hogan introduces the Kelly Lecture 2018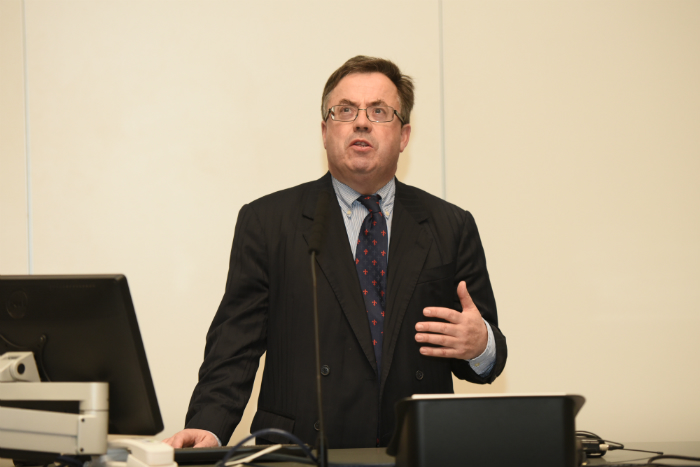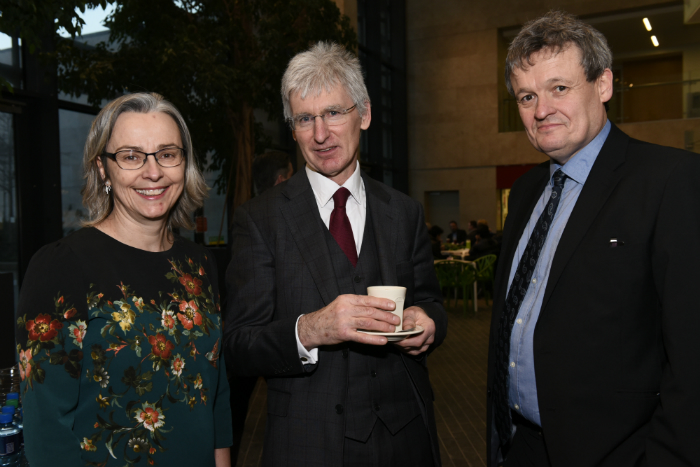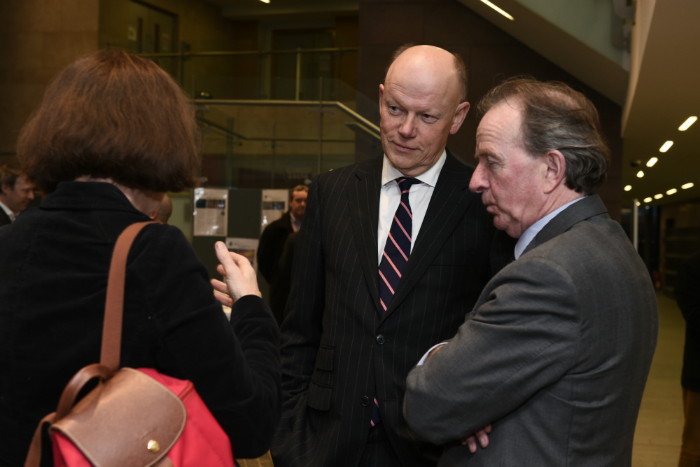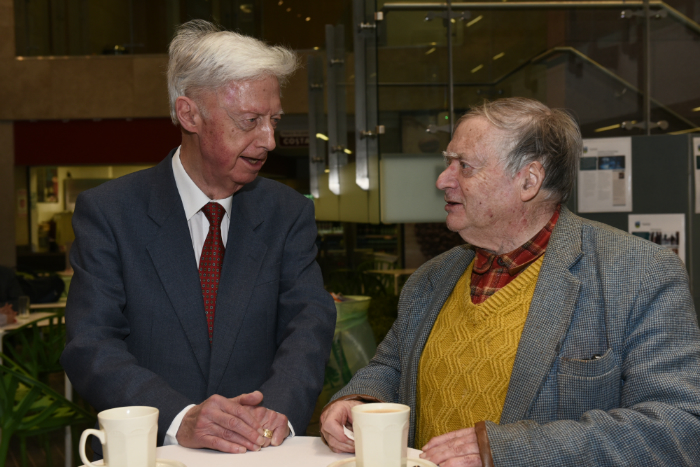 ‌
Launch of "European Environmental Law"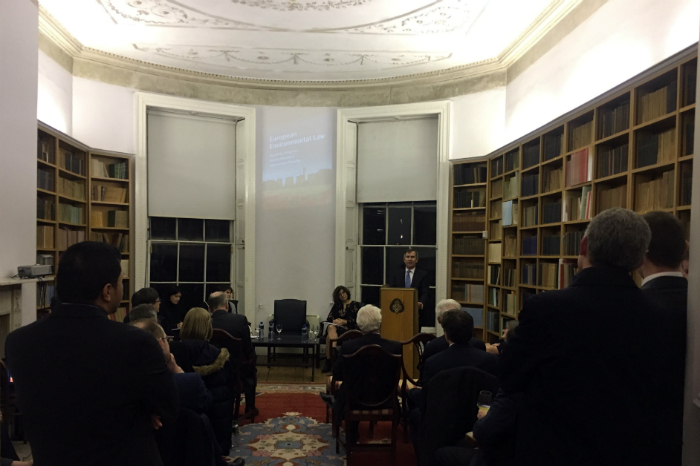 Pictured Above: The Hon Mr Justice David Barniville speaking at the recent book launch
To mark the launch of "European Environmental Law", recently published by Cambridge University Press, The Hon. Mr. Justice David Barniville chaired a debate on "Transformations in European Environmental Law". Speaking at the debate were the three authors of the book; Dr. Aleksandra Čavoški of the University of Birmingham, Dr. Veerle Heyvaert of the London School of Economics and Professor Suzanne Kingston BL of the Sutherland School of Law. Also speaking in the debate was Dr Áine Ryall BL of University College Cork, and Vice-Chair of the Aarhus Convention Compliance Committee. We are grateful to the Royal Society of Antiquaries of Ireland for hosting the evening's event.
"European Environmental Law" provides a critical and comprehensive account of the key issues in European environmental law and adopts a contextual interdisciplinary approach. Written by leading scholars, it examines increasingly important fields such as climate change law and environmental human rights law, as well as traditional environmental law topics.

Further details available here.
Pictured Below L-R: Dr. Aleksandra Čavoški, Dr. Veerle Heyvaert and Professor Suzanne Kingston BL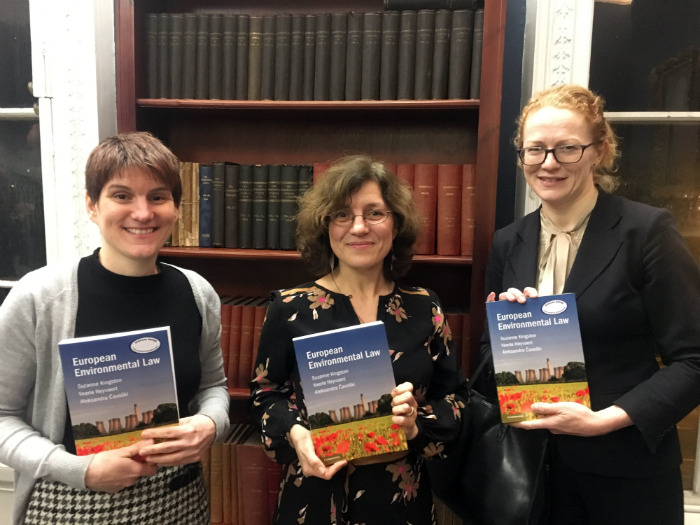 Dean of Law speaks about her passion for teaching
Prof Imelda Maher, Dean of Law speaks about her passion for teaching and what students can expect when they undertake a law degree…
Professor Imelda Maher is Dean of Law and Full Professor of European Law. She was general editor of Legal Studies (2012-2017) and is a member of the editorial boards of the European Law Journal and of the Irish Yearbook of International Law. Before returning to Ireland in 2006, she worked at the London School of Economics; the Research School of Social Sciences, Australian National University (where she was Director of the Centre for Competition and Consumer Policy); Birkbeck College, University of London; and Warwick University. She also has held Fellowships or visiting appointments at Peking University School of Transnational Law; the Institute of Advanced Legal Studies, London; Notre Dame Law School (London); Sydney University School of Law; The Europe Centre, Australian National University; and Lund University, Sweden. In 2008 she gave the prestigious general course lectures on economic law and governance at the Academy of European Law, European University Institute, Florence.
Professor Maher is a graduate of UCD (BCL), holds an LLM from Temple University and a Barrister-at-Law degree from the Kings Inns. She was elected as a member of the UCD Governing Authority from 2013. Elected a Member of the Royal Irish Academy in 2011 she is currently Secretary for Polite Literature and Antiquities for the Humanities and Social Sciences. She serves on the Board of the Irish Humanities Alliance and was also a founding member of the European Law Institute (Vienna). She was the first Irish woman to become President of the Society of Legal Scholars of the UK and Ireland (2016-2017), the largest scholarly society of common lawyers in Europe and hosted the SLS Annual Conference in September 2017 at the Sutherland School. She was Academic Director for the UCD Sutherland School of Law building, working with the UCD Foundation, the School Development Council as well as colleagues, the architects and project team to realise the academic vision behind the School which opened in November 2013.
UCD is renowned for exemplary lecturers and professors. Taught and motivated by these academics, our students have gone on to achieve great things. Presidents, Taoisigh, CEOs, Olympians, Oscar winners, international athletes, social justice champions, educators, innovators and entrepreneurs have all been taught by the inspirational academics here at UCD. The approaches to teaching, here at UCD, are as distinctive and varied as the scholars who teach the subject matter. What unifies all of our expert teachers is the passion that they have for their field of expertise. To view a selection of UCD lecturers and professors talk about their approach to teaching and passion for their subjects click on this link
Dr Mark Coen receives Charlemont Award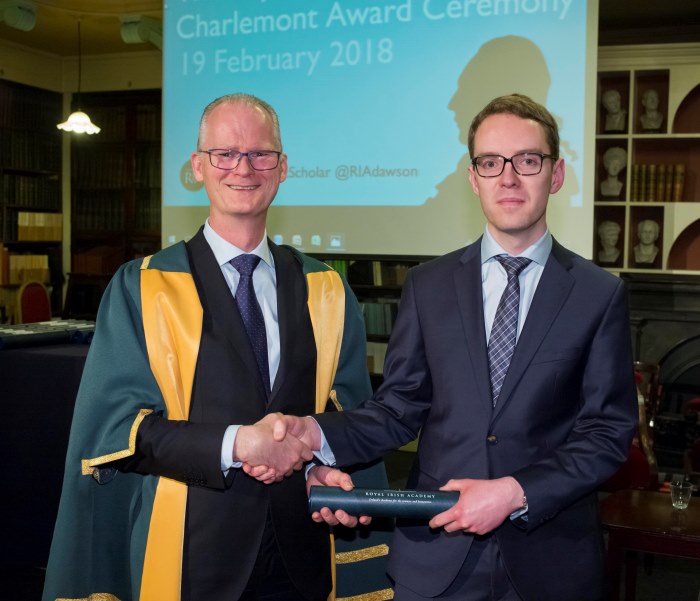 Dr Mark Coen has been made a Charlemont Scholar of the Royal Irish Academy for 2018. The Charlemont Grant will enable Mark to travel to the University of Victoria, Wellington, to conduct research on the law and practice relating to jury secrecy and jury question trails in New Zealand. In addition, Mark will present papers on his research on Judge-Jury Relations (at the University of New South Wales, Sydney) and on jury intimidation in 1920's Ireland (at the University of Victoria, Wellington). The photograph shows Mark receiving his Charlemont award from Professor Michael Peter Kennedy, President of the Royal Irish Academy.
Photo by John Ohle
Dublin Meeting of the International Society for Third Sector Research
Professor Oonagh Breen, a Board Member of the International Society of Third-Sector Research, was delighted to host the Executive Committee Meetings of ISTR at the Sutherland School of Law recently. Oonagh was joined by the current president of the Society, Professor Steven Rathgeb Smith along with Board members, Professor Paula Chies Schommer (Brazil), Professor Kinman Chan (Hong Kong), Professor Stefan Toepler (United States) and Professor Annette Zimmer (Germany), along with ISTR Executive Director Margery Daniels and consultant Putnam Barber.‌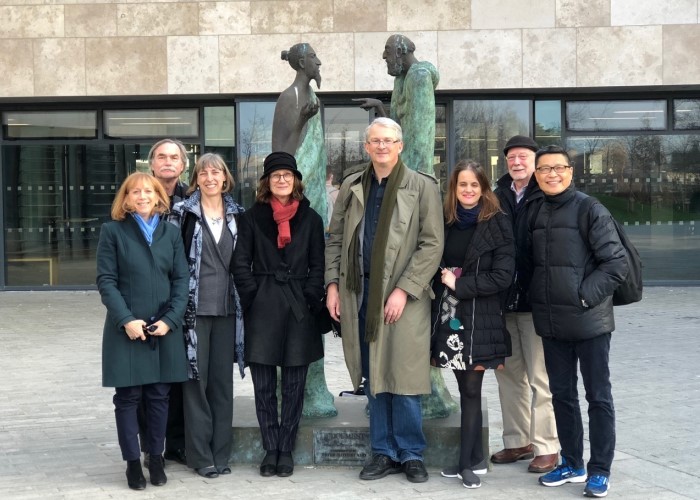 Founded in 1992, ISTR is the leading international association promoting research and education in the fields of civil society, philanthropy, and the nonprofit sector. ISTR is an organization committed to building a global community of scholars and interested others dedicated to the creation, discussion, and advancement of knowledge pertaining to the Third Sector. It will hold its biennial international conference in Amsterdam in July 2018. For more information, see http://www.istr.org/
UCD welcomes applications for North-South Graduate Scholarships
Applications are currently welcome from students in Northern Ireland interested in graduate studies who want to apply for the North-South postgraduate scholarship call. Worth €15,000, scholarships fund students in Northern Ireland to undertake graduate study (Masters or PhD) here and vice versa. For some of the scholarships there is no requirement to have been born on the island of Ireland, only to be educated in a Northern Irish University.
The deadline for applications for these scholarships is May 3, 2018.
Further details available here.
The aim of the North/South Scholarship scheme is to encourage outstanding students from the Republic of Ireland and Northern Ireland to cross the border to undertake postgraduate study and experience life in the other Irish jurisdiction. Each year, Universities Ireland offers four scholarships, each worth €15,000.
Universities Ireland was founded in 2003 by the nine university presidents on the island of Ireland to promote and develop cooperation between their institutions (the Open University in Ireland became its 10th member in 2011). Since its founding, UI has engaged in a wide range of activities of mutual interest and benefit including work on the promotion of Irish universities abroad; awarding of joint degrees and transfer arrangements between universities; and higher education policy.
Universities Ireland brings together at the highest level the academic and administrative leaders of all the universities on the island. They have themselves identified the need for an all-island structure through which they can cooperate on issues of higher education policy and also to act together to influence change such as supporting peace and reconciliation through e.g., the Universities Ireland Historians Group, or by collectively supporting placements in Ireland for international scholars at risk. The Universities Ireland scholarships and bursaries programmes support post-graduate mobility and shared academic exchange on an all-island basis.
Sutherland School of Law Faculty in Australia
As part of the School of Law's commitment to international engagement, we are delighted to announce that two members of the academic faculty have accepted invitations as visiting scholars to prestigious universities in Australia: Dr. Richard Collins to Sydney and Dr. Mark Coen to New South Wales.

Dr. Richard Collins is currently a visiting Scholar at the University of Sydney Centre of International Law working on the idea of the high seas as a 'lawless space'. He will give a seminar to the Julius Stone Institute of Jurisprudence on the concept of the rule of law in international law. He will also be a visiting scholar the University of Monash.

Dr. Mark Coen is a 2018 Royal Irish Academy Charlemont Scholar. He gave the inaugural seminar at the Centre for Crime, Law and Justice at the University of New South Wales discussing findings from the UCD Judge-Juries Relations Project (Mark's co-investigators are Dr Niamh Howlin UCD and Dr Colette Barry of Sheffield Hallam University). He also will be a Visiting Scholar at Victoria University of Wellington, where he will investigate the attitude of New Zealand policy-makers and judges to empirical research involving real jurors.
UCD Law Alumna appointed to White House role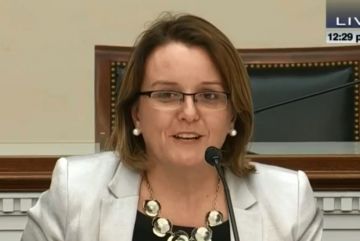 We congratulate Gail Slater, alumna of the UCD School of Law, on her senior appointment at the White House. Gail has been appointed adviser to President Donald Trump on technology, telecommunications and cybersecurity. She is a dual Irish-US citizen and will be a special assistant to Mr Trump working with the administration's national economic council. Originally from Dalkey in Co. Dublin, she has been living in the US since 2003.
Gail Slater is believed to be the only Irish-born member of staff in Mr Trump's White House. She moves from her role of general counsel at the Internet Association, a trade association which represents technology giants such as Google and Facebook where she advised on legal and regulatory policy. Ms Slater, whose maiden name is Conlon, is familiar with Washington politics. She is married to Lindsay Slater, chief of staff to Congressman Mike Simpson, a moderate Republican from Idaho.
Law Student wins President's Award for work with DEIS Schools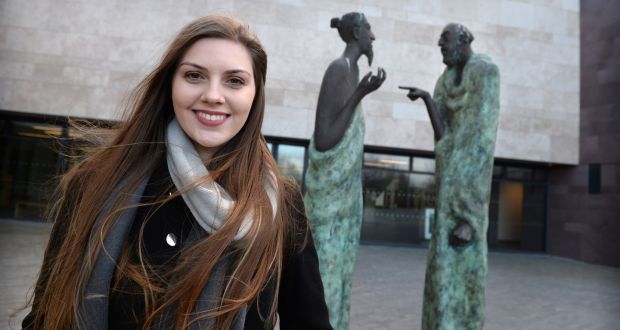 We congratulate Weronika Nowak, final year Law with Social Justice on being honoured by the university with a prestigious President's Award. She received the award for working with students in DEIS schools to encourage and assist them on their journey to pursue higher education. Weronika has also worked on the UCD Festival, leaving certificate revision classes, learning visits and award ceremonies.
The Sutherland School of Law was also delighted to read the recent profile of Weronika Nowak in the Irish Times newspaper. Weronika is in her final year of Law and Social Justice and was featured in an Irish Times article highlighting students who succeed in attending university in spite of challenging socio-economic circumstances.
Weronika arrived to Ireland from Poland at the age of 13 without a word of English. She went to school in Ballyfermot where there are low progression rates to third level. Her school didn't offer higher level options in many subjects. Despite these obstacles, she secured her place to study a law degree in UCD. The university's access programme, she says, was crucial in guiding and supporting her to college.
"When I was in school, it was almost assumed that the majority wouldn't go to college," says Weronika. "Even if we can get the points, the grant doesn't cover the cost of college at all... I've worked every summer and over holidays to pay the costs of third level…Now I'm a mentor for other secondary school students. I tell them that education is just a beginning and that it is the way out of low-paid jobs and inter-generational poverty."
Six per cent of all UCD undergraduates now gain entry through the Higher Education Access Route (Hear) programme and the university has ambitious targets set for the future. Under the Higher Education Authority's National Access Plan for Higher Education 2015-19, third-level institutions have joined together in regional clusters to develop imaginative ways of improving third level access for up to 2,000 students from underprivileged backgrounds.
Evidence shows that once access students get through their first year of college, they are slightly more likely than their peers to stay in college – perhaps because they realise the stakes are high and because they don't have the same safety net as middle-class students.
For Weronika Nowak, the real challenge to narrowing the class gap is dismantling the barriers that face young people in disadvantaged communities, providing practical supports in school and supporting them to raise their aspirations.
"Students from well-off families are so much more familiar with the CAO and college systems, and it's often easier for them to travel because they have cars. I have to travel for between three to four hours every day to get to and from college," she says.
"I was lucky that my school was linked to UCD and so I heard about the Susi grant, and the Hear and Dare [Disability Access Route to Education] programmes to support students from disadvantaged backgrounds and students with disabilities.
"Through UCD's FutureU programme, I had a mentor from UCD who gave me information about third level and financial supports. They encouraged college as an option and worked to break down stigmas associated with it.
"Now I'm a mentor for other secondary school students. I tell them that education is just a beginning and that it is the way out of low-paid jobs and inter-generational poverty."
The full article is available to read here.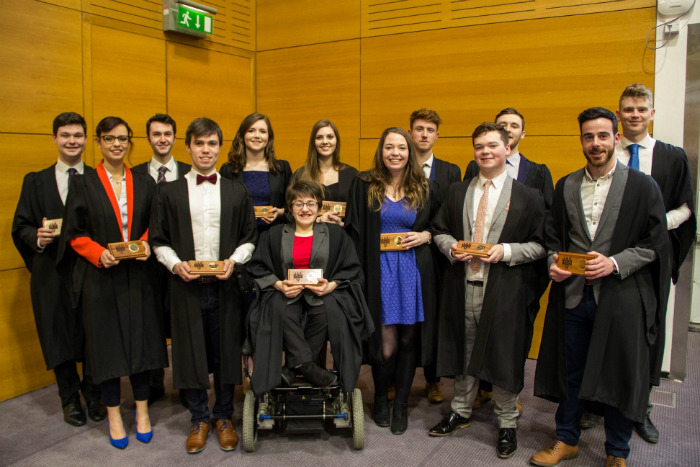 Weronika (fourth from left in back row) pictured with fellow award winners including Law with Philosophy student Aodhán Peelo (first left in back row). Photo credit: James Alkayed
Further details on this years President's Awards are available here.
Two Sutherland School of Law students are winners at Irish Times Debate Competition 2018
Our warm congratulations to the winners of The Irish Times Debate Grand Final 2018 last week: Amy Crean (4 BCL Law with Social Justice, representing UCD Literary & Historical Society)—best individual speaker—and Aodhán Peelo (4 BCL Law with Philosophy) and final-year Medicine student Cian Leahy—best team—representing UCD Law Society, and to Engineering student Kevin Brennan, who was the individual runner-up! Well done to Kevin's UCD Literary & Historical Society teammate and fellow engineer Sandi Ndebele on reaching the final with him! The team runners-up were Rory O'Sullivan and Niamh Egleston, of TCD Law Society; well done to them also!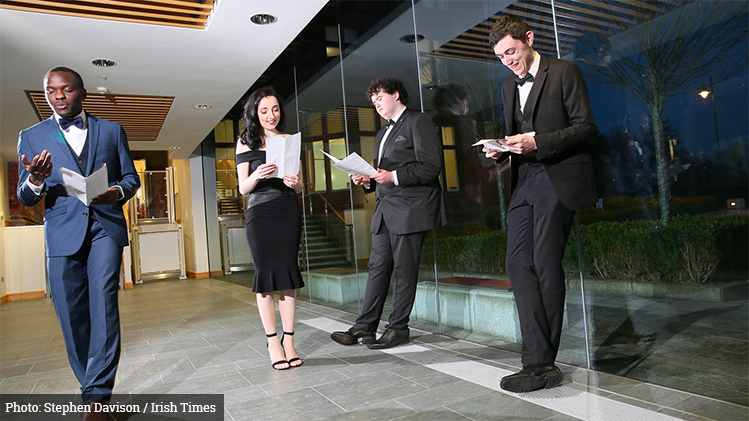 Pictured before the Irish Times Debate 2018 grand final at Queen's Univeristy Belfast (l-r): Sandi Ndeble (UCD L&H), individual prize winner Amy Crean (UCD L&H), Russell Nairn (QUB) and Kevin Brennan (UCD L&H)
The Grand Final was hosted by The Literary and Scientific Society of Queen's University Belfast and the motion was "This House Believes That Ireland Has Failed Its Youth".
This is the second year in a row that a University College Dublin team has won the competition. Last year's winners were BCL Law with Politics student Dara Keenan and BCL Law with French Law student Aisling Tully, also representing UCD Law Society. UCD students have been awarded best individual speaker in this competition in four out of the last five years: in 2014, William Courtney (MB BCh BAO 2014), in 2015, Eoin MacLachlan (BCL Law with Economics 2017) in 2016, Clíodhna Ní Chéileachair (BCL Law with Philosophy 2016) and Amy this year.
Celebrating the Launch of Legal History Books from Sutherland Staff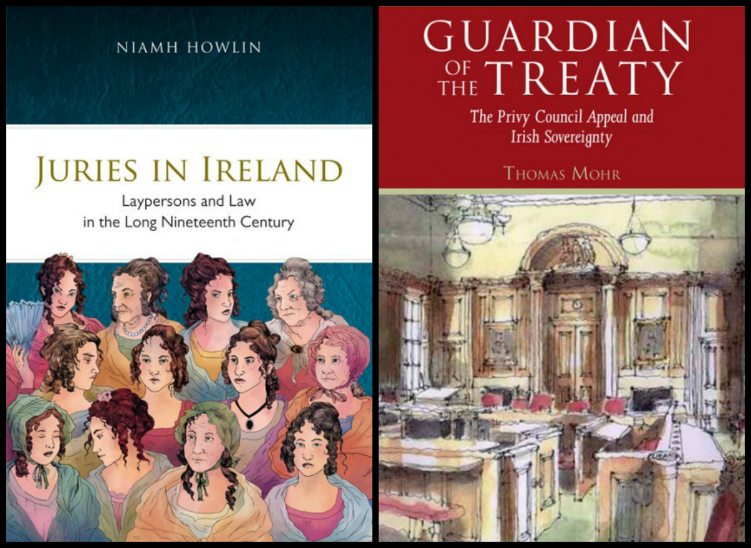 ‌‌Professor Hector MacQueen from the University of Edinburgh recently launched two books published by colleagues at the School of Law. During an engaging and thought-provoking lecture, he pointed out that while both are books on Irish legal history, they differ in time period, subject matter and methodology. Niamh Howlin's 'Juries in Ireland: Laypersons and Law in the Long Nineteenth Century' is a work of socio-legal history, while Thomas Mohr's 'Guardian of the Treaty: The Privy Council Appeal and Irish Sovereignty' can be described as constitutional legal history. Between them, the two books represent the breadth and diversity of legal history scholarship in the School. Professor MacQueen congratulated both authors and noted that the discipline of legal history is clearly alive and well at UCD.
Juries in Ireland:Laypersons & Law in the Long Nineteenth Century
In the eighteenth and nineteenth centuries a wide range of legal issues were decided, not by professional judges, but by panels of laypersons. This book considers various categories of jury, including the trial jury, the coroner's jury, the grand jury, the special jury and the manor court jury. It also examines some lesser-known types of jury such as the market jury, the wide-streets jury, the lunacy jury, the jury of matrons and the valuation jury. Who were the men (or women) qualified to serve on these juries, and how could they be compelled to act? What were their experiences of the justice system, and how did they reach their decisions? The book also analyses some of the controversies associated with the Irish jury system during the period, and examines problems facing the jury system, including the intimidation of jurors; bribery and corruption; jurors delivering verdicts against the weight of evidence and jurors refusing to carry out their duties. It evaluates public and legal perceptions of juries and contrasts the role of the nineteenth-century jury with that of the twenty-first-century. Further details here.

Niamh Howlin is a lecturer in the Sutherland School of Law at University College Dublin. She has published extensively on the nineteenth-century Irish jury system, as well as on other aspects of criminal justice history and contemporary issues surrounding jury trial.
Guardian of the Treaty: The Privy Council Appeal and Irish Sovereignty
The Judicial Committee of the Privy Council was the final appellate court of the British Empire. In 1935 the Irish Free State was recognized as the first part of the Empire to abolish the appeal to the Privy Council. This book examines the controversial Irish appeal to the Privy Council in the wider context of the history of the British Empire in the early 20th century. In particular, it analyses Irish resistance to the imposition of the appeal in 1922 and the attempts to abolish it at the Imperial conferences of the 1920s and 1930s.

This book also outlines the means by which Irish governments attempted to block Privy Council appeals. It examines the reality of claims that the Privy Council appeal offered a means of safeguarding the rights of the Protestant minority within the Irish Free State. Finally, it reveals British intentions that the Privy Council act as the guardian and enforcer of the settlement embodied in the 1921 Anglo Irish Treaty. The conclusion to this work explains why the Privy Council was unsuccessful in protecting this settlement. Further details here.

Thomas Mohr is an Associate Professor at the School of Law, University College Dublin. He is honorary secretary of the Irish Legal History Society.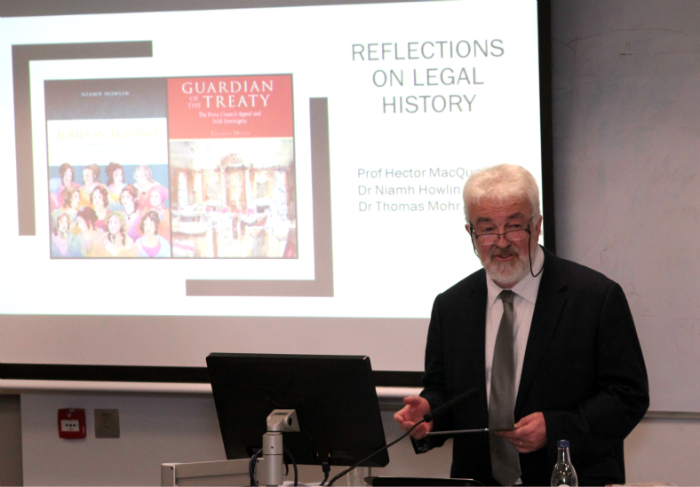 Prof Hector MacQueen speaking at the Sutherland School of Law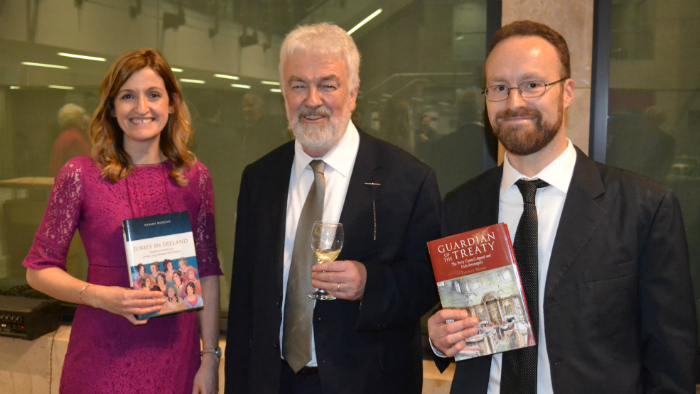 Dr Niamh Howlin, Prof Hector MacQueen, Dr Thomas Mohr

Robert Lee wins Law Ireland 'dissenting judgment' competition
Pictured above (left to right), Dean of Law, Professor Imelda Maher, Robert Lee and Mark Tottenham BL
The UCD Sutherland School of Law congratulates Robert Lee, fourth year Law with Economics student, on winning the inaugural Law Ireland student competition. It is a particularly notable win because of the interesting format of the competition whereby law students are challenged to find a judgment of the superior courts that they disagreed with, and to write their own 'dissent'. Robert Lee, a UCD Ad Astra student, chose to write about the well-known 2006 decision of A v. Governor of Arbour Hill, where the Supreme Court decided not to release a man convicted of a sexual offence, even though the statute under which he was convicted had been deemed unconstitutional.
In announcement of the winner, one member of the judging panel commented: "I liked the way the author had a go at the populist nature of the majority decision but maintained a veneer of polite collegiality in doing so."
Robert Lee's winning entry is published in the current edition of Law Ireland."
Peter Sutherland RIP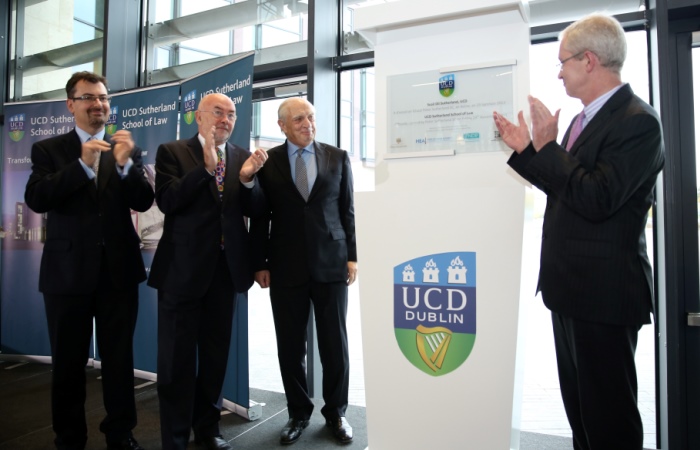 Peter Sutherland (centre) at the official opening of the UCD Sutherland School of Law with (from left), Professor Colin Scott, Ruari Quinn, former Minister for Education, and Dr Hugh Brady, former President of UCD.
Peter Sutherland SC (and BCL 1967) died on Sunday January 7th, 2018. We are greatly saddened by his passing. He was an extraordinary supporter of the School. A member of the Law School Development Council, he retained a keen interest in legal education in Ireland and in his alma mater. A committed European, he endowed the Sutherland Chair in European Law, a chair I was honoured to take up in 2006. He subsequently became the lead donor of the campaign for the Law School, culminating in the Sutherland School of Law building opened in 2013 that combined state funding with substantial philanthropy from law firms and many others. The School is named in his honour by the university – and not at his request – though he was clearly and rightly proud of it when he attended the day long opening, contributing to the seminar on leading ideas in law schools and bringing all his family with him, (including his grandson who arrived in his buggy).
Peter had an extraordinary career that straddled the public and private spheres. He had a very successful practice at the Irish Bar before becoming Attorney General and then a European Commissioner where he oversaw the introduction of the Merger Regulation as Commissioner for Competition, having previously set in train the ERASMUS programme. For those of us educated before it came into being, ERASMUS provides students with an enviable opportunity to experience university education elsewhere in Europe. The School sends over 80 students to our partner Law Schools in Europe and beyond each year – and there are over 9 million students who have benefited from the programme over the last thirty years - an amazing legacy.
Following his stewardship of the transition of the GATT to the World Trade Organisation, his career moved into the private sphere (AIB, BP, Goldman Sachs), while in the last 10 years of his life he was a keen, fearless and passionate advocate for migrants in his role as Special Representative of the Secretary General of the United Nations.
Despite the demands these roles placed on his time, Peter remained a constant supporter of the School, always keen to hear about new initiatives, what students were now interested in, how pedagogy had changed (he loved to mention that he had tutored Tort Law in the School – one of the most illustrious junior barristers who have tutored here) and what our ambitions were for the future. In the recent past, he spoke at the 8th Annual Postgraduate workshop and our Eighteenth Irish European Law Forum seminar on Migration. I met with him after my nomination as Dean and was again assured of his support and interest in the School.
It is a daunting and really an impossible task to do justice to Peter Sutherland in such a short note. Instead, we will look to the future, continuing to be ambitious intellectually pushing the boundaries of knowledge in our teaching and our research as an Irish Law School with a European identity and an international outlook.
As Peter wrote in his Forward in the book celebrating the new UCD Sutherland School of Law:
"The School of Law has contributed to the development of our legal system in Ireland, but its faculty and graduates have played an important role more generally in public life. This splendid new building should enhance the contribution made by the School to the education of future generations of students, but also should play a continuing role in shaping Irish society."
Our condolences to his family and friends.
Ar dheis Dé go raibh a anam.