Peter Sutherland RIP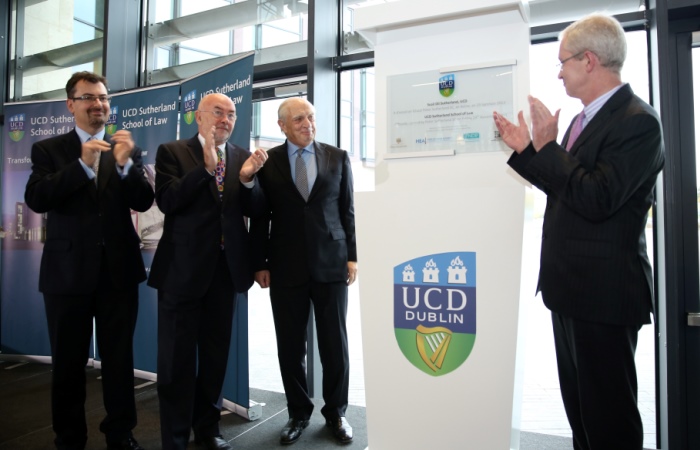 Peter Sutherland (centre) at the official opening of the UCD Sutherland School of Law with (from left), Professor Colin Scott, Ruari Quinn, former Minister for Education, and Dr Hugh Brady, former President of UCD.
Peter Sutherland SC (and BCL 1967) died on Sunday January 7th, 2018. We are greatly saddened by his passing. He was an extraordinary supporter of the School. A member of the Law School Development Council, he retained a keen interest in legal education in Ireland and in his alma mater. A committed European, he endowed the Sutherland Chair in European Law, a chair I was honoured to take up in 2006. He subsequently became the lead donor of the campaign for the Law School, culminating in the Sutherland School of Law building opened in 2013 that combined state funding with substantial philanthropy from law firms and many others. The School is named in his honour by the university – and not at his request – though he was clearly and rightly proud of it when he attended the day long opening, contributing to the seminar on leading ideas in law schools and bringing all his family with him, (including his grandson who arrived in his buggy).
Peter had an extraordinary career that straddled the public and private spheres. He had a very successful practice at the Irish Bar before becoming Attorney General and then a European Commissioner where he oversaw the introduction of the Merger Regulation as Commissioner for Competition, having previously set in train the ERASMUS programme. For those of us educated before it came into being, ERASMUS provides students with an enviable opportunity to experience university education elsewhere in Europe. The School sends over 80 students to our partner Law Schools in Europe and beyond each year – and there are over 9 million students who have benefited from the programme over the last thirty years - an amazing legacy.
Following his stewardship of the transition of the GATT to the World Trade Organisation, his career moved into the private sphere (AIB, BP, Goldman Sachs), while in the last 10 years of his life he was a keen, fearless and passionate advocate for migrants in his role as Special Representative of the Secretary General of the United Nations.
Despite the demands these roles placed on his time, Peter remained a constant supporter of the School, always keen to hear about new initiatives, what students were now interested in, how pedagogy had changed (he loved to mention that he had tutored Tort Law in the School – one of the most illustrious junior barristers who have tutored here) and what our ambitions were for the future. In the recent past, he spoke at the 8th Annual Postgraduate workshop and our Eighteenth Irish European Law Forum seminar on Migration. I met with him after my nomination as Dean and was again assured of his support and interest in the School.
It is a daunting and really an impossible task to do justice to Peter Sutherland in such a short note. Instead, we will look to the future, continuing to be ambitious intellectually pushing the boundaries of knowledge in our teaching and our research as an Irish Law School with a European identity and an international outlook.
As Peter wrote in his Forward in the book celebrating the new UCD Sutherland School of Law:
"The School of Law has contributed to the development of our legal system in Ireland, but its faculty and graduates have played an important role more generally in public life. This splendid new building should enhance the contribution made by the School to the education of future generations of students, but also should play a continuing role in shaping Irish society."
Our condolences to his family and friends.
Ar dheis Dé go raibh a anam.
UCD PhD Student Edoardo Celeste begins visiting fellowship in Berlin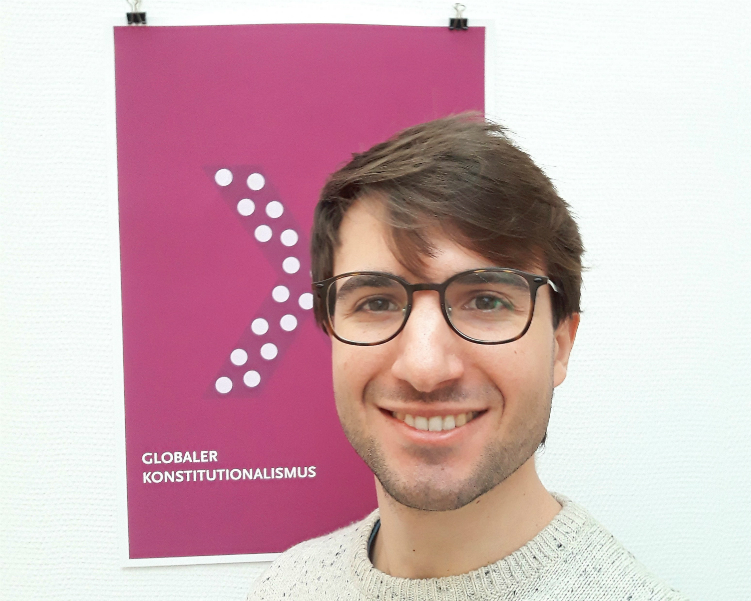 In January 2018 Sutherland School of Law PhD student Edoardo Celeste joined the Alexander von Humboldt Institute for Internet and Society (HIIG) in Berlin as a visiting research fellow. HIIG is one of the leading interdisciplinary centres in Europe focusing on internet research. Each year it hosts researchers from all over the world who carry out projects connected with HIIG's research agenda.
In 2016 Edoardo commenced doctoral research at UCD focusing on the Internet Bills of Rights, soft law texts seeking to establish fundamental rights and principles for the digital environment, under the supervision of Dr. TJ McIntyre. In 2017 he was awarded a prestigious Irish Research Council Government of Ireland Postgraduate Scholarship.

During his stay at HIIG Edoardo will work within the HIIG research group focusing on 'global constitutionalism'. Over the past years HIIG has carried out several studies on the relationship between constitutional law and digital ecosystems. Edoardo plans to use his time at HIIG developing and consolidating the theoretical framework explaining the emergence of the Internet Bills of Rights.

Máirín de Burca Awarded Honorary Degree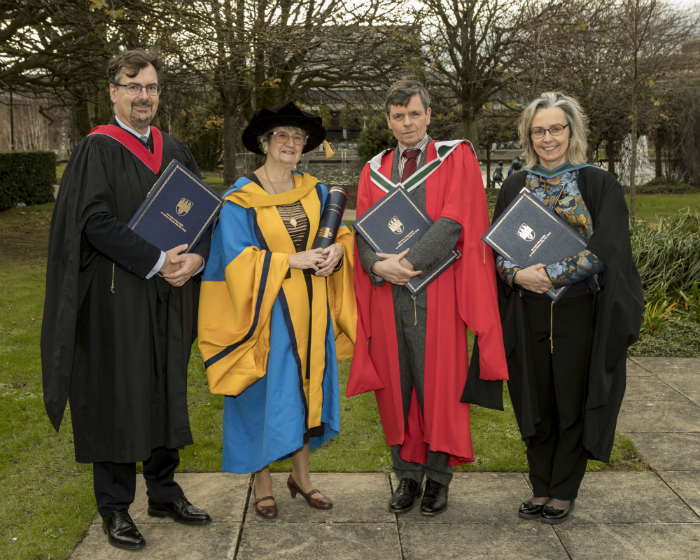 Pictured Above L-R: Prof Colin Scott, Máirín de Búrca, Dr Kevin Costello, Prof Imelda Maher
Social activist Máirín de Búrca rose to prominence as a co-founder of the Dublin Housing Action Committee (DHAC) in the late-1960s. A committed pacifist, she used civil disobedience and court action to achieve her aims.

Using the legal system to challenge injustice was a well-established political tradition, said Dr Kevin Costello, UCD School of Law, who delivered the citation. De Búrca is "perhaps the foremost exemplar of that phenomenon in Irish history."

Amid a chronic housing shortage, mass evictions and long waiting lists, de Búrca founded the DHAC to provide hundreds of families with homes by occupying and fitting-out unoccupied housing.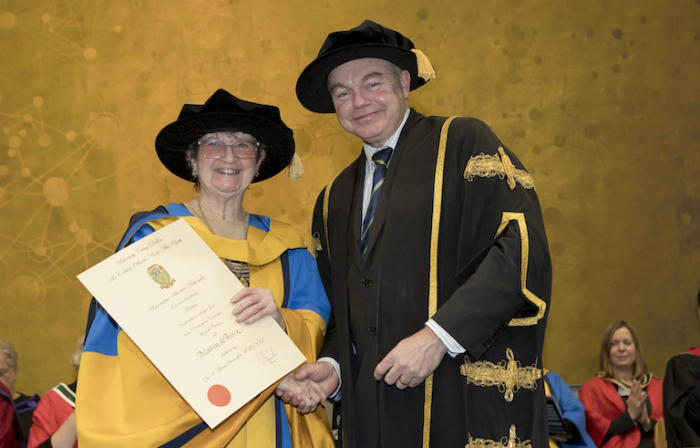 Pictured Above: Máirín de Búrca receives Honorary Degree of Doctor of Laws from UCD President Professor Andrew Deeks.
In De Burca and Anderson v The Attorney General the Supreme Court upheld her complaint that it did not allow for juries that were socially-representative and the law was changed.

She campaigned against apartheid, the Vietnam War and U.S. President Richard Nixon's 1970 visit to Ireland. She was a leader in the Irish women's rights movement, the campaign for a minimum wage and a founder of the Prisoner's Rights Organisation.

In Keegan v De Burca (1973) the Supreme Court judge, Mr Justice McLoughlin found against her. But he concluded his judgment with sentiments which express the reasons for respect in which she is held within Irish public opinion: "I admire Máirín de Búrca for her humanity and compassionate concern for the underprivileged, and admire her for her courage in sacrificing her liberty on their behalf."
The Annual Walsh Lecture 2017
We were pleased to host the Walsh lecture in October 2017, one of the major events in the calendar for UCD Sutherland School of Law's students, faculty and extended network of alumni and legal practitioners. The lecture series honours the late Justice Brian Walsh who, in a distinguished career in both the European Court of Human Rights and the Irish Supreme Court, made a lasting impact on Irish society and has been described as "the outstanding legal reforming mind of his generation" by noted historian John J Lee.

This year's lecture titled 'Balancing Rights in a Digital Age' was delivered by Judge Síofra O'Leary, an Alumna of the UCD Law School. Since July 2015 she has served as a judge at the European Court of Human rights. Prior to joining the European Court of Human Rights, Judge O'Leary worked for 18 years at the Court of Justice of the European Union, where she served as a référendaire and Chef de cabinet for Judges Aindrias Ó Caoimh, Fidelma Macken and Federico Mancini. She later ran part of that Court's Research Directorate. We were delighted to be joined in the audience by several former judges of the EUCJ to the event including John Cooke, Aindrias Ó Caoimh and Fidelma Macken.

This far-reaching and highly informative lecture, delivered by Judge O'Leary in the Sutherland School of Law, will shortly be available in transcript form in the Irish Jurist. The Irish Jurist is Ireland's oldest academic law journal which has been edited by members of the UCD Sutherland School of Law since it was first published in 1966.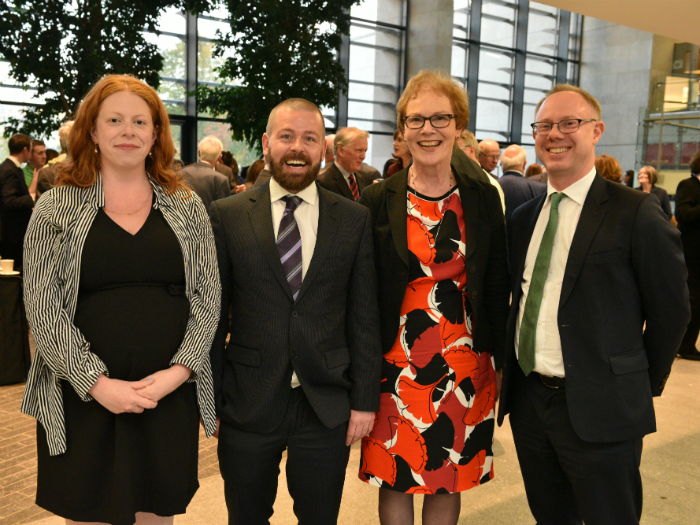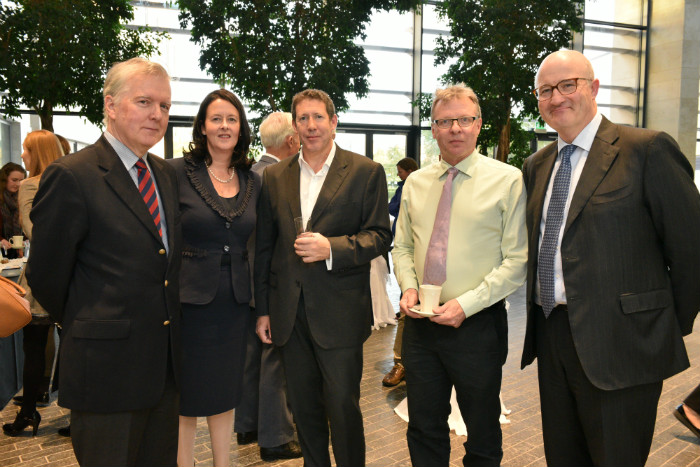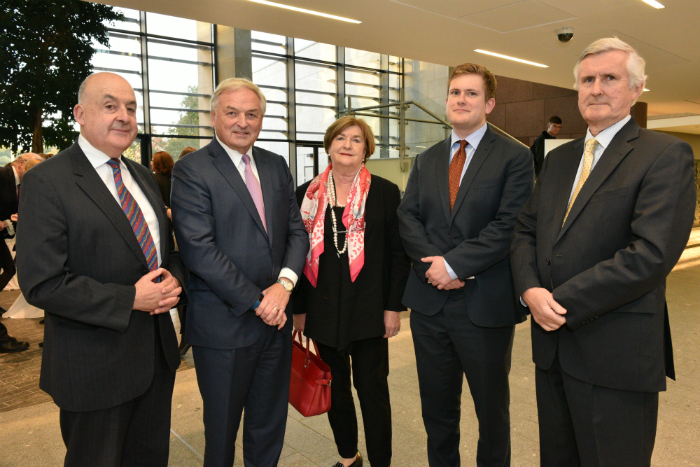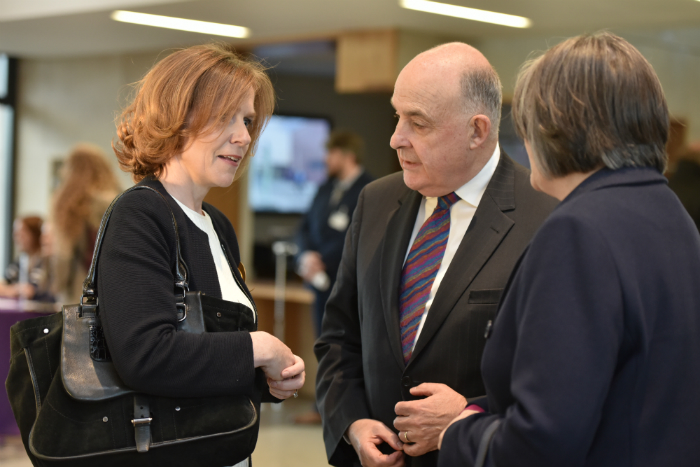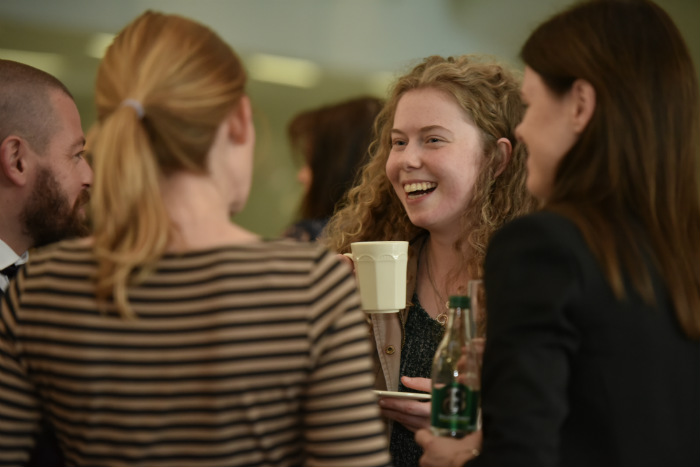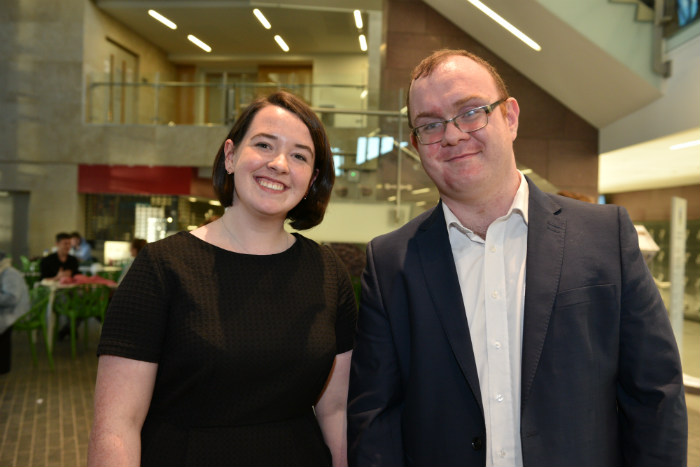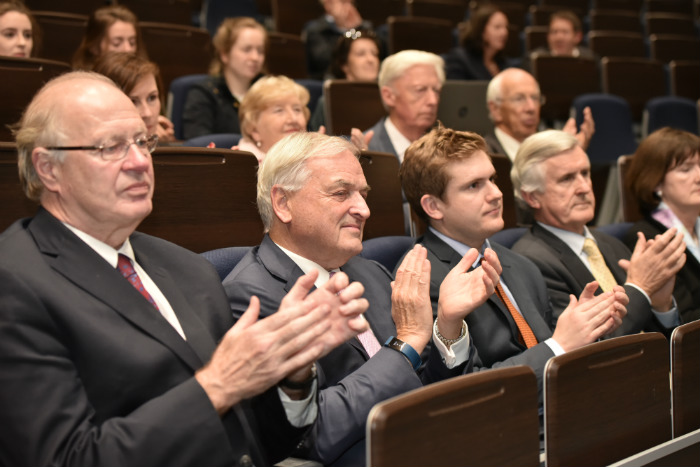 Congratulations to recent PhD Graduates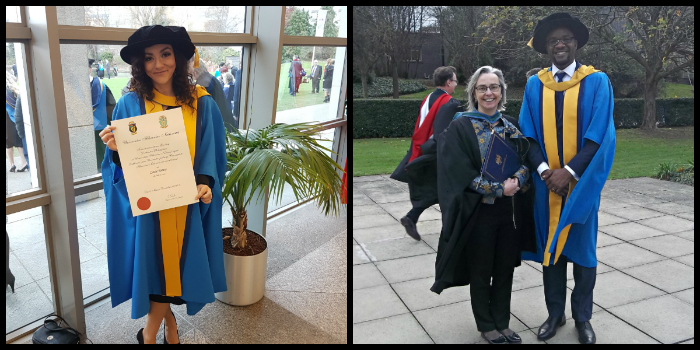 This December two more PhD students from the Sutherland School of Law have completed their studies and been conferred with doctorates. This rounds out a bumper year for PhD graduations from the School. The ceremony took place on December 5th in O'Reilly Hall. All of the staff at the Sutherland School of Law offer their sincere congratulations to all of the recent graduates.
Dr Louise Rooney completed her dissertation on "Gendered perspectives: Exploring criminal justice practitioner responses to male & female offenders" under the supervision of Dr Deirdre Healy. Dr Osayomwanbor 'Bob' Enofe wrote his dissertation on "Legal Transplants, Cartel Criminalisation, and Developing Countries: the Case of Nigeria." under the supervision of Prof Imelda Maher, MRIA.
Launch of LLM in International Financial Services Law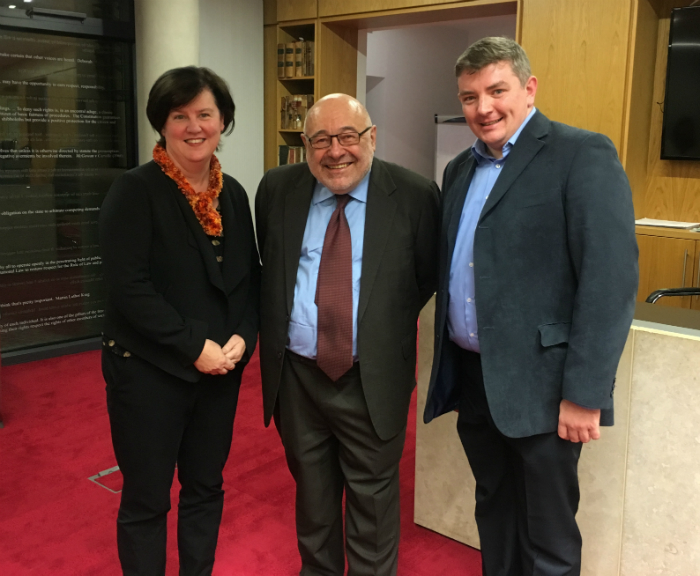 Pictured Above: Dr Mary Catherine Lucey (UCD), Professor Roman Tomasic, Dr Noel McGrath (UCD)
Professor Roman Tomasic delivered a distinguished guest lecture on Friday 8th December to mark the launch of the UCD School of Law's new LLM in International Financial Services Law which is being delivered in association with the Law Society Finuas Network. In his lecture, Prof Tomasic considered whether concepts of corporate culture have a role to play in the corporate governance of financial institutions. He suggested that the fuzziness of the culture concept is such as to limit its usefulness in criminal prosecutions and argued that corporate culture is unlikely to present a quick fix for reestablishing public trust and confidence in the financial sector.
Professor Tomasic holds appointments at the University of South Australia and Durham University School of Law. A graduate of the University of Wisconsin-Madison (SJD) and the University of New South Wales (PhD), A specialist in financial regualtion, he has acted a law reform consultant to the OECD, the German government and the Finance and Economic Committee of the National People's Congress in China. Professor Tomasic has published widely in the fields of corporate governance, financial regulation and insolvency law. In this lecture Prof Tomasic will consider the role of corporate culture in financial regulation.
For more information on the LLM in International Financial Services law see
here
.
Distinguished Guest Lecture in Employment Law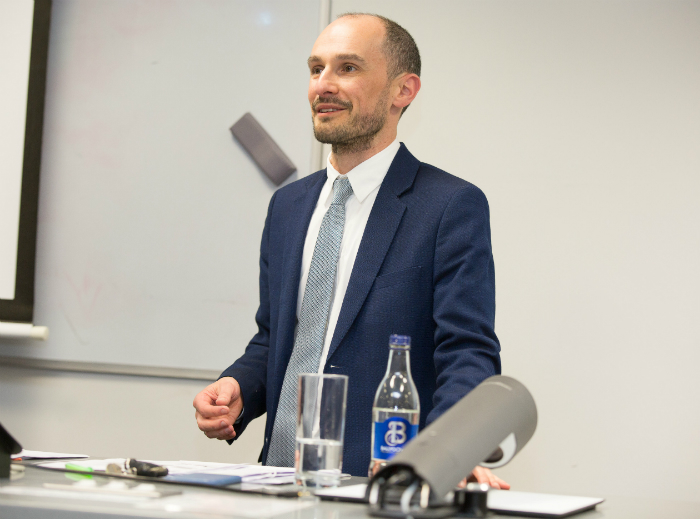 Pictured Above: Prof Bell Delivers this year's Guest Lecture in Employment Law
The 2017 Distinguished Guest Lecture in Employment Law was delivered by Professor Mark Bell of Trinity College Dublin. The lecture marks the culmination of twelve weeks of study for the Professional Diploma in Employment Law. Students in the diploma programme were joined by alumni and a number of invited guests from the legal and regulatory professions.

The lecture titled "The European Pillar of Social Rights and EU Employment Law; a New Horizon or False Dawn" proved to be a timely topic with The European Pillar of Social Rights was proclaimed and signed in the days prior to the guest lecture by the Council of the EU, the European Parliament and the Commission during the Gothenburg Social Summit for fair jobs and growth.

In 2015, Mark Bell was appointed Regius Professor of Laws, a Chair founded in 1668. He is also a Fellow of Trinity College Dublin. Prior to his appointment at Trinity, he was a professor at the School of Law, University of Leicester, where he was also Head of the School of Law (2011-2014). Prof. Bell conducts research in the areas of Equality Law and Employment Law. He is the author of Racism and Equality in the European Union (OUP, 2008) and Anti-Discrimination Law and the European Union (OUP, 2002).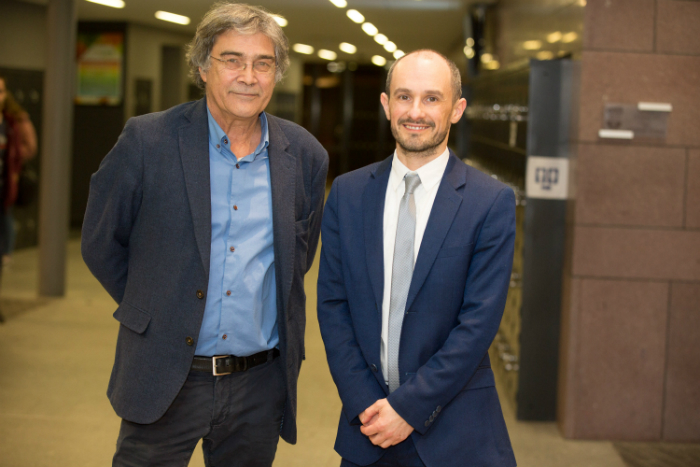 Pictured above Anthony Kerr, Deputy Associate Dean for Graduate Programmes and Prof Mark Bell
Alumni Gather for the 2017 Law Reunion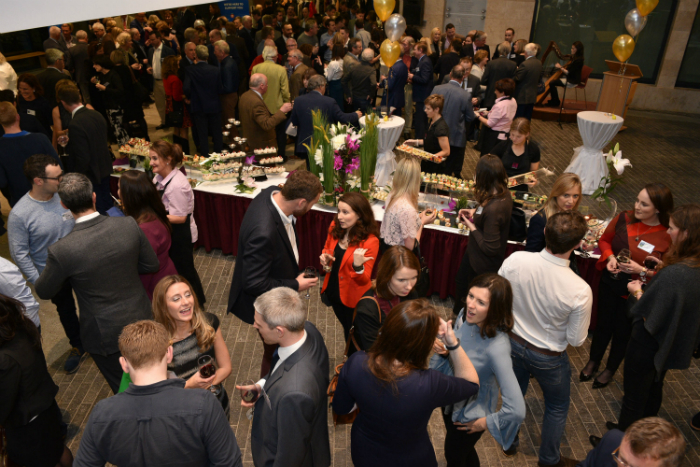 The recent Milestone Reunion for the classes of 2007, 1997, 1987 and 1977 was the largest reunion hosted to date in the UCD Sutherland School of Law (see an extensive gallery of images here).

Over 240 alumni travelled from home and abroad to meet up with their classmates for a most enjoyable evening. Each class was encouraged to supply photographs and memorabilia in advance and these were then displayed in the Gardiner Atrium - to the entertainment and amusement of all guests! After the initial drinks reception, the crowd broke up into groups from the different years and moved to separate theatres/classrooms throughout the law school. There they were entertained by chosen speakers from their classes who reminisced about their time in UCD - be it in Earlsfort Terrace, Belfield 'Arts Block' or Roebuck Castle. Tours were conducted of the Sutherland School of Law building by current law students, allowing our alumni to admire the state-of-the-art facilities and teaching spaces, many of these having been sponsored by the leading law firms and distinguished alumni of the law school.


The success of this reunion was in no small part attributable to the time and effort put in by the volunteer class committees. We are extremely grateful to these alumni who helped us track down and contact their former classmates. For the next Milestone Reunion which will take place in the autumn of 2018, we would welcome any willing volunteers from the classes of 1968, 1978, 1988, 1998 and 2008 who may wish to help out. If you graduated in any of those years and are interested in getting involved in contacting your former classmates, please email law.events@ucd.ie or call 01 716 4105/6. In addition, any alumni interested in attending forthcoming reunions or events in the UCD Sutherland School of Law are invited to update their contact details at this link.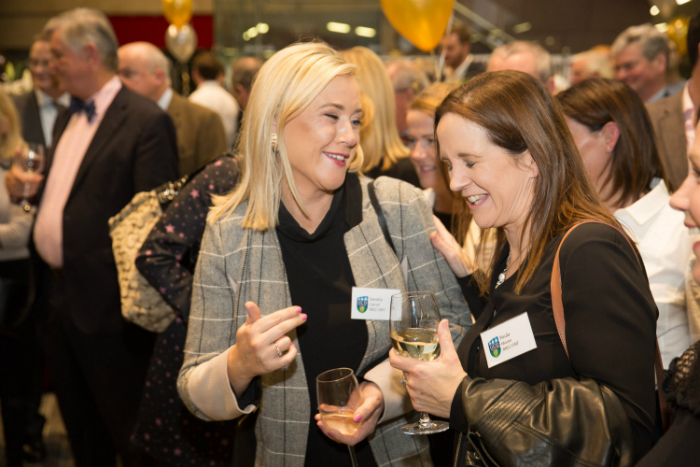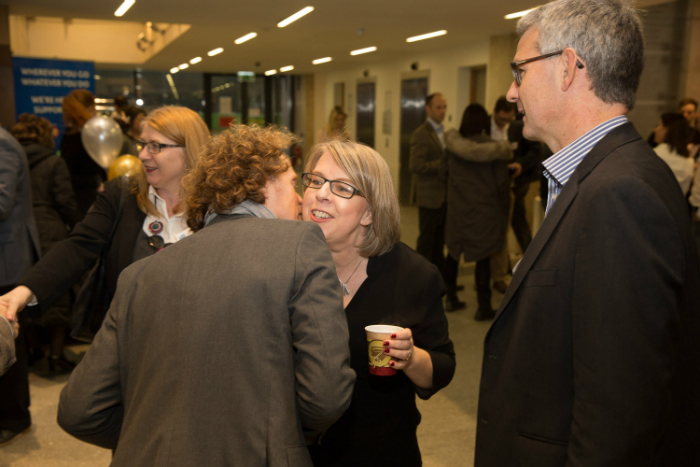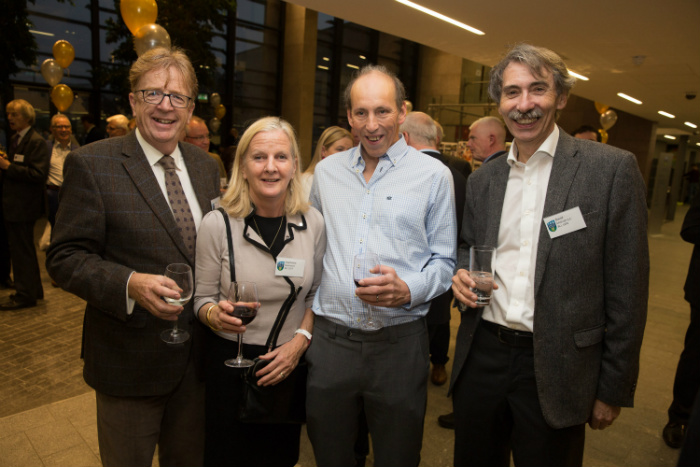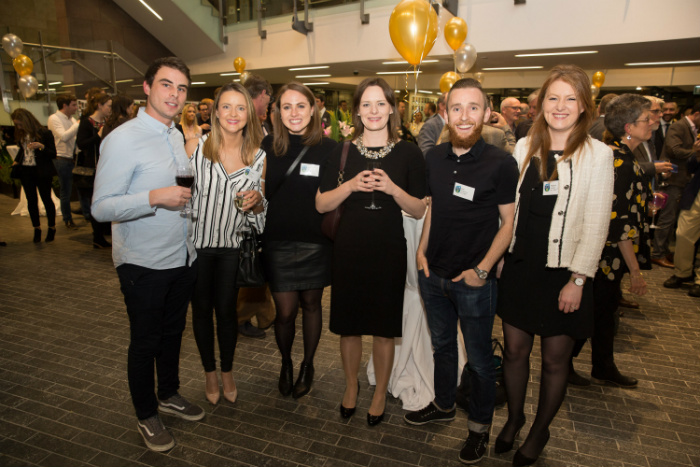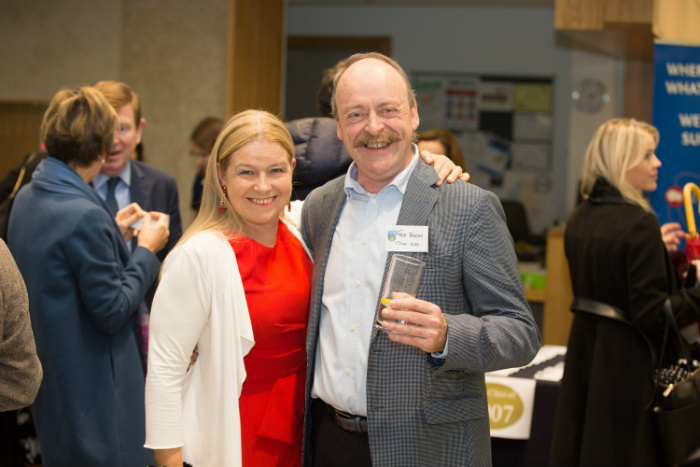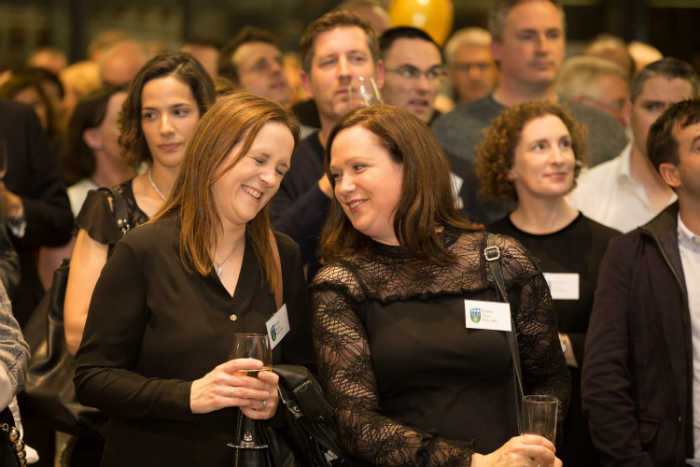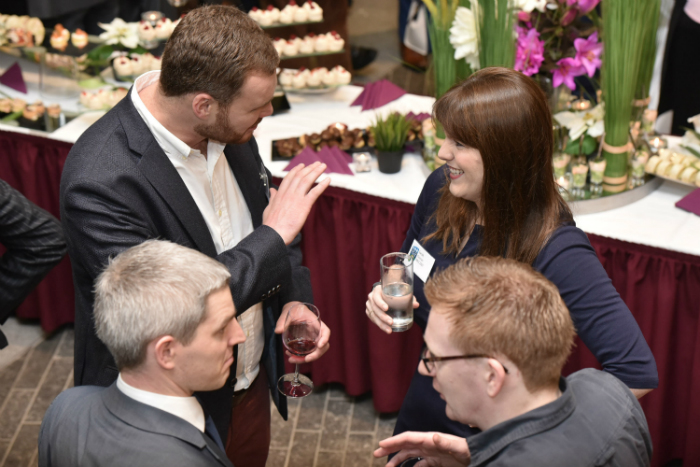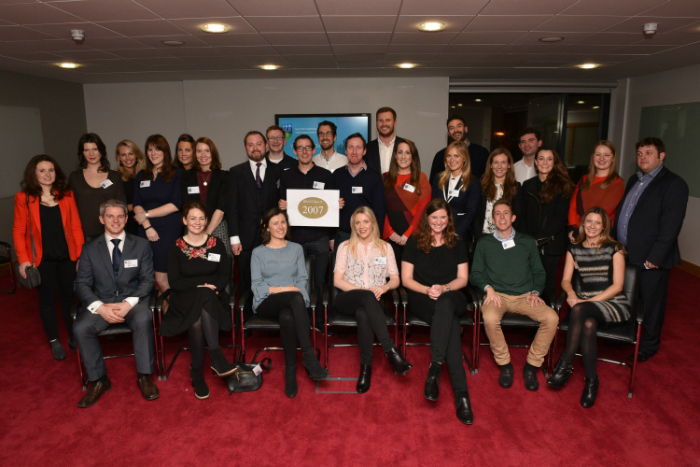 Book Launch on Restorative Justice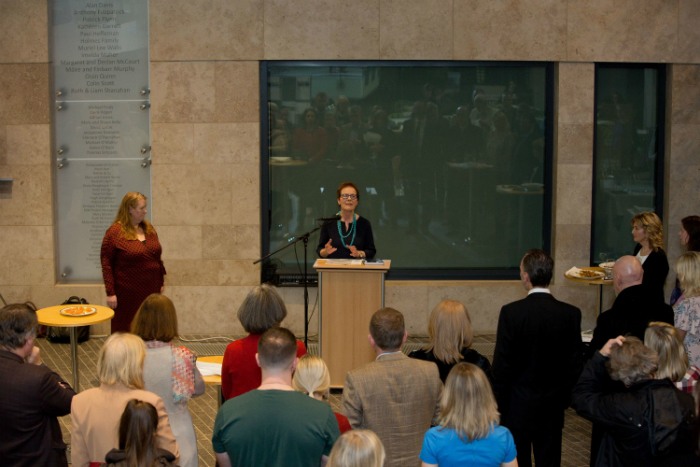 We are very grateful to Noeline Blackwell (UCD Alumna and CEO of the Dublin Rape Crisis Centre) who visited the Sutherland School of Law to launch the "Restorative Responses to Sexual Violence: Legal, Social and Therapeutic Dimensions" and address it's themes. Prof Ian O'Donnell of the Sutherland School of Law further elaborated on the book's significance and Prof Michelle Norris (School of Social Policy, Social Work and Social Justice, UCD) chaired the evenings proceedings.

The UCD Institute of Criminology & Criminal Justice & The School of Social Policy, Social Work & Social Justice were proud to sponsor the Launch of the book which is edited by Estelle Zinsstag and Marie Keenan and published by Routledge.

About the Book
Sexual violence, in all its forms, is a crime for which anecdotal accounts and scholarly reports suggest victims in their great majority do not receive adequate 'justice' or redress. The theory and practice of restorative justice is rapidly developing and offers some well-argued new avenues for dealings with crime in general. It has the potential to be extended to cases of sexual violence and a number of small scale programmes are already underway across the world.

Restorative Responses to Sexual Violence examines this innovative justice paradigm in more depth in the particular context of sexual trauma and violence in order to establish the empirical realities of restorative justice approaches in cases of sexual violence, and considers how such approaches could be developed adequately in the future.

This international collection brings together leading expert scholars and practitioners to offer both theoretical and practical perspectives on restorative justice and sexual violence. This book will be of interest to researchers in the field of law, criminology, psychology, social science, social work and psychotherapy, as well as practitioners in the fields of criminal justice, restorative justice and sex offender and victim trauma therapies.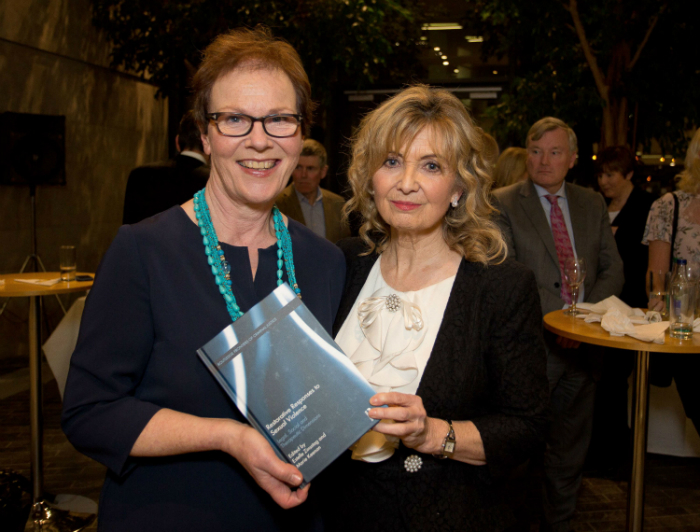 Pictured Above: Noeline Blackwell and Dr Marie Keenan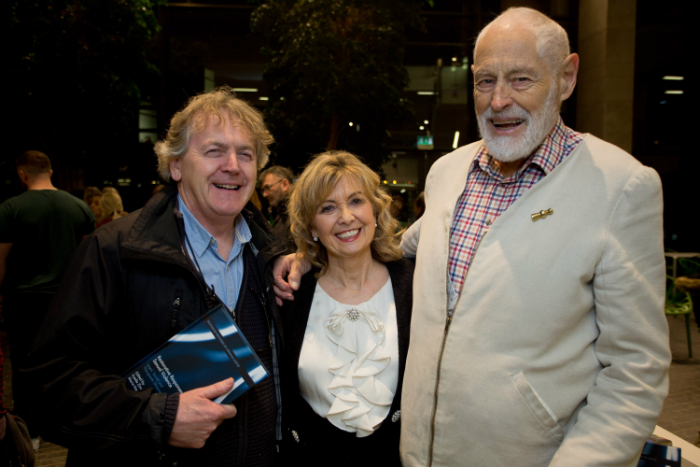 Pictured Above L-R Filmaker Tómas Hardiman, Dr Marie Keenan, Prof Ivor Browne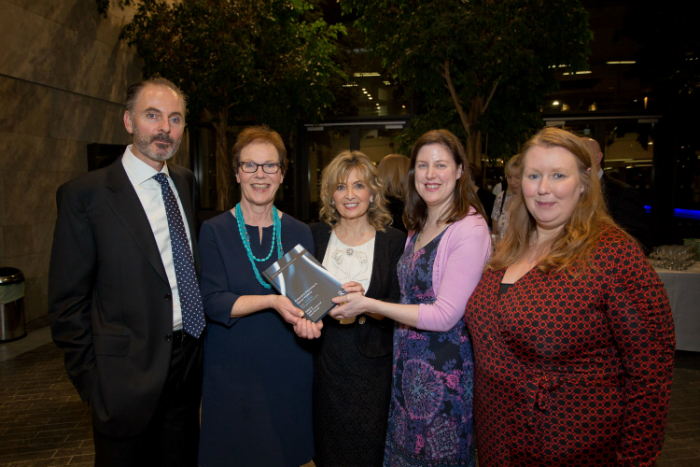 Pictured Above L-R: Prof Ian O'Donnell, Noeline Blackwell, Dr Marie Keenan, Dr Deirdre Healy, Prof Michelle Norris

‌
EU Field Trip 2018
UCD Politics and Law European Field Trip for Law & Politics graduate students to Brussels and Luxembourg, 20th - 23rd March 2018
Registration is now open – deadline for applications is Monday, 18th December 2018
This is a research trip to EU institutions with related seminars and classes in advance in UCD.
The aim is to provide insight into the workings of the law and governance of the EU through a series of meetings in Brussels and Luxembourg over four days.
Highlights include:
Visits to the European Commission, European Parliament, European Court of Justice and European Investment Bank
Reception with UCD Graduates at the Irish Embassy in Brussels on 22nd March 2018. This is an opportunity to network with graduates working in Brussels and Luxembourg. See details of last year's event here
Careers Sessions on obtaining a job in the EU
Cost: €562.50 per person – includes 3 nights' accommodation, flights, transport, meals and programme of events
Two scholarships of €500 are offered – one for each school (one for the School of Politics and International Relations (SPIRe) and one for the Sutherland School of Law)
To apply for the scholarship please email the scholarship form to euclinical@ucd.ie by Monday, 18th December 2017. A decision is then made by the scholarship committee.
To register please email euclinical@ucd.ie first to ensure availability and then pay a deposit of €150 (non-refundable) via SISWeb on the UCard tab under "payment to my School or Programme" to confirm your place.
Deadline for deposit payment is Monday, 18th December 2017 at 5pm
Please contact Jana Gfesser in the Law School Programme Office at jana.gfesser@ucd.ie for any queries.
Some of the feedback from students who went on the trip:
"The trip exceeded all my expectations"
"I know more of what is required to work in Brussels"
"….It opened my mind to the vast and varied number of jobs available as well as the different avenues to obtain these jobs"
UCD Law Review Volume 17 Launch
Pictured Above: The Hon Mr Justice John MacMenamin and Editor of Volume 17 of the Law Review Melissa O'Sullivan
The Editorial Board of the University College Dublin Law Review were delighted to welcome the Honourable Mr Justice John MacMenamin to the recent launch of the 17th Volume. Mr Justice MacMenamin is himself a graduate of UCD. He praised the calibre and variety of the articles contained in Volume 17 and congratulated the Editorial Board and the authors for their achievement in producing a high quality publication.
The foreword for Volume 17 was provided by the Honourable Ms Justice Miriam O'Regan. The launch was attended by Ruth Pollard from Arthur Cox, who have been the sponsor of the Review since its inception in 2001. Staff and students of the Sutherland School of Law, alumni and authors were also in attendance.
Volume 17 contains articles that discuss diverse areas of the law, written by authors from both domestic and international backgrounds. It contains a particularly high number of articles from UCD graduates, which highlights the excellent standard of legal writing and research of the Sutherland School of Law.
The award for Most Outstanding Article, sponsored by A&L Goodbody, was won by Ezgi Ediboğlu for her article 'The Paris Agreement: Effectiveness Analysis of the New UN Climate Change Regime'.
Addressing the audience on behalf of the Editorial Board, the Editor-In-Chief of Volume 17, Melissa O'Sullivan, thanked the sponsors for their support of the Review, praised the dedication and commitment shown by the Editorial Board, and thanked the staff of the Sutherland School of law, in particular the academic advisors of the Review-Dr Niamh Howlin, Dr Kevin Costello and Dr Noel McGrath for their support and advice throughout the year.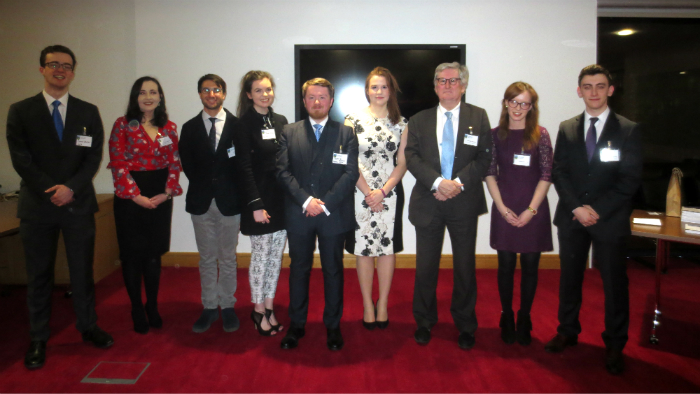 Pictured Above, Members of the Law Review Editorial Board and the Hon. Mr Justice MacMenamin
"Litigating for the Climate" - Seminar with Renowned Environmental Lawyer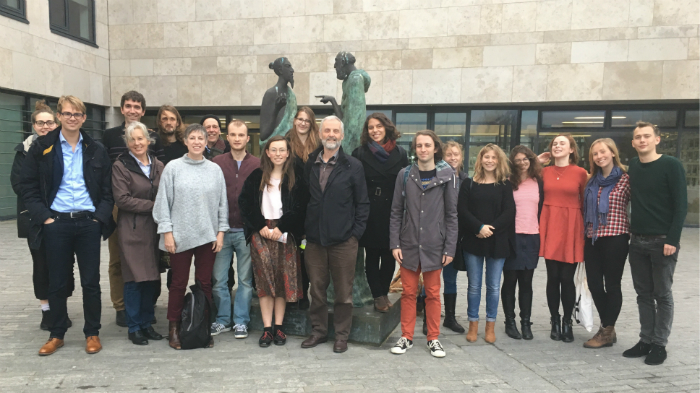 On 6 December 2017, the Sutherland School of Law's Environmental Regulation Research Group and the UCD Earth Institute together hosted Dennis van Berkel, legal counsel for the Urgenda Foundation, who spoke on the subject "Litigating for the Climate".

Urgenda is a Dutch environmental NGO responsible for what is the most famous climate change lawsuit to date. The result was a court order in 2015 requiring the Netherlands to reduce its greenhouse gas emissions by 25% by 2020 (compared to 1990). This required the Netherlands to step up its emission reduction efforts and indeed went beyond what was required under EU law.

As Mr. van Berkel explained, Urgenda presented the Hague District Court with the science contained in the reports of the Intergovernmental Panel on Climate Change - science which is accepted and approved by governments.

On the basis of this science and governments' agreement at international level that developed countries such as the Netherlands ought to reduce their emissions by 25-40% by 2020 (compared to 1990) in order to help avert dangerous climate change, the court in the Netherlands found that the Dutch government was negligent and in breach of a duty of care for failing to adopt sufficiently ambitious emissions reduction policies.

Mr. van Berkel explained that we are in the midst of a growing wave of climate litigation around the world, including for example children taking on the US government, a farmer in Pakistan suing the national government, the ongoing KlimaSeniorinnen ("Senior Women for Climate Protection") case in Switzerland, and (most recently) an Irish climate lawsuit hot on the heels of a High Court judgment in Ireland establishing an unenumerated constitutional right to an environment consistent with the human dignity and well-being of citizens at large.

After the seminar, Mr. van Berkel met with students and others interested in hearing more about the the Irish lawsuit and the Urgenda case.
Competition Law in Hong Kong and Ireland
Following the award of a Government of Ireland New Foundations Scheme by the Irish Research Council, our colleague Dr Mary Catherine Lucey undertook a research project on "Competition Law in Hong Kong and Ireland: Superficially Similar but Deeply Different".

The project culminated on October 2nd with a seminar entitled "Competition Law Enforcement Convergence and Divergence: United States, Ireland and Hong Kong."
Seminar Invitation PDF

Prof Stephen Calkins, former Adjunct Professor at SSoL, delivered an expert account of Antitrust Law enforcement in the United States and in Ireland. His comprehensive talk included many insights he gained in his previous employments as a member of the Competition and Consumer Protection Commission and general counsel of the Federal Trade Commission.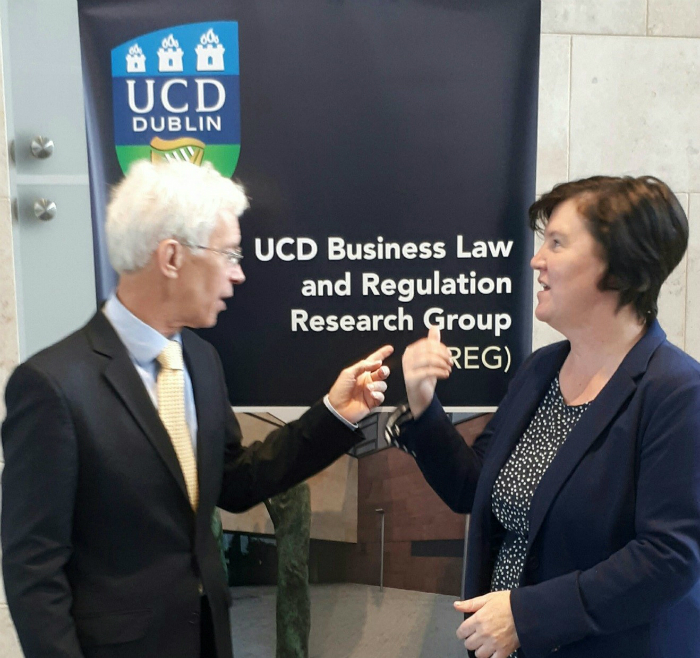 Dr Mary Catherine Lucey presented a paper on certain similarities and differences between Competition law in Hong Kong and Ireland which she has identified while conducting research at Hong Kong University. Hong Kong, like Ireland, is a small common law jurisdiction which eschewed the administrative model (favoured by the EU and many jurisdictions) in favour of a regime in which only judges have competence to make the determinations.
While a Visiting Fellow in HKU in March-April 2017 she participated in a seminar under the auspices of the Asian Institute of International Financial Law which was attended by legal practitioners and academics. HKU Seminar Flyer

In addition, at the invitation of the Hong Kong Competition Commission and the Hong Kong Consumer Association, she delivered a paper at prestigious conference "Aspects of the Hong Kong Competition Regime" Programme Available Here‌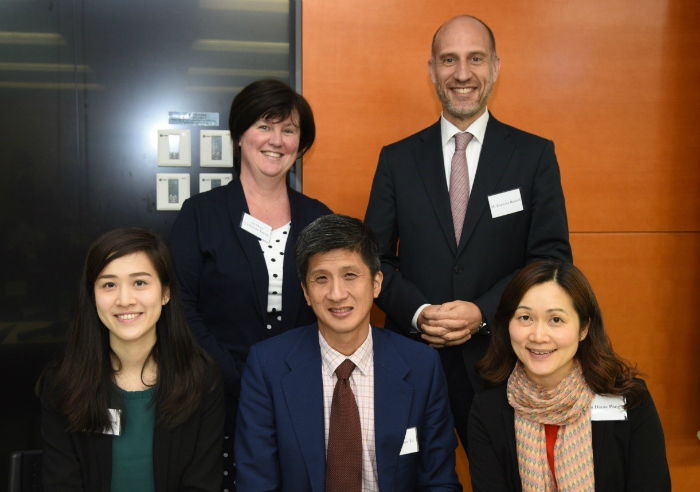 Dr Lucey in the company of fellow speakers Mr Francois Renard ( Allen and Overy, Hong Kong), Mr Toh Han Li (Chief Executive, Competition Commission of Singapore) and Ms Diana Pang ( Head of Investigations, Competition Commission, Hong Kong)

Royal Irish Academy Masterclass with Professor Mary McAleese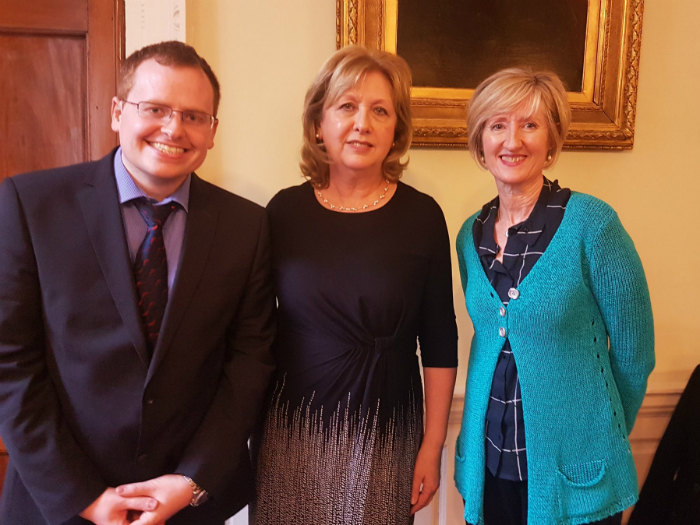 Earlier this semester two Sutherland School of Law final year PhD students, Aengus Fallon and Clare Cresswell, attended a Royal Irish Academy Masterclass, joining a group of fifteen other PhD students from universities across Ireland. The speaker was Professor Mary McAleese.

The aim of the masterclass was to provide PhD students/early-career researchers with the opportunity to network with colleagues in their field of study and to chat informally about research and career development.

Professor McAleese commented on the broad range of PhD research topics among the group and talked about her own PhD on canon law and the rights of the child. She spoke passionately about her research and a lively discussion followed which involved issues relating to human rights law as well as social and cultural aspects of Ireland and the Catholic Church.

There was time after the session to network with the other students and to discuss respective research topics. It was a very enjoyable afternoon and an interesting experience. Many thanks to the RIA for organising the event.

Aengus Fallon's research concerns the influences on the drafting process of key legislation of the Irish Free State and Clare Cresswell is researching how community based programmes assist the desistance and reintegration of people convicted of harmful sexual behaviour.
‌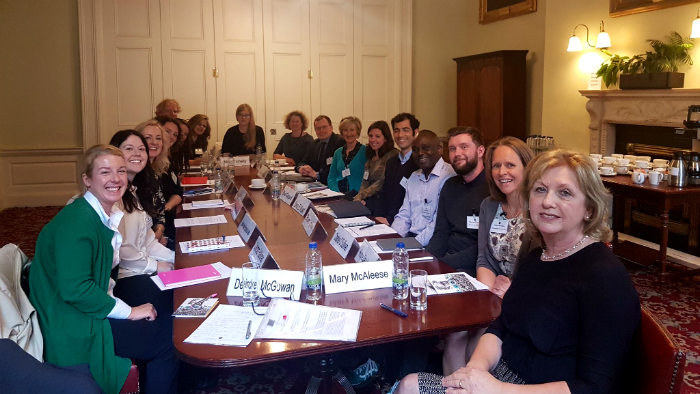 41st Annual Bank of Ireland Student Awards
The Bank of Ireland Prize Giving was first initiated by the late Dr Mary Redmond in 1976 and originally was awarded for the best Human Rights Essay. Over the years, the awards have extended to include prizes for top students in every year.
Many of our other prizewinners have gone on to pursue distinguished academic careers both overseas and at home, for example, Professor Walter Walsh of the University of Washington and Professor Gráinne de Búrca of New York University. The first prize winner Professor Brian Havel is currently Director of the Institute of Air & Space Law at McGill University and the first female prizewinner Professor Deirdre Curtin is Professor of European law at the European University Institute of Florence. Furthermore, no less than eight of our current staff are also previous prizewinners including our Dean, Professor Imelda Maher. Beyond academia, our former prizewinners include many members of the judiciary such as Síofra O'Leary, judge at the European Court of Human Rights. Judge O'Leary herself recently returned to the School to deliver this year's Walsh Lecture. Closer to home, former winners include Paul Coffey, Brian Cregan, Richard Humphreys and Aileen Donnelly, all judges of the High Court. The judicial involvement has made the Prize Giving the success that it is today.
We would like to pay tribute to the contribution and support of the members of the judiciary who have given of their time to adjudicate the essay prize over the past decades. Since the judicial involvement with the Prize Giving in 1981, almost every Chief Justice and President of the High Court has acted as the essay adjudicator. This year we were joined by The Hon. Mr Justice Alan Mahon of the Court of Appeal of Ireland who adjudicated the essay competition and presented the medals.
This success, however, could not have been achieved without Bank of Ireland's generous support. In particular, it is the strong and close working relationship between the Sutherland School of Law staff and the managers of the local Montrose and Student Store branches that results in the ever-successful hosting of this special annual event. We are very grateful to Bank of Ireland for the consistent and generous support of this event.
‌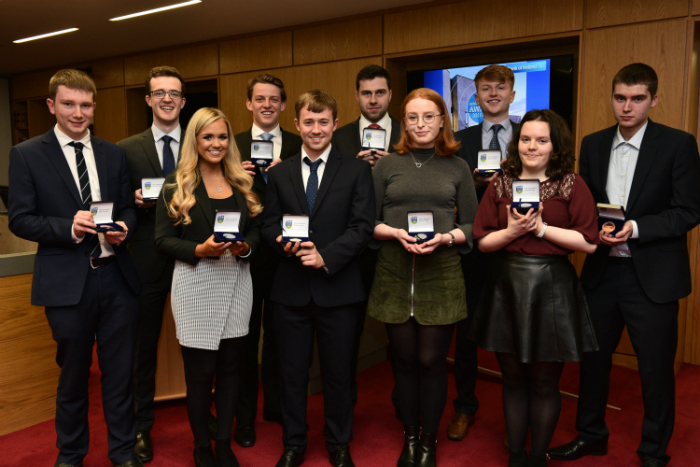 Pictured above L-R This years winners Rory Quinless, Conor White, Michelle Blake, James Bernasconi, Daniel Forde, Conor Gallagher, Eileen Collins, Sarah Lydon, Eamonn Butler, Mateusz Zubrzycki. Other winners Cian Monague, Aidan Murray and Eamonn Butler.
Above L-R Daniel Forde, Judge Alan Mahon, James Bernasconi, Paul Ward (Prize Academic Co-Ordinator) and Mateusz Zubrzycki.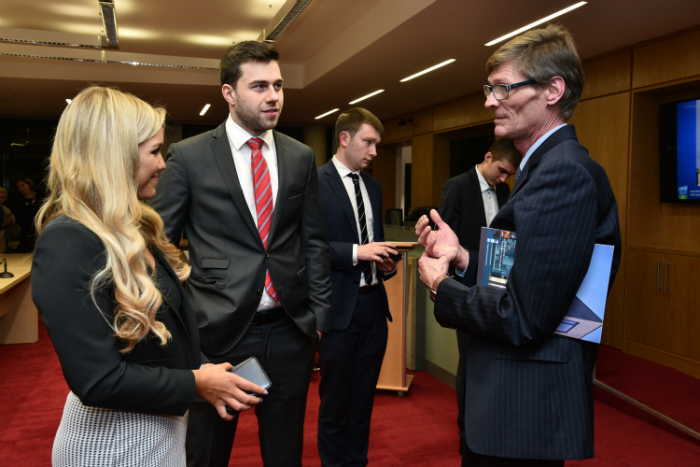 Third Year winners Michelle Blake & COnor Gallagher talk with Academic Co-Ordinator Paul Ward.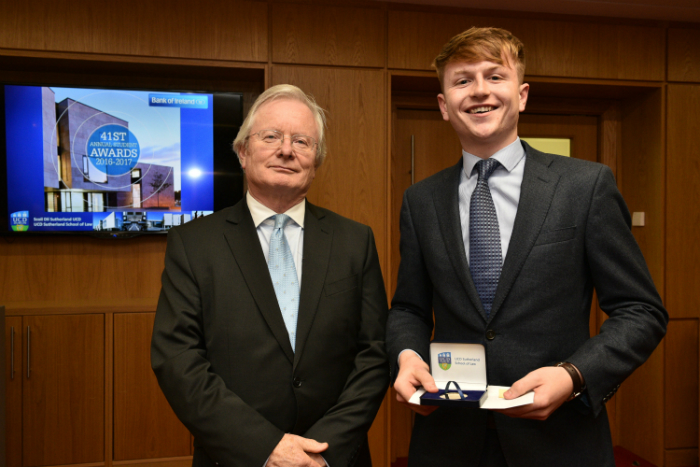 The Hon. Mr Justice Alan Mahon with Final Year Gold Medal Winner Eamonn Butler.

Depurty Registrar Professor Barbara Dooley and Gavin Leech, Bank of Ireland.

Caoilfhionn Gallagher QC honoured with Law Alumni Award 2017
Professor Imelda Maher, Dean of Law, speaks about Caoilfhionn Gallagher QC, UCD Law Alumni Award for 2017.
At a ceremony in UCD's O'Reilly Hall, Caoilfhionn Gallagher QC, was honoured for her outstanding work in human rights law and presented with the Law Alumni Award 2017 by Professor Andrew Deeks and Professor Maher.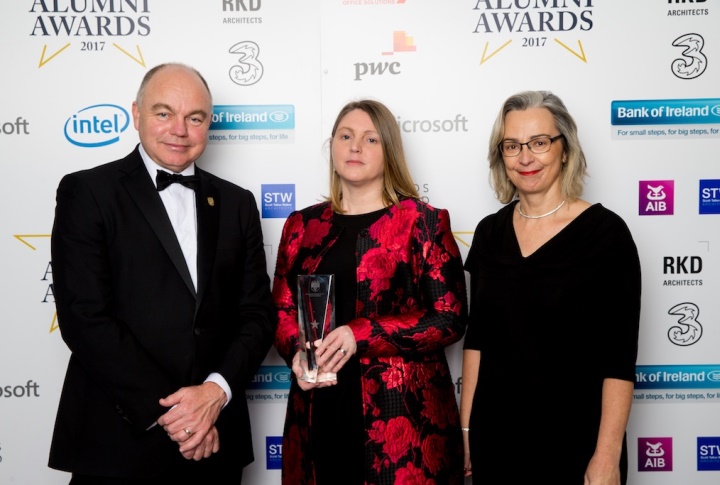 London-based human rights lawyer Caoilfhionn Gallagher was made Queen's Counsel in 2017 in recognition of her exceptional international work, acting for journalists and peaceful protestors who have been arbitrarily detained all over the world. She led the legal team who worked tirelessly for the recent release of Ibrahim Halawa, the Irish national who, at 17, had been detained in Egypt since 2013. Gallagher combines legal skills with humanity, exemplified by her sensitive handling of inquests for victims of bombings in London and Hillsborough, and challenging the benefits cap for the severely disabled, securing protection for victims of domestic violence and safeguarding vulnerable young people in custody. She is a most generous mentor and an inspirational social justice advocate.
Caoilfhionn Gallagher QC joins our previously honoured alumni who include Oscar-winner Ben Cleary, presenter Miriam O'Callaghan and Human Rights barrister, Maeve O'Rourke.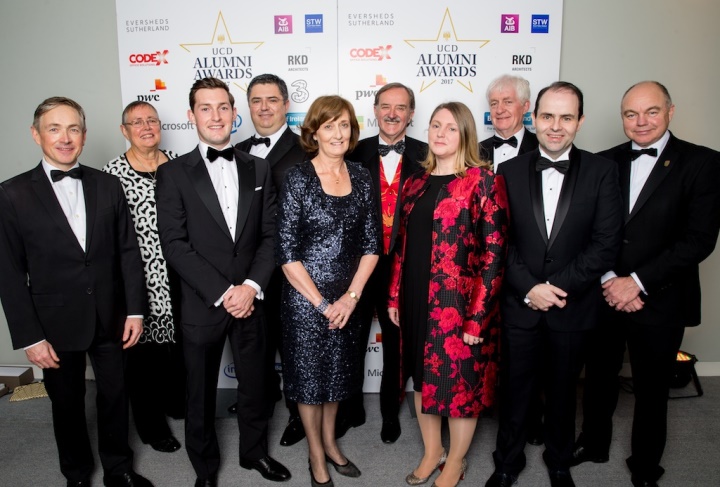 Pictured are all UCD Alumni Award Winners 2017 (L to R) Michael McGlynn, Dr Sheila Willis, Paul O'Donovan, Eamonn Sinnott, Mary Sutton, Dr Garrett FitzGerald, Caoilfhionn Gallagher QC, Dr Des Rice, Prof Edmond Harty with President of UCD, Prof Andrew Deeks. Read more at http://alumni.ucd.ie/awards/awardees/2017-awardees/
UCD Diploma for Professions affected by changes in Regulation
UCD Sutherland School of Law is delighted to confirm that the Professional Diploma in Professional Regulation is now open for enrolment for January 2018. This is the third year that this Diploma will be run in UCD and it has become the recognised qualification in the area of regulation. It is designed to cater specifically for the wide number of professions that have been affected by the increased requirements for regulation. It offers the opportunity for members of the representative bodies, regulators and advisors for professions such as doctors, nurses, pharmacists, accountants, solicitors, teachers, and social workers to become fully informed of their obligations.
Previous participants have included representatives of regulatory bodies and the Diploma is also popular with legal practitioners who wish to supplement their knowledge in the area. The success of the Diploma has been largely attributable to the unrivalled quality of the lecturers on the programme. They include practitioners who are the recognised experts in the field of regulation in Ireland and leading academics with a depth of knowledge of both the Irish and EU requirements.

Ciara McGoldrick BL is the course coordinator. She is a barrister and an Adjunct Professor in the Sutherland School of Law and fellow of the Institute of Chartered Accountants in Ireland. Ciara advises a number of regulators in relation to disciplinary proceedings. She was formerly the Deputy Registrar and Head of Legal Affairs at the Pharmaceutical Society of Ireland. She is a member of a number of regulatory decision making panels including the Administrative Sanctions Panel of the Central Bank of Ireland and the Inquiry and Investigation Committees of the Irish Auditing and Accounting Supervisory Authority.
Professor Colin Scott is Professor of EU Regulation & Governance at UCD and is currently involved in a study of regulatory capacity and effectiveness in Ireland and an investigation of the legitimacy, enforcement, quality and effectiveness of transnational private regulation.
Dr Kevin Costello is an Associate Professor in the Sutherland School of Law and is a specialist on the subject of administrative law. Dr Costello contributes a lecture on the specific aspects of administrative law that are relevant to regulation.
Eileen Barrington is a Senior Counsel and has extensive experience in the area of professional regulation acting for both regulators and professionals. She is a member of the Legal Services Regulatory Authority.
JP McDowell is Managing Partner and head of the Public and Regulatory Law Unit at McDowell Purcell. He has been engaged in the provision of legal advice to professional regulatory bodies for more than 20 years. JP advises regulatory bodies in relation to all aspects of regulation including registration, education and training, professional competence, judicial review, enforcement matters, discipline and oral hearings. JP advises both established regulators and start-up regulators in relation to the discharge of their statutory functions and is regularly involved in the drafting and interpretation of regulations.
Dr Chris Cowley is an Associate Professor in the UCD School of Philosophy Ethical theory and his specialism includes applied ethics and philosophy of law. His lectures focus on the topic of ethics for professional regulators where he probes the distinctive ethical problems faced by professionals.
Participants on the Professional Diploma in Regulation are offered the opportunity for group work and interaction and the programme focuses on the key emerging themes in the area of regulation. The Diploma is offered in partnership with law firm McDowell Purcell and commences in January 2018 and runs for 12 weeks. Places are currently available and those interested can email enquiries to jana.gfesser@ucd.ie or call 01 716 4112. Further details about application are available at the following link:
In association with law firm

Over 450 attend Society of Legal Scholars Conference in Sutherland School of Law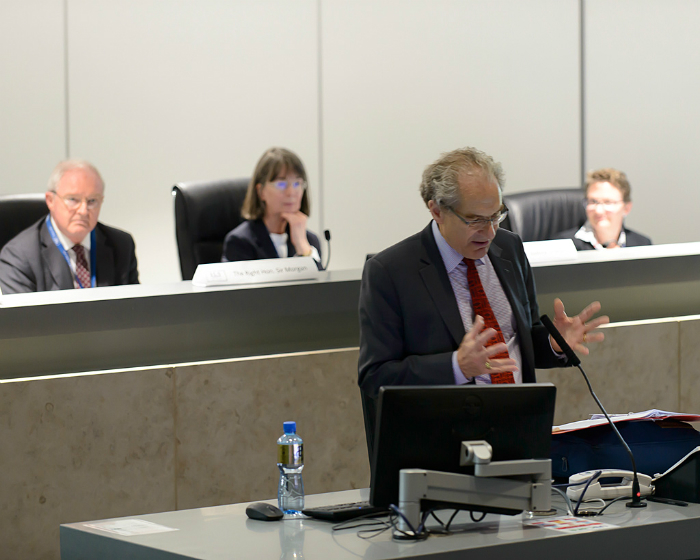 At the SLS Conference, The Right Hon. Lord Mance, (speaking) was part of a distinguished panel that included The Hon. Lady Wolfe, The Hon. Ms Justice O'Malley, The Right Hon. Sir Morgan and was chaired by the Hon. Mr Justice O'Donnell.
Four Events: One Week
For the first time in its 108 years, the Society of Legal Scholars (SLS) Annual Conference took place outside of the UK in 2017 on the theme The Diverse Unities of Law. The UCD Sutherland School of Law was honoured to welcome this renowned legal conference to Dublin. Professor Imelda Maher, now Dean of Law and President of the Society 2016-2017 was responsible for this prestigious conference ably supported by a team a colleagues and enthusiastic student volunteers. The Conference attracted over 470 delegates in early September who presented over 300 papers in 28 subject sections The main conference dinner was in the magnificent setting of The Honorable Society of King's Inns, with UCD alumnus Professor Conor Gearty London School of Economics as guest speaker
Highlights of the SLS Conference in Dublin were three plenaries with distinguished panelists that included legal scholars and members of the judiciary of the UK and Ireland. For the opening plenary 'The Diverse Unities of the Common Law' the conference was especially honoured to welcome Baroness Brenda Hale of Richmond (new President of The UK Supreme Court) as chair of the panel with Professor Ambreen Manji (Cardiff University), Associate Professor Kevin Costello (UCD), Professor Peter Cane (ANU and Cambridge University). At later panel on the theme of the conference the Society and the School were greatly honoured to welcome distinguished members of the judiciary from England, Scotland, Northern Ireland and the Republic of Ireland. The Hon. Mr. Justice Donal O'Donnell (Supreme Court of Ireland) chaired the panel with The Right Hon. Lord Mance (UK Supreme Court), y The Rt. Hon. Sir Declan Morgan (Lord Chief Justice of Northern Ireland), The Hon. Ms. Justice Iseult O'Malley (Supreme Court of Ireland) and The Hon. Lady Wolffe (Senator of the College of Justice, Scotland). The Society and School were delighted to welcome The Hon Mr Justice Frank Clarke, the new Chief Justice of Ireland who chaired a session in the environmental law section.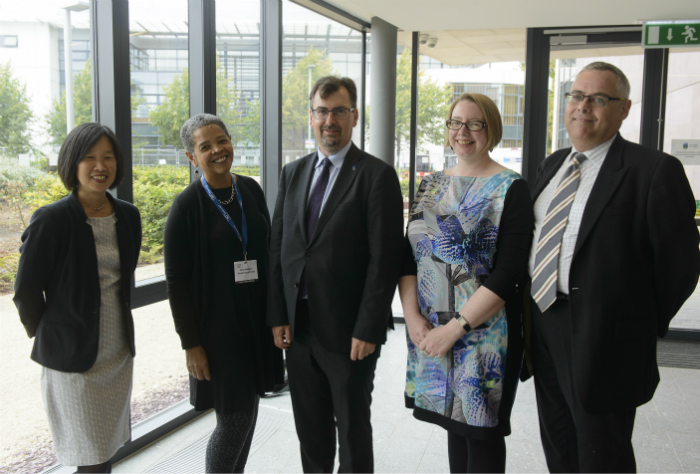 UCD College of Social Sciences and Law Principal, Prof Colin Scott (centre) chaired a plenary panel at the SLS Conference which included (from left), Prof Carol Tan, SOAS, Prof Toni Williams University of Kent,, Prof Anne Davies, University of Oxford and Prof Carly Stychin, City Law School, London.
'Leadership and Diversity in Law Schools' was discussed in a panel of Heads of Schools (Professor Toni Williams (Kent), Professor Anne Davies (Oxford), Professor Carol Tan (SOAS), Professor Carl Stychin (City), and chaired by the UCD Vice-President for Equality, Diversity and Inclusion, Professor Colin Scott.).
The location of the conference in Ireland was the inspiration for one of the seminars which focused on the contribution of the Irish Diaspora to Legal Scholarship. Panelists included Professor Liz Campbell (Durham University), Dr. Donal Coffey (Max Planck Institute, Frankfurt); Associate Professor Aileen Kavanagh (Oxford University); Dr Kanstantsin Dzehtsiarou (Liverpool). This seminar was chaired by Professor Imelda Maher, President of the SLS and Dean of Law in UCD.

On the final afternoon of the conference, a Joint Seminar of the Honorable Society of King's Inns, The Society of Legal Scholars and UCD Sutherland School of Law discussed 'The Common Law and Brexit: A New Frontier?. The panel consisting of Mr. Conleth Bradley SC; Dr. Catherine Donnelly BL; Ms. Caoilfhionn Gallagher QC (UCD law alumnus of the year 2017); Mr. Paul Gallagher SC Professor was chaired by Prof Conor Gearty.
A joint seminar between the British Association of Comparative Law and the Irish Society of Comparative Law, organized with support from Dr. Marie-Luce Paris, was held before the SLS conference on 'Comparing UK and Irish law: A Special Relationship?' Outcomes of the seminar are available at this link.
On the first day, the annual SLS graduate conference was organized by a team of UCD PhD Law students led by Dr Andrew Jackson, bringing together those PhD students who were successful in the highly competitive call for papers.
The 109th Annual Conference of the Society in 2018 will be held at Queen Mary University of London (QMUL).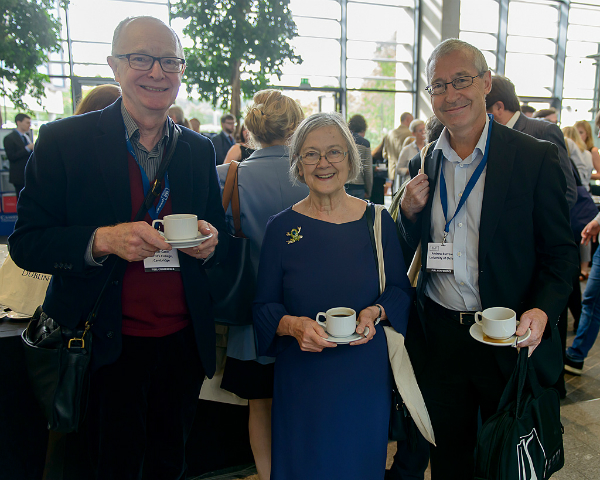 Baroness Hale of Richmond with Professor Peter Cane of Cambridge (left) and Professor Andrew Burrows of Oxford (former SLS President)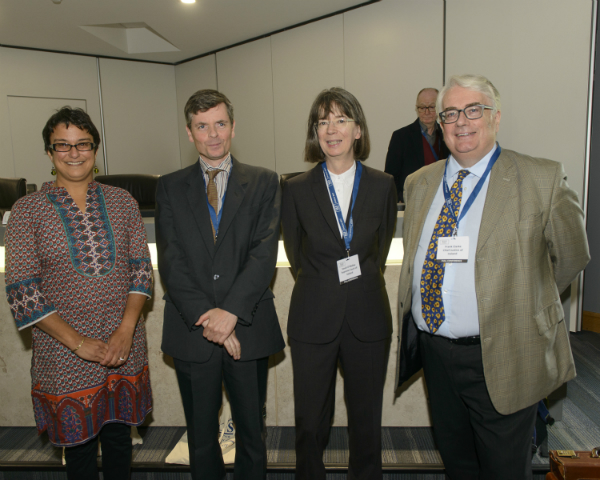 Professor Ambreen Manji (Cardiff University), Associate Professor Kevin Costello (UCD), The Hon. Ms Justice Iseult O'Malley with Chief Justice, The Hon. Mr Justice Frank Clarke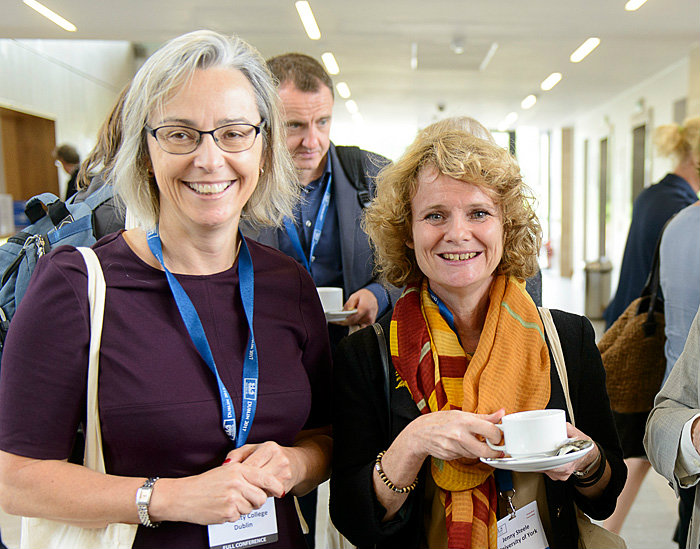 UCD's Prof Imelda Maher MRIA (President of SLS) with Professor Jenny Steele, University of York (former President of SLS)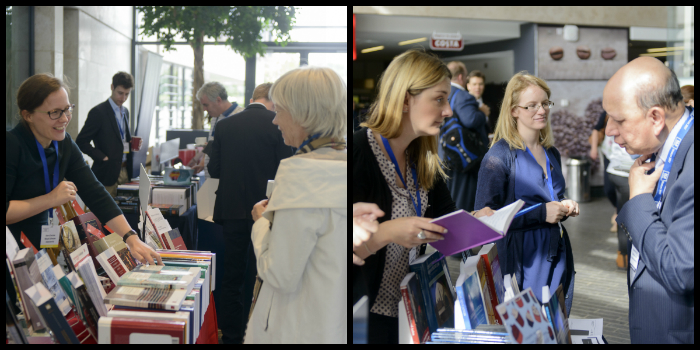 Ten of the top legal publishers in the UK were represented at the SLS conference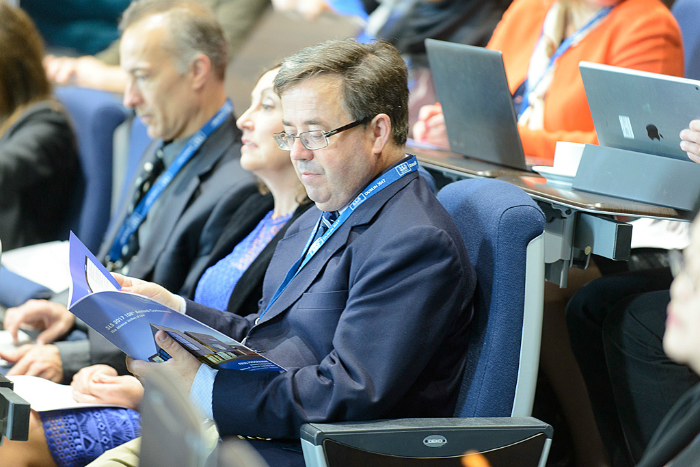 The Hon. Mr Justice Gerard Hogan attending one of the conference plenaries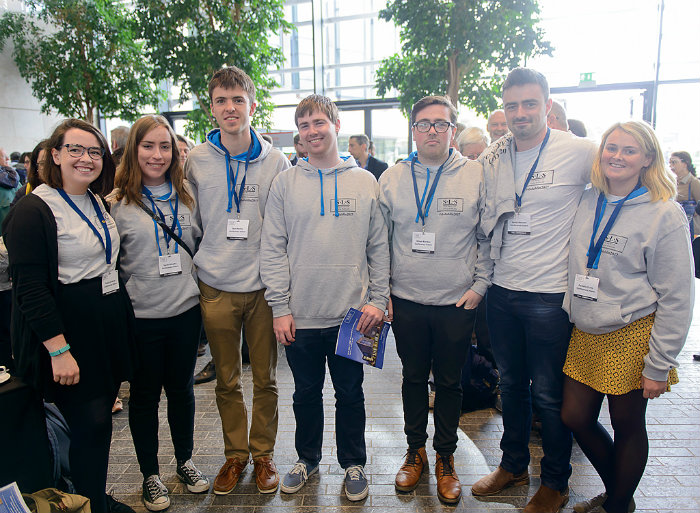 A group of the Sutherland School of Law students who worked as interns at the conference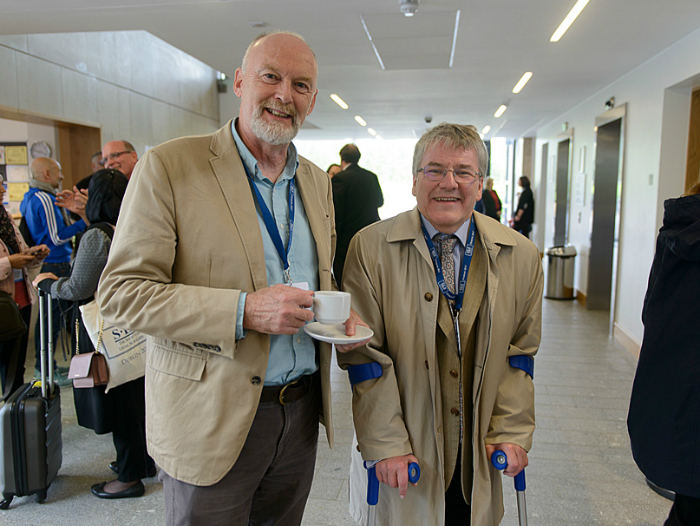 Professor Martin Louglin, London School of Economics and Professor Peter Alldridge, QMUL (incoming President SLS)
‌
Suzanne Egan and James McDermott receive UCD Teaching and Learning Awards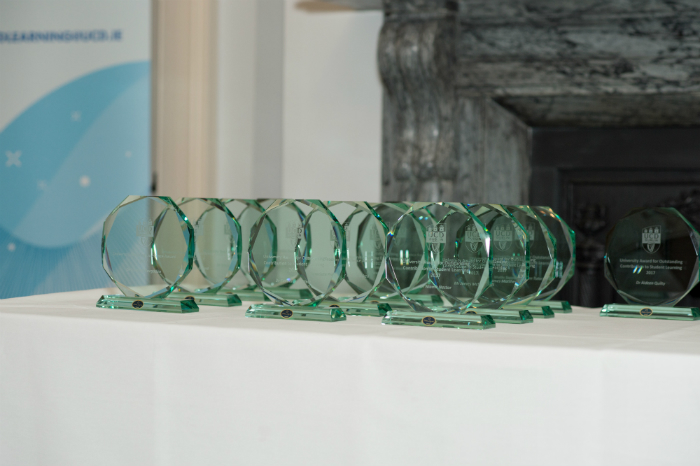 We are delighted to announce that two of our faculty, Dr Suzanne Egan and Mr James McDermott, have received University awards in recognition of their outstanding contribution to Teaching and Learning. At a recent reception in Ardmore House, Dr Egan was awarded for her 'Teaching Excellence' and Mr McDermott for his 'Outstanding Contribution to Student Learning'. These awards celebrate the achievements of colleagues who make an outstanding contribution in the pursuit of teaching excellence and the enhancement of student learning. UCD Sutherland School of Law warmly congratulates our colleagues on the receipt of these prestigious awards.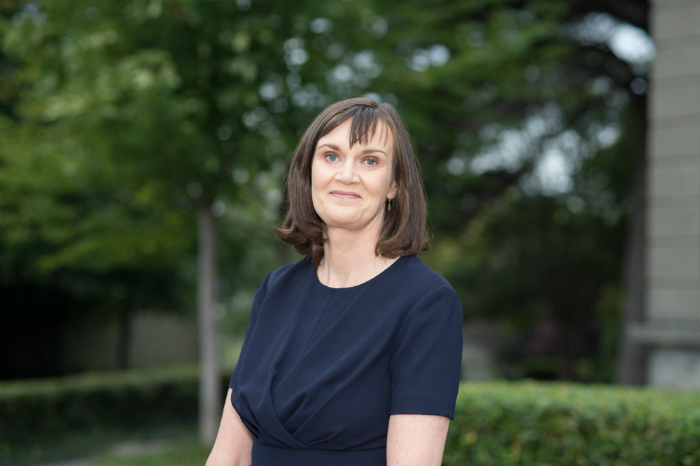 Dr Suzanne Egan is a Lecturer in the School of Law and is Director of the UCD Centre for Human Rights. Her approach to teaching and learning is heavily influenced by Paulo Freire's philosophy of critical pedagogy as further developed by Jack Mezirow's theory of 'transformative learning'. Her modules incorporate learning activities that are characterised by dynamic engagement in the form of enquiry based, problem-solving and collaborative methods, which promote active learning and respect for the ideas and views of the learners. Nominating students attest to her exceptional teaching qualities and skills, which have inspired students to engage deeply with the subject matter. Suzanne has demonstrated leadership over many years in the School of Law in making the subject of human rights central to the curriculum at both undergraduate and postgraduate level. This commitment includes the development of an innovative inter-disciplinary Masters on Human Rights and a pioneering clinical legal education offering to undergraduate students in Human Rights Education. Suzanne has also had success in securing two key research grants in the past year to conduct research into the transformative capacity of human rights education.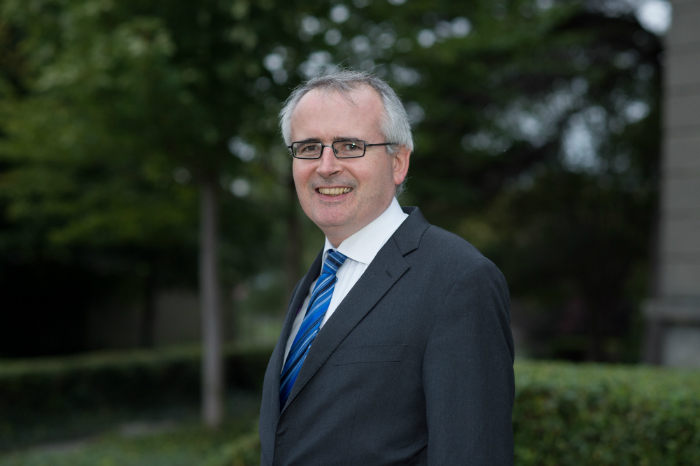 James McDermott is an Assistant Professor in the UCD School of Law where he is responsible for teaching modules in Contract Law, General Introduction to the Legal System, Company Law and Advocacy and Mooting. Taking full advantage of the Law School new 'state of the art' Moot Courtroom, James has developed the School's first Advocacy and Mooting module. In this module students engage in authentic learning and assessment activities designed to develop their advocacy and oral presentation skills in a courtroom setting. Outside of the module, James helps to select and coach teams for external mooting competitions and has played a key role in establishing UCD as the most successful university in the country in mooting and other advocacy based competitions.
The students who nominated James for an award were unstinting in their praise, commenting on James's in-depth knowledge of his subject, his exceptional ability to explain complex legal issues, and his genuine interest and care for his students. Congratulations to James on this Outstanding Contribution to Student Learning Award for "Development and enhancement of curricula and resources that reflect a command of the field".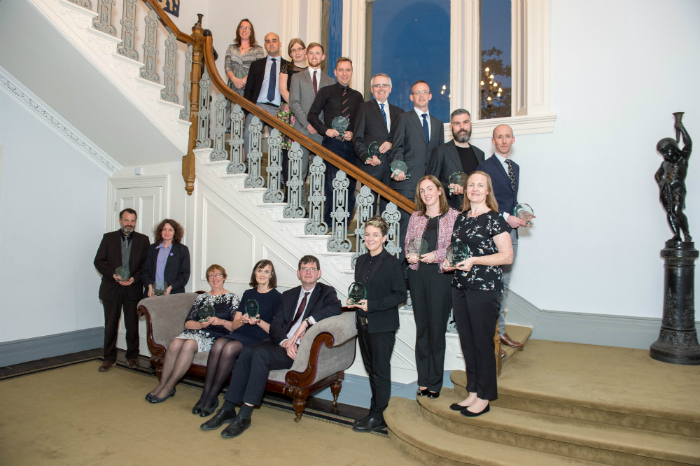 Left to right, Stairs:Dr Fionnuala Dillane, UCD School of English, Drama and Film; Mr Cesar Scrochi, Ms Emma Howard, Mr Daniel Giles & Dr Anthony Cronin, the Maths Support Centre Tutor Team, Mr James McDermott, UCD School of Law; Dr Vincent Hargaden, UCD School of Mechanical and Materials Engineering; Dr Thomas Grund, UCD School of Sociology and Dr James Matthews, UCD School of Public Health, Physiotherapy and Sports;


Front row: Dr Paul Perry, UCD School of English Drama and Film; Assoc Professor Emma Sokell, UCD School of Physics; Dr Monica Gorman, UCD School of Agriculture and Food Science; Dr Suzanne Egan, UCD School of Law; Registrar and Deputy President Professor Mark Rogers, Dr Aideen Quilty, UCD School of School of Social Policy, Social Work and Social Justice, Assoc Professor Niamh Moore-Cherry, UCD School of Geography and Dr Niamh Nestor
Congratulations to the Class of 2017 on their Graduation
Graduations are a proud day for our students and their families. It is also a proud occassion for all the staff here in the Sutherland School of Law and having helped these students over the past few years we wish them great success in their future lives.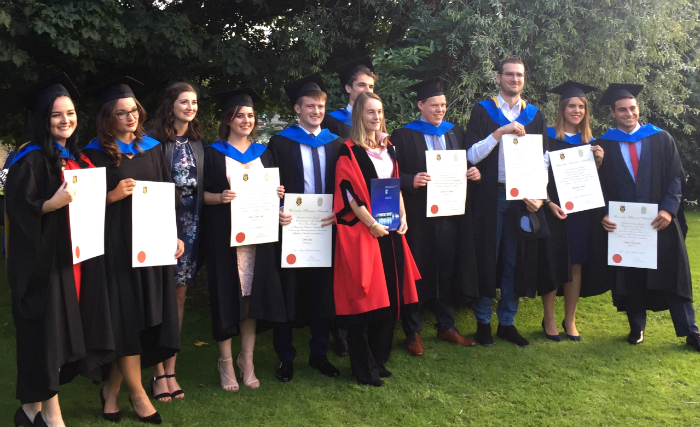 Pictured Above Dr Marie-Luce Paris with members of the BCL Law with French Law Class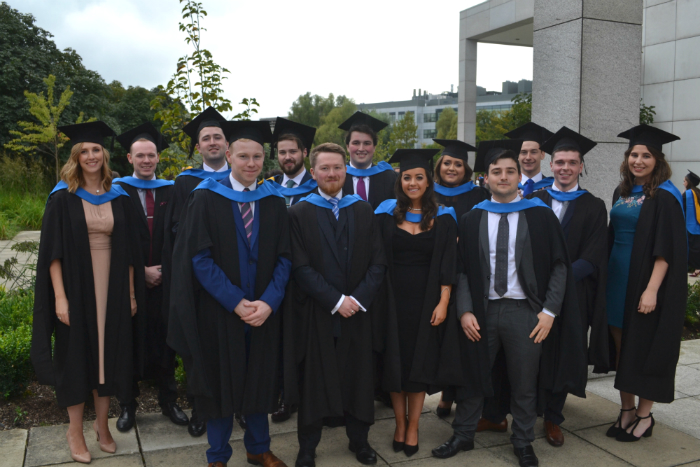 Pictured above Members of the MCL Class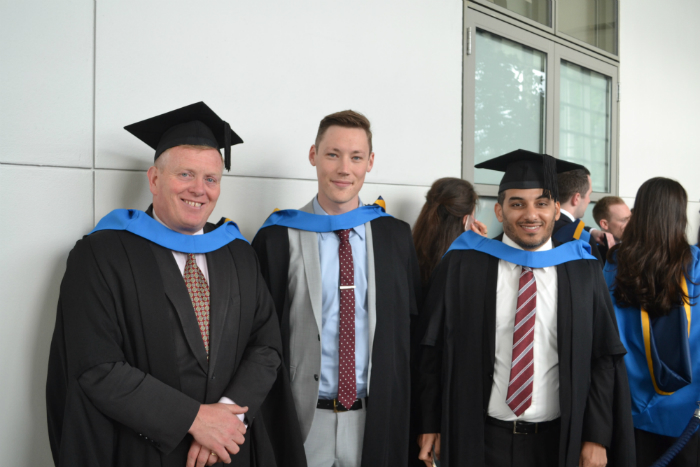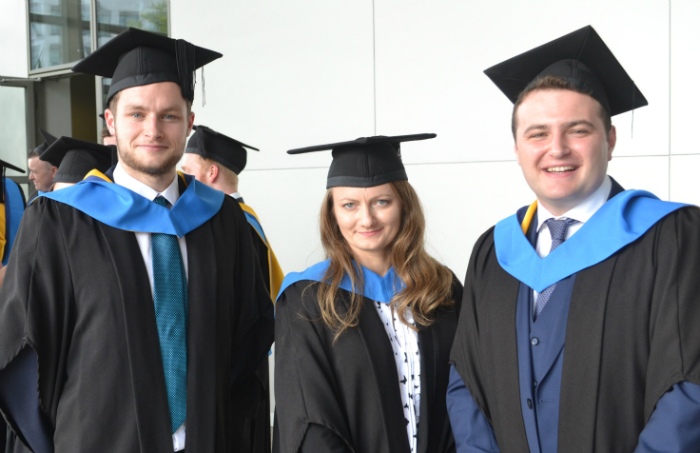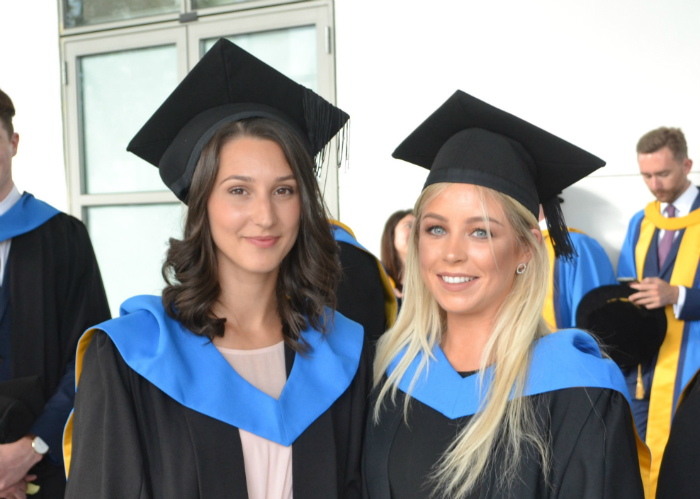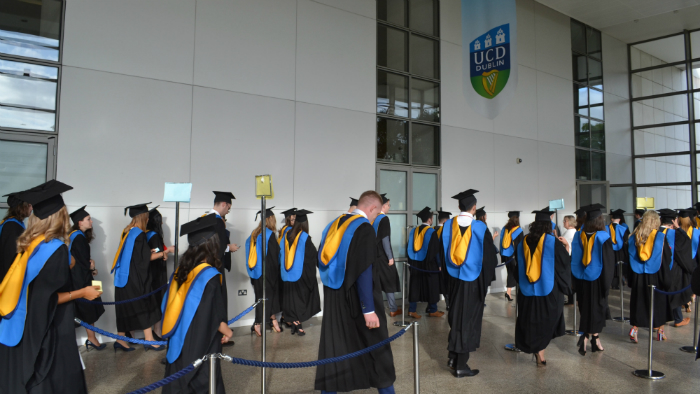 Large Group of Doctoral Students Complete their Studies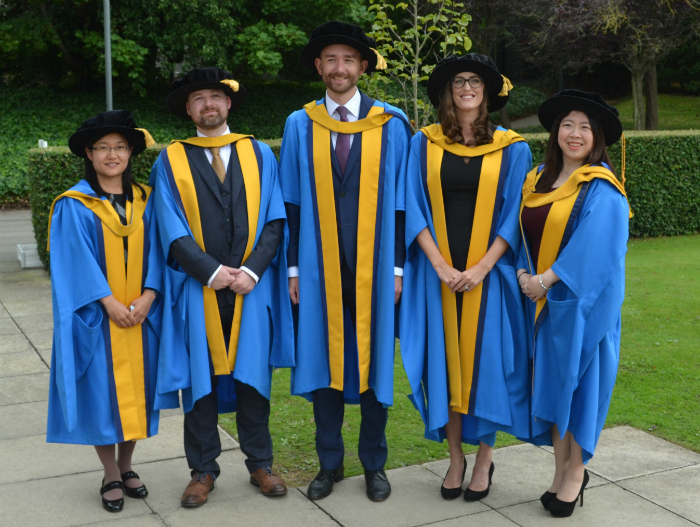 Pictured L-R An Yongkang, Edward Keegan, Daniel Hayden, Elizabeth Corcoran and Mu Li
The Sutherland School of Law would like to congratulate the recently conferred PhD in Law students, An Yongkang, Edward Keegan, Elizabeth Corcoran and Mu Li. Dan Hayden was conferred with a PhD in European Law and Governance. The ceremony took place in O'Reilly Hall on Tuesday the 5th of September 2017.
Yanxuedan Zhang supervised by Professor Suzanne Kingston was conferred in absentia, Yanxuedan wrote her thesis on 'Legal Transition in Environmental Law and Regulation'.

Also celebrating was Dr Suzanne Egan of the Sutherland School of Law and the Centre for Human Rights who was conferred with a a Higher Doctorate in Laws (LL.D.) from the National University of Ireland. Suzanne had also acted as supervisor for Edward Keegan on his thesis titled 'A Missing Piece in the Puzzle: Monitoring Mechanisms and the Protection of Trafficking Victims in Europe'.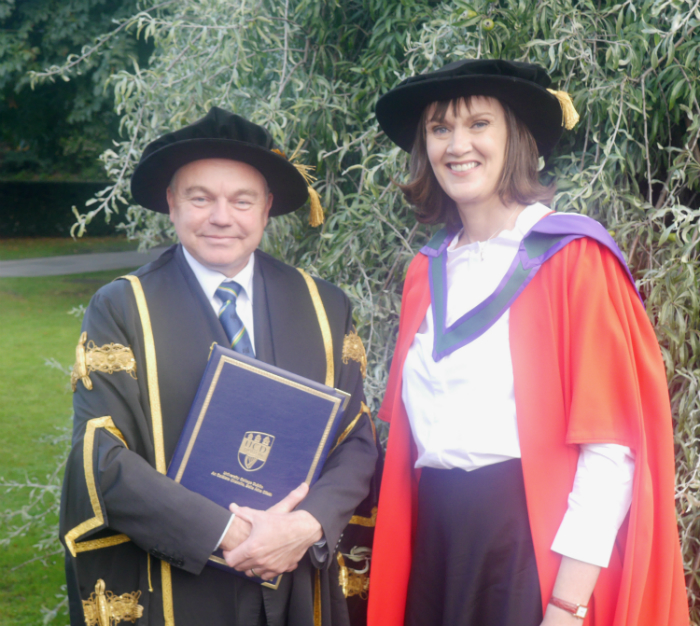 President Deeks and Dr Suza‌nne Egan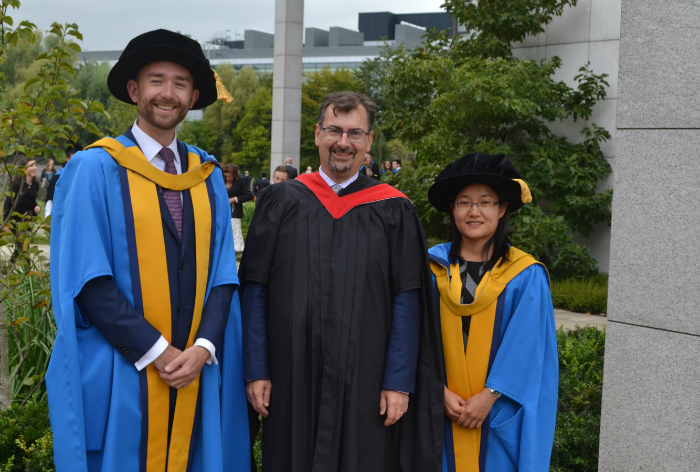 Professor Colin Scott celebrated the acheivements of two of his students. Dan Hayden wrote his thesis on 'The use of communication tools by public and private regulatory regimes'. An Yongkang completed a thesis titled 'The Partial Food Safety Regulatory Regime in China: A Comparison with the United Kingdom and Germany'.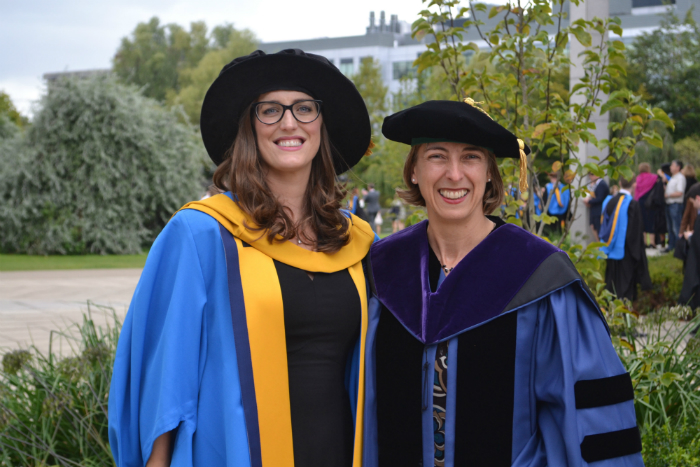 Elizabeth Corcoran completed her PhD under the supervision of Dr Oonagh Breen on the topic of 'Fiduciary Duties in the Financial Services Sector: The Interplay Between Regulation and Equity'.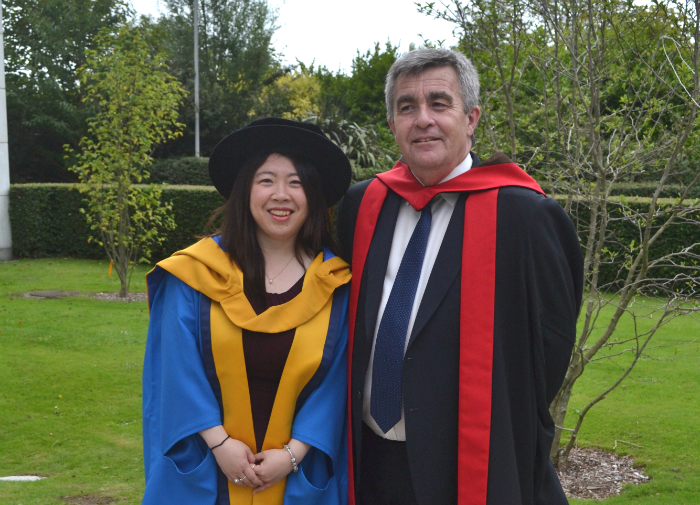 Mu Li worked Professor Joseph McMahon on her dissertaion titled 'WTO and export restrictions on high-technology products'.