8th Annual Postgraduate Workshop

Call for Papers


UPDATE:
We are extending our deadline to March 1st, 2014.
In conjunction with this extension, we are happy to announce that Clarus Press will be provided two prizes to be awarded to the Best Paper and Best Presentation.
We'd like to thank Clarus Press and our other sponsors- the UCD School of Law and Newman
Fund- for their kind support.
Call for Papers:
World Trade Organisation in Legal Context: Challenges of the Past and Prospects for the Future
UCD Sutherland School of Law is pleased to announce its 8th Annual Postgraduate Workshop which will be held on Friday 23rd of May 2014in Dublin, Ireland. Papers are invited from PhD researchers on topics which fall within the broad theme of "World Trade Organisation in Legal Context: Challenges of the Past and Prospects for the Future".
The idea behind this event is to bring together early and senior career scholars researching on international commercial law, intellectual property, regulatory governance and other related fields to provide them with a platform for innovative thinking about current legal issues, and to receive
useful feedback about their work. We will particularly welcome submissions displaying a high level of originality, independent thinking and creativity in legal research.
Topics of Investigation:
We encourage all participants to interpret the relationship between law and trade broadly, and we invite papers that explore a wide range of issues, including:
- WTO and regional actors (such as EU and China)
- Regulatory governance in the context of WTO (including food safety)
- WTO Dispute settlement
- Trade remedy measures and WTO rules
- Non-tariff barriers and WTO rules
- Intellectual property rights (including access to medicines, and protection of genetic resources and traditional knowledge)
- Relationship between WTO and other international instruments
- Technology transfer
- Role of exemptions in WTO case law
- Competition law and the WTO (including cartels studies)
- Copyright and technology challenges
Keynote Speaker:
We are delighted to announce that the keynote speaker for this year's Workshop will be Mr Peter
Sutherland S.C., Former Director-General of the World Trade Organization.
Abstract Submissions: UPDATED
PhD students interested in presenting a paper at the Workshop are asked to submit an abstract of no more than 400 words and 3-5 keywords to lawphdworkshop@ucd.ie, together with a short biographical note (up to 100 words). The deadline for submitting abstracts is 1st of March 2014. Selected participants will be notified by early March.
Best Wishes,
The Organising Committee
For further information, please contact: lawphdworkshop@ucd.ie
Like us on Facebook: https://www.facebook.com/ucdlawphdworkshop
Follow us on Twitter: https://twitter.com/ucdlawworkshop
Hashtag: #ucdlpw14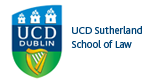 Previous Editions