UCD Library has introduced a scheme that will give both academic staff and students the ability to influence the books that are purchased by the library through our online catalogue. We have loaded thousands of print book records into the catalogue as part of an initiative to enable library users themselves to select books for the Library's collections.
While searching, look for the link below the book title saying "Click here to order this book" (see the screenshot below). If you click the link and fill in your details an order will be placed with our supplier. This service is only available for print books at the moment, ebooks will be available via this mechanism later in the year.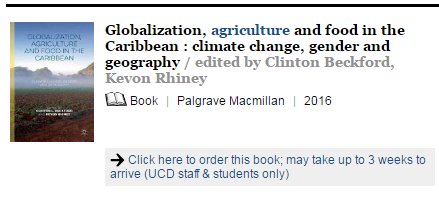 For further information see our Collection Services page at http://libguides.ucd.ie/collection_services/PDA.