Beidh plé agus caint leis an Dr Daithí MacGiobúin ar 'Ailse: Cúis agus Cosc', i Nasc 2, Leabharlann James Joyce, Dé Céadaoin, 5 Aibreán, 7pm. Beidh an caint seo oiriúnach do mhic léinn agus do bhaill foirne araon. Is comhfhiontar é seo idir Bord na Gaeilge agus Leabharlann UCD, urraithe ag SPARC. Saorchead isteach.
**Muna bhfuil cárta leabharlainne UCD agat, ní mór duit teagmháil a dhéanamh le ranganna.gaeilge@ucd.ie roimh 13.00 Dé Máirt, 4 Aibreán le rochtain a eagrú.**


Dr David Gibbons will be discussing 'Cancer: Cause and Prevention", in Link 2, James Joyce Library, Wednesday, 5 April, 7pm. This discussion will be suitable for both students and staff. This is a collaborative project between Bord na Gaeilge and UCD Library, sponsored by SPARC. This event is FREE to all.
Information about the event (just for information - no tickets needed)
**If you do not possess a UCD Library card, please contact ranganna.gaeilge@ucd.ie before 13.00 on Tuesday, 4th April to arrange access.**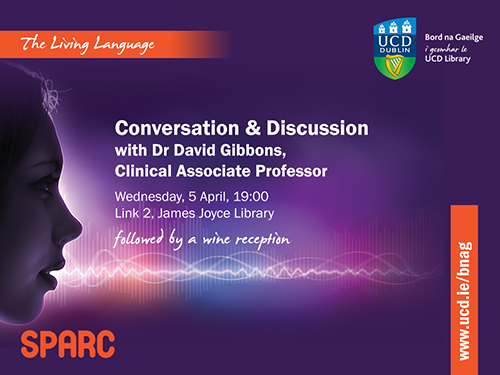 2017
An Ghaeilge Bheo/The Living Language


a series of talks and workshops, in Irish, for UCD and the community facilitated by UCD students & held in Library space


Bord na Gaeilge UCD: leadership, series planning,student mentoring


UCD Library: space, publicity, social media work with students