Revision Week is upon us, and with exams beginning Monday, May 8th, we would like to draw your attention to our extended opening hours and a few Library study tips.
Opening Hours Information
Opening hours for all five of our locations have been extended in the run-up to exams. The James Joyce Library is now open from 7.00 til 24.00 (midnight) Monday through Friday until May 19th. Weekend opening hours are 09.00 - 21.00 both Saturday and Sunday. Hours for our other locations vary so please check our Opening Hours webpage for full details.
Library Study Tips and Etiquette
During this busy season please be considerate of your fellow students when using library study spaces. Study spaces are at a premium at this time of year and it's important to give everyone a chance at finding a space in each of our libraries. Please don't leave your study space for extended periods of time (more than 45 minutes). We have once again launched a promotional campaign to tackle this issue.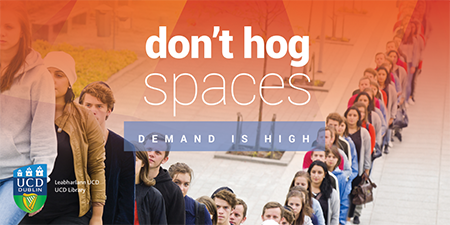 Late Night Study in Astra Hall is Back!
UCD Students' Union is bringing back late night study in the UCD Astra Hall (Student Centre) for two weeks from May 3 - 17. Hours are as follows:
Monday - Friday 11pm-3am
Saturday 8pm - 1am
Sunday 8pm - 3am
For a simple set of rules to live by while here, see our brief video on Library etiquette, created by UCD Student Digital Ambassadors:
We remind you to watch your belongings and remember to take them with you when vacating your space during this busy time!
Please utilise our Study Skills and Health and Wellbeing Collections, which can be found in both the James Joyce and Health Sciences Libraries, for books on study techniques and stress management. Please see also our guide to this collection, which will give you an overview of the subjects covered.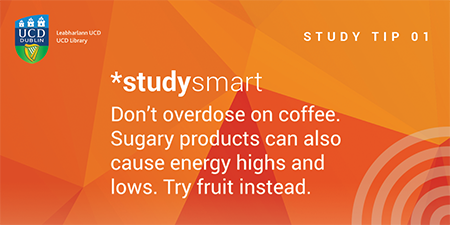 ‌
Finally, please check out our full range of online guides and tutorials which may help you while you study.
We wish you the very best of luck with your exams!