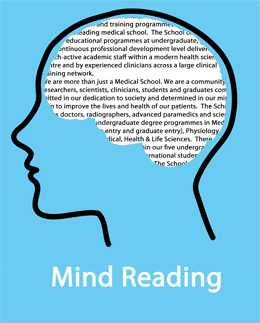 This online toolkit is a collection of resources about using literature to support mental well-being. It is particularly aimed at clinicians and medical students keen to incorporate the use of literature in clinical and reflective practice but may be of interest to a range of interested readers, academics and of course to those experiencing illness. We are keen to collaborate further in developing this resource with other organisations.
MindReading: Mental Health and the Written Word Conference 2017
These sources were collected mainly from a conference about literature and mental health titled, MindReading: Mental Health and the Written Word. The titles and authors listed were either discussed in the conference, or suggested by participants after the conference. This is not an exhaustive list; we're delighted to hear about further useful links and resources via the feedback form provided.
This conference was held in March 2017. This interdisciplinary event sought to locate and explore productive interactions between literature and mental health both historically and in the present day. Participants from various disciplines explored together the interfaces between literature and mental health, shared useful resources, and engaged in critical discussion about literature as a point of therapeutic engagement.
Speakers on the day included clinicians from a range of medical fields, medical humanities professionals and expert service users. The conference also had various small group workshops which were taught by the Diseases of Modern Life team, CBI Book Doctors, REFOCUS and the Dublin City Libraries HEAL project team. All are experts in their respective fields but are interested in viewing health from a range of perspectives. Our keynote speakers kindly agreed to be recorded and their talks are available here.
This toolkit has been developed as a Student Summer Research Project by WanTing Yew as part of a 2017 Student Summer Research project supervised by Associate Professor Elizabeth Barrett and the UCD Child & Adolescent Psychiatry group.