Genomic Research on Progressive Dystonia
Mary-Ann Cleary and her mother Kathleen.
There have been many false dawns heralding an era of personalised medicine but for one young patient, work by Genomics Medicine Ireland and researchers within the UCD Academic Centre on Rare Diseases has particular significance allowing her speak for the first time in four years.
Mary-Ann Cleary is a young patient with Progressive Dystonia, a very rare disease in children that causes painful seizing of the muscles. Her condition had progressed so severely that she was unable to move or speak, eventually resulting in her being admitted to the Intensive Care Unit. After researchers identified her as a suitable candidate for Deep Brain Stimulation (DBS) treatment, she underwent the procedure with dramatic results. She has uttered her first word in four years, "Mama", following treatment.
Genomics Medicine Ireland (GMI), together with the UCD Academic Centre on Rare Diseases (ACoRD), worked with Professor Mary King, UCD Full Clinical Professor and Consultant Paediatric Neurologist and Research Fellow Dr Eva Forman at Temple Street Children's Hospital to follow genomic sequencing that identified a mutation in gene KMT2B.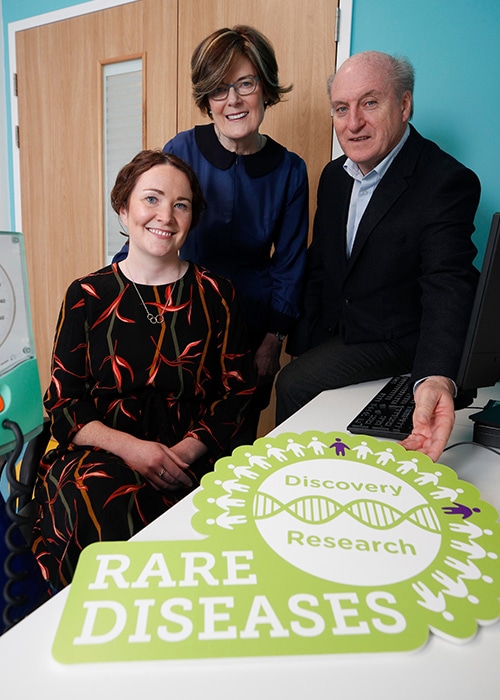 This was shown to respond to a treatment called Deep Brain Stimulation (DBS), a procedure that is not typically performed on young children. In September 2017 Mary-Ann underwent DBS, and in November she spoke for the first time in four years. Today she is able to move around, speak, laugh, and play.
This case offers insight into the potential in genomics for precision medical diagnostics and treatments. Previously UK, where the family now lives, were unable to identify a successful treatment for the patient, despite a series of tests over several years which all ultimately proved inconclusive. However, after taking genomic analysis of the patient's blood sample by GMI, it took only weeks to process, which was a fraction of the time and cost relative to what had been undertaken and which resulted in a far more efficient and effective resolution.
Professor Mary King said,
We are delighted that Mary-Ann could be treated so successfully and so quickly thanks to genomics. This new cutting-edge field can significantly reduce the patient journey, which for complicated or rare diseases can currently involve a number of lengthy, invasive tests, followed by a course of treatments which may have varying effectiveness.
Seán Ennis, Chief Scientific Officer and co-founder of Genomics Medicine Ireland and Director of UCD ACoRD, commented:
Genomic research studies usually take many years to yield significant actionable results, so to achieve such an important, tangible outcome so quickly is amazing, especially given the critical condition and time-sensitive nature of the patient. This example has really shown the true potential of genomics, which is accurate, targeted, quick and affordable diagnostics and treatment; it's a real win-win for all involved.
Genomics Medicine Ireland is currently undertaking research into Multiple Sclerosis, Inflammatory Bowel Disease, and Brain Tumours in conjunction with hospitals across Ireland and the company also recently announced they will be examining Alzheimer's disease.
Established in 2013, the UCD Academic Centre on Rare Diseases is focused on the study of rare genetic diseases, with a view to the identification of the mutation(s) causing the disease. Once a causal mutation(s) is established, the objective is to develop diagnostic tests for translation back into a clinical setting. Once a gene is implicated, our PIs work to further investigate the gene function and biological pathways involved in the condition. The ultimate aim is to investigate those conditions / genes which might be amenable to drug targeting or gene therapy.