SBI/EMBL Scientific Meeting
Exploring Opportunities for Future Collaborations
Systems Biology Ireland (SBI) and the European Molecular Biology Laboratory (EMBL) are hosting a joint scientific workshop on 16th June 2014 in the UCD Conway Institute to explore opportunities for future collaborations. The meeting will be chaired by EMBL Director General, Prof Iain Mattaj and SBI Director, Prof Walter Kolch. Silke Schumacher, Director International Relations at EMBL, will also be in attendance.
The workshop will comprise of a series of talks from senior SBI and EMBL researchers followed by a reception sponsored by the EMBL Alumni Association. There will be plenty of opportunity for discussion and networking over the course of the day – please see agenda and event flyer attached.
We would be delighted if you would consider joining us on the day. Please confirm your attendance at your earliest convenience by email to sbiadmin@ucd.ie.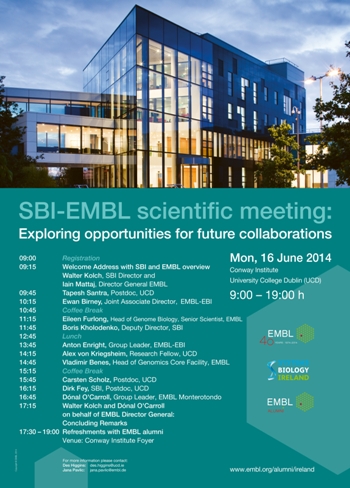 ‌
SBI/EMBL Scientific Meeting | Exploring Future Collaborative Opportunities