Wednesday 1st Oct 2014 from 6:00pm at O'Connell House, 58 Merrion Square, Dublin 2
Add to calendar
Dr Ada English - Patriot and Psychiatrist
Staff and students are invited to attend the launch of a new book titled 'Ada English: Patriot and Psychiatrist' written by Prof Brendan Kelly (UCD Associate Clinical Professor, Psychiatry, Mater Misericordiae University Hospital) and published by Irish Academic Press (link).

Dr Ada English (1875 - 1944) was a pioneering Irish psychiatrist who was deeply involved in Irish medicine and politics. Graduating from the Catholic University School of Medicine, Cecilia Street in 1903, English was a passionate participant in the Easter Rising and spent six months in Galway Jail for possessing nationalistic literature. An executive member of Cumann na mBan while in jail, Ada was elected as a Sinn Fein TD in the Second Dail (1921-22) and participated on the anti-Treaty side in the Civil War (1922-23).
Dr English spent almost four decades working at Ballinasloe District Asylum where she oversaw significant therapeutic innovations and campaigned for improvement in patient conditions. Throughout her life, Ada campaigned strongly for reform of Ireland's large custodial psychiatric institutions.
The book will be launched by Kathleen Lynch TD, Minister for Primary Care, Social Care (Disabilities & Older People) and Mental Health at 6:00pm on Wednesday 1st October 2014 in O'Connell House, 58 Merrion Square, Dublin 2.
All staff and students are invited to attend and are asked to RSVP info@iap.ie or 045 895562.
---
About Dr Adeline (Ada) English (1875-1944)
Dr Ada English was a pioneering Irish psychiatrist who was deeply involved in Irish politics and medicine during the first half of the twentieth century.
Ada was one of the first generation of female medical graduates in Ireland, graduating as a doctor from the Royal University, Dublin in 1903. She went on to spend almost four decades – from 1904 to 1942 – working at Ballinasloe District Asylum, later St Brigid's Hospital. But Ada English, who lived from 1875 to 1944, was also highly active in Irish political life. She was an executive member of Cumann na mBan and, in 1921, spent several months in Galway jail, for possessing nationalist literature. While in jail, Ada was elected as a Sinn Fein TD in the Second Dail (1921-22) and participated on the anti-Treaty side in the Civil War (1922-23).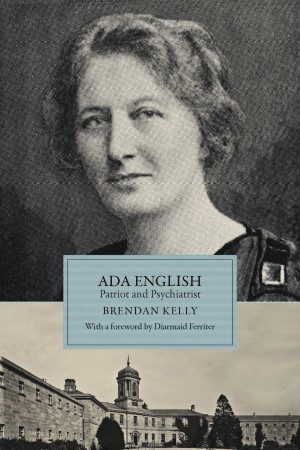 Ada's strong nationalist outlook was apparent throughout all aspects of her life, including her work in Ballinasloe. She went to work there in 1904 and, from the outset, her political views were readily apparent.
Along with a colleague, Dr Richard Kirwan, Ada supported the move to have the Galway Arms emblazoned in place of Queen Victoria on the buttons of the staff uniforms and promoted the use of Irish-manufactured products in the institution. She was also involved with the Ballinasloe branch of Conradh na Gaeilge (Gaelic League) and befriended various powerful local figures in the nationalist movement, including Dr John Dignan (1880-1953), later Bishop of the Diocese of Clonfert (1924-53).
Throughout this period, Ada was a close friend of several leading political figures, including Joseph McDonagh, Patrick Pearse, Arthur Griffith, Liam Mellows and Eamonn de Valera. In due course, a branch of Cumann na mBan was set up in the Ballinasloe asylum with Ada as chairperson.
Happily for Ada, her political views were in close accord with those of the Committee of Management, which was strongly nationalist in outlook. Minutes from its meeting of 12 June 1916, for example, record that the following resolution was passed by the Committee:
"That we the members of the Committee of Management of the Ballinasloe Asylum, representing both the counties of Galway and Roscommon, determinedly protest against the exclusion of any portion of Ulster from the scheme of national government now about to be established in this country, and we call upon Mr John Redmond and the Irish party to oppose anything that would bring about an accentuation of the religious bitterness that apparently exists between the north and the rest of Ireland. We are willing to concede anything in justice to the bona-fide fears of our northern fellow countrymen, but the division of Ireland we will not have."
The Committee agreed that copies of this resolution would "be sent to Prime Minister, Mr David Lloyd George, and Mr John Redmond.
"This strongly nationalist tone persisted into the 1920s: at its meeting on 11 July 1921, the Committee resolved that "henceforth no communication of any kind be forwarded to any department of the British Government in Ireland."
While in prison in Galway in 1921, Ada was elected to the Second Dail as a Sinn Fein candidate for the National University of Ireland constituency. In the Dail on August 26 1921, she strongly supported de Valera's nomination as President of the Irish Republic, stating that de Valera's
"openness to any suggestions and readiness to accept them if they are any good; his courage and manifest honesty in placing before us everything which he is recommending to us, leaves us, even the dullest of us, under no delusion as to what we are asked to do. I have very much pleasure in supporting the motion."
De Valera was duly elected President of the Irish Republic and the Dail nominated envoys plenipotentiary for negotiations with Great Britain. Ada, however, passionately opposed the resultant Treaty in the Dail debate on 4 January 1922:
"I credit the supporters of the Treaty with being as honest as I am, but I have a sound objection to it. I think it is wrong; I have various reasons for objecting to it, but the main one is that, in my opinion, it was wrong against Ireland and a sin against Ireland .....while those oaths are in it, oaths in which we are asked to accept the King of England as head of the Irish State, and we are asked to accept the status of British citizens - British subjects - that we cannot accept. As far as I see the whole fight in this country for centuries has centred round that very point. We are now asked not only to acknowledge the King of England's claim to be King of Ireland, but we are asked to swear allegiance and fidelity ("No! No!") in virtue of that claim... The country wants no peace which gives away the independence of Ireland and destroys the Republic which has been established by the will of the Irish people......We repudiate the Republic if this Treaty is passed; we repudiate it absolutely. It is a complete surrender and we don't get peace by it, but we get the certainty of a bitter split and division in this country."
Ada, like many other participants in the Dail debate, wished to invoke the memory of those who had died in the fight for Irish freedom (e.g. Pearse). To articulate this, Ada and the other five women members of the Dail (all of whom rejected the Treaty) wore black attire throughout the Treaty debate. Unlike most of her female colleagues, however, Ada had not personally experienced family bereavement, and was thus at pains to emphasise that her opposition to the Treaty was not based solely on personal bereavement:
"There is a point I want to make. I think that it was a most brave thing today to listen to the speech by the deputy from Sligo [Alexander Mc-Cabe] in reference to the women members of An Dail, claiming that they only have the opinions they have because they have a grievance against England, or because their men folk were killed and murdered by England's representatives in this country. It was a most unworthy thing for any man to say here. I can say this more freely because, I thank my God, I have no dead men to throw in my teeth as a reason for holding the opinions I hold. I should like to say that I think it most unfair to the women Teachtai because Miss MacSwiney had suffered at England's hands. That, a Chinn Chomhairle, is really all I want to say. I am against the Treaty, and I am very sorry to be in opposition to (nodding towards Mr Griffith and Mr Collins). (Cheers)."
At the next election, Ada lost her seat after voting against the Treaty, and largely withdrew from public political life following her participation on the anti-Treaty side in the Civil War. Ada devoted much of the remainder of her life to her clinical work at the hospital in Ballinasloe. She also, in 1914, become the first statutory lecturer in "mental diseases" at University College Galway, delivering her lectures in Galway and providing clinical instruction in Ballinasloe at the asylum.
Throughout her life, Ada campaigned strongly for reform of Ireland's large custodial psychiatric institutions. Sadly, she died in 1944 just prior to the Mental Treatment Act of 1945 which finally enshrined many of the principles for which she had fought so long and hard.
More than half a century after Ada's death, the process of mental health reform in Ireland is still very much underway. While mental health services have been deeply transformed in the intervening decades, there is always room for further improvement and better protections for the rights of the mentally ill. To this extent, the work to which Ada English devoted her fascinating life remains, today, unfinished.
---
Professor Brendan Kelly is Associate Clinical Professor of Psychiatry at UCD School of Medicine and Medical Science, and author of "Ada English: Patriot and Psychiatrist" (Irish Academic Press).
Originally published in Connacht Tribune Friday 19th September 2014.