17th November 2015, 5:30-7:00pm at Albert Theatre, Royal College of Surgeons in Ireland
Add to calendar
Breast-Predict Translational Cancer Research Seminar
The Irish Cancer Society-funded Collaborative Cancer Research Centre, BREAST-PREDICT hold a translational cancer research seminar on the 17th November 2015 from 5:30-7:00pm in the Albert Theatre, Royal College of Surgeons in Ireland.
Guest speakers include:
Dr. Damir Vareslija, BREAST-PREDICT Postdoctoral Researcher, Royal College of Surgeons Ireland
"Mapping the molecular evolution of endocrine resistant metastatic tumours"
Professor Simak Ali, Professor of Molecular Endocrine Oncology, Imperial College London
"Targeting transcriptional regulation in the treatment of estrogen receptor positive breast cancer"
Refreshments provided from 5pm
This seminar is supported by the Irish Cancer Society Collaborative Cancer Research Centre BREAST-PREDICT. www.breastpredict.com
To register attendance please contact: breastpredict@ucd.ie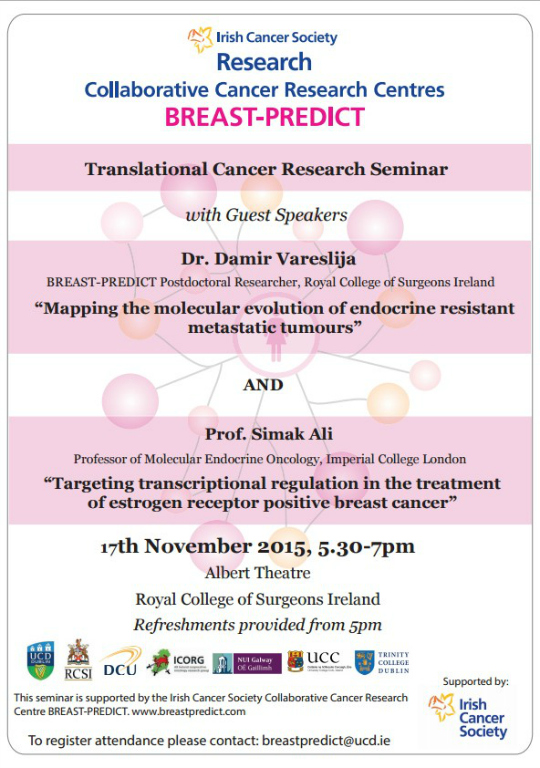 ---
Please note that this event is not organised by the UCD School of Medicine. Details are posted here to help publicise the event. The School does not accept responsibility for any inaccuracies or changes to the event which may occur. Please liaise directly with the event organisers.