Highlights of the UCD Franciscan Collection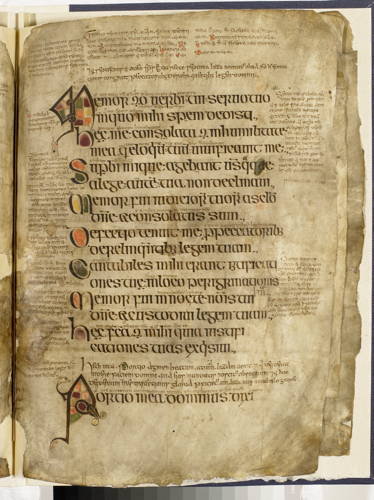 UCD-OFM A1: The Psalter of Caimín
A unique fragment of an illuminated early twelfth-century Irish manuscript from Co Clare saved by Mícheál Ó Cléirigh. He was given the manuscript for safe-keeping by the Mac Bruidheadha family, hereditary keepers of the island monastery of Inis Cealtra throughout the medieval period. He brought it to the Franciscan house of refuge in Donegal and then to Louvain where it remained in the possession of the Irish Franciscans.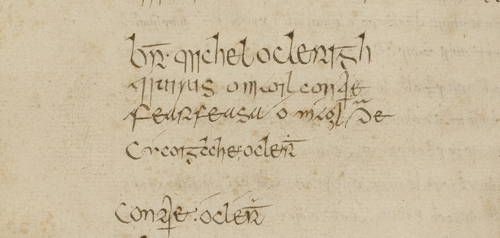 UCD-OFM A13: Annals of the Four Masters signature page
In the 1630s four professional historians compiled a set of annals of Irish history that emulated the early modern trend of writing national histories. The 'Four Masters' were Mícheál Ó Cléirigh OFM, Cú Choigcríche Ó Cléirigh, Fearfeasa Ó Maoil Chonaire and Cú Choigcríche Ó Duibhgeannáin. They were assisted by two scribes Muiris Ó Maoil Chonaire and Conaire Ó Cléirigh. The annals were compiled between 1632 and 1636 at the Franciscan house at Drowse, near Ballyshannon, Co Donegal. They contain a history of Ireland from the biblical Flood to the death of Hugh O'Neill in 1616. Two sets of the annals were made, one destined for Louvain, the other for their patron in Ireland. Volumes of the annals survive in the Royal Irish Academy, Trinity College Dublin and University College Dublin.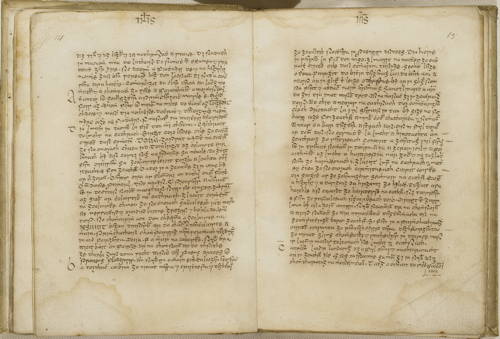 UCD-OFM 21: The diary of the 1607/08 'Flight of the Earls' by Tadhg Ó Cianáin
The diary of Tadhg Ó Cianáin, historian to Hugh O'Neill. This is the only copy of the description of the 1607/08 journey of the Earls of Tyrone and Tyrconnell as they and their retinue travelled from Donegal to Rome. Written by the chronicler Tadhg Ó Cianáin it is the first diary written in Irish and gives a lively account of the many cities, dignitaries and important shrines visited by the earls as they progressed through France, Flanders, Switzerland and Italy.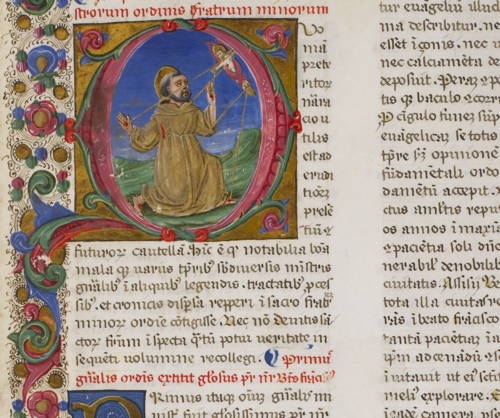 Fifteenth-century illuminated Italian manuscript
A fifteenth-century illuminated chronicle of the Franciscan Order by Arnault de Sarrant, a late fourteenth-century friar who became Minsiter Provincial of Aquitaine. The manuscript was given to Luke Wadding by his fellow friar Paolo Brizio da Bra, bishop of Alba in northern Italy (d. 1665). Wadding collected a huge number of documents as he researched the history of the order and kept them in St Isidore's College in Rome. The beautiful illumination at the beginning of the manuscript is a miniature of St Francis receiving the stigmata (wounds of Christ), a classical image of medieval times.
UCD-OFM B29: Fragment of early medieval chant
This is a rare folio of a gradual with tropes copied in Italy in the eleventh century. It was discovered in a cover binding later documents. It consists of two forms of notation for chant sung for mass on the feast of St Laurence.
Further information on the collection is available on the UCD Archives website, here.