INSTAR Project 'Mapping death: people, boundaries and territories in Ireland 1st to 8th centuries AD'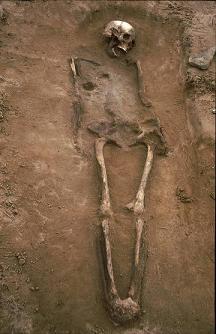 Principal Investigator: Dr Edel Bhreathnach
Investigator: Dr Elva Johnston, UCD School of History and Archives
Postdoctoral Fellow: Dr Elizabeth O'Brien, Postdoctoral Fellow, UCD Mícheál Ó Cléirigh Institute
Research Assistants: Michael Ann Bevivino, Brian Keenan (IT)
Partners: UCD School of History and Archives (Dr Elva Johnston) and the Discovery Programme, TCD Smurfit School of Genetics (Prof Daniel Bradley), Beaumont Hospital (Prof Orla Hardiman), Margaret Gowen Ltd (archaeological consultants) and Irish Archaeological Consultancy Ltd.
Funding: The Heritage Council INSTAR Programme
This is an inter-disciplinary (anthropology, archaeology, genetics, history) project which involves a study of burials in Ireland from the 1st to the 8th centuries AD based on the archaeological evidence and primary documentary sources available from Ireland, Britain and the Continent. The aim is to interpret burial practices as indicators of social practices, social hierarchies, cultural intrusions, boundary-markers, taking possession of territories, the establishment of dynasties, religious conversion and external relationships. The project's main themes are:
Identity, power and migration in Ireland
Culture as expressed in belief systems and the process of conversion to Christianity
An historical and scientific profile of the early Irish
The culture of northwestern Europe in the Late Iron Age and early medieval period (covering Britain, Iceland and Ireland)
The Mapping Death database can be accessed
here
.