Posted 03 March 2011
BT Business of Science and Technology Programme begins at NovaUCD
33 secondary school students have been selected to attend the 2011 BT Business of Science & Technology Programme, an intensive business mentoring programme run in partnership with NovaUCD.
As part of the programme, the students whose projects and ideas are thought to have commercial potential will learn the ropes from emerging and established organisations including: Aristo; Equinome; Bord Gais; Enterprise Ireland; IDA; HEA; Select Strategies; UCD; and the University of Ulster.
During the four-day programme at NovaUCD, the students will focus on further developing their projects towards commercialisation. The projects include: a flexible, waterproof, inflatable flood barrier for domestic and commercial use; the potential of waste materials from hedgerow cuttings as a feasible biomass fuel; and DIY Wind Power – portable community generators for the Third World.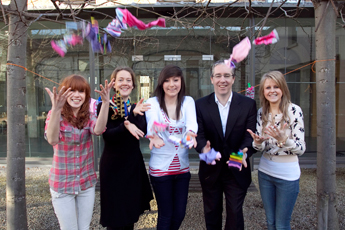 Pictured at the launch (l-r): Emily Goode; Caroline Gill, NovaUCD; Ernesta Venslovaite, Colm O'Neill, Managing Director, Business, BT Ireland and Lisa Byrne. Emily, Ernesta & Lisa from St Joseph's School in Lucan were award winners at the 2011 BT Young Scientist & Technology Exhibition for their 'Neem Sock' which they developed to help diabetic sufferers fight foot infections using a herbal anti-bacterial oil.
The projects were selected at the BT Young Scientist & Technology Exhibition which took place earlier this year. To deliver the programme, BT decided to partner with NovaUCD, the Innovation and Technology Transfer Centre at University College Dublin, because of its strong track record in commercialising technology and in supporting entrepreneurs and innovators.
"Companies and countries alike can fail without the right skills to innovate and compete," says Colm O'Neill, Managing Director, Business, BT Ireland. "There is amazing talent on display each year at the BT Young Scientist & Technology Exhibition, and we are well placed to work with leading business leaders to pass on our business know-how and skills to the next generation of innovators and entrepreneurs. Working together, we can build a better future for Ireland."
"The development of an entrepreneurial and innovation culture, and embedding an ethos of innovation and entrepreneurship among second level students, is critically important for Ireland's future economic growth and development," says Dr Pat Frain, Director of NovaUCD.
On completion of the programme, each student will receive a certificate of achievement. The Higher Education Authority (HEA) will award the best individual and best group with one week summer placements at University of Limerick (UL)/National University of Ireland, Galway (NUIG).
BT is one of the world's leading providers of communications solutions and services operating in more than 170 countries. Its principal activities include the provision of networked IT services globally; local, national and international telecommunications services to our customers for use at home, at work and on the move; broadband and internet products and services and converged fixed/mobile products and services.
BT consists principally of four lines of business: BT Global Services, Openreach, BT Retail and BT Wholesale. In the year ended 31 March 2010, BT Group's revenue was £20,911 million. BT plc is a wholly-owned subsidiary of BT Group plc and encompasses virtually all businesses and assets of the BT Group. BT Group plc is listed on stock exchanges in London and New York. www.bt.com
NovaUCD
, the Innovation and Technology Transfer Centre, is the hub of innovation and knowledge transfer activities at University College Dublin. NovaUCD is responsible for the commercialisation of intellectual property arising from UCD research and for the development of co-operation with industry and business. NovaUCD as a purpose-built centre also nurtures new technology and knowledge-intensive enterprises. NovaUCD has been funded through a unique public-private partnership that includes AIB Bank, Arthur Cox, Deloitte, Enterprise Ireland, Ericsson, Goodbody Stockbrokers, UCD and Xilinx.
www.ucd.ie/nova
(Produced by UCD University Relations)