Posted 03 April 2014
Students complete first ever university course delivered through Irish Sign Language
The first group of students in Ireland to complete their course through Irish Sign Language have been awarded a Certificate in Equality Studies from University College Dublin.
The 24 students from Dublin, Meath, Monaghan, Limerick, Kildare and Kerry attended classes on Saturdays during term time over the course of 2 years.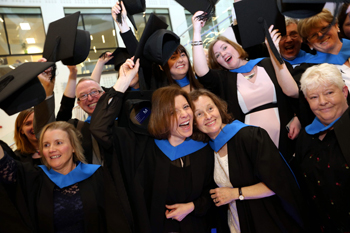 Pictured above: Students celebrate after receiving the awards at University College Dublin
Pictured far right: Caroline McGrotty, Senan Dunne and Geraldine Fitzgerald after receiving her award at University College Dublin.
"The UCD Certificate in Equality Studies (30 credit module) delivered through Irish Sign Language (ISL) is the first of its kind in Ireland," said Dr Phyllis Murphy, Director of Equality Studies Outreach Programme at UCD School of Social Justice.
"ISL is the primary language of the Irish Deaf Community, but is not currently recognised as an official language in Ireland."
"During the course, which is delivered in partnership with the Irish Deaf Society, students examined society's attitude to the Deaf Community in the context of their own experiences. This enabled them to develop a critical view of equality and social justice issues that affect them and other members of the Deaf Community in Ireland."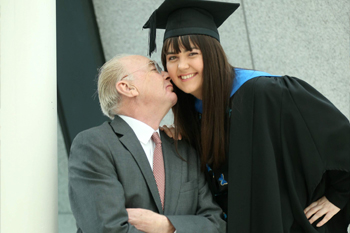 Lianne Quigley is congratulated by her father Ciaran Quigley after receiving her award at University College Dublin.
Eddie Redmond, a presenter who signs for RTE was a student on the course. All 24 students who completed the course attended the award ceremony at University College Dublin.
UCD Equality Studies Centre is located in the UCD School of Social Justice, University College Dublin, which is widely recognised for its work with minority and marginalised groups in Ireland and other EU countries. The ongoing interchange of ideas that takes place between community leaders, activists and academics at the UCD School of Social Justice offers an exciting and challenging experience for students.
(Produced by UCD University Relations)