Posted 04 November 2014
Nature award for mentoring in science for UCD Professor Cormac Taylor
Cormac Taylor, Professor of Cellular Physiology at UCD has been awarded a Nature Award for Mentoring in Science. He is one of three Irish scientists who received these awards which champion the importance of mentoring and inspiring a generation of young scientists.
"In an era when laboratories are under great pressure to be competitive, it is essential that they maintain the technical robustness and ethical integrity of their science, while also empowering creativity. Thus the mentoring of young researchers has never been more important. And good mentoring by laboratory heads is not a skill that can be taken for granted," said Editor-in-Chief of Nature, Philip Campbell.
Professor Taylor, a Fellow of the UCD Conway Institute, Principal Investigator in Systems Biology Ireland, and Professor of Cellular Physiology in UCD School of Medicine & Medical Science at University College Dublin, is a leading authority in the field of hypoxia research. His lab has made several important contributions to the understanding of the mechanisms by which cells respond to hypoxia, and the discovery of the importance of this pathway in Inflammatory Bowel Disease.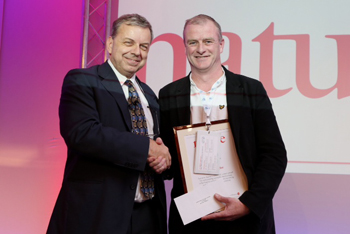 Dr Philip Campbell, Editor-in-Chief, Nature and Nature Publishing Group (left) with UCD Professor Cormac Taylor
Former student Eoin Cummins, who is a Lecturer in Physiology at University College Dublin, said: "Cormac is an outstanding mentor with the right blend of experience, knowledge of the business, enthusiasm, insight and generosity to allow all of those fortunate to be mentored by him to thrive in their respective careers."
Professor Taylor was presented with the award and the associated €10,000 prize at the Science Foundation Ireland 2014 Summit.
The two other recipients of a Nature Award for Mentoring in Science were: Cliona O'Farrelly, Professor of Comparative Immunology, Trinity College Dublin, and Professor Martin Clynes, Director of the National Institute for Cellular Biotechnology, Dublin City University.
Launched in 2005, the annual Nature Awards for Mentoring in Science recognise outstanding scientific mentorship and focus on a specific country or countries each year. Nature is the leading weekly, international scientific journaal.
More information about the Nature Awards for Mentoring in Science is available at www.nature.com/nature/awards/mentorship/
(Produced by UCD University Relations)