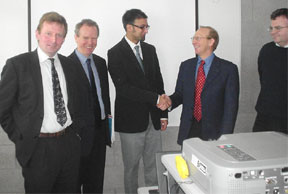 (from left) Professor Morgan Kelly who chaired the event, Professor Peter Neary (supervisor), successful candidate Ali Neghavi, Professor Richard Baldwin (external examiner) and Dr Dermot Leahy (internal examiner) at Ali's PhD defence in the seminar room at the ISSC.
On April 15th Ali Naghavi, a PhD student in the Department of Economics, scored a number of firsts with the defence of his thesis.

Ali was the recipient of a three year full scholarship from the Programme for Research in Third Level Institutions (PRTLI) awarded by the Institute for the Study of Social Change (ISSC) from the first funding cycle of the ISSC grant. As such he is the first student fully funded by the ISSC to submit and defend his PhD thesis.

He is also the first graduate from the PhD programme in economics established in 2000/2001. A feature of this programme is that it allows for a period at one of the partners in a European doctoral programme (EDGE - see http://www.edge-page.net/) - indeed Ali availed of this with a period at Bocconi University in Milan.
Interestingly, the defence marked a departure from the normal format for such events in that it was the first held 'in public' in an open format in the ISSC Seminar Room. This follows tradition in the rest of Europe (except the UK) but is a first for UCD and perhaps even Ireland.

The defence was chaired by Professor Morgan Kelly of the Department of Economics. The committee consisted of Professor Richard Baldwin (http://heiwww.unige.ch/~baldwin/) as external examiner, Dr Dermot Leahy as internal examiner and Professor Peter Neary (supervisor). Before an audience from the Department of Economics and fellow graduate students and researchers based at the ISSC, Ali successfully defended his thesis in this unique format.

The support of the PRTLI programme and the Higher Education Authority was acknowledged. Dr Don Thornhill, Chairman of the HEA, sent a message of support and said that it was a great credit to Ali, and to his supervisor, to have completed his doctoral study in three years.

The important issue of course is the success of Ali with his thesis - he passed with flying colours without any requested revisions!

We wish Ali all the very best for his future.