The Ninth World Harp Congress at UCD.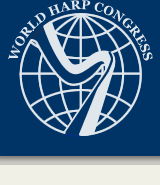 University College Dublin proudly hosts the Ninth World Harp Congress.
Since its founding in 1981, congresses have been held in Maastricht, The Netherlands; Jerusalem, Israel; Vienna, Austria; Paris-Sevres, France; Copenhagen, Denmark; Seattle-Tacoma, USA; Prague, Czech Republic; and Geneva, Switzerland.
With extensive landscaped gardens and many well equipped theatres, University College Dublin's modern campus is an ideal location for the triennial session which includes concerts, workshops and seminars on all aspects of harp musicology and performance.
For evening sessions the World Harp Congress moves to the National Concert Hall, Dublin City Centre's most prestigious music venue which accomodates up to 1200 people.
The World Harp Congress is a private non-profit organization with members representing over 50 countries. The Board of Directors welcomes all persons who are interested in the harp to join this international organization.
For more information please visit the Ninth World Harp Congress website.