Nobel Prize Winning Economist Delivers Lecture at UCD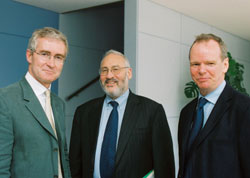 Left to right, Dr. Hugh Brady, President of UCD, Professor Joseph Stiglitz of Columbia University, and Prof. Peter Neary, Economics Dept., UCD.
The Institute for the Study of Social Change and the Department of Economics hosted a seminar by the 2001 Nobel Laureate in Economics, Professor Joseph Stiglitz of Columbia University on June 25th.

Professor Stiglitz has published over 200 papers in leading refereed journals in addition to a large volume of other scholarly work. He was the youngest full Professor at Yale in over a century and has held academic appointments at Oxford, Stanford and, currently, Columbia University. Since 1993 Joe Stiglitz has also had a leading role in economic policy making. He was a member and subsequent Chair of the US Council of Economic Advisors under President Clinton until 1997. He then joined the World Bank as Senior Vice President and Chief Economist until 2000.

His book Globalization and its Discontents which reflects on his time at the World Bank is a huge bestseller, now translated into 30 languages. His more recent book, The Roaring Nineties, chronicles the triumphs and tragedies of the economic boom of that period and its paperback launch in Europe was also the occasion of his visit.

To a large audience in the Auditorium of the University Industry Centre Professor Stiglitz addressed the "Ethical Dimensions of Globalisation". Professor Stiglitz was introduced by the President, Dr Hugh Brady, who described him as a 'true academic superstar, one of the most widely published and widely cited economists in the world.'

The seminar, including a lively questions and answers session, was chaired by Professor Peter Neary of Department of Economics who also directs the International Trade and Investment Programme of the ISSC.

Our thanks to Penguin Ireland for their help and sponsorship of the event.






The National University of Ireland, Dublin

This web site is maintained by the Office of Public Affairs and Computing Services.
For further information please contact the Web Editor.
Copyright ©, 2004 University College Dublin

UCD, Belfield, Dublin 4, Ireland. Tel : +353-1-7167777