UCD Hosts Special Bloomsday Honorary Conferrings
To mark the 100th Anniversary of Bloomsday, Honorary Degrees of the National University of Ireland were conferred on a group of distinguished writers and scholars which included the novelist Roddy Doyle. The ceremony took place in UCD's Newman House, St Stephen's Green on Wednesday 16th June 2004. James Joyce was a graduate of UCD and studied in Newman House, graduating in 1902. The Bloomsday Honorary Conferring ceremony took place in the Physics Theatre of Newman House, a room which is featured in Joyce's autobiographical novel, The Portrait of the Artist as a Young Man.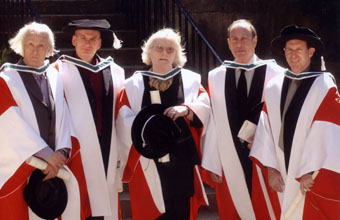 Bloomsday Honorary degrees of Doctor of Literature were conferred on (left to right) Fritz Senn, Roddy Doyle, Jennifer Johnston, Harold Pinter and Professor Michael Groden at Newman House.

Those who received the honorary degree, Doctor of Literature, are:

RODDY DOYLE
Born in Dublin in 1958, Roddy Doyle is an Irish novelist, playwright and screenwriter. A graduate of UCD, he achieved widespread recognition in 1991 when director Alan Parker made his novel The Commitments into a successful film. Two of his other books that make up the Barrytown trilogy, The Van (1991) and The Snapper (1993), were also adapted for cinema. His writings, mostly depicting the poverty of inner-city living, carefully combine humour and tragedy. In 1993 Roddy Doyle was awarded the Booker Prize for his novel Paddy Clarke Ha Ha Ha.

HAROLD PINTER
World-renowned playwright, Harold Pinter is also a director, actor and poet. He is the author of 34 plays, including The Birthday Party (1957), The Caretaker (1959), The Homecoming (1964), Ashes to Ashes (1996) and Celebration (1999). One of his most memorable directorial achievements was a production of James Joyce's Exiles in 1970. As a young actor, he toured Ireland with Anew McMaster in the 1950s. Joyce and other Irish writers have had a significant influence on his writing.

JENNIFER JOHNSTON
Jennifer Johnston, novelist and playwright, has had a long and distinguished literary career and produced many internationally acclaimed novels. Her works include The Captains and the Kings (1972), How Many Miles to Babylon? (1974), The Illusionist (1995) and This is Not a Novel (2003). Her fiction writing addresses the problems of contemporary Ireland, the Northern Troubles, the complexities of family relationships and the divisions between communities.

MICHAEL GRODEN
Michael Groden is a world-renowned Joycean scholar and critic. A graduate of Princeton, he is currently Professor of English at the University of Western Ontario. He is General Editor of the James Joyce Archive. He is co-editor of The Johns Hopkins Guide to Literary Theory and Criticism and author of Ulysses in Progress (1977). At present, he is working on an annotated hypertext edition of Ulysses.

FRITZ SENN
Fritz Senn is a gifted Joycean scholar and commentator. In 1985, he founded the Zürich Joyce Foundation and in 1967, with Tom Staley, he held the first International James Joyce Symposium in Dublin. Six collections of his essays have been published, including Inductive Scrutinies (1995). He has had a long-standing association with the UCD James Joyce Summer School.






The National University of Ireland, Dublin

This web site is maintained by the Office of Public Affairs and Computing Services.
For further information please contact the Web Editor.
Copyright ©, 2004 University College Dublin

UCD, Belfield, Dublin 4, Ireland. Tel : +353-1-7167777