Posted: 19 June 2007
Increased urbanisation and growing muti-ethnicity poses new challenges for Irish policing, says Ireland's first Chief Inspector
Ireland's first Chief Inspector of the new Garda Siochana Inspectorate, Kathleen O'Toole gave the keynote address at the 8th UCD School of Law / University of Missouri Kansas City Annual Ireland Summer Law Academy.
Chief Inspector, O'Toole was Boston Police Commissioner from February 2004 to May 2006 and a member of the Patten Commission (The Independent Commission on Policing in Northern Ireland) from 1998 to 1999 - the commission generated the new blueprint for policing in Northern Ireland which is now internationally hailed as a leading policing model.
At the event, Chief Inspector O'Toole outlined the key strategies which were implemented during her time as Police Commissioner in Boston. She emphasised that community support and involvement is a key essential underpinning effective policing. And drawing on her US experiences, she discussed some of the organisational challenges faced by an Irish police service in an increasingly urbanised and multi-ethnic Irish society.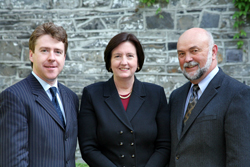 Chief Inspector, Kathleen O' Toole (centre) who gave the keynote address at the 2007 Annual Law Summer School with Dermot Cahill, UCD Law School & Academy Co-Director (left), and Academy Director Professor Edwin T. Hood, University of Missouri, Kansas City (right)
She spoke of her admiration for the Irish police service's largely unarmed force explaining that the Garda Siochana command great respect internationally and that the decision, taken early in their formation, for them to be an unarmed force was a courageous and correct one.
Chief Inspector, O'Toole continued to outline how the Garda Siochana will need major investment in new technology in order for crime detection to operate in 'real time' and thereby continuing to demonstrate its relevance to the community.
She also acknowledged the importance of the continued enhancement of the role of female police officers and the vital significance of the recruitment of Gardai from Ireland's new ethnic communities, to ensure that the Garda are best placed to meet the challenges faced by policing in a multi-ethnic society.
The Garda Inspectorate, which has been in operation for just over one year, is charged with benchmarking measures proposed for the modernisation of the Garda Siochana and with the promotion of best practice in its core operations.
Dermot Cahill from the UCD School of Law lauded Commissioner O'Toole's work with the Patten Commission. "The benchmarking of the Garda modernisation process was an essential task to ensure that the policing model adopted for Ireland in the early part of the 21st century was informed by best international practices," he said.
"We welcome Chief Inspector, O'Toole and her Garda Inspectorate team's introduction of international policing perspectives which will make a key contribution to consideration of the complex issues now facing the force as it undergoes this important modernisation process."
The UCD Annual Ireland Summer Law Academy brings US law students from several US law schools to Ireland each year for an intensive 6 credit four-week study programme. In previous years, the Academy has been addressed by such distinguished guests as: US Ambassador to Ireland, Billy Sullivan; RTE Correspondent, Mark Little; Governor of Mountjoy Prison, John Lonergan; and Competition Authority Member, Ted Hennebery.