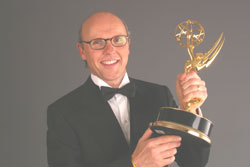 David McCourt
On May 20, 2005 Irish-American telecom and media investor, David C. McCourt, was awarded an Emmy at the 33rd Annual Daytime Emmy Awards Ceremony for his role as Producer of the critically acclaimed Reading Rainbow children's series. The show was awarded an Emmy for Outstanding Children's series. Along with his well known telecom investments, McCourt has been an active investor in television and media for many years and takes a keen interest in future developments, both in the US and in Ireland.

McCourt recently joined the North American Board of Smurfit School of Business, UCD. The Smurfit School North American Board is chaired by Jim Quinn, President, Tiffany & Co, who heads a thirty member board of influential Irish-American business and political figures.

McCourt is an Irish citizen who visits his home in Newmarket-on-Fergus, Co. Clare frequently. In November 2004 the American-Irish Historical Society awarded Mr. McCourt its annual Gold Medal, an award previously bestowed on President Reagan, author Mary Higgins Clark, and entertainer and human rights advocate Bono.

Commenting on the award, David McCourt said, "The TV Business is going to change more in the next 10 years, than the telecom business has changed in the last 10 years, and we intend to play a role in that change."

McCourt is the Chairman and CEO of Granahan McCourt Capital. He has started 10 different media and telecom businesses during the past 25 years. For ten years he has been involved with Reading Rainbow, which has received a total of 20 Emmy Awards.