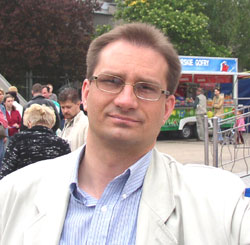 Dr Marek Kwiek, Key note speaker at European Conference on Educational Research.
This week UCD is hosting the European Conference on Educational Research (ECER) from 7th to 10th September in partnership with the European Educational Research Association and the Educational Studies Association of Ireland. The Conference theme is "Education and Knowledge Economies".
Over 1,000 delegates from all over the world are attending the conference, which marks the biggest ever gathering of educational researchers in Ireland.
Professor Kathleen Lynch of the UCD Equality Studies Centre and Professor Marek Kwiek of the Adam Mickiewicz University in Poznan in Poland will give the key note addresses at the conference. Professor Lynch's paper will address the privatisation of education and Professor Mickiewicz's paper will discuss the changing role of universities within today's global societies and economies.
The Conference will cover a variety of themes in education including networks on higher education, the economics of education, teacher education, educational leadership, policy studies and the politics of education, European curriculum research, inclusive education, social justice and intercultural education, and educational leadership.
The main Conference will be opened by UCD President, Dr Hugh Brady in O'Reilly Hall. A State Reception for Conference delegates will be hosted by the Minister for Education and Science, Ms Mary Hanafin, T.D. in the Royal Hospital Kilmainham.