Posted: 05 September 2006
Sports Expo
UCD, Belfield, Dublin 4
18 - 21 September 2006
The 2006 Sports Expo will take place in the UCD Sports Centre during Freshers Week, from Monday 18 to Thursday 21 September, 10am -5pm daily.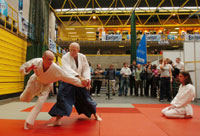 Aikido demonstration zt 2005 Sports Expo
All 58 UCD sports clubs will participate in this year's event. Club officials will be on hand to provide information on their club's activities. Over the course of the four day event, many clubs will run competitions and hold demonstrations.
The Sport Expo gives students an ideal opportunity to discover all the sporting opportunities available at UCD. UCD clubs cater for all levels of sporting ability.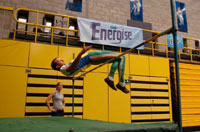 Athletics demonstration zt 2005 Sports Expo
Admission to the Expo is free and there is no obligation to join a club.
The 2006 Club Energise Sports Expo is held in association with Bank of Ireland.
For details of all the sports on offer at UCD visit www.ucd.ie/sport.