Mobile analytics startup HeyStaks to create 20 jobs with €1.5 million investment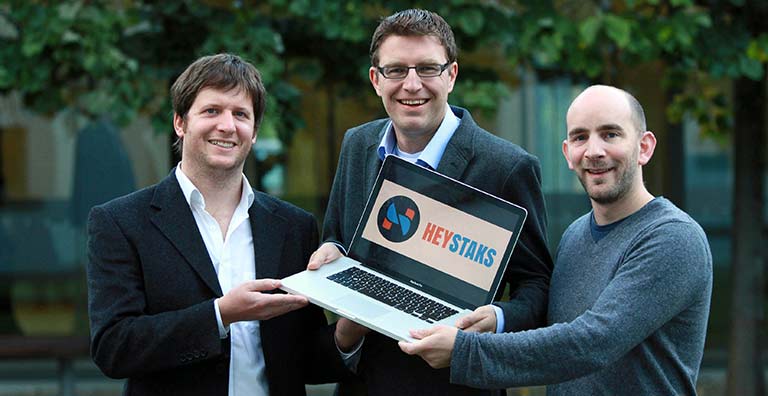 Award-winning UCD spin-out company HeyStaks Technologies has raised €1.5 million as part of a strategic partnership with telecoms operator Digicel, to help bring its mobile Intent Analytics platform to the global market.

HeyStaks' pioneering platform analyses smartphone behaviour in order to enable mobile operators to understand the intent, interests and requirements of users while respecting individuals' right to anonymity.

The company has developed a patented method of enabling mobile providers to better understand what topics interest their customers by creating profiles of phone web usage.
There are many cases in which these usage profiles can assist mobile operators. For example, telecoms companies can use the profiles to enhance the relevance and accuracy of targeted advertising and marketing campaigns, or offer customers special deals or new mobile services that would be of particular interest to them.
The development of HeyStaks Intent Analytics was facilitated by the €1.5m investment led by Digicel, which HeyStaks has been working with since 2013.

Previous investments in the firm totalling €1.8m were made by The Ulster Bank Diageo Venture Fund, managed by Investec Ventures, the AIB Seed Capital Fund, managed by the Dublin Business Innovation Centre (DBIC) and Enterprise Ireland.
The investment will be used to bring the HeyStaks platform to customers in Asia, the Middle East and the Americas.
The creation of new jobs is also planned, with six to ten new hires to be made within six months and up to 20 within a year, in a combination of commercial and technical roles.
Dr Peter Briggs, co-founder of HeyStaks said: "HeyStaks' customer base is growing, so the new investment is important because it enables us to build on our small team with up to 20 new hires in the next 12 months so that we can support and maintain that growth. These new hires will be in the areas of development, sales, support and marketing.
"Respect for and safeguarding of user privacy are central to the HeyStaks platform. Interest and intent profiles that are created by HeyStaks employ pseudo-anonymous identification so that users cannot be directly identified by their profiles."
HeyStaks was founded in 2008 by Professor Barry Smyth, Digital Chair at the School of Computer Science and Informatics, University College Dublin, Dr Maurice Coyle, and Dr Peter Briggs.
The company has won several awards for its technology, including the inaugural Europe-wide, Unica Entrepreneurship Competition for Students and Young Researchers.

Based at NovaUCD, HeyStaks is a University College Dublin (UCD) spin-out company from the Science Foundation Ireland (SFI) funded Clarity Centre for Sensor Web Technologies, now part of the Insight Centre for Data Analytics.