14 New Ventures to be Showcased at NovaUCD 2010 Start-Up Awards
NovaUCD, the Innovation and Technology Transfer Centre, will showcase 14 new high-tech and knowledge-intensive ventures emerging at University College Dublin during its annual start-up awards evening next week.
The NovaUCD 2010 Campus Company Development Programme (CCDP) Awards Evening takes place on Tuesday, 16 November starting 5:45 pm in the William Jefferson Clinton Auditorium, UCD, Belfield, Dublin 4.
The aim of this key NovaUCD enterprise support programme, is to assist academic and research entrepreneurs in the establishment and development of new high-tech ventures to commercialise the output of their research activities. The programme assists participants in defining, developing and transforming their innovative ideas into sound and commercially feasible new enterprises and in preparing detailed business plans.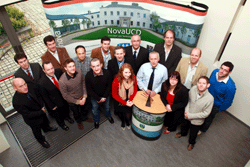 Some of the participants on the NovaUCD 2010 CCDP
At the awards evening each of the participants on this year's programme will deliver a short 'elevator pitch'. Three short-listed ventures, selected by an independent evaluation panel, will then present their business plans in more detail to an audience comprising members of Ireland's venture capital, research, state agencies, industry and business communities.
A prize fund of €30,000 is available to the award winners. The overall winner will be presented with the NovaUCD 2010 Start-Up Award, a cheque for €5,000, six-months free desk space at NovaUCD and €5,000 worth of legal services from Arthur Cox. The overall winner will also receive a year's free subscription to AccountsIQ software which allows SMEs to manage their entire accounting requirements via the internet.
The two other short listed ventures will receive runner-up awards, cheques for €3,000 and €2,000 along with €3,000 and €2,000 worth of legal services from Arthur Cox respectively in addition to six-months free desk space at NovaUCD.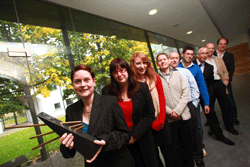 Some of the participants vying for the NovaUCD 2010 Start-Up Award
Speaking in advance of the Awards evening Dr Pat Frain, Director, NovaUCD, said, "The participation of UCD researchers in the establishment, growth and development of high-tech and knowledge intensive ventures, such as those participating on this year's CCDP programme, is of critical importance for the development of a sustainable smart economy in Ireland." He added, "The development of such new high-tech ventures will also generate opportunities for the creation of highly-skilled employment which is so critical in the current economic climate."
Equinome, the equine genomics company, was the overall winner of the NovaUCD 2009 Start-Up Award. Since winning the Award the company, co-founded by Dr Emmeline Hill, UCD School of Agriculture, Food Science and Veterinary Medicine and Jim Bolger, the Irish horse breeder and trainer, has officially launched the Equinome Speed Gene Test. Equinome has already secured major clients in Australia, France, Ireland, UK and USA for this test which determines the genetic predisposition of a Thoroughbred horse to a particular race distance. The company also has new products scheduled for release in 2011 and 2012.
At the NovaUCD 2010 CCDP Awards Evening, Philip Sharpe, Chairman, DANÚ Technologies will be the guest speaker.
The NovaUCD 2010 CCDP Awards Evening is taking place as part of the Innovation Dublin 2010 festival.
Click here for further event information.
ENDS
9 November 2010
For further information contact Micéal Whelan, NovaUCD, e: miceal.whelan@ucd.ie or t: +353+ 1 716 3712.
Editors Notes
Profile of Participating New Ventures
Advanced Microbe Control is developing services, using ozone technology, to control the effects of odours and microbial contamination in the food processing and waste management industries.
Promoters: Dr Tom Curran and Professor Colm O'Donnell, UCD School of Agriculture, Food Science and Veterinary Medicine.
Belfield Technologies has developed a High Intensity Discharge (HID) lighting control system which will enable customers (e.g. business, industry, municipal authorities, government bodies, commercial premises and sports facilities) to significantly reduce their lighting operational and maintenances costs by using more energy efficient HID lighting systems and at the same time helping them to reduce their carbon footprints.
Promoters: Dr Ger Devlin, Dr Kevin McDonnell, Mr David Megan, Mr Barry Bowen and Mr Brian McDonnell, UCD School of Agriculture, Food Science and Veterinary Medicine.
Dublin Ethical Testing is developing products and services, using micro-organisms, for the ethical testing of drugs and chemicals in the pharmaceutical industry assisting industry players comply with new EU legislation.
Promoters: Dr Cormac Murphy and Jessica Amadio, UCD School of Biomolecular and Biomedical Science.
EDCo Industrial Development Company aims to exploit modern power generation methods to create a local market for sustainable biomass, and simultaneously catalyse local economic development through the provision of green electricity in Sierra Leone and in Sub-Saharan Africa. The goal is to generate local jobs and local wealth, both upstream (by supplying fuel) and downstream (by harnessing the generated electrical and thermal energy) of the green electricity plant, enabling businesses and stakeholders to grow their local economy in a sustainable manner
Promoters: Donal Lennon, Dr William Smith, Dr Sheila Convery and Dr Finbarr Brereton, UCD Urban Institute of Ireland.
Innovation Research Unit - Business Branch is developing an advanced software suite and consultancy service to enable commercial and non-commercial users scan, map, analyse and simulate their innovation networks in order to improve their business strategies or policies.
Promoters: Professor Petra Ahrweiler and Dr Michel Schilperoord, UCD Innovation Research Unit.
Irish Centre for Design and Manufacturing Innovation is developing an "internationally networked" centre of excellence in applied research to support Irish industry in design, development and manufacture of high-value products for global markets.
Promoters: Professor Gerry Byrne, Dr Eamonn Ahearne, UCD School of Electrical, Electronic and Mechanical Engineering and Paul Killeen, UCD Research.
JLizard Ltd has developed a cloud-based software product (www.logentries.com) to assist large organisations to manage their log data. Log data is analogous to CCTV for IT systems. Log information is recorded as a system runs and is analysed frequently to understand what is happening in a system. JLizard can assist organisations to quickly identify reliability and performance problems in their large enterprise systems to will help them to save time and money when or before serious issues arise in these systems.
Promoters: Dr Trevor Parsons and Dr Viliam Holub, UCD School of Computer Science and Informatics.
Magnetic Diagnostics is developing an easy-to-use and portable point-of-care biosensor that can detect trace amounts of disease causing agents and thus rapidly identify multiple infectious diseases within minutes.
Promoters: Dr Gemma Cannon, Professor Gil Lee and Professor William Hall, UCD National Virus Reference Laboratory, UCD School of Chemistry and Chemical Biology, UCD Centre for Research in Infectious Disease.
NanoOpticSolutions is developing specialist high-resolution imaging tools that enable detailed information about the chemical make-up of materials in very small volumes or material areas to be made known which is greatly in demand especially in nanotechnology industries.
Promoter: Dr James Rice, UCD School of Physics.
PreTract has developed a magnetic resonance imaging method that provides health professionals with a unique insight to screen for the early onset of injury in athletes. This facilitates earlier and more accurate treatment planning and intervention which reduces the impact and injury recovery time for athletes and limits the number of surgical procedures they require.
Promoters: Dr Kathleen Curran, Dr Niall Colgan and Stephen Meredith, UCD School of Medicine and Medical Science and UCD School of Electrical, Electronic and Mechanical Engineering.
Restored Hearing Ltd has developed and is marketing SomtusTM, an online sound therapy for the sufferers of temporary tinnitus, or ringing in the ear, which occurs when someone experiences loud noise or music. SomtusTM alleviates the effects after only one minute of therapy.
Promoters: Rhona Togher, Anthony Carolan and Eimear O'Carroll, NovaUCD resident company.
Sruth is being established to brand and disseminate the publications of Comhairle Bhéaloideas Éireann, largely based on the National Folklore Collection at University College Dublin, to a wider national and international customer base. The National Folklore Collection ranks among the richest and best known folklore archives in the world but to date only a tiny fraction of its material has been made generally available in published form.
Promoter: Dr Kelly Fitzgerald and Professor Ríonach Ui Ógáin, UCD Folklore Collection of Ireland.
Tetra Materials is developing novel mould inserts for high volume injection moulding of microfluidic devices. The mould inserts are made from bulk metallic glass, a material with a number of unique properties, to allow biotech companies to produce microfludic devices with nanoscale features at high volumes and at a lower cost than current models.
Promoters: Dr David Browne, Dermot Stratton and Dr James Mulcahy, UCD School of Electrical, Electronic and Mechanical Engineering.
Veutility is developing a hosted utility consumption portal and benchmarking service. Veutility is offering large and SMEs enterprises real-time, personalised, hosted community, utility consumption data which enables them to benchmark their utility consumption against others of a similar industry, size or geography and also enables them to understand their utility-use profile by site, building, room and even appliance level energy consumption fingerprinting from a single point energy monitor.
Promoters: Dr Antonio Ruzzelli and Anthony Schoofs, UCD School of Computer Science and Informatics.
The NovaUCD Campus Company Development Programme (CCDP) is a nine-month, part-time programme designed to suit the busy timetable of researchers and academics. It offers a mix of monthly workshops, mentoring and one-to-one consultancy and is delivered by NovaUCD staff, with support from the NovaUCD sponsors, Enterprise Ireland, as well as other outside experts. It is designed to assist academic entrepreneurs in the establishment and development of knowledge-intensive enterprises by providing the skills necessary to transform innovative ideas into commercially feasible ventures via the development of a business plan. Participants on the programme have the opportunity to access NovaUCD's desk space and incubation facilities and associated services.
NovaUCD, the Innovation and Technology Transfer Centre, is the hub of knowledge transfer activities at University College Dublin. NovaUCD is responsible for the commercialisation of intellectual property arising from UCD research and for the development of co-operation with industry and business. NovaUCD as a purpose-built centre also nurtures new technology and knowledge-intensive enterprises. NovaUCD has been funded through a unique public-private partnership that includes AIB Bank, Arthur Cox, Deloitte, Enterprise Ireland, Ericsson, Goodbody Stockbrokers, UCD and Xilinx.